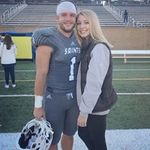 Brides Getting Married in the Next 3 Months
Hey ladies! I'm getting married May 9th, 2020, and I'm just curious is anyone else still moving forward with their big day? I am going with the flow and still hoping for the best that our day doesn't get postponed! I see a lot of brides out their postponing so it makes me question if I should be or if I'm crazy for not postponing?? Also, I'm from MN and so far we aren't in lockdown. That would be the ONLY way I would postpone is if there was a lockdown during our big day! Otherwise we are rolling with the punches and going with the flow. What about everyone else??
Hello,
I'm in NJ and are in a partial quarantine. I reached out to my vendor and chose a contingency date for November. That way if it doesn't happen, we have a back up booked. More and more brides need to reschedule and dates book up quick. I didn't want to have to wait a year and choose a date in December. Try to stay positive in hopes we will all be ok. I also don't have alot of guests who will be flying in. So that helps


View Quoted Comment

That's a good idea! See we will get married no matter what on our day the. Just have a big reception later down the road. That's our back up plan if worse comes to worse. But yes just trying to stay positive is the key!

Hi Chantell,

I am in upstate NY. Our state is the worst hit, mainly NYC but still. Everything is closed and no one is going anywhere. With things so bad, and the recommendations of no large gatherings, I had to cancel my bridal shower that was supposed to be today. Very disappointed, but I know at some point I will be have it, just don't know when. Tentatively I am going to have a friday night shower, on May 8th, but that's IF we can get married May 30th as planned.

My fiancé and my venue are both still hopeful that things will be better by May 30th and our wedding will go on as planned. I am not so convinced and will feel better getting a backup date. I am hoping for July or August because I really hate to think of waiting much longer than that, especially after planning for a year and a half and being this close.

It gives me some hope as there are some May brides on here that are not panicking yet and are holding out. My biggest concern about holding out for too long is that I need to send invites out soon.

This is so difficult for all of us brides! Thinking of you!

View Quoted Comment

Hi,

Since you sent money on invites I would send them out. I had a small note added saying this "Dear Friends and Family,

At this time our wedding is going forward as planned. We are closely monitoring the outbreak of COVID-19. Your health and safety are our top priority! In the event our wedding date needs to be rescheduled, we will send an update. Our prayers and thoughts go out to all affected" that way if it needs to be rescheduled I can send a digital invite and I added our wedding website for updates.

View Quoted Comment

Ughh I know it's just not ideal at all!! But yes I think having a backup date would help the stress a little. I plan on getting married no matter what on my original day and if worse comes to worse I will just have a reception and a mock wedding (I still want my dad to walk my down the aisle and such, do first looks, where my dress, etc.) at my same venue in July. But yeah I am hopeful things will get better especially as temps warm up, hopefully that helps things slow down virus wise. But I will be thinking of you and hoping for the best!!

View Quoted Comment

Thats a great idea, Jennifer. I am definitely thinking of doing something like that.

I got my invites from Shutterfly and was in contact with them today. They offered to remake all of my 3 piece invitations - the invitation itself, the reception details card and the RSVP card. I just have to pay for shipping. I'm very grateful that they are doing that for me if I do reschedule - makes this very stressful and difficult time a little easier. Best of luck to you!

Hey there! I'm also from MN and I have to say, even though we are not on lockdown, our state is in a pretty poor position as far as COVID19 cases and their progression. From a nursing perspective, I would highly suggest you have a plan to postpone if necessary because we are in crisis right now in the hospital setting and it's projected to get much worse in the coming weeks. Maybe hold off on postponing right now but having a plan (talking to vendors etc.) just in case would be a good idea too. Thinking about you guys and all the couples affected in this scary time 💓

View Quoted Comment

This is so smart!

We were 5/23/20 and were proactive about picking a new date once this crisis hit. I am so thankful that we did because the venue has now cancelled all weddings through 5/30/2020, and now all the Thursdays, Fridays, and Saturdays for the rest of the year into January 2021 are all booked. It's crazy! I can't imagine how much more stressed out I would be if the venue took the decision out of our hands by canceling, and then we were fighting all the other cancelled couples for the remaining dates.

Please guys, call your venues to ask if they'll hold a contingency date for you! It can't hurt to ask. And call around to all of your other VIP vendors to figure out 3-5 dates that would work for everyone, so you're not waiting to hear back from vendors in the event the venue cancels and the available dates are getting snatched up.

Our wedding was June 20, 2020. After a lot of thought we decided to move all our vendors to the next year and move the wedding the June 19, 2021. I live in San Francisco and we had a lot of guests flying in for the trip. Honestly, our guests are all relieved to not have to make the decision whether or not to come to the wedding and risk exposure. I know this was the right choice for us. Sending you all much strength as we navigate this challenging time in our lives and our world.

I'm in Colorado and scheduled for June 13, and at this point we aren't planning on changing anything. None of the vendors gave reached out and let us know that they're rescheduling that far out yet. We're mailing invites this week and reevaluating come mid-April.

View Quoted Comment

Yes, we are mailing our Invites this weekend, I'm still holding out, we have rescheduled our wedding at least 3 times, I'm not sure I want to go with another date, so depressed.

I would get in touch with your vendors and make a contingency plan, since May 9th falls within the window of no gatherings with more than 10 people. Even though you're not in lockdown now, I would be very surprised if all states aren't in lockdown in the coming weeks. I'm so sorry that this probably not what you want to hear And I'm so sorry you have to go through this.





We are May 13th and we're still hopeful. I've talked to a few vendors and they've been very encouraging to keep hope. Our guest list has decreased tremendously, less than 10 at this point. But as long as we can push forward, we are. We bought our marriage license at our 57 day mark, I'm hoping to not waste it! Lol

View Quoted Comment

Yeah it's nice having those vendors that make you feel hopeful! Our guest list normally is 100 people so we would have to lessen that greatly. That's another issue I'm having is to figure out how to "uninvite" people without being rude...I hope we can have at least 50 people though...I'm staying hopeful for that! We just bought our license too!

View Quoted Comment

Do you know if those gatherings of 10 is by law or just recommended? Cause my vendor hasn't mentioned that at all, they just ask to lessen our guest lists greatly and so I'm hoping we could still have at least 50 people...😬

View Quoted Comment

Sounds like you have a good plan! We are planning to re-evaluate mid April too and take quick action then if anything needs to change!

View Quoted Comment

Thank you for this! I didn't know our state was in such condition. It's such a hard thing to decide due to such uncertainty of the whole situation! But yeah we are going to re-evaluate mid April and have a back up plan just in case!

Hi! I'm getting married May 8th!!! So far, we are moving forward with our plans but are remaining flexible if anything changes. Have you had your bridal shower or send out invitations yet? I'm wondering what to do with those!

View Quoted Comment

I think it varies by state and by county. In some states I believe that it's still a recommendation, but in other states and counties you can get fined up to $5000 or a year in jail if caught hosting or participating in a gathering with more than 10 people. Currently in my state, we are on full lockdown and not allowed to leave the house expect to buy groceries or to go to the pharmacy. Even if they don't enforce the 10 person rule in your state, your venue may end up getting into trouble depending on what kind of catering license they have, due to the no in-house dining rule. I might recommend reaching out to someone from the health department in your county to get more info especially if you're in a small town, but I'm afraid I don't have any concrete answers for you. I'm so sorry you have to go through this


My wedding was also scheduled for May 9th, but we decided to postpone it until next year. There is an order in my state of no gatherings of groups of 10 or more. We decided postponing was the right thing to do. All of my vendors were available for our new date, so that relieved a lot of stress. Wishing you the best of luck on whatever decision you make.
WeddingWire celebrates love
...and so does everyone on our site!
Learn more
Groups
WeddingWire article topics