What would you do?
Kayla
, on December 10, 2021 at 7:35 PM
So recently my fiance and I decided that for wedding attire for the wedding party everyone pays their own way. We told everyone today, who is in the wedding party, and one of my in laws (her girls...
Bustle buttons
Caroline
, on December 9, 2021 at 10:00 PM
I'm getting married in three weeks and yesterday I picked up my dress from alterations after a bustle was added. I'm not in love with the way the bustle looks but understand it's supposed to be...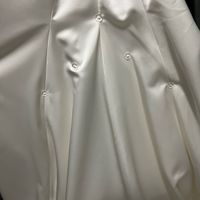 2