Wedding Etiquette Save-the-dates and Invitations
WESLEY
, on May 23, 2020 at 12:59 PM
Our original wedding date was 7/17/20. We already sent out save-the-date magnets and invitations. However, we postponed our date to 7/24/21. We are still thinking about getting legally married this...

Should i buy a new wedding dress?
Nicole
, on April 30, 2020 at 8:49 PM
June 20, 2020 bride here. Like most in my predicament, we are planning to do a small marriage ceremony on our original date and the "wedding" a bit later. Here is my dilemma: my wedding dress is...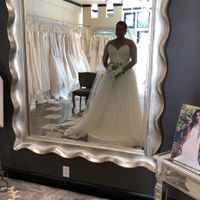 2