53 Reviews
Recommended by 100% of couples
Quality of service

5 out of 5 rating

Average response time

5 out of 5 rating

Professionalism

5 out of 5 rating

Value

5 out of 5 rating

Flexibility

5 out of 5 rating
87 User photos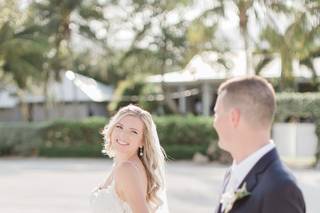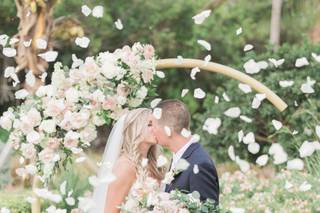 + 83

photos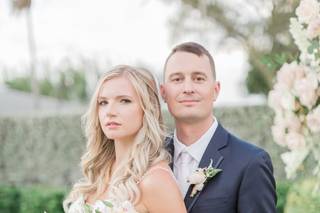 Melanie A.

Getting married on 03/02/2023

The best photographers you will find!

Stop now and book The Hendricks for any and all photos. We met The Hendricks in February of 2020 and we knew they were going to be a perfect match for us. We went to their house for a "quick meeting" and somehow ended up spending 2.5 hours getting to know them. We later took engagement photos, (which are included in their wedding package ) in the pouring rain, and they still made the experience absolutely amazing. Every moment from start to finish was a blast and we were extremely comfortable! They are so easy to communicate with and do an amazing job of accommodating anything you request, something everyone looks for in a wedding photographer. On our wedding day they came ready to get the job done and worked so well with our videographers. They are so personable and have a way of making you feel comfortable. They are very relatable, and we just can't get enough. The Hendricks were not only our wedding photographers but have become our friends! On the big day, they brought great energy, an amazing eye, and fabulous humor. We had so much fun taking all of our photos, and they were so accommodating for all of our family members requests. Another amazing thing about them is their turn around rate, we got to celebrate our one month anniversary with our full gallery. I feel extremely confident recommending The Hendricks to anyone!

Brittany P.

Married on 05/02/2022

10/10 recommend

Stephanie and Landon are amazing. There is no better team I would have trusted with my wedding photos. Not only is their photo quality amazing, but they go above and beyond to make your day perfect and make you feel comfortable. They are truly professionals. Thank you both for everything! PS they got us our photos back in legit a WEEK... unreal!

Nicole B.

Married on 04/29/2022

Best Day Ever!

I had the pleasure of first meeting Stephanie and Landon working together at a wedding over five years ago. My now-husband, (not being the one to willingly take photos) couldn't really understand my excitement when it came time to book. After our first call together, he was 100% sold. Not only is their work incredible, but both of us felt The Hendricks' personalities and spirits truly captured who we were as well.

From the amount of details provided to make sure the engagement shoot went off without a hitch, to the monthly reminders, blogs, and just emails to get to know each other more, I can honestly say I have never felt so confident going into an event, both from a logistics side and knowing they would be there to help us feel our best selves through each step of the way.

Every time throughout our planning I was able to use one of our engagement photos, it made me smile thinking about how fun of a day that was to shoot and have everything just feel so natural.. like we were all just hanging out in the park shooting the breeze - just with an incredible album of photos to cherish at the end.

On wedding day, the coordination it takes to make sure everyone is on time for their photos and where they need to be is truly a feat. How Stephanie and Landon both wrangled our wedding parties and families is a true testament to their skills. Our families and wedding party (who have been to a wedding or two) were so impressed at how they were able to get everyone in and out for formals, but also that they actually had fun during the experience, which from what I saw in the previews was expressed in the natural smiles and true happiness from our wedding parties and ourselves.

I don't think either of us can stop staring at our wedding album. It's like re-living a dream when we can go through those photos. The Hendricks had genuinely captured the magical feeling of the day and the emotions we had felt of pure happiness and love.

From the bottom of our hearts, we are so grateful for Stephanie and Landon making our wedding day (and everything in between) one of the best days of our lives!

+ 4

photos

Are you interested?

Send a message

Brittany F.

Married on 02/25/2022

The best! Hire them!

The Hendricks are elite professional photographers! Our wedding photos and engagement photos are STUNNING!! They made our dreams come true! They are great at helping you plan, guiding you through poses and movements during photos, easy to get a hold of, fast turn around time with photos and video, the send you the cutest welcome package with all the info you need to prepare for your wedding day, they make it all SO FUN, and most of all they are AWESOME PHOTOGRAPHERS! We will use The Hendricks for every maternity and family photo session in our future! Also, they work great with videographers (we had Polk Bros). HIGHLY RECOMMENDED!!!!!!!!!!!!

+ 14

photos

Jennifer V.

Married on 09/02/2021

Best photographers ever!

Stephanie and Landon are the absolute best wedding photographers ever!!!
My husband and I could not be more grateful to the two of them.
Not only are they the sweetest people ever, they made us feel so at ease on our wedding day, and also throughout the entire process. It meant so much to me, since I am so camera shy, and was very anxious!
They are so professional, and kept everyone in our party on schedule. Our wedding day was surprisingly cold, and we had an outdoor reception. With Stephanie and Landon, you would have never guessed, because they kept going with smiles the whole time. Our friends and family also raved about how great they were to work with - they just made it so fun!
They were also super quick with getting sneak peek pictures to us, as well as our entire album!
The pictures turned out absolutely amazing, and I seriously cannot stop looking at them. It makes me so happy to look back at our photos. I get so giddy and smile just thinking about all of the memories we now have captured in time. It's hard to pick which ones to frame!
THANK YOU BOTH!

Gianna C.

Married on 10/03/2020

The Dynamic Duo!!!

I can not say enough about the professionalism, help, and absolute magic the Hendricks brought to our wedding! From the moment we first contacted them, they became a source of knowledge and peace in the chaotic world of wedding planning. Before the wedding, Stephanie made regular contact, reminding us of upcoming milestones and times to be excited about! I knew that I could lean on her for quick, insightful wisdom about anything wedding related, even outside of photography. Their preparations before our day were foresighted and productive. On the day of, the Hendricks transformed into our personal hype-team!! Somehow, they pulled off organizing and coordinating a wedding party of 18 and a family of 24 to pose for some of the best photos I've ever seen. I've come to believe these two are ninjas at what they do. During our ceremony, they all but disappeared. But, when we got our images, every detail, moment, and expression was captured beautifully. Ninjas, I tell you. I will be drooling over these photos for DECADES to come. Oh, and did I mention we got them almost a MONTH early? Do yourself a favor, knock photographers off your to-do list with the Hendricks, they are THE BEST. We were looking for some people with some cameras, what we found was a dynamic duo of ninjas who thoughtfully captured our lifelong memories.

Casie M.

Married on 02/03/2020

Perfect Couple for Your Perfect Day

Absolutely amazing couple! My husband and I, a Minnesota based couple, were married in March 2019 on Marco Island. We were afraid that the photography process would be a hot and daunting one. We were so wrong! When our big day arrived Stephanie and Landon both gave amazing direction, without making the photos seem rehearsed. They were very organized knowing what formal shots were needed so that we could then move on to the more candid photos we really enjoy. The Hendricks kept the day light and fun, just like their photography style.

Catherine

Married on 11/18/2019

Comfortable and picture perfect!

We were so nervous to have our photos taken, but all of that went away as soon as we met our lovely, funny and oh so perfect photographers ❤️ They got my fiancé comfortable in front of the camera and that was what I was hoping for, lol, and of course, our photos!

Our engagement shoot was so much fun and our photos came out as I imagined! Definitely experts when it come to the use of natural light! ❤️ I trust them with all my ❤️ on our wedding day! I can honestly say, I couldn't have book better photographers!

Brianna K.

Married on 10/26/2019

The best!

The Hendricks are THE BEST. They are fun, personable, flexible, encouraging, and very professional. I obsessed over finding the "right" photographer for our wedding and I'm soooo happy with our decision. We had SO much fun on our engagement shoot with them. They had us laughing the whole time and helped us relax. We've gotten countless compliments on our engagement photos and now wedding photos — so many people have said they could be in a bridal magazine. That's the quality you get with the Hendricks! Book them now. It's worth it. :) Thank you, Stephanie and Landon!!!

Claire

Married on 10/19/2019

Look no further, these two are the absolute best!

Everyone says it, but it could not be more true. Booking your wedding photographer is your most important vendor as they not only help to set the timeline but the tone of your day. When my now husband and I were looking for a photographer, it was important of course that the photos would be timeless and beautiful, something that we could share with our children and theirs BUT that they were fun and easygoing and someone we could relate to. On such a big and important day, it's so great to have such a wonderful team and couple like Landon and Stephanie on your side literally cheering you on but to also feel at ease around because they are so much fun to work with! My entire family and our wedding party also raved about working with them as they were an absolute blast but also so extremely professional and helped the day to go off with a hitch! There were so many unknowns with the weather and different backup plans for our day, and they were a HUGE part of helping it all to come together. If I could recommend anything from our wedding, it would be The Hendricks!

Denise

Married on 09/19/2019

Make the best day of your life even better

These two are incredible with making sure they capture true pictures of how you are. They make you laugh, listen to what you want and make you feel incredibly comfortable from meeting them to the engagement shoot and wedding. I could not have asked for better photographs/memories. If you are looking for great photographers that help make your day more special, The Hendricks are who you need. I would highly recommend to at least check them out, you will NOT be disappointed!!!

Vanessa N.

Married on 08/12/2019

Best Photographer Team EVER!!!

If you are looking for fun and professionalism at the same time, The Hendricks are the way to go. These two souls are the most fun, enthusiastic, passionate, and lovable people that you can have to capture the most important day of your lives. I had really high expectations about photographers for our wedding, but Stephanie and Landon went above and beyond, making sure our vision came alive. I am not a fan of taking pictures, but these two AMAZING people made sure I enjoyed every single part of it. We became good friends after two seconds in our Engagement Photo shot. We totally recommend them to capture any special day. We are so blessed to have them be a part of our wedding and to have a BEAUTIFUL gallery to keep for ever. They are worth every single penny! We love you guys

I've worked with plenty photographers in my lifetime and I must say NONE have been even close to this amazing duo! The way they treated me from the moment we first spoke to the moment they captured our wedding, made me feel at home and comfortable!!! I highly recommend Landon and Stephanie to anyone and everyone that needs quality photography and a friendly, comfortable environment. Very talented and awesome couple! They have my business until death do us part! :) May God continue to work through you always!

Paulette

Married on 06/08/2019

A Couple who LOVES what they do

Where to begin? Stephanie and Landon were a God send to us after multiple attempts of finding a photographer. We had interviewed about 5-6 different photographers but had not found one that we felt we "clicked with." We found their Instagram and knew we had to meet them. They were able to do a FaceTime consultation with us and after we hung up, we knew they would be our photographers. After we booked The Hendricks, we received a packaged in the mail with their magazine (it's like an book!) of tips for our engagement session and our wedding day. It included what to wear, ideas for first looks, etc. Our engagement session was included in our package which was a great time to get to know them, their style of photography, and have a day to feel like celebrities. They made us feel so comfortable in front of a camera even though there were people around watching us - it felt like the only people in that moment were us 4. We squealed with delight when the teaser photos were released on Facebook a few days later and were overwhelmed with how beautiful the digital photos were delivered to us. Leading up to the wedding, Landon & Stephanie had us fill out a photography questionnaire which helped create our timeline for the day and organize family formals. The day of the wedding, the arrived at the hotel and quickly began taking detail shots of my dress and accessories. They kept to their schedule which helped the day go smoothly even with a possibility of a downpour. After the ceremony, we began family formals. Coming from a Hispanic family and having a medium sized bridal party, I was amazed at how quickly we went through family portraits! They captured every detail of our ceremony and reception. We received a teaser of photos the following day and a blog post with more photos about a week later. Although we were not expecting our photos for about a month, we had all our photos within two weeks! I cannot say enough about Stephanie and Landon. They are amazing photographers and exceptional people. We are so lucky to have had them as our photographers and we are so excited to use them as our lifelong family photographers. They have become friends to us and I hope you have the same experience when you book them for your special day!

Marissa

Married on 05/11/2019

Dream Photographers!!!

Words cannot begin to express how amazing the Hendricks are. After seeing their beautiful work in a friend's wedding photos, we knew they had to be our wedding photographers! When you choose the Hendricks you are getting so much more than photographers who are insanely talented. You are getting two people who will be there for you every step of the way. Whether it's answering timeline questions, organizing an energetic bridal party, looking for a fallen ring, or brushing biting ants off your foot after you step in an ant pile (yes that happened!)...they do it all! They make you feel so comfortable during your time together and capture your love in a way that no one else could. Your photos will leave you breathless! They are so passionate in what they do and it truly shows. They are the first vendor that we booked and we would do it over and over again. Thank you so much Landon and Stephanie...you two are the best of the best! XOXO!!!

+ 2

photos

Katrina

Married on 04/27/2019

Best Photographers Ever!!!

We couldn't have asked for more wonderful and talented people to capture all of the joyous moments during our Wedding! We started our journey together from across oceans. After reading many 5 star reviews on Stephanie and Landon, we decided to reach out and set up a facetime to meet them and discuss our big day. As this facetime was taking place while Ben was on deployment in Afghanistan, the Hendricks were extremely flexible given the time zone differences. During that conversation, it was evident how loving and amazing both Landon and Stephanie are. They even made a stop on their way up the East Coast during their family vacation to see me and have lunch! Stephanie and Landon went out of their way to make us feel valued. We decided immediately that we wanted the Hendricks to capture our special day! The deal was made even better when they included an engagement photo shoot a few months before the wedding. This was such a fantastic idea as it allowed us to get to know Stephanie and Landon and get familiar with their style of shooting so there were no surprises on our wedding day. Our big day came, and without a doubt, Stephanie and Landon were nothing short of spectacular. Everything was so easy and the pictures were stunning. One of our favorite moments of the evening happened when Stephanie and Landon brought an iPad to our sweetheart table with some of the initial photos from the wedding. It was so cool to look at some of the special moments captured just hours before! They are the most professional, caring, and impressive couple that have become more than just photographers at our wedding, but hopefully lifelong friends. Our wedding wouldn't have been complete without them! We recommend Stephanie and Landon Hendricks for any and all of your photography needs!

Sarah

Married on 03/16/2019

Best wedding photographers you could find!

After the excitement of getting engaged settles in, the panic of planning your wedding starts up! We are so glad that we found The Hendricks. Like most people, my fiancé and I have hectic schedules so the Hendricks set up a FaceTime meeting for us after we both got home from work. They stayed on the phone for an hour answering questions and explaining what they do! They also provide a complimentary engagement session which is so fun and is a great way to get to know them and practice being in front of the camera! Our wedding is still 5 months away and we are so excited for the big day and to see the Hendricks again! If the Hendricks are available for your wedding date, don't hesitate and book them! You'll be glad you did!

Renee

Married on 01/06/2019

Phenomenal Photographers

I could sing praises of Landon and Stephanie forever, but I only get so many characters on here. The Hendricks are absolutely incredible! After our initial meeting with them I knew they were the ones that I wanted to capture our wedding. They are such outgoing and genuine kind hearted people who care so much about their clients. During our wedding they were so poised, discrete and organized which made the day run so smoothly. Stephanie knew that I was stressed with wedding planning and took the time to call me to ease me mind and to help me adjust our timeline so that we could capture all of the photos that we wanted! They are so funny and make you laugh which allows you to get those natural looking pictures. Every single picture that we got back highly exceeded my expectations, and we got them back in under 3 weeks!!! I cannot express to you enough, look no further for a wedding photographer, The Hendricks will exceed all expectations that you have ever had for your wedding day. BOOK THEM NOW!!!!


+ 6

photos

The Hendricks's reply:

Oh my sweet Chris + Renee!!! Thank you so much for blessing us with the responsibility of capturing your first day as husband and wife. Capturing your families and friends celebrating your love! You two are such beautiful souls and we couldn't express enough how amazing you two are together. I knew you were our people once we found out that we both shared the same love language... TACOS!!!! Love you guys so much and thank you again a million times for not just having us capture your day but for the sweet friendship that you allowed to grow! Can't wait to see all the pretty taco loving babies you guys make together!

Allie G.

Married on 01/05/2019

Best decision you will ever make is to choose The Hendricks!

Look no further for a photographer! This is the most talented, professional and delightful couple to work with! From the moment we met we felt like we had known them forever. They love each other, love their family, love what they do AND they do it all incredibly well! We were invited into their home for dinner, met their children and became friends with Stephanie and Landon from the very start. They always went above and beyond, sending us thoughtful gifts, checking in regularly and making everything extra special. At a time when stress and nerves can get the best of everyone, they created a calm and relaxing atmosphere. They stayed on track, on time, didn't miss getting one single picture and were never obtrusive. Did I mention they are very, very funny and did I mention that the photos are spectacular? Well, they are! They are kind, thoughtful, patient, incredibly gifted in their talent AND if that wasn't all you needed to hear to convince you ... they had our pictures to us in 9 DAYS! That is unheard of! The best decision you will ever make is to hire The Hendricks!

+ 3

photos

Elizabeth

Married on 11/17/2018

Best photographers ever!

I can't say enough wonderful things about Stephanie and Landon. Not only are they INSANELY talented, but they are the kindest, most thoughtful, fun, and caring couple. Our wedding day was the first day we met them in person and at the end of the night I told them I will miss them because it feels like we've known them forever! They got our pictures to us way ahead of schedule and every. single. one. is perfect. I cannot recommend them enough and feel so lucky to have had this amazing team capturing our wedding day!

Andrea R.

Married on 10/06/2018

Professional!

Absolutely gorgeous pictures! They captured all the moments and the emotions; intimate and celebration!

Kassie

Married on 10/06/2018

The VERY Best Photographers

You will never regret booking these fun-loving, kind, down-to-earth, genuine, Godly, selfless, talented photographers. From the time we secured our date with them and booked them they are on top of everything. You will never wonder what you doing or what they need you to do next throughout the process. They are great at communicating and giving advice throughout the wedding planning process to learn from past couples to make your day even better than you could've dreamed. They include engagement photos with their wedding package which we loved. We really got to know them on our private engagement shoot with them. They are so stinking funny and bring out the genuine smiles, laughter, and love you and your significant other have which gives you the best and most treasured pictures. On the wedding day, they capture every smile, happy tear, and moment. They are there to truly help enhance your day and capture it all and live it all with you. My (now) husband hates photos, until we met The Hendricks. After our engagement shoot he said that was the most fun he had ever had taking photos & it was way better than he had anticipated. Wedding pictures are more than just snapping photos. It is about having knowledge of locations, lighting, positions, and angles. The Hendricks know their stuff. They amaze me! So thankful to have them be a part of our wedding chapter, and even more thankful to know have them as life long friends! We will ALWAYS recommend the Hendricks!

Jessica

Married on 09/22/2018

From the second we met The Hendricks we KNEW they were the ones to photograph our wedding. I don't even know where the begin!!!! They are SO fun to be around. They make you feel SO comfortable the entire time. They made us laugh so much during our engagement session that we knew we couldn't wait to see them at the wedding! I even texted Stephanie throughout the process when I had questions about what would look best in the pictures.
The Hendricks are also incredibly FAST. We got a little sneak peak the day after our wedding and then we got all our wedding pictures back in TWO WEEKS! The pictures are ABSOLUTELY GORGEOUS. Seriously dreamy pictures.
We are beyond grateful to have worked with The Hendricks for our big day and we can't thank them enough for all the work they put into the day. We knew that we were so well taken care of the entire day :)

Jessica

Married on 05/26/2018

From the bottom of my heart I cannot recommend The Hendricks enough. Not only is their work EXQUISITE, but you can see that they capture each couple so uniquely and magically in their own way. They stayed in touch throughout the whole wedding planning process, and were our support system through and through. When it came to our big day, they take their time and make you feel SO comfortable. My husband and I aren't big on PDA and don't have many pictures together, and you would have no idea by looking at our pictures. They are the most fun, down to earth people you will ever meet and you can tell they do what they do because they absolutely love it. They listened to what we wanted captured, and blew us away. Not to mention we got our pictures back SO quickly because they were so excited to edit them! It doesn't get more inspiring then that! I love their family and amazing hearts, and how they love the couples they work with and treat us and our families like family too. THANK YOU Stephanie & Landon for being you, and being darn right wonderful.

Sarra

Married on 04/28/2018

I cant say enough about how amazing these two are. The photos were so perfect, and so were they! We got so many compliments on the photos and so many comments about how great the photographers were at the wedding. They get things done! I couldnt imagine my wedding without them now.
Are you interested?
Send a message