16 Reviews
Recommended by 100% of couples
Quality of service

5 out of 5 rating

Average response time

5 out of 5 rating

Professionalism

5 out of 5 rating

Value

5 out of 5 rating

Flexibility

5 out of 5 rating
Awards
11 User photos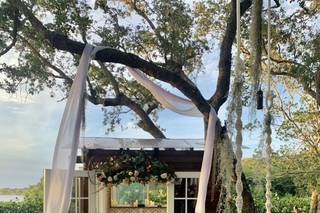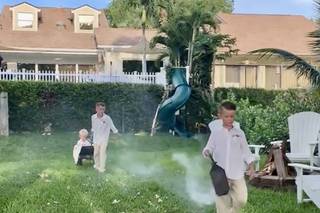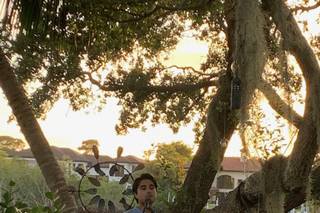 + 7

photos
Featured

Book him now!

I cannot say enough great things about Kev - book him while you can! We decided to plan a last minute covid-safe wedding at a restaurant on the beach. We decided not to have dancing, and instead wanted more of a dinner party with a ceremony. I thought a "guy with a guitar" would be great to set the mood and keep guests entertained. His vibe was absolutely amazing and he really helped to keep the night lively (he also sang beautifully during the ceremony) - our guests were literally jamming in their seats "feeling the music." He was easy to connect with and book, learned the handful of songs that we asked him to (and made them his own) and was flexible (we ended up lasting 2-3 hours longer than scheduled and it was not an issue for him to keep playing.

I also have to mention that we had a ton of hiccups with our venue - everything went wrong. Kev somehow managed to step in, keep things smooth and help ensure that the night kept flowing. He also pitched in where the venue fell short (for example, they were supposed to set up a projector so someone could give a speech over zoom, which was never done. Kev stepped in and set the whole thing up). He is just all-around talented and was truly the highlight of our event. I would highly recommend booking him for your event, or even a dinner party.

Kev Ohm's reply:

Wow Brooke! Thank you so much for your thoughtful words. It was a pleasure and an honor to be a part of your wedding day. Thank you!


Cheryl

Married on 04/17/2022

Kev Ohm was exceptional

We had a fabulous garden wedding at my daughters home with dinner served on the terrace. Kev was a big part of our celebration as we are music lovers. He not only played before and during ceremony but moved up to the terrace for the rest of the evening. He played all of my daughters favorite music. He is multi talented and his voice is exceptional. ❤️

Kev Ohm's reply:

Cheryl,
This was one of the most charming and intimate weddings I've ever been a part of. Thank you for inviting me into your family's beautiful home for an evening filled with love! It was an honor.

Tara

Married on 04/02/2022

Amazing professional entertainer

Kevin not only learned 7 songs and sang them perfectly at my wedding, but the song that I walked down the aisle to, he timed perfectly for my wedding party and I. My family and friends were blown away by him and it couldn't have been more perfect for my garden wedding. He really made the night memorable. I'll use him for any future events requiring music and highly suggest him for all future weddings!!!

Kev Ohm's reply:

It was a pleasure Tara! Thanks for having me. It was fun learning all those country songs for you! It not a genre I normally do so it was great to branch out!

Are you interested?

Send a message

Jon B.

Married on 02/12/2022

Kev is talented and professional, A+

My wife and I are so glad that we hired Kev for our welcome dinner and ceremony/reception. Kev was always quick to reply during the planning phase, professional, fairly priced and our guests were so impressed with his talents! Highly recommended, you can go wrong with Kev Ohm!

Kev Ohm's reply:

Wow Jon, thank you for your thoughtful review. It was such a pleasure to work with you and perform for your kind friends and family. Congratulations on getting married, I wish you and Kaylee the very best future together!

Jackie

Married on 12/31/2021

Great booking experience

Wow! Do I feel lucky to have found Kevin. He's kind, professional, accommodating and overall wonderful to work with. I booked him for my December 31, 2021 wedding in Key Largo, and I'm beyond excited for him to wow the guests with his talent. He's made the planning process so smooth, helping me brainstorm on songs to play after the ceremony, during the cocktail hour and reception. He has hundreds of songs in his repertoire and even takes requests! Working with him has put my mind at ease - I know the entertainment on my wedding day will blow everyone away! So excited!



Kev Ohm's reply:

Thank you for your thoughtful words Jackie! Looking forward to ringing in the new year with you and your family in the Keys!

Jacqueline

Married on 12/31/2021

Kev made our wedding magical!

Kev was a dream to work with, and his performance the day of the wedding was so spectacular! Not only was he a hit with all my guests, taking requests (including playing the hippest rendition of Baby Shark I've ever heard at the request of my two-year-old niece!), he also saved my ceremony! The speaker was set up by the rental company at too low of a volume and he ran over and fixed it during our vows so that the vows could be heard. Aside from his talent, Kev is simply a remarkable human being, and having him be a part of our wedding was an honor. Kev, from the bottom of my heart, thank you.

Kev Ohm's reply:

Jackie, thanks so much for your comments and mentioning the speaker adjustment. Your vows were beautiful and deserved to be heard! It was a pleasure to spend NYE in the keys with you! Thank you!

Andrew M.

Married on 11/12/2021

Kev Is the real deal

He made the night so special. He not only learned songs for our night but he was amazing really impressed with his music. If you're on the fence, book him!!!!!! Overall amazing experience he's awesome

Kev Ohm's reply:

Wow Andrew thanks so much for your kind words and for writing them while they're are still fresh in your mind from this evening's performance. Congratulations!

Kim

Married on 09/16/2021

The BEST! Super talented and skilled.

Professional, came early, great equipment, wonderful vocals. He can play in virtually any venue. He played for us for our dinner party and it was absolutely incredible. His music, the technology of the looping and the quality of the songs were awesome. He made every song his own by adding his own flair and groove which is really hard as a musician and singer to do so naturally. We were very impressed and had a blast with him

Kev Ohm's reply:

Wow Kim your words are so thoughtful. It was a joy to perform for your dinner party in such an intimate setting. I could feel the love you and your friends have for each other, so I set the intention to nurture that love through my performance. Thank you for welcoming my music into your home for an evening and allowing me to work my magic! Peace and Love!

Adriana P.

Married on 06/10/2021

This is not your typical musician for hire.

This is not your typical musician for hire. kev is an incredibly talented young (and handsome!) rising star.

I booked him because after listening to his music on Spotify I realized this man is going to be well known one day and I have an opportunity to book him for my wedding now. Can you imagine being able to say John Mayer played your wedding before his mainstream success? I think there is a strong chance I'll be saying that about kev in the future.

kev played All of Me by John Legend acoustically as I walked down the aisle. His voice and emotion was absolutely perfect for the moment. I can't imagine anyone else doing what he did. It was the most special part of my day and something I'll remember forever. That moment alone paid for his fee in my eyes.

He brought everything you would expect from a professional: punctuality, amazing sound system, and professional lighting which really gave his performance a fun live music atmosphere for dancing. It was more visually appealing than any acts we've seen without lighting.

kev played to his audience which I really appreciated. He played all the classic rock songs everyone knows, Sinatra, Dean Martin; when the younger generation was dancing, he'd play modern pop songs, appealing to every age group and giving everyone an opportunity to dance to something they know.

His performance during our reception was the life of the party! The positive uplifting energy his music brought into the room was so much stronger than any DJs or musicians I've seen at other weddings. Our friends and family stayed for as long as kev was playing. We even asked him to play for an extra hour during the reception because everyone was having so much fun and he was happy to accommodate that.

If you're looking for a background musician, it would be a waste of his talent. If you're looking for something truly memorable to add to one of the most special days of your life, book kev.

Kev Ohm's reply:

Wow, Adriana, thank you for such a genuine review! It was an honor to play for you and your family. Thank you for including me. Looking forward to playing your sisters wedding in a few months. See you then! Peace and love.

Paloma S.

Married on 05/01/2021

Young, handsome, and memorable entertainer

We hired Kev Ohm for an intimate socially distanced wedding. His communication was excellent, putting every necessary detail into an easy to read wedding contract that showed us exactly what we were getting at a glance. We had to reschedule the date we originally booked and Kev was happy to be flexible for us which made things much easier.

The music was perfect. He played "Can't Help Falling in Love With You" as I walked down the aisle. During the reception he kept the dancefloor moving, playing hit after hit that appealed to all ages at our party. The sound and lighting added a great atmosphere to our reception and was very professional. Kev made my special day memorable and all of our guests felt the same way. I would definitely book him again for a special event!

Kev Ohm's reply:

Paloma,

Your words and time writing this are greatly appreciated. It was an honor to be a part of this celebration of love. Until next time!

Melanie J.

Married on 04/17/2021

Kev Ohm-azing!

Kev sports the perfect vibe for a South Florida wedding! He was incredibly easy to work with, he totally went with the flow of the situation, and the crowd absolutely loved him! We are absolutely thrilled! 😍🥰

Kev Ohm's reply:

Thank you Melanie! It was so good to be a part of this special day with your family! A classic Florida beach wedding!

Kristin

Married on 04/17/2021

Unmatched!!!

Our wedding was perfect and it would not have been the same without Kevin. What a perfect soloist for our beach wedding. His voice, vibe and charisma are exactly what you want- not your typical wedding singer, but better! Kevin learned the songs every song we wanted (from the Beatles to Michael Buble to Elvis), and sang and played them perfectly. We couldn't have been happier with the experience, and our friends and family raved about him after! Highly recommend. Thanks, Kevin!

Kev Ohm's reply:

Kristin,
I remember attending church with you when we were preteens! To be a part of your wedding day with you and your family now was such a rewarding experience for me. Thank you for keeping me in mind after all these years. I set the intention of pure love for your marriage during my performance. Something I like to do for all the couples I play for to energetically start your marriage on the right foot. Peace and love!

Howard C.

Married on 04/03/2021

The best decision is booking an incredible entertainer

He is such a powerful singer, performer, entertainer. He is adaptable, charismatic and exactly what you need when you him! Booking Kev Ohm - Music is Medicine - is the best decision you'll make! We are glad we booked him before he is famous! He was even willing to learn a couple of songs for us. THANK YOU from Brooke & Howard!

Kev Ohm's reply:

Ah thanks so much for inviting me to perform at your wedding and sharing these wonderful pictures. It was surely a day to remember! Peace and Love Brooke and Howard!

Melanie H.

Married on 12/19/2020

Truly Wonderful Local Musician

My fiancé and I first heard Kev play at a local bar in Delray. His sound is so unique blending popular hits with classics in a very soulful and beautiful way. We decided pretty much right then and there that we wanted to hire him to play at our wedding. He takes requests and does a wonderful job connecting with his audience - we knew he'd be a perfect fit for our big day! Unfortunately, due to COVID, we've moved our wedding to AZ to accommodate our immediate family that can't travel due to the pandemic. Although we will no longer have Kev as our wedding musician, I would highly highly recommend him. He is genuine, honest, and fair. We've continued to follow his live shows, and if you have the chance to check him out - you'll know why we were so excited to be working with him!

Kev Ohm's reply:

Thanks Melanie, good luck with everything! It was a pleasure working with you through the rescheduling and relocation of your special day. I wish you and Brad the best! :)

Mike

Married on 08/22/2020

Awesome Kevin!

Kevin played at our engagement party. He was super professional arriving an hour early with all the equipment needed. He also was spot on with his playlist. His ability to transform classics and pop through his own style is amazing. He was incredibly flexible when he was asked (by popular demand) to stay on another few hours. He even performed a requested Brazilian track in Portuguese! Proper talent with great vocals and looping ability. One man party band!

Kev Ohm's reply:

Thanks so much Mike! It was a true pleasure to play for you and your family. Until next time! Peace and Love ✌️

Karen D.

Married on 11/09/1996

Great Party Musician

Kev Ohm played at our 25th anniversary party earlier this month. The music was awesome! He really added to the entire experience. We heard from several guests how much they enjoyed Kev's music. Kev even worked with our friends on a surprise musical toast. It was such a special moment for us. He did a wonderful job!

Kev Ohm's reply:

Karen,
You clearly have friends and family that care about you very much. There was so much love at that party! Thanks again for having me and congratulations on your long and loving marriage. I infused my performance with the intention of love for your partnership. I wish you the best!
Are you interested?
Send a message