23 Reviews
Recommended by 88% of couples
Quality of service

4.5 out of 5 rating

Average response time

4.2 out of 5 rating

Professionalism

4.3 out of 5 rating

Value

4.5 out of 5 rating

Flexibility

4.3 out of 5 rating
4 User photos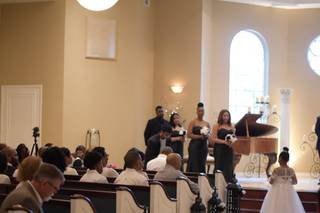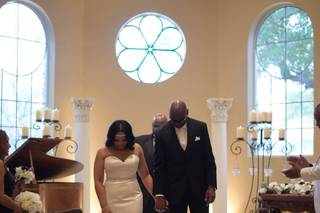 John B.

Married on 12/11/2021

Amazing Facility excellent customer service

Amazing facilityFacility excellent customer service. Price is right!!

Nicole

Married on 05/25/2019

The treasure that's beyond measure

We were so excited when we found Green Oaks Wedding Chapel. Ms. Terri was very patient with us throughout the planning process. On the day of everything was perfect and looked beautiful, Ms. Carol kept us on track throughout the ceremony. 10/10 I would definitely recommend.

Charlene

Married on 03/16/2019

A Beautiful Experience

This venue is awesome! Its beautiful and the staff is friendly as well as professional. My husband and I can't stop talking about our wedding day. Our guest also fell in love with this venue.

Are you interested?

Send a message

Melissa

Married on 07/09/2016

I cannot tell you how happy I am the we chose Green Oaks Weeding Chapel for our wedding venue! Carol & Terri are fabulous. We could not have asked for more. They really do take care of everything for you while still letting you make the majority of the decisions. I loved that they provide a list of approved vendors for you to pick from. Several place we checked out only had one choice for a food vendor (unless you wanted to pay a significant amount to bring in your own). They offer a list of a variety of food vendors and allow you to pick. I also loved their bar options. If you wanted to serve beer and wine only (as we did), you just bring in your own beer and wine, they provide the bartender, ice everything down, and serve it for you. If you are looking for a beautiful venue, with a lot of added bonuses, Green Oaks Weeding Chapel is perfect.

Terri and Carol were great! Terri was very responsive and answered any and all questions, Very helpful with suggestions and helping with the details. Green Oaks is a wonderful venue and the amenities that were provided were out of this world. Carol had everything under control on our day, all the guest were really wowed.

Debra

Married on 07/12/2014

This Chapel is the most beautiful place for a wedding. Terry and Carol, the owners, are very helpful and knowledgeable about all your wedding needs. They have lists of vendors to help with all the planning. The decorating is done, you dont have to make center pieces or rent tables or tablecloths, nothing! It was great! They make everything "stress free" !! I would highly recommend them for your wedding.

Danielle

Married on 07/12/2014

There are not enough wonderful things to be said about Green Oaks. These ladies are the nicest bunch to work with - Terri and Carol and their Team are absolutely fabulous. I came in with an idea of how I wanted my ceremony and they worked with us from the start with no question. From rehearsal to the ceremony to end it with the reception was simply amazing. I couldn't have picked a better place for my husband and I to say "I Do". When I say how I dreamt my wedding to be as a young girl, having it at Green Oaks Wedding Chapel exceeded that fairy tale wedding. Green Oaks Wedding Chapel comes highly recommended!

Danielle Slaton Chancellor


They had everything I needed to make my day special. Terri was such a delight to deal with and very understanding. They did an amazing job and everything was so beautiful. It was so convenient to have both the chapel and reception in the same area.

Christi

Married on 02/29/2012

Not only is the venue absolutely breath taking and decorated beautifully but Carol (your personal wedding coordinator) is amazing. She handles everything for you and makes sure your day goes as smoothly as possible. I could not have asked for more, they made my day exceptional!!

Kelly

Married on 09/09/2011

If you want a one-stop shop, this is it! This is an absolutely gorgeous venue! The 2 wedding coordinators that are included, took care of everything! I had very little stress the day of the wedding. The ease of a chapel and reception room in 1 location was great! Our wedding was beautiful and our guests had a wonderful time!

Sherry

Married on 05/22/2011

We recently hosted my son's wedding at Green Oaks Wedding Chapel and could not be happier with the facility or the way Carol and Terri guided us through the entire process. Our friends and family were so impressed with how "perfect" everything was. The beautiful facility is both classic and romantic. Including both the chapel and the reception area makes it perfect for out-of-town guests and rainy nights, both of which we experienced. I highly recommend this venue!

Etoile

Married on 05/10/2008

The staff at Green Oaks Wedding Chapel is SO friendly and professional! They are very prompt to return calls. Their prices are so reasonable considering they are all-inclusive. The facility is so beautiful and perfect for smaller weddings. This place made our wedding amazing!

I just can't say enough about this place... They put on an incredible wedding, remembering even the finest details & ran everything so smoothly that not a single thing was less than perfect. Carol, Dee Dee & Terri were such a pleasure to work with and kept us at ease while they made sure everything ran smoothly. All of our guests were simply amazed that not only were we able to pull off a first class wedding, but able to do it in less than a month! We also worked with recommended vendors, J Brent Winn Photography & Sounds Spectacular (dj). They too, were amazing & everyone worked so well together that there wasn't a single glitch all night. Thanks so much to all of them for giving us great memories to last a lifetime... Definitely recommend to anyone!

Michelle

Married on 03/02/2019

Absolutely pleasant

Terry one of the owners was absolutely wonderful! She was open to my ideals and was very helpful. They made sure everything, I wanted for my wedding I had.

Kelsey P.

Married on 09/21/2019

Great Price for What You Get!

We booked Green Oaks Wedding Chapel after only visiting three venues. They offered great pricing and took care of so many of the small details that it lifted a large load off of our shoulders. They provide all the linens and decorations for both the ceremony and reception (we could add anything we wanted to) and provided certain vendors for us (for an extra charge) such as the bartender, security, and officiant, and had an open house with other vendors that they have some rapport with.

Stacey

Married on 03/18/2007

Beautiful place! Ladies are very nice and helpful!

Valerie

Married on 11/09/2012

We had our wedding here and I was pretty happy with the way everything turned out, they decorate for you, easy to work with, very sweet and helpful. I only wish they had a longer rental than only 5 hours, i did feel a little rushed to get everything done in that amount of time. They also should get a little more flexible on catering/alcohol I almost did not book them because of their catering resrictions but after I spoke to the owner she made an exception for me. Overall I would recommend this place if your having a smaller wedding.

Akilah

Married on 01/14/2007

This location was EXACTLY what I was looking for. It is easy to find in the city without being right in the middle of everything. My main desire for my wedding was having the reception and ceremony in the same location so that my out of town guests wouldn't have to drive around. I looked at a few locations like this, but Green Oaks was the only one that actually felt like a distinct chapel and reception hall. The little touches are definitely what made it special- from using my favorite flowers in the arrangements to the candlelit dinner. I would recommend this place to anyone!

Frederica

Married on 08/23/2008

The chapel was excellant. They always keep it decorated so that saved my money and time. The two lovely ladies that run the place are nice. I think my husband's family and my family together was too much for them. Everything went off smoothly and I definitely recommend them to any one.

This venue is actually quite lovely, but does not necessarily provide the service that you expect. While promised a wedding coordinator, this really did not exist. One would expect at least some help with planning questions, however the staff was not very responsive, essentially ignoring us until the week of the wedding.

At that point however, we received a wedding coordinator on the opposite end of the spectrum: a micromanaging, overbearing, and rude "coordinator" by the name of Carol. While we had an idea of how we wanted the day to run, Carol had her own idea and overruling many of the instructions given to helpers such as the ushers, ordering the groom to get dressed when the bride had specifically stated that she did not want to see him dressed until after the rehearsal, and ultimately getting on everyone's nerves.

In addition to that she did not let the DJ run the ceremony music and messed up the bridal entrance song and after promising that there would be he right color napkins for the reception, she did not get them. In addition, she even pre-cut our reception cake, so that we would "be able to get a slice out."

She was also not very flexible on the overall wedding elements: complaining when we asked for certain table arrangements, and acting irritated when we asked for some of the decorations that did not fit our wedding style to be removed.

However, with all that being said, the venue truly is beautiful and everything such as tablecloths, silverware, etc. is included in a very reasonable price. Despite Carol's antics, our wedding was absolutely spectacular. If you choose to book here, just know that if you have your own sense of style that you want to bring to your wedding, you might have to struggle and fight to be able to express yourself.

Elizabeth

Married on 08/01/2009

Had a bad experiece with on of the owners. She was very rude. I would recommend choosing a different location.

I was shocked by Carol's (the wedding "planner") rude and condescending behavior. She almost made the bride cry, offended and irritated the wedding party, and disregarded the wishes of the bride and photographer. The other wedding planner was lovely, but Carol dampened the joy of the day with her know-it-all attitude.
Are you interested?
Send a message