9 Reviews
Recommended by 87% of couples
Quality of service

4.2 out of 5 rating

Average response time

4.4 out of 5 rating

Professionalism

4.4 out of 5 rating

Value

4.3 out of 5 rating

Flexibility

4.3 out of 5 rating
1 User photo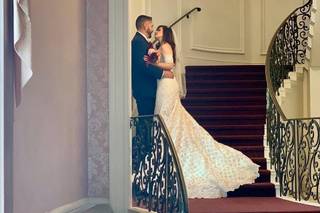 Avenlea

Married on 05/29/2022

A Beautiful Team with a Kind Staff

The team were thoughtful and kind, very flexible and made my day special and easy! The venue was incredible and every single guest was amazed.

Gloria

Married on 03/09/2019

Best day ever

So beautiful and the food was bomb!

Giovanna

Married on 11/07/2015

Capitol Plaza Ballroom is, first of all, an absolutely beautiful venue- painted ceilings, gorgeous chandeliers, stunning decor and all. Had they offered absolutely nothing except for the gorgeous space, I would still have considered them, because it is just that beautiful.

That said, they actually saved us a lot of time and energy by providing us with almost everything we needed for the wedding- linens, cutlery, tables, chairs, food, service, and set-up/take-down. They were even accommodating enough to let us set up the day before and check that everything was up to our expectations so that we weren't rushing around the day of the wedding. Rosalinda was an excellent contact person and she was more than willing to give us vendor recommendations for the services not provided by the venue (cake, music, etc).

If I could do it again, I wouldn't hesitate before choosing Capitol Plaza. While the wedding wasn't necessarily cheap, I priced similar services at The Sterling Hotel and Vizcaya, and Capitol Plaza came in at just over half price. For the value we received in service, accommodation, and delicious food, I definitely think that we more than got what we paid for.

Are you interested?

Send a message

Lisa

Married on 06/27/2015

Tom and I fell in love with this venue. The ceremony was held upstairs in a beautiful, historic hall which was decorated beautifully. The reception was downstairs and it look liked a fairy tale! The food was amazing, the staff on point and Rosalinda was always available for questions or any concerns. Highly recommend. Lisa Zub

Dena

Married on 04/13/2013

Rosalinda and staff were wonderful... The venue was beautiful, and that was before we decorated... The food was soooooooooo good... I still have friends talking about how they went back for thirds in the buffet... I've been to many events at the Capitol Plaza Ballroom, and everything has always been great, but having my reception there took my expectations over the top... Thank you so much for making my wedding day perfect.

Song

Married on 06/05/2011

The facility is beautiful, I love their food their. After our wedding my guest still talks about the food at this place and how much they want to eat there again. Our guests also love how beautiful our wedding is by the decoration and how beautiful the silver room is in this facility that we rent to do our wedding at. We did our ceremony and reception here. It was beautiful.

Taleish

Married on 10/14/2006

This was a wonderful venue... perfect for the occasion and just what I dreamed. If I had to do over again, I would have also used the venue not just for my reception, but for my ceremony as well. I could have saved money on the church decorations.

Tiffany

Married on 10/04/2008

At first, I didn't really care to work with them because it was so difficult to get a hold of them! After I knew to just keep calling back, things went a lot smoother. The place was beautiful! Everyone loved it. The cost wasn't so bad either.

Carolyn P.

Married on 09/14/2019

Do not hire! Unprofessional & a waste of money

It has been 5 months since I had my wedding at The Grand Ballroom (owned by Capitol Plaza Halls)... I have waited to write this review so I had a clear head on what I wanted to write. To start, everything started out great when my family & I toured the venue, then it all went downhill from there...

Let me just start by saying NEVER HAVE YOUR WEDDING OR ANY TYPE OF EVENT HERE. They are a bunch of liars and will screw you any type of way they can!

It's 2 weeks before my wedding and they tell me they don't know if I can set up the day before in case someone books an event that day. Well, it should have been blocked off a month before my wedding like they said! And then during my rehearsal, someone comes in and tells me I can only be there for 4 hours to set up/rehearse? Well, that was not what was agreed upon. Luckily, I had a crew of 20+ people helping and we finished early!
Now it's the day of my wedding and everything was great up until showing up to our venue... the staff that we paid $22/hr for had no clue what they were doing. The bartenders that supposedly "have 10+ years of experience" couldn't make a simple jack and coke! To say the very least, my guests were very upset that the open bar was moving VERY SLOWLY! It moved sooo slow that I had one of my caterers jumped in to help. It was embarrassing especially since I am a waitress/bartender. I almost jumped back there and fired my bartenders on the spot. Remember to always interview your bartenders before you hire them and never listen to anyone because they are damn liars!!! Now here comes the best part... after the wedding I get charged $250 because someone "clogged the toilet and sink". That's a bunch of BS! My guests were in and out of all the bathrooms all night and everyone said the bathrooms were fine...

So my point is, do not have an event here, do not hire their bartenders, do not pay for an event supervisor because they literally did nothing and lastly bring your money elsewhere! They will rip you off anyway they can. If I wasn't planning my wedding in 8 months and I didn't have 350 guests with minimal venue options, I would have never chosen this place! Learn from my mistakes! DON'T DO IT!