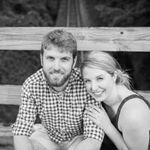 Mrs Sullivan
Hi all! I am a June 2019 Vermont bride. And no, I am not having a "Vermont" wedding! I get asked that all the time.
Happily married 🎉
June 29, 2019

Noom
There's a good portion of people out there that want to lose weight before their wedding day, myself being one of them. I live an extremely busy lifestyle (have an 8-5 job, train horses on the side,...

Hair Advice Needed!
So I am going to look at wedding dresses for the first time in a couple weeks and I was talking to my hairdresser the other day, who said I should have a general idea of what I want to do with my hair...