Wedding details
A Girl Meets A Boy: A friend of mine (now ours) had a birthday party. He lives 2 houses up. I decided to be a good neighbor and attend the party. I stayed for a while but actually was ready to leave because I didn't know many people and the women seemed to all know one another and I felt like an outsider. But before I left, I ended up in the kitchen talking to a really funny woman and her husband (don't remember their names though). At some point the front door opened and in walked these two guys. I glanced over my shoulder and then did a double take. This FINE man had come in. I tried to be nonchalant and keep talking but was kind of trying to keep track of what was going on behind me in the living room. There were a lot of "ummm" and "ahhhs" in that conversation. I was hoping he didn't leave before I got to talk to him… at least find out his name. Well, before I knew it he was standing at my elbow. Yeah, like right beside me! I looked up into the prettiest brown eyes I have ever seen in my life. I may have started drooling at that point… not sure. But I know I was gazing up at him right stupidly! But I couldn't help myself. All I could do was just hope he didn't notice. So we started chatting. I probably sounded a little stupid because all I was thinking about was how fine and sexy he was. But apparently I was able to hold on enough of a conversation to keep him interested. At some point the guy he came with came over and said "Hey man, you ready to go?" At that point, panic ran through me! I had not talked to him enough! He hadn't asked me for my phone number yet! This dude needed to lean back! So I took him (the friend) by the hand and walked him to the other side of the room and told him "Ummmm, I need you to sit down. No. He is not ready to go. I am working on something here." I kinda pushed him into a chair and walked back over to the sexy brown eyed man. So a few minutes later, I had given him (the sexy brown eyed man) my phone number. Told him to call me and "released" him to his friend. The next day, he called. I was delighted. Like could barely contain it delighted. But played it cool. We chatted for a while about random stuff. Somehow we talked about me liking wine… surprise surprise. Well then he asked what I was doing later that day. At the time, I had a handyman who I would contract my repairs, small jobs, etc – he is a wonderful older man who takes side jobs but… he has since been replaced ;-) But anyway he was doing some work in the house that day. But he would be gone in a few hours. So my new friend (the sexy brown eyed man) asked if he could come over. I told him yes around 7:00 or 8:00 that evening. Well he did. He came over that evening, with a bottle of wine, and wonderful conversation and he has been at my house everyday since!
Discussions I've participated in
2,555

Hayley C and Vistaprint
Hello Ladies, I hope you all are having a wonderful time planning your weddings. I haven't been around much and sorry to pop in when I need something. But.... Could anyone tell me what happened to...
Just Reenski,

May 7, 2013
13
hmm and you want me to buy you a gift?
Breezie
, on April 13, 2013 at 3:09 PM
LOL, so we have a wedding to attend today. Was going to purchase a nice gift. FH was asked to be an usher. Yay. So FH gets a text this morning the ceremony is only for family. It's an hour and a half...
Mrs Roberts,

Apr 14, 2013
23
Activity

I uploaded a photo in Desiree's discussion
2087 days ago
3 pt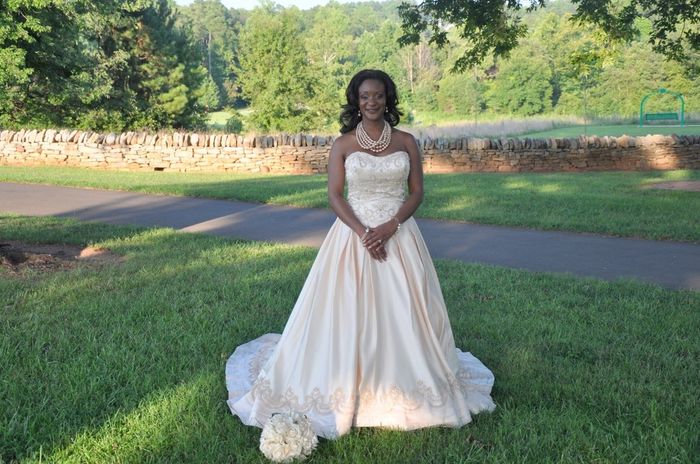 OK, brides --- how much did you pay for your dress?
My budget started out nonexistent, then we decided to splurge on a wedding. At first I thought I'd just wear a white dress; now I want "the one." I was hoping to stay around $500-$700 ... but I think I'm going to be way off. So -- what did you pay...

I uploaded a photo in Mrs. Williams's discussion
2087 days ago
3 pt
Program paper???
Hi WW! I plan on printing my own programs for the ceremony...does anyone know what type of paper is best. I notice when I do a rough draft the ink "runs".

I uploaded a photo in Jamie Q.'s discussion
2087 days ago
3 pt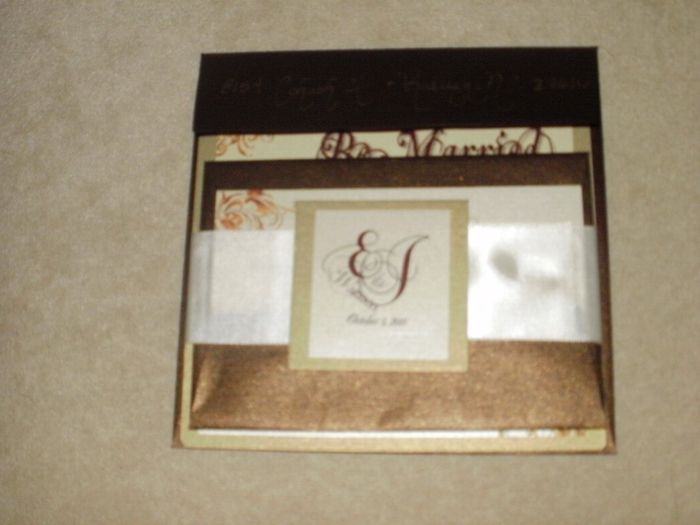 Rehearsal Dinner Invitations???
Hey there! So I have not been in a wedding in a long time, and FH doesnt remember this. Do you send out invitations for the rehearsal dinner? We are only inviting the BP and their SOs and parents. Do we just spread the word or send an invite? And can...
WeddingWire celebrates love
...and so does everyone on our site!
Learn more
Groups
WeddingWire article topics