Wedding details
We met on a free dating website (www.plentyoffish.com). It was my first night on the website and he was going to give it one more week to see if anyone would write him. I wrote him, but was not the sweetest thing on the planet. In all fairness I was actually quite rude and really did not think that he would write back after I commented on what he wanted in a woman. "I am looking for a girl that will take care of herself in looking and body," he wrote. "So you are saying that you don't want a fatty. You want the typical model type girl to date!?" I sent in the first email. He wrote back defending himself, but also trying to get a little bit more indepth on wanting to get to know me. We talked for 2 weeks while I was on vacation in Colorado and met the day after I got back. We have been together ever since.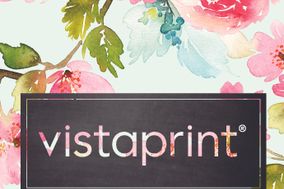 Discussions I've participated in
545

FH and your weight, how do you feel about this?
Heather
, on March 22, 2012 at 6:11 PM
If FH came to you and said, "Sweetie, i would really like it if you lost some weight." how would you react? or if they said they wanted a skinnier you for their birthday or anniversary or wedding...

Need Honeymoon Help!!!!!
Katie
, on November 11, 2011 at 12:17 PM
So FH and I decided we weren't going to take a honeymoon becuase we are paying for 90% of our wedding with little help. We thought we may just stay in the honeymoon sweet in the hotel for a few...
HiiS EverythiinG,

Nov 14, 2011
16
Looking for honeymoon location
Sara
, on November 11, 2011 at 3:51 PM
My FH and I are still looking for a honeymoon location. We were looking to stay in the US. We are looking for a beautiful city with rich history that isnt a tourist trap (Philly, NY, Vegas, LA, Miami,...
Activity

I uploaded a photo in The Potters's discussion
1997 days ago
3 pt
Married? Share your honeymoon photos!
I thought those of us married ladies who were lucky enough to go on a honeymoon should say where we went and share some photos. It might help some of those trying to plan their honeymoons. We went on a Royal Caribbean cruise in October 09, left out...

I uploaded a photo in ~FabulousBride~'s discussion
1997 days ago
3 pt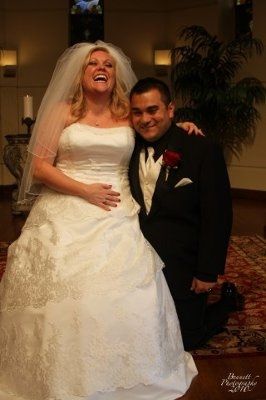 DISGUSTED
I know I have wrote about this before and I know that others have posted about this... but I'm just appalled at the fact that I can't find a bridal shop that carrys plus size wedding gowns. There are literally two that I found and each has only one...

I uploaded a photo in J.J's discussion
1997 days ago
3 pt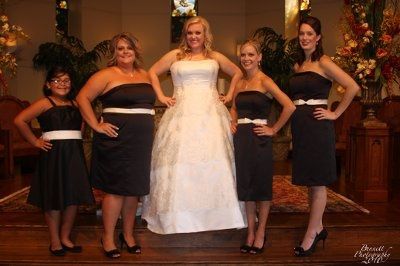 If you were a bridesmaid would you wear this dress?
I have been looking for the perfect bridesmaids dresses for a while now and I think I finally found it! What do you all think? Does it look comfortable to you? Would you wear it? The dress would be black and the trim would be blue btw. Any input is...
WeddingWire celebrates love
...and so does everyone on our site!
Learn more
Groups
WeddingWire article topics