Wedding details
Miguel & I first met back in 3rd grade. Coincidentally, we went to the same high school as well. Our sophmore year, while walking out of school, Miguel was walking behind me and said "Hey I have the same phone." I had a boost mobile back then. He gave my his number but couldn't take down mine because he didn't have his phone on him, so he said. ;) A couple of days passed and I hadn't called him. Finally, he came up to me about 3 days later and asked why I hadn't called him. I told him I was sorry and that I would call him that night. So, I did. We spent about 3 hours on the phone that night. We kept talking and started to hang out. He would pick me up and drop me off after school. Finally, after about 7 months of us talking and hanging out together, he decided to ask me to be his girlfriend. We had a half day at school as so after he asked if I would go with him to the Aurora Outlets. I said yes. We spent the whole day over there. He bought me so much stuff, it was ridiculous! In a good way. LOL. On our way back home he asked me if I would date him. We were stuck in traffic and he decided to just ask me out! It was amazing. The way he proposed? Well, since our last year of high school we knew we wanted to be together. We literally spent every day together. So, one day he decided to take me to Navy Pier. We went on the Sea Dog boat ride, on the Ferris Wheel and we built a bear at Build-A-Bear. While we were on the Farris Wheel he pulled out a ring from his pocket and said he was scarred he was going to loose it so it'd be best if he placed it where it belong. So, he put in on my finger. He always promised he'd buy me something better. It didn't matter to me not that my new ring isn't special but it's him I care about, as corny as it sounds. So about 3 years after he gave me my first ring, he went with his brother and his wife to the shop where his brother had bought his wife her ring. He knew what he wanted and didn't want to settle for anything less. I was suspicious of something but didn't really put 1 and 1 together. So one day, a little before we closed on our first home, on a Sunday afternoon while I was at his house and he was still in bed; lazy butt; he got on one knee while I was sitting on his bed and asked if I would marry him and opened the little red box. I wanted to cry! I was pretty amazed! I glanced at the ring and then said "OMG that little box is so cool" LOL When you open the box it has a little light on it that shines down on the ring. He laughed and pulled out the ring and placed it on my finger. He said "I promised you something better and here it is." And the rest, well, it's in the making.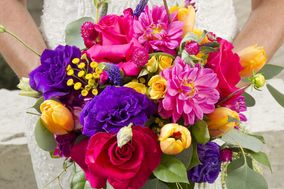 Discussions I've participated in
618


I've missed you ladies!!
It's been a very long time. Long story short, my job blocked weddingwire. I've had a change of work hours (for the better) and I get home tired. Thankfully, my job noticed how many things they had...
Beautiful August.,

Jun 3, 2011
5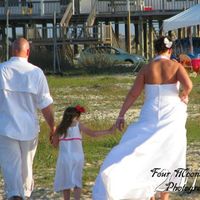 3
Activity

I uploaded a photo in Cayla's discussion
1909 days ago
3 pt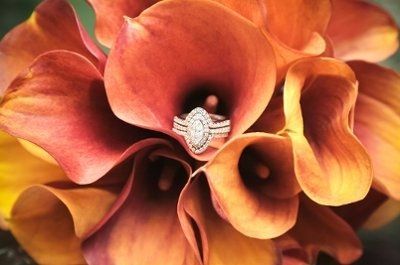 Double Wedding Bands
I want double wedding bands & trying to convince my FH to go along with it. Do any of u ladies have or want double wedding bands?

I uploaded a photo in erin's discussion
1909 days ago
3 pt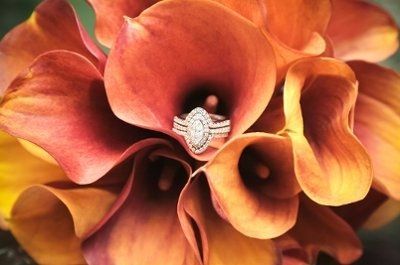 Wedding Bands!!! *Pics
So I know there are ring posts...but I haven't done one yet! So here is mine...just found the bands at an estate jeweler while I was home and I am so excited! They have to be sized bigger so excuse the sausage fingers hehe. So...Show me yours!

I uploaded a photo in TheFutureMrsLind's discussion
1909 days ago
3 pt
Show your Rings!
Hey ladies! I love to look at jewelry, so I was thinking we could all show off our beautiful rings
WeddingWire celebrates love
...and so does everyone on our site!
Learn more
Groups
WeddingWire article topics