South Africa Honeymoons
South Africa truly has something for everyone—from romantic beaches to rugged mountains, safari excursions to incredible resorts.
As you and your soon-to-be wife or husband brainstorm where your new foray into marriage will take you, allow the temptation of a South Africa honeymoon to lure you. Unlike any other country in the world, there is a certain wonder that comes with this part of the world. How come? It's myriad of ecosystem means you'll constantly challenge your senses as you take in once-in-a-lifetime views and experiences that stretch from the wildlife-rich bushes to the jagged cliffs and white sandy beaches of the ocean. No matter if you and your number one can't wait to witness the beauty of wildlife up-close-and-personal or want to take that legendary selfie atop Table Mountain, one fact about your upcoming getaway is bound to be true: you certainly won't be bored.
From the parks to the beaches, here's the lover's guide to a South Africa honeymoon.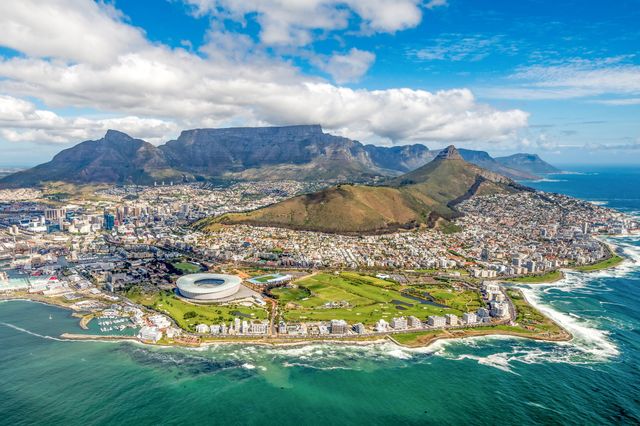 When to Go
There's no magical, prescriptive time to set South Africa honeymoon. Rather, it's a year-long destination because much like the United States or Australia, it has various climates and regional landscapes. Instead, you have to find the best month that will offer you mild, enjoyable temperatures, along with opportunities to check items off your bucket list. In Cape Town, you'll want to explore during the summer - from November to February, while you're more likely to spot a whale from July to November. For Kruger National Park, though, it's best to spot wildlife from May to September during the dry season. For a better price on tours, September to November signals the low season.
Where to Go
Well, everywhere! Make sure you take enough time off of your 9-5 post-wedding to truly soak up every excursion this country offers. With elephants a plenty, rooftop hotels with captivating views in the cities and lots of wine to drink, you'll want to savor this country for as long as you can. Here are some areas to celebrate your new marriage:
Cape Town
If you're coming from the United States, you'll touch down in either Cape Town or Johannesburg, but if you can swing it, make the former your first stop. This port city in s on the southwest coast of the country, right below the catch-your-breath Table Mountain. On the ocean, many resorts line the shore, where you can get lost in the bustling harbor as you soak up the sun. For a bit of history, you can take a boat yourself to Robben Island, the home of a former prison. Though many inmates were sent here, the most famous was Nelson Mandela, and today the museum is a must-tour. If you're not up for the hike, take a cable car to the top of Table Mountain, where you can update your guests that you arrived safely - and the honeymoon has begun!
Kruger National Park
When you fly into Johannesburg, you can travel a few miles via car to one of the most beloved bushes in the world - Kruger National Park. In the northeastern part of the country, it's one of the greatest and grandest in the world, thanks to its plethora of animals. Here, you can hope (and cross your fingers and toes) to spot the big five, including buffalos, elephants, rhinos, leopards and lions, among hundreds of other creatures, from storks and vultures to more. There are plenty of camping options - from luxury accommodation to ones that put you in the heart of nature, where you might even find yourself stuck in a bathroom, thanks to an elephant who decided to have a seat outside your door.
Hermanus
Just southeast of Cape Town, this western-cape province is ideal for a bit of relaxation during an otherwise busy South Africa honeymoon. Most notoriously, this seaside retreat is known for whale-watching and beach-ing, with Voelklip and Grotto Beach, as well as Walker Bay. You can view this spot in the country as a fisherman's village, complete with all the classic and romantic touches. Not too far away is Stellenbosch, where you and your forever-partner can sample countless locally harvested wines.
Durban
For a cultural immersion and more of a city feel, venture to Durban, a coastal city in the KwaZulu-Natal province. Before 2010, you might not have considered this region, but thanks to the World Cup, tourism has continued to grow. You and your partner will feel the influence of times long ago, as well as spices and customs from Indian and African communities. Here, you can walk along the promenade, get your thrills at the uShaka Marine World, and tour through the Durban Botanical Gardens to brush up on your African plant knowledge. While you don't need more than a few days here, it's a fun addition to your wildlife and beach experience.
Article by Lindsay Tigar
Flight 3
- Remove Flight
+ Add Flight
Flight 4
- Remove Flight
+ Add Flight
Get access to travel deals when you book your honeymoon through WeddingWire