Let's find your wedding team
Search over 250,000 local professionals with reviews, pricing, availability, and more
Free

, easy and customizable wedding websites

Share all the details with your guests in one place.
Change your design at any time

Update your theme, add photos and more—whenever you want.

Easily customize your details

Add your registry, share guest info and even tell your love story.

Track your RSVPs

Responses on your website will automatically sync to your guest list.
Affordable invites that match your style
From save the dates to thank yous, we make it easy so you can focus on "I do."
Designed to match your wedding website

Want a free wedding website that ties the vibe together? Of course you do.

Free samples before you commit

Get three free save the date or invitation samples to help you decide.

Easily customize 'em

Personalize everything from fonts to photos. We even have free design help!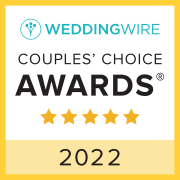 Couples' Choice Awards®
Explore winners in your area.
Rating 4.3 out of 5, 147 Reviews

(147)

· Sterling, VA

Rating 4.9 out of 5, 84 Reviews

(84)

· Vienna, VA

Rating 4.8 out of 5, 598 Reviews

(598)

· McLean, VA

Rating 4.8 out of 5, 81 Reviews

(81)

· College Park, MD
Real Weddings
Browse by location to find wedding professionals in your area and view photos of their work
Kara & Bryan

44 photos · Leesburg, Washington DC

Kalila & Benjamin

79 photos · Washington, Washington DC

Erin & Clark

82 photos · Leesburg, Washington DC

Peter & Arisa

47 photos · Hyattsville, Washington DC
Ideas and tips
Get inspired with the latest trends and advice from our wedding experts
Wedding Guests

Bride & Bridesmaids

Rings & Jewelry

Honeymoon Advice
Forums
Ask questions and get answers with the help of other engaged couples.
Ready to walk down the aisle?
Dress catalog
Discover the latest trends in wedding dresses by top designers and bridesmaid dresses. Choose your favorite from our catalog!
Plan your destination wedding
No matter where in the world you want to get married, WeddingWire's directory of international wedding professionals can help you celebrate.
Search by category to find your wedding team
Why WeddingWire?
With the largest network of local wedding vendors, WeddingWire offers the most comprehensive wedding site out there. You will be able to find the best vendor for your budget and plan your wedding exactly the way you envisioned it. We make it simple to get the pricing, availability, and answers you need from wedding venues and wedding vendors across every town.
In addition to the wedding industry's best and brightest wedding vendors, WeddingWire offers free, easy-to-use wedding planning tools like customizable wedding checklists to keep your tasks in order, wedding websites with designs made just for you and a comprehensive wedding registry for all your guests. You can stay on top of all the details while on-the-go with the WeddingWire app, which features a wedding countdown to your big day.
Meanwhile, our dedicated team of editors provides you with the very best wedding ideas and curated wedding photos filled with inspiration to help you choose between florists, cakes, photographers and wedding venues when you start planning the details. WeddingWire will help turn your vision into a reality!
Special thanks:
Towards the Moon;
Love & Adventure Photography;
Alison Dean;
Chelsea Abril Photography