Post content has been hidden
To unblock this content, please click here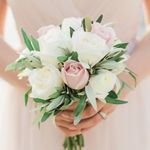 Worst reasons someone declined your wedding invitation?
My mom might not come because she has concert tickets for the same day. Has anyone else received a 'no' for a reason so bad it's funny? Trying to see if I'm in the same boat as anyone else.
Latest activity by Pirate & 60s Bride, on September 1, 2021 at 8:03 PM
OMG! I couldn't even imagine. Your own parent?!?! That's wild. The following people had already rsvp'd yes.

I had a cousin and her boyfriend back out on me cause of finances (even though she's known about it for quite some time beforehand including our postponement) so then her mother and the grandkids didn't come cause they were their ride. Then another cousin ended up backing out AFTER I asked his brother (who also backed out) because "he forgot". All of them are from my dad's side of the family 😑

View Quoted Comment

Omg that really is bad 😩 What is with people?? And yes, she asked me to move the date of my wedding so she doesn't have to move the date of her tickets

View Quoted Comment

I don't know but I'm definitely not inviting them to anything anymore. Literally hundreds of dollars wasted. Then one thought it was funny like.....it's not. It screams I'm forgettable and yall don't know care. As for your mother, that's pretty tragic too. I would have either sold my concert ticket or exchanged it for another day to attend my child's wedding. Shows where her priorities lie. I'm really sorry to hear that.

My *entire mother's side of my family* refused to come because her name was not on the invitation. (She neither helped plan, nor pay, so she was not listed as a host.)

Only a handful of the "kids" (the generation below me) are still talking to me, because they agreed that was ridiculous, and wanted to come but could not (most of them are college aged at most, so they are reliant on parental funds/transport/etc.).


My aunt and uncle said they won't come if we require our guests to get tested because this is against their corporal integrity or some similar bs. They are the only family I have on my mother's side.

I can't believe your mom asked you to move the date of your wedding for a concert! I'm baffled!!

I don't have anything to share as my wedding is over a year away but wow!!! I hope you aren't going to move you date.

I can't even. She has concert tickets for the same day . . . so she asked you to change your date . . . and may not come. Holy crap on a cracker. I gotta ask - who's performing?

As far as declines, we had nothing that insane. H's aunt and uncle (and their whole family) were going on a cruise for their 50th anniversary, so they weren't able to attend. My grandma couldn't come because she had fallen (again - she had already broken one of her hips she's broken the other since we got married) and they didn't want her "on the road" so to speak, and that meant someone had to stay and be with her, but they were all intending to come until she fell.

Just Said Yes

September 2020

My grandmother declined because she hates my mother and aunt. I am the only granddaughter in the family. So there is that.

My uncle and his girlfriend changed their yes to a no because the girlfriends dad was having surgery like 2 days prior and they both had to leave the day of my wedding to go help out. I get why the girlfriend couldn't come, but my uncle could have come and went the next day.
My cousins and their spouses all left before eating dinner because they had to go let their dog out. It wasn't a decline and technically they didn't no show, but they didn't eat so still a waste of money. I've hardly spoken to them since.


That is horrible of your mother. Do you have a pretty decent relationship with her? Or are you guys not really close? I don't think I'd ever talk to my mom again if she didn't come to my wedding because she has tickets to a concert. That would ruin any relationship we had. We only had two people decline at the last minute but for very valid reasons. Other than that everyone else showed up.

Hello ! That's so funny ! My aunt also declined my invitation for the same reason! Her son had concert tickets for the night of my wedding so... the family of 4 couldn't come ! Well, no harm...

We had a few people who RSVP'd "yes" then didn't show up because they were tired. 😡 I wish I could have sent them a bill.

One entire side of my family isn't coming because "the weather in December can be tricky." Mind you, I specifically chose my location because it's up the road from them and a easy commute. If I had known that some of my closest family members weren't going to make an effort, I would have gotten married where we (and the majority of my friends) live. Oh, they also drove 3 hours out of the way for my cousin's wedding in the middle of a snow storm 3 years ago … so they're full of it.

WOW! A concert? There are no words for that excuse or many of the others mentioned. We haven't reached RSVP time yet, but so far I've heard "that's the last weekend of spring break, we're going to be on vacation".

View Quoted Comment

There was a news story about a couple who did this!

But seriously, if something comes up and people really do have to no show, call and explain, and then SEND A GIFT!!

OMGGGGG that's awful! I'm so sorry.

One of my bridemaids said "she's trying to get pregnant" so she can't come. First off, you knew about this wedding how many years in advance? Second, trying to get pregnant and actually being pregnant are two different things. Third, you can still attend weddings while pregnant. Girllll I literally can't with this foolishness.

View Quoted Comment

I know, right?! That's hilarious a couple actually sent a bill.
WeddingWire celebrates love
...and so does everyone on our site!
Learn more
Groups
WeddingWire article topics