Let's talk Wedding Day Photographers, Soooo you know if I'm in the forum I am here to discuss vendors... or something has went terribly wrong or exceptionally well...
What do you do when you finally have a shoot with your BOOKED wedding photographer and the photos are horrible!? I call it practice but not practice... he did our engagement Photos...
They are horrible!!! Luckily but not luckily we have time to book another one. We have already paid 50% of the $3200... and want to cancel so badly. We can't redo the wedding and I feel like I would lose my mind if those pics were anything like the engagement photos.
So we had tried to talk to him about it and explain that we are darker than his normal clientele so you can't do the same things with us. He was offended that I am not letting him be an artist.
He was so rude and unprofessional and I'm so afraid at this point. I think we should take that loss and cancel. But geeesh $1600 in the toilet and only One decent photo. My hair was out of place. Engagement pics but my ring was hidden or turned. I had my forgetter my tag on my dress. He didn't notice until halfway through the shoot. A whole mess.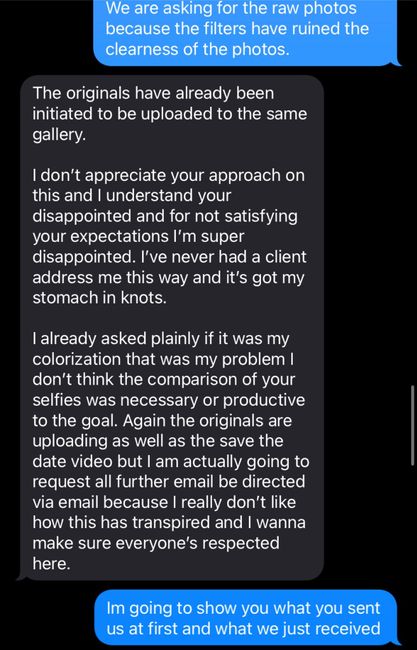 Check out the messages. I'm blue he is gray for non- iphone users lol. 1.5 hrs shoot including wardrobe changes with only 2 half decent photos. None edited he just put a light filter on top.