I finally have time to post some of our pro pictures (NIA PHILLIPS PHOTOGRAPHY is seriously the best!) and a budget breakdown!
Total (not exact) = $7500
Dress: I got my dress at David's Bridal on clearance for $250, it was originally $799.
Shoes: $25 on Amazon.
Veil: $200 at David's Bridal, originally I was just going to get one on Amazon, but my mom offered to buy it and we both loved it!
Jewelry: Mostly on Etsy, Amazon, Wish, or at Walmart. Total, I think I spent around $40 on jewelry.
Alterations: $150 to remove illusion top, add straps, add 1-point bustle, take in the bodice, and hem the dress. One of my regulars at work did it for me at a discount; originally it would have been closer to $400.
Step-Daughter's Dress: $10 at Target, then her and her cousin's belts were like $5 each on Amazon.
Bridesmaid Bouquets: $40 total--I made the bouquets myself with silk flowers from Walmart for $3, then I painted the petals and used ribbon to wrap the stems.
My Bouquet: $125--I made each of the blossoms by hand out of ribbon, and glued them to a styrofoam dome that was wrapped with ribbon.
Boutionierres: $10--made with the leftover flowers from the bouquets.
Ceremony Decor: $100--I decorated bottles with ribbon, and put silk flowers from Walmart in the vases. I also made all the signs for the ring bears.
Flower Girl Dress: $15--I bought the bodice on Etsy, and then I made the skirt out of tulle. The straps are ribbon.
Reception Decor: $200--we got "linen-like" tablecloths for $7 apiece at smartyhadaparty.com, and then I made the centerpieces out of beer bottles with ribbon, flowers from walmart, candy bowls, and table numbers that I got on clearance at Schnucks for $0.27 apiece.
Catering: Nagel's BBQ - $1300. We had BBQ chicken, BBQ pork, green beans, rolls, and mac n' cheese. Everyone LOVED them. They normally only do buffets, but because of CoVID they let us do sit-down. They provided the china and the utensils.
DJ: Deep Blue Productions -- $550. He did such a good job!
Photography: Nia Phillips Photography -- It was $600 just for her, and then another $450 for the second shooter. We had her from 4 pm until 9 pm, and we were SO HAPPY with her. She is AMAZING.
Officient: Carolyn Burke -- $180
Hair: My mom paid for this, it was $50 to have it done at Look After.
Makeup: I did my own makeup with stuff I already have!
Invitations, RSVP cards, thank you cards: $50 -- I just bought the stationary and stamps and did it all myself.
Venue: $750 -- Ballwin Golf Club. We did the ceremony and the reception in the same room. The ceremony was on the dance floor, and then we had everyone move their chairs to their tables for the reception.
Tuxes: $500 -- DH decided last minute that he wanted them all to match 100 percent, so we called Men's Wearhouse TWO WEEKS before the wedding and paid the rush fee for DH, BM, and his 2 GM. They totally weren't the color we thought they were going to be (they looked like they matched the BM dresses online, and they are DEFINITELY more blue), but I think it worked out fine.
Bar: $15/person -- so about $1100? I can't remember the exact amount for this one.
Cake: Celebrating Life Cakes -- $250 ; cake was almond and vanilla.
Cake Topper: $40--I bought the Pops, then I used clay and paint to remake them. They are glued on decorated styrofoam from Dollar Tree, with words from Dollar Tree.
Rings: Etsy for both of us -- mine all three (engagement, step-daughter, wedding) was around $100, DH was $200 and on sale for $65.
Me and Mom: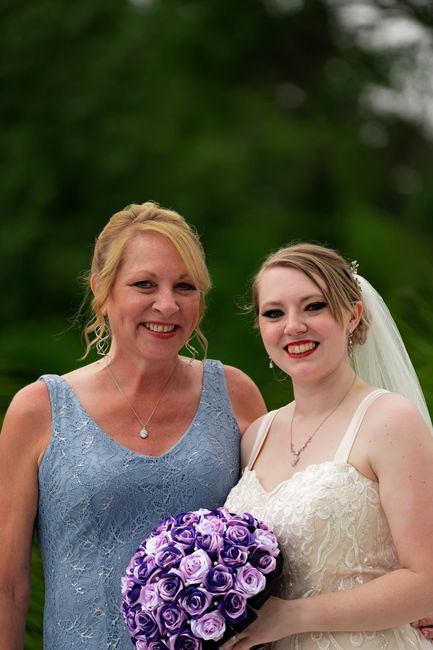 Me and Dad:
Me, DH, MIL, FIL (also BM)
Me, DH, my grandma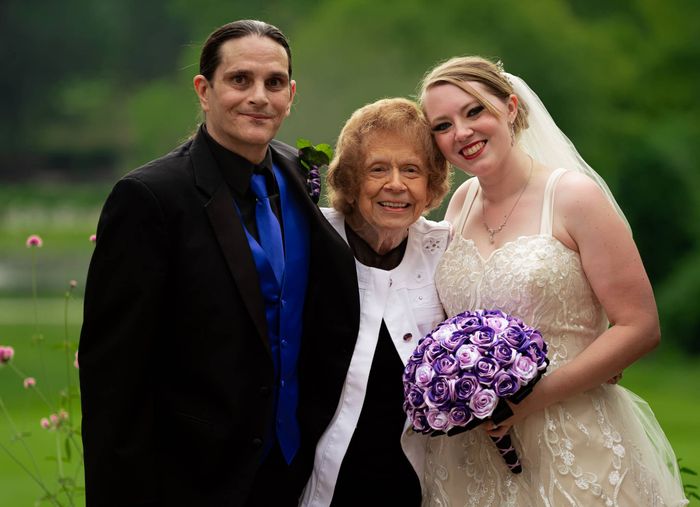 Me, our niece and my step-daughter as jr bridesmaids, MOH's daughter as flower girl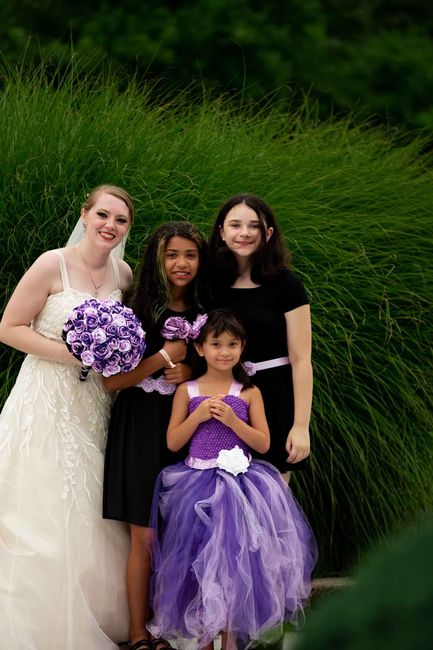 Me and my step-daughter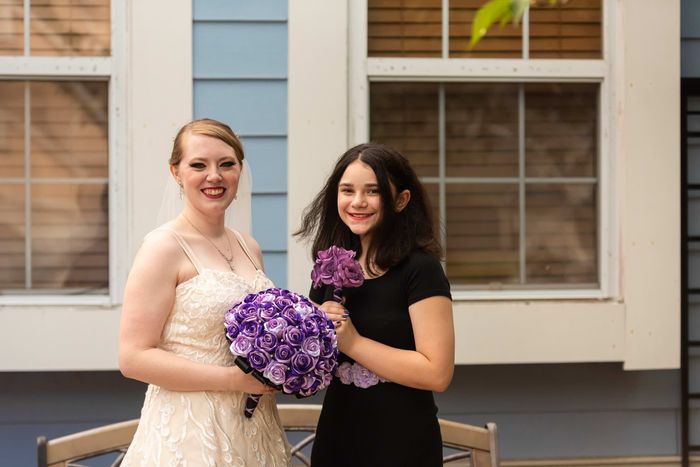 step-daughter and her cousin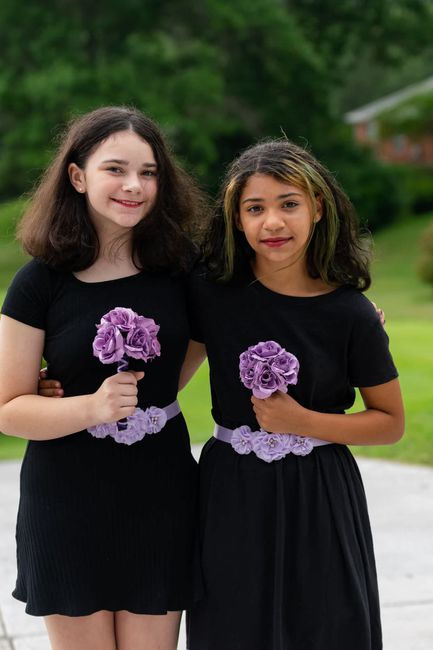 Our Cake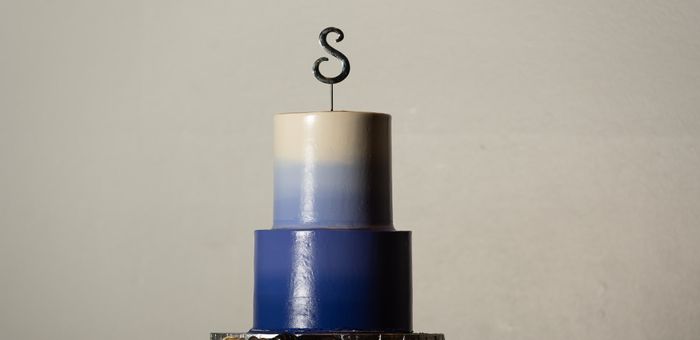 Table Decor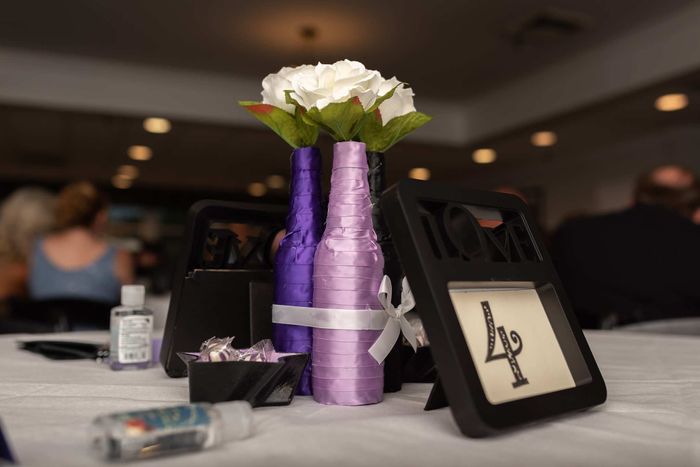 Cake Topper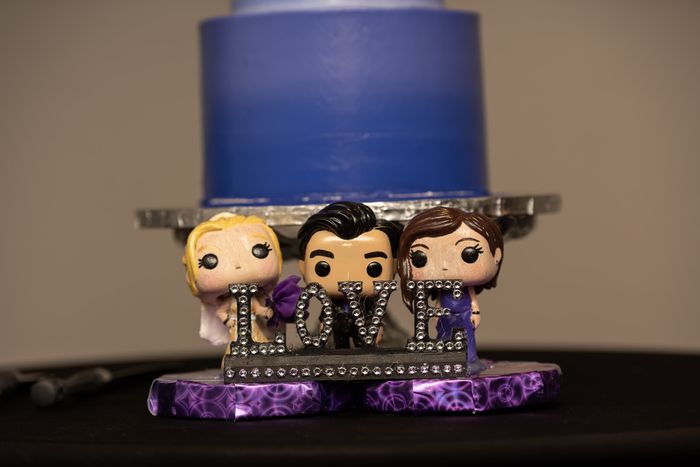 Decor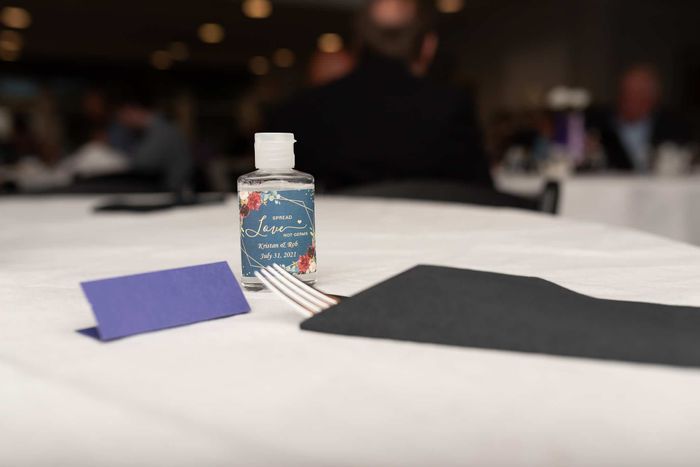 Decor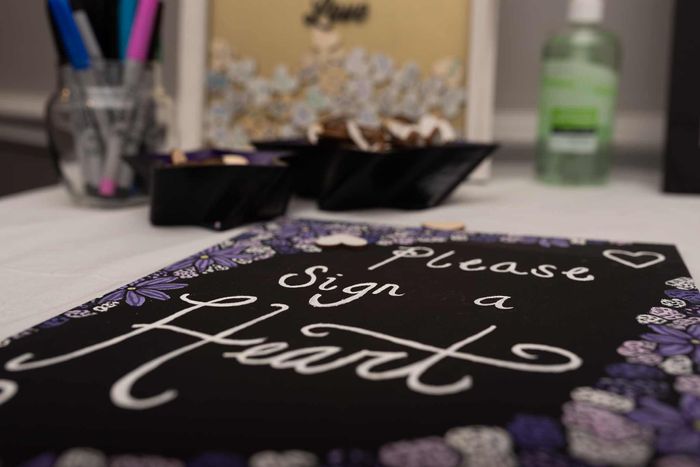 me and DH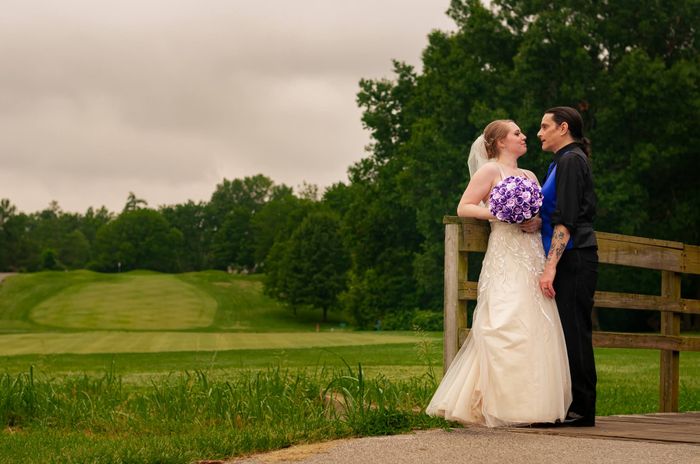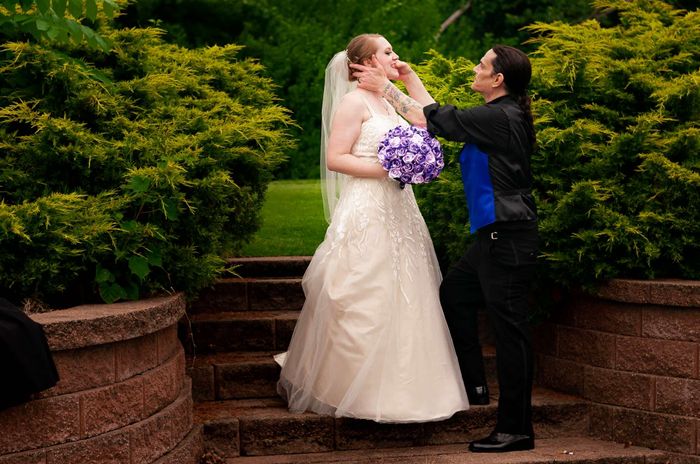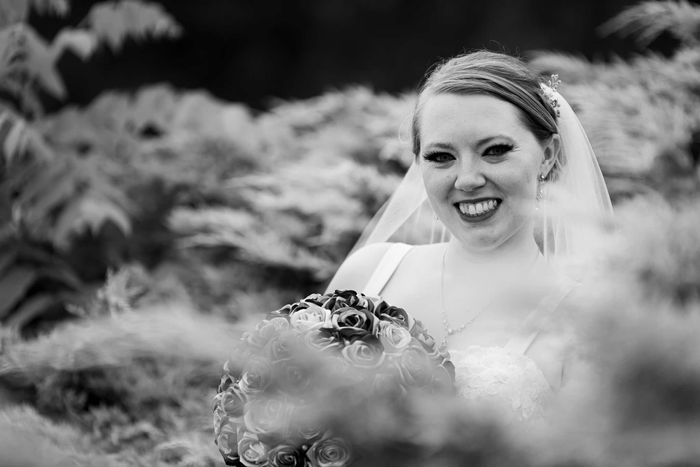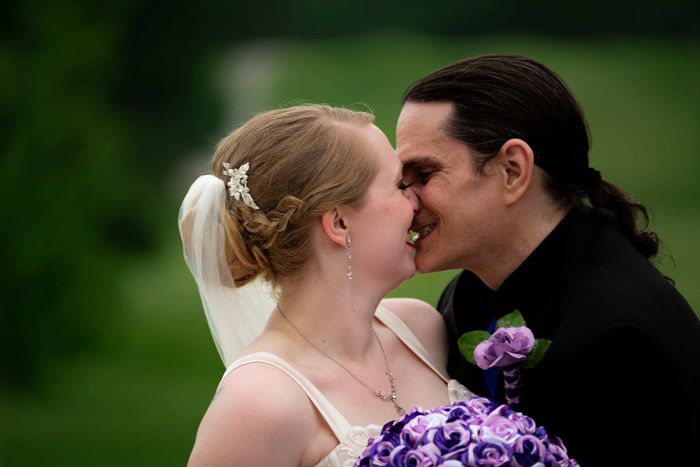 Bridesmaid, MOH, bridesmaid
Bridesmaids, MOH, Jr Bridesmaids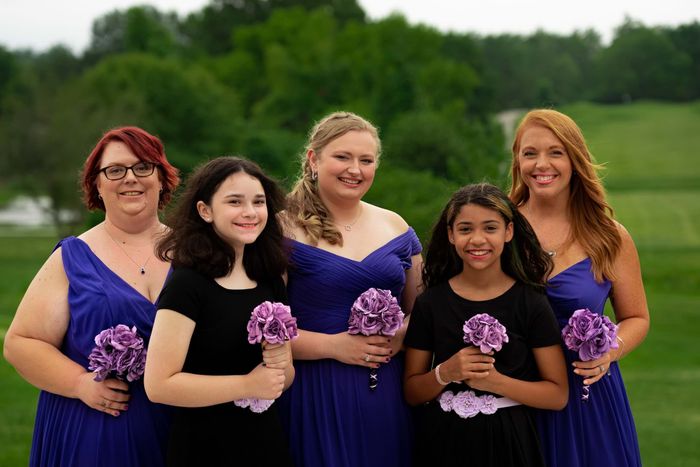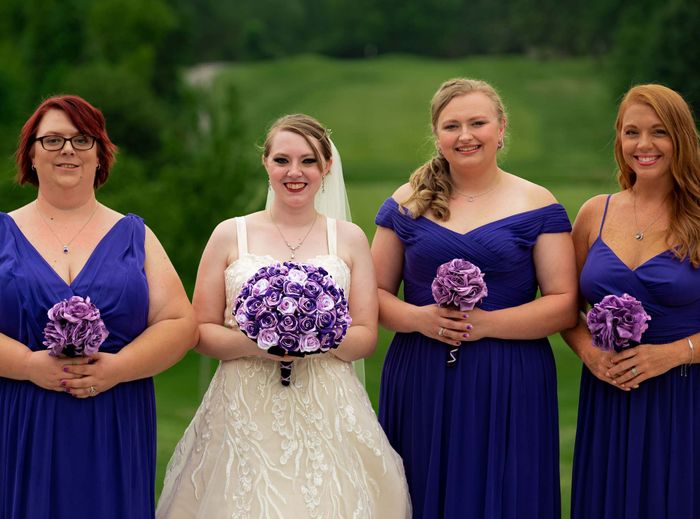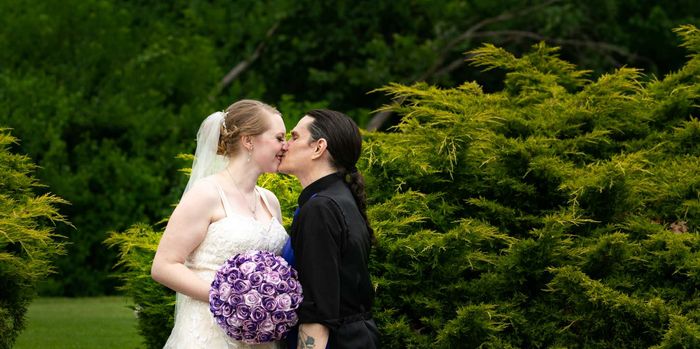 First seeing me walking down the aisle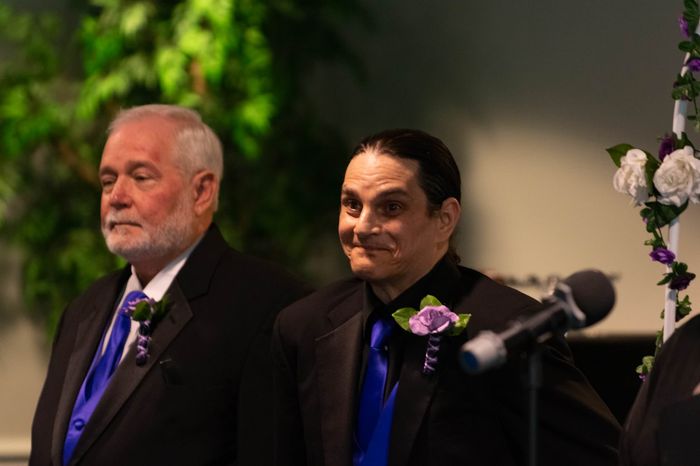 Shoes