Post content has been hidden
To unblock this content, please click here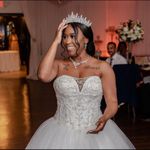 Non Traditional Guestbook Ideas?
Imani, on March 14, 2022 at 10:06 AM

Posted in Style and Décor 107
Is anyone doing a non traditional guestbook? I saw the big letter that everyone signs and also the heart shape paper. What are you ladies planning to do?
Is anyone doing a non traditional guestbook? I saw the big letter that everyone signs and also the heart shape paper. What are you ladies planning to do?
Show all
View Quoted Comment

Welcome! ❤️

View Quoted Comment

I can relate to you fiancé about the handwriting thing. I'm thinking about have an instant camera and I had not thought of that detail.

View Quoted Comment

I like the idea I just can't think of the logistics. Especially with the amount of people were expecting. I like the camera idea but wouldn't know how to execute it.

View Quoted Comment

Well, in my head I imagine it set on a table with brief printed instructions like: Take a photo, keep it or put in this BOX for our wedding memories, sign it if you want with this sharpie. etc... It is tricky though... You have to change the film every 10 shots so you would need to have someone dedicated to that task. My fiancé and I are photographers so that is a big reason I would like to incorporate it. It's a bit pricey the cheapest camera is $70 and the film packs start at = $13 for 2 packs.

View Quoted Comment

Oh wow! How many guest are you all expecting? Would you be opposed to using a cheaper camera and maybe getting two instead of one?

View Quoted Comment

I'm expecting 36-40 people. You could have two going at the same time. That makes sense. I don't know that I can afford it unless maybe I end up gifting the second one. I'm also debating buying the $128 (instax mini 90) because it has more features and I want to play with it!!!! I haven't decided yet.

View Quoted Comment

Oh 36-40 people is perfectly fine for one camera. I think it'll be worth it! For sure.

View Quoted Comment

We're doing a similar guest book, but just wine (though now I'm rethinking it and might change our 25 year to a bottle of liquor!). I'm struggling right now with how many bottles I need to allow everyone to sign. Do you mind to let me know how many people you had and how full the bottles got when signed?

View Quoted Comment

We had 90 people and the bottles aren't super filled up! I did notice, the guests that signed, signed most if not all the bottles, not just one! It's quite hard to see in a photo, but here's how they look now:

View Quoted Comment

Thank you so much! Even with 90 people and multiple of the same person signing, it seems like there's still a good amount of space!

View Quoted Comment

Definitely! Some of them are quite pale so they're hard to see, especially in this photo, but there was plenty of space on this many bottles.

Hi . We did a photo album where I pre-wrote everyone's names on a page (in like a pretty font) and had them sign the page and then I could put a photo of them on the page after the wedding. We didn't have an instant camera but that would have been great for the night.

Also, we had friends who got a photo of themselves and put it in a big photo frame with plenty of white space around the photo and everyone signed around the photo. That was a really nice one.

View Quoted Comment

I like that idea Fiona. I really would like to do the instant camera but I can't figure out the logistics.

The both of us love soccer so we had our guests sign a soccer ball and everyone thought it was really cute. I also put together photos and tickets of us at games we've gone to together

View Quoted Comment

This is nice Maddie!!!! And created. Do you have it in one of those glass box frames?

Okay, I am so excited about my guest book, I know that my Fiance and I will never open a book to look at who came to our wedding... it's just not us it would sit there collecting dust for far too long. We are both in the military, met in Colorado, he lived in the South his whole life and I lived in the Pacific Northwest Area, we both moved around a lot and so did a lot of our friends. So we have a wooden map (linked below) where people are going to sign! Then we can use it as decor in our home later on too! I got an L or XL, wood multicolored, blank, and I am obsessed with it! I think it's such a cute way to incorporate where everyone is from and have a "book" we will actually look at!


https://www.etsy.com/listing/927123430/usa-map-wood-map-of-united-states-wall?ref=yr_purchases&variation0=1752174751&variation1=1735789552


PS next to this map we're going to have a jar with some paper next to it, and people will be able to do "date recommendations"!

View Quoted Comment

WOW! This is a super neat idea! Thank you both for your services!

I printed our engagement photos on a 12x12 album and will have our guests autograph the pages.

I bought a small "luggage" case that I'm going to prop open that has the map of the globe on it. I bought a lot of postcards and I'm going to have everyone take a postcard and either just sign the back of it or scribble a saying, encouragement, congratulations or any advice as a newly couple. Then we will save all of the postcards. A friend suggested that we get our engagement photos made into postcards and use these. My fiancé is from Kenya so I bought some international postcards as well.

View Quoted Comment

Very cute Marissa! How early did you all take engagement photos?
WeddingWire celebrates love
...and so does everyone on our site!
Learn more
Groups
WeddingWire article topics