I'm backkkk, and I'm MARRIED!!! Let me start off by saying that I am so happy with the way my wedding turned out. For the most part, it was perfect and exactly what I'd hope'd for. As I am waiting for my professional photos, I figured I'd share "The Good, The Bad, and The Ugly" of how everything turned out.
The Good:
Everyone really seemed to enjoy themselves and have fun, which is what I wanted more than anything. All of our guests raved about the food, especially the crab dip. And everyone loved our beer canoe & moon shine. All of my vendors were great, IMO. My husband (HA, I almost typed FH

) had a few minor complaints about the DOC & DJ, but overall, I was very pleased with everyone we hired. Our friends and family helped us set up and clean up, which is awesome, because we couldn't of done it without them. Everyone loved my dress, and thought everything was beautiful and well put together. The grand entrance songs I picked for the reception were a big hit, and apparently our first dance had everyone tearing up. I made my husband swear not to smash cake in my face, and he oh so lovingly didn't..it was quite sweet, but I couldn't resist and grabbed the entire plate that held our cake slice and smashed it on the side of his face as we were lovingly feeding each other, bahahahaha. We stayed up till 1:00 am at the venue, even after most guests and the vendors all left (I had the venue for the entire weekend), with some close friends and family and just laughed and enjoyed each other's company. Anyways, everything was perfect and so special.
The Bad:
Although my cake was beautiful & tasty, I am quite annoyed that it wasn't what I paid for. I literally talked to the baker 2 days before the wedding about how excited she was about the cake, especially the fresh berries. She even asked me to pay an extra $100 because she mistakenly under charged me and costs were adding up. Well, guess what wasn't on our cake the day of the wedding!?! The freaking berries! Ugh, sorry, that one just rubs me the wrong way, lol. Anyways, beyond that there were minor little things that didn't happen according to plan, but no big deal overall. I think the DOC forgot to set the sand ceremony stuff out, but that was fixed by the time I walked down the aisle. The DJ stuttered when announcing us into the reception, lol. I didn't lose the 10 lbs I needed to, and couldn't secure the very top hook on my dress (oh well). My husband didn't quite finish all of the signs I asked for *insert eye roll*. The officiant told the guests there was assigned seating, but there wasn't (oops). Also, I didn't get a chance to say hi and talk to everyone, which I feel guilty about, but everyone was very understanding. And my MOH forgot how to do my bustle, so my dress kept falling apart in the back. BUT...like I said, all very minor things.
The Ugly:
It....was....HOT!!! So hot in fact, that I almost passed out and threw up from getting over heated. My advice to all summer brides is no matter how much you love your dress...please consider an outfit change, just in case. My dress was a big a line with a built in corset and many layers of fabric/poof. Mid reception, I started to feel so sick and couldn't breath. It got to the point where I had to go into the bridal room and have someone rescue me from my dress, while my mother went to my house to get me something to change into. Luckily my house is only 5-10 minutes from the venue. I was determined to wear my very expensive dress all night, but that didn't happen. My husband told me he was mad because he couldn't find me and didn't know why no one came and got him, lol. I told him it was probably because they wanted him to have fun and was concerned about me at the time and didn't think about it. But yeah, I swear I got married on the hottest day of the year, lol. It was still perfect though!

The new Mr. and Mrs. Davis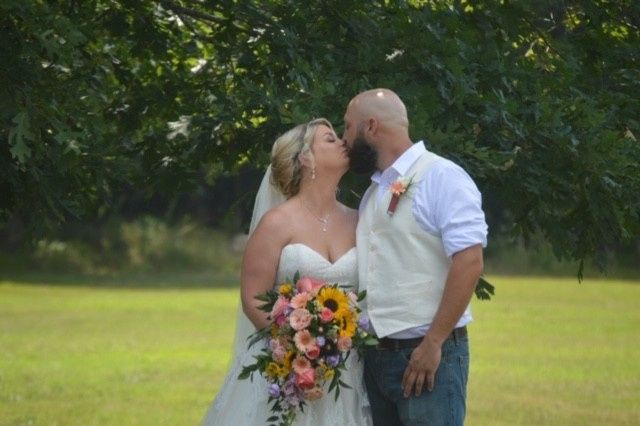 Our wedding party...melting during pictures (SO HOT)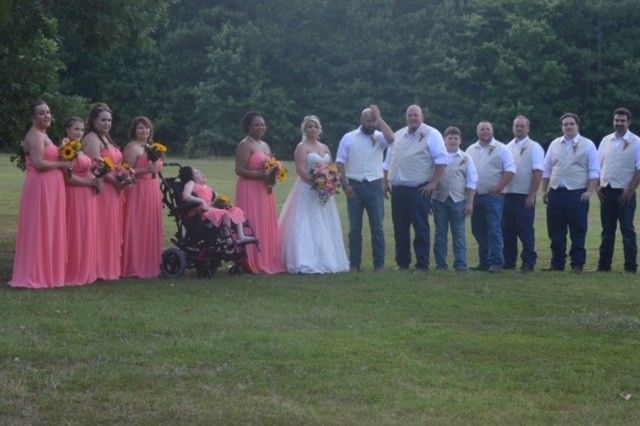 Our First Dance