After 19 months of planning and four years together, I'm a married woman! These photos are from our photographer sneak peek and non-pro photos, I'll post more when we get all the professional ones back (in the next 5 weeks).
What did I learn? No matter how much planning you do, you can't control the weather. It hadn't rained hard in over 2 weeks in Denver, then our wedding day comes and I'm in the bridal suite and the skies turn black. The heavens opened and it started pouring! Like flooding pouring, with thunder and lightning. Our venue lost power 4 times (thank God for generators) and we had to move our ceremony inside. Just when I thought that was all that could go wrong, a guest bus with 55 passengers was stuck on the interstate because of an accident (due to flooding) and they arrived 45 minutes late. So we started at 5:45, original start time was 5:00 PM. Because of this, we rushed through pictures (the only regret I have, I don't think we got enough but I'll make that determination after the pictures come back). The good thing is I have 225 pictures just from friends & family already in a group album and we don't even have the 800+ our photographer will give us or the video! My dress corset boning broke right before the ceremony and my bustle broke during the reception (I planned for this and had heavy duty safety pins).
Our officiant did an excellent job, our ceremony was so beautiful and I'm so happy we wrote our own vows. We didn't do a first look and I'm really happy about that, the moment of me walking down the aisle was so special since he was seeing me for the first time. Our caterer was fantastic, the food was excellent. We did plated salads & a buffet dinner. We had some guests run up to the buffet before being released, causing some traffic. Our desserts were a huge hit. Our MOH, BM, and my father all spoke, and the speeches were perfect. Our DJ kept everyone dancing all night, the open bar was obviously a huge help in that! Our photographer & videographer stayed all night, our coordinator stayed calm, our HAMU artists absolutely killed it with everyone, our florist did a beautiful job, Shaggy the beer donkey was loved by all, our wedding party was so positive & supportive, our flower children did wonderful, our nanny in the kids room was a hit, and our dog of honor did so well! I couldn't ask for a better vendor team. I really did my research and constantly communicated with all of them leading up to the wedding. We had one no show, that's it! Basically everyone stayed until the very end, we scheduled a bus to go back at 9PM but literally no one got on it. To me, that's a good sign! Almost everyone was dancing, we did a ton of swing dancing & it was so great. I'm super happy with my extensions, they stayed in all night and I got a ton of compliments on my hair! We did take dance lessons to learn a two step, and we did okay (I think) but if I did it all over again I'd take 2 more lessons (we took 4 total) and practice the night before the wedding.
We had 46 rooms booked in our main hotel blocks, so almost all of our guests. I would say around 10 guests didn't stay in the hotel, but the rest did. It made the weekend so much better, and we had so much time with everyone. We planned our wedding 1+ hour from basically all our guests (with quite a few from out of state) and I'm so happy we did. It made the whole weekend a vacation for everyone. Thursday night, a group of 15 of us went out to dinner (aunts & uncles & bridesmaids & groomsmen & siblings & parents), Friday morning we had our rehearsal then a group of 7 went to the mall (my husband needed a belt and we all needed lunch), Friday evening we had our rehearsal dinner with about 70 guests, and we went back to the hotel bar after! We filled the hotel bar for sure, and spent a few hours down there will our rehearsal dinner guests and other guests in the hotel. After the wedding on Saturday, our guests closed down the hotel bar at 3AM. Sunday, we saw quite a few guests in the lobby for breakfast after. It was really nice having more than just the reception to see and talk to everyone. The whole weekend felt so special and celebratory.
It was super important to both of us to think about our guests & wedding party a lot, and make the wedding fun & easy for them. We required little from our bridesmaids & groomsmen (basically get the outfit & show up) but they all went above and beyond. We provided guest transportation to avoid drinking and driving and both buses (55 people each) were almost full. The best weddings in my opinion have great food, an open bar, and a great DJ. I did a ton of personalized stuff (welcome bags, programs, favors, menus, etc.) and I'm so happy we did. We spent a lot of time on personal touches and it made the day a lot more special.
I'll plan on posting when I get more pro pictures from the wedding, and a post about our honeymoon to Hawaii & about our rehearsal & rehearsal dinner!
Our indoor ceremony space, it turned out so beautiful. Quite a few guests didn't realize it wasn't our first choice!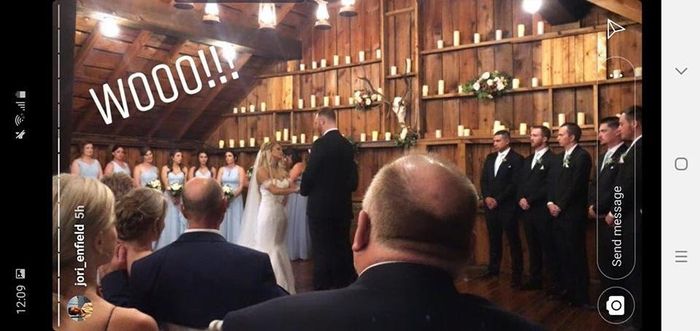 A scotch toast with the groom, groomsmen, and our fathers prior to the ceremony.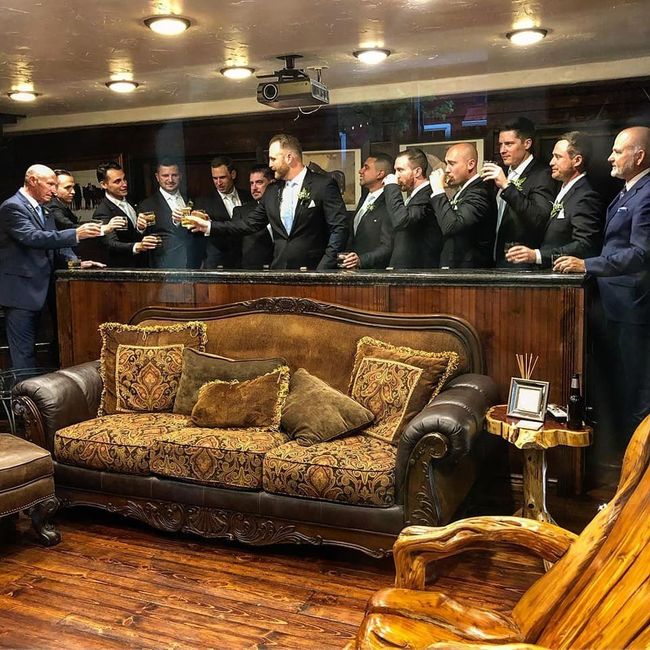 Our sweet baby, Lucky, the best behaved dog of honor! She walked down the aisle off leash to my husband, then sat by the bridesmaids for the entire ceremony.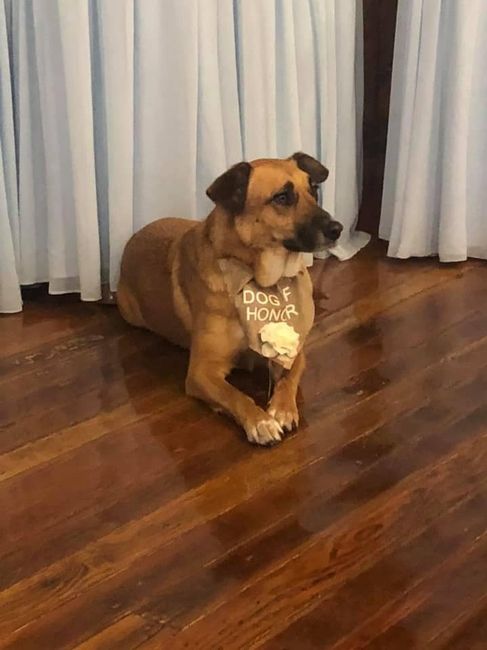 Mr. & Mrs. with Shaggy!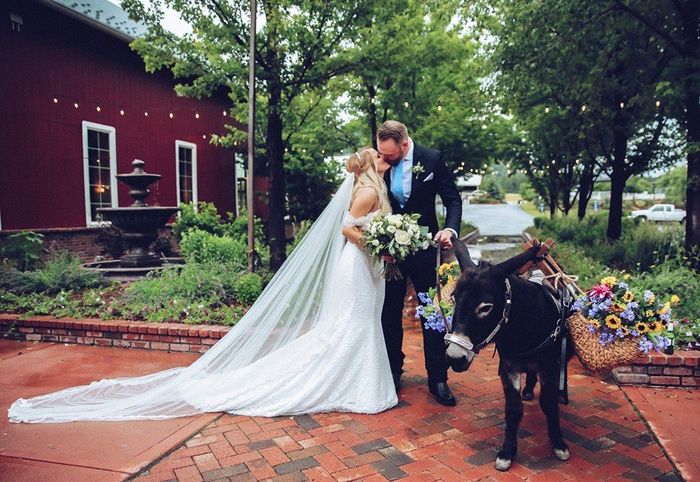 All our bridesmaids & groomsmen were hilarious, we had a ton of funny intros into the wedding reception but this one was by far the best!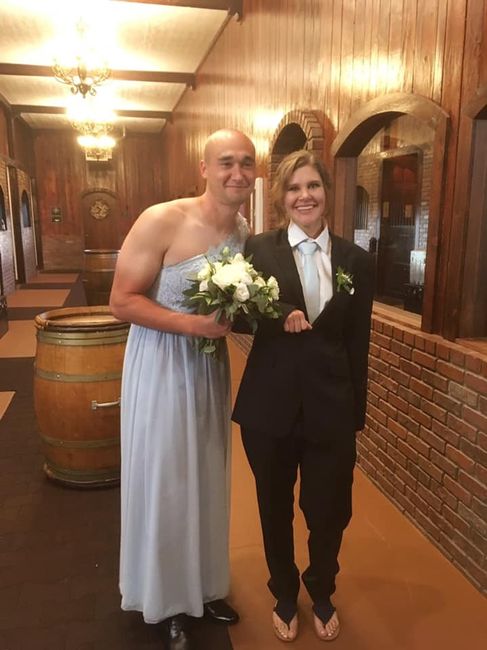 I was able to see the reception space prior to the ceremony, chairs & antlers & centerpieces are missing but this was close to finished. The farmhouse tables allowed for a lot more mingling & larger groups to sit together!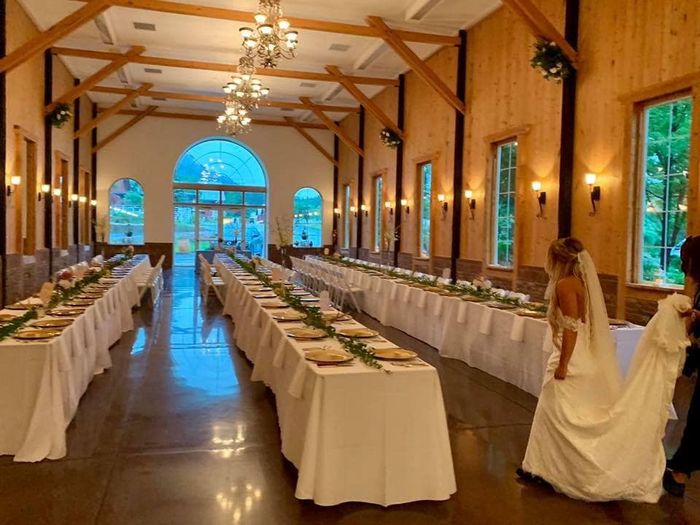 From our sneak peek! The rain stopped by the end of the ceremony. You can see the broken boning in my dress here right around my upper thighs/lower stomach.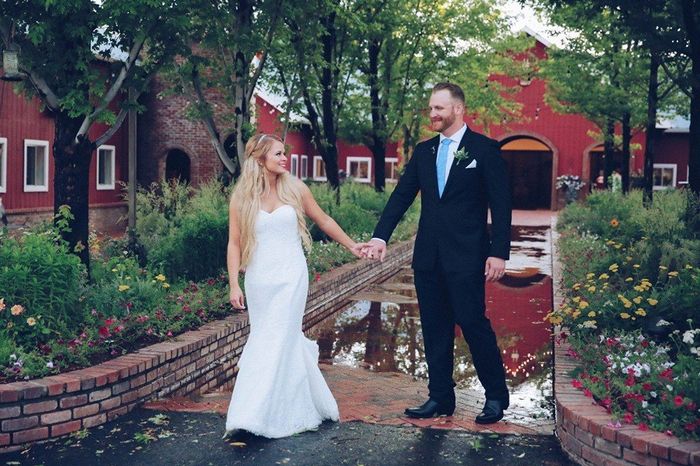 Since our ceremony got moved indoors, I was able to get a few photos outdoors before since my husband wasn't outside! It was drizzling during this picture. My dress train & veil were soaked but it was worth it for the pictures!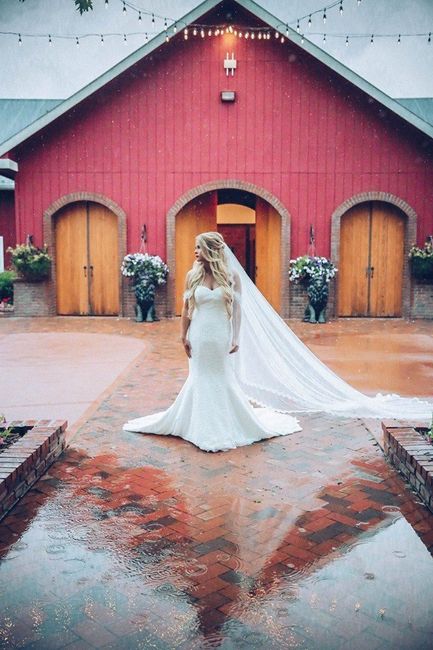 The cocktail hour space! Originally, food would have been set up out here but it had to moved indoors because of the rain. The rain stopped after our ceremony so people still got to mingle outside.
My beautiful MOH and myself!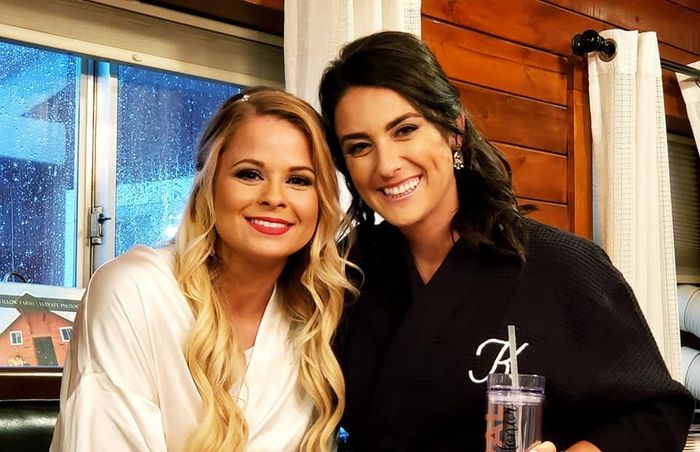 My wonderful bridal party, I'm so lucky to have them! They all were so helpful and happy the entire time. They got their dresses from Azazie, super happy with them!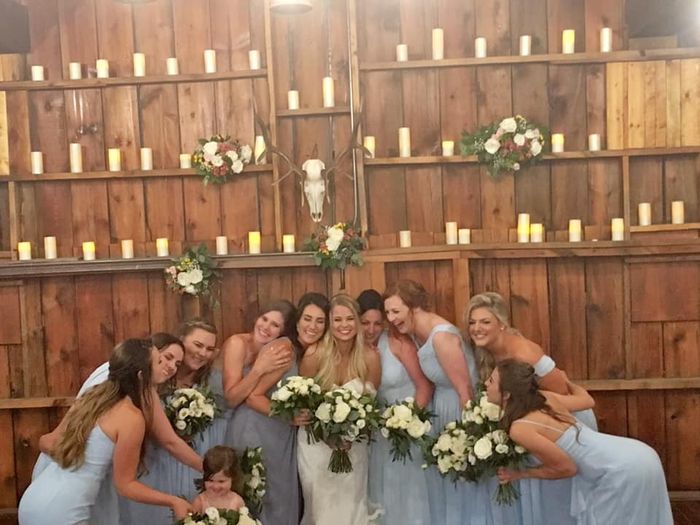 Our dessert table, it was a huge hit! We had cupcakes, brownies, mini peach pies, cookies and our cutting cake!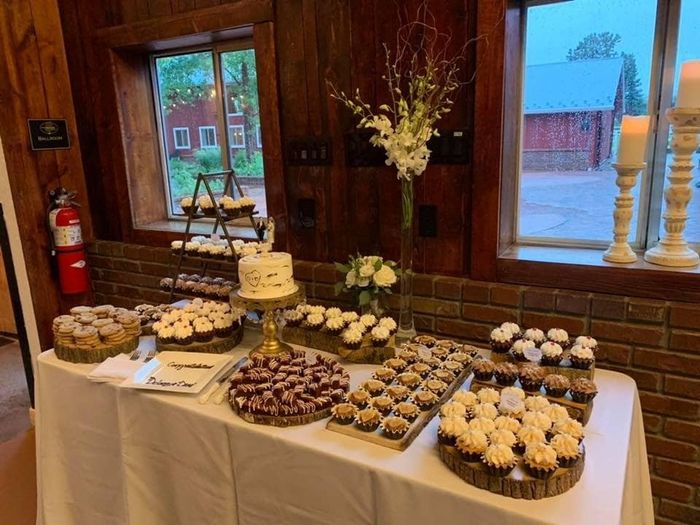 The rain worked in our favor for pictures!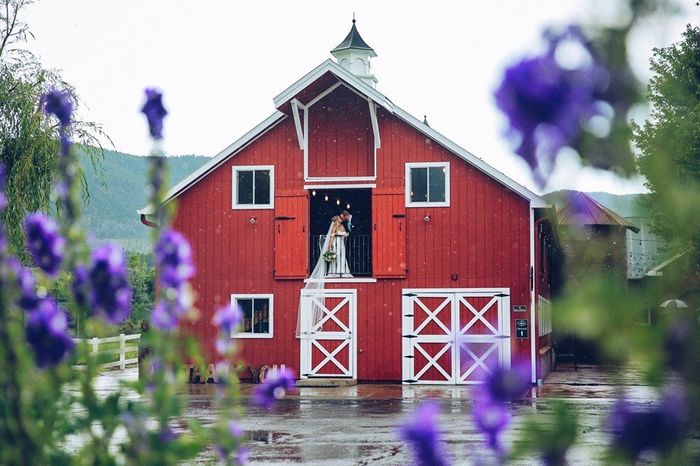 Listening to the BM & MOH & FOB during speeches. All the antlers for decor were brought by one of our groomsmen who shed hunts all the time!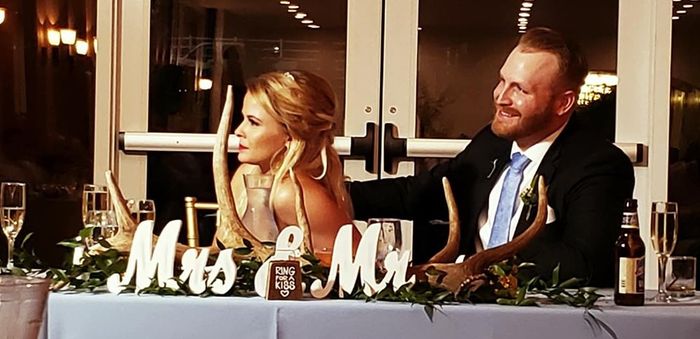 Welcome bag for our hotel guests, we had 46 rooms blocked total at one hotel.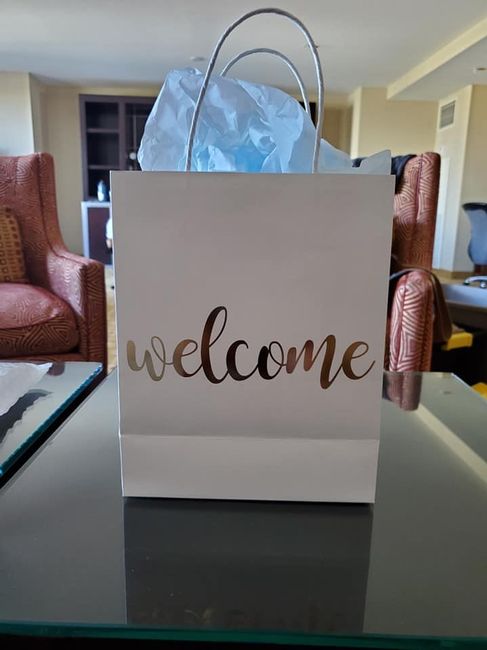 Each bag had two water bottles, a personalized welcome pamphlet, a personalized do not disturb sign, his favorite & her favorite treats, two pack of advil, and "kisses from the mr and mrs". The "her favorite" were beef sticks from a local town & the "his favorite" were made by my mom!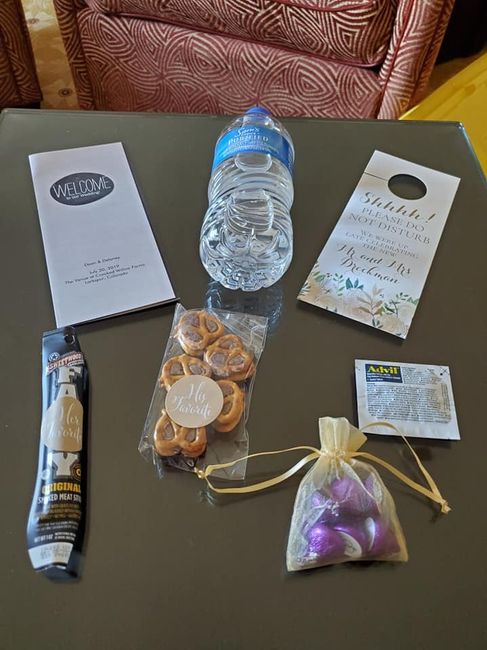 My hilarious husband, he had plenty of fun dancing all night!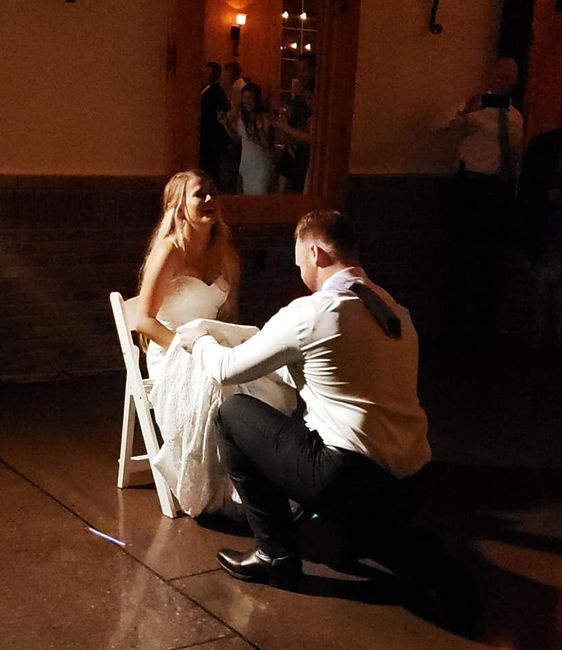 The handsome groomsmen & groom! (Fun fact, the elk skull in the back was from the first bull I ever harvested!)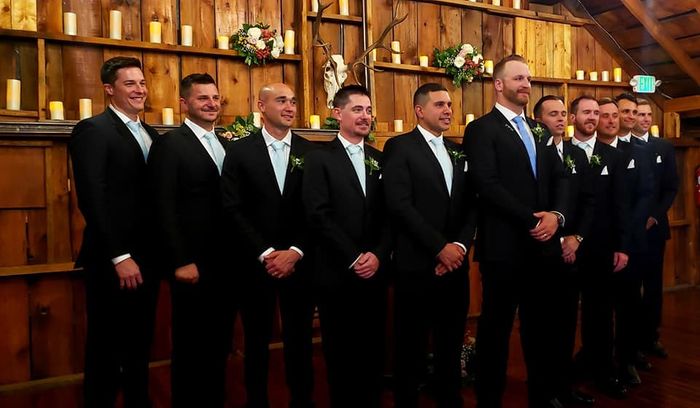 Another sneak peek, I didn't realize how much my tattoo showed in my dress but oh well! Haha!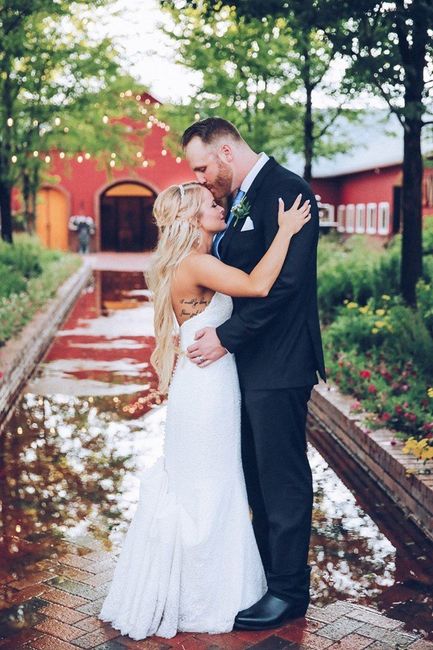 Budget-wise, we spent around 55k but I don't have an exact number.
Guest Count: 124 (no shows: 1). We invited 225 so we had around 100 "no" responses but we anticipated that, we invited full families and a ton of out of state guests. Venue: The Venue at Crooked Willow Farms ($10,400) Florist: Sara Mica Designs ($3,900) Caterer: Footers Catering ($13,000) Officiant: Pastor Jason McBride ($250) DJ: Springs Sound Entertainment ($1,100) HAMU: Brides by Rosanne ($2,200) Photographer: Callie Riesling Photography ($3,200) Videographer: Foster Creative ($2,500) Transportation: A Ride in Luxury ($3,500) Dessert: The Dessert Stand $1,200 Bar: (Venue) $5,500 Suits: Gentux Dress: Blue Bridal Boutique Bridesmaids Dresses: Azazie Invites/Programs/Menus/Etc: Zazzle