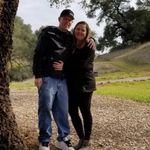 mil wearing Black!!
So when I started planning my wedding I requested my mom and MIL wear navy blue! That was my only parameter for what they wear! It's a year and a half later and my futureMIL goes shopping yesterday wedding is in two weeks. Sends me a pic of her I. Black slacks and a black and silver too. It looks cute but I asked is it Navy? She gets snarky with me and says if they had navy I would have bought it! What in the actual???? She has ordered and tried on several outfits with her daughter that wee navy over the last 9 months and hadn't found anything? I'm so over her! I feel like she was going to do this last minute crap no matter what I requested! Uggg so irritated! How do I stay sane for these next two weeks!
Latest activity by Ariya, on August 10, 2021 at 10:10 AM
Not what you want to hear, but I don't think this is a hill you want to die on. If it's wedding appropriate, which it sounds like it is, it will be fine

Just try to remember it's about you and you future husband...if you had an idea she would do this I wouldn't worry about it..its a small issue compared to the bigger picture..not want you want to hear maybe but that's the last thing I would worry about..this is a time to relax and start to enjoy getting married.

View Quoted Comment

I agree with Janet. I get being annoyed by it after you told her to get something navy, but if she likes the outfit in black then let her wear it. As long as it's wedding appropriate and not white/cream, then it'll be fine.

View Quoted Comment

This. Her outfit is not something that should have any impact on your day. This is one to let go.

Wearing black to a wedding is in bad taste, especially as mother of the groom... Saying that, it will only reflect badly on her, not on you, so relax and enjoy your day. It's easier to let this go.

I know its frustrating but don't let it ruin your day. Its so insignificant what your MIL is wearing.

View Quoted Comment

That opinion (wearing black is bad taste) is only a thing in certain regions and cultures; it is definitely not universal. I agree with your sentiment that it's easier to just let this go, but I don't agree that this automatically reflects badly on this bride's future mother-in-law.

As for OP, even if her decision to choose her own outfit feels like a personal slight against you, please do yourself a huge favor and try to forget about it/overlook it. Only you can choose to let this ruin your wedding day; don't let it.

I agree with PP. this is such a minor problem and she's not even wearing full black. No one will think twice about something being black and not navy. This is someone you will have to deal with with years to come, don't get mad about a color.

Hate to say it, but usually you don't get to choose the mothers' dresses anyways, including the colors. They usually pick their own and it is what it is. I happen to know firsthand that dresses have been hard to come by lately as my grandmothers are attempting to find nice dresses for our November wedding and they're really struggling, and that's without a color limit. I don't think this is something to stress about because your MIL won't be a focus of the day.


View Quoted Comment

Thankyou all for your input! This is just one of many things she has done or is doing, but your right it's not worth the battle! I'm going to make the best of my day and not let her decisions ruin my and my FH day and wedding no matter what!

I actually did not pick her dress or style just color. I told them both way back in January. So plenty of time I'm more irritated by the fact she's waited so long with only two weeks left is all.

View Quoted Comment

Yea I absolutely agree with this. Normally the mothers get to choose their own outfits and colors. As long as she isn't wearing a white dress I don't think you should be stressing. I'd let it go.

Hi! You're not alone. My MIL and Mom did the same lol. I asked them to wear gold. MIL decided for herself that she'd wear black instead because it's flattering. Then my Mother jumped on the black bandwagon with her. I told them both that it's fine. Now my Mother has a purple dress because she couldn't find a black dress that she liked and MIL doesn't even have her's yet and we're 3 weeks out. At this point I can only focus on myself , my hubby, and our ring bearer and flower girl who's outfits I picked out myself. Not worried about it anymore. I don't have the capacity to make it an issue. I just want them to look elegant and come in what they feel their best in.

Ehh I totally feel you. My MIL wanted to wear a black or white statement piece because it's what all the parents are doing now. I don't get it!!

At this point we aren't even sure if my MIL and FIL are coming to our wedding. All conversations that FH have had with her leave him feeling lile they aren't going to show. He already has himself so worked up over it I am worried how this is going to affect our day if they don't come. They really do have a good relationship so it isn't about an ongoing feud or anything. She's upset that we're having it an hour away in my hometown where we found a very inexpensive venue and most of our guests are coming from. The other excuse is her IBS. Which only seems to effect her when it's convenient! I'll take her dressed in whatever she wants to wear as long as she's there!

View Quoted Comment

The only people whose attire color you get to control are your bridesmaids. You shouldn't have tried to dictate what color the mothers wore.

This is so minor in the overall scheme of things. Is it annoying? Yes. Does it really matter? No.

Vent your frustrations and move on. My MIL wore a black dress (her son had a navy suit). I was ready for his sister to show up in all black but she actually wore a springtime color (go sis). We barely have a photo where everyone is smiling and looking at the camera (there was literally one photographer and one camera, not sure how it could possibly be so hard) so what everyone is wearing isn't even that relevant. Just let it go. It's not worth the energy to stress over.

Give her a black corsage. No, I'm kidding. You're probably dismayed by any changes so close, but she may have been looking all this time and is equally frustrated. Mamas are still vain and very particular about policing. Just accept what she feels most comfortable. The COVID year weight gain/ loss has just about affected everyone. And on a side note, a navy tux is just as formal as a black tux, so if you're worried about photos, it will still be visually flattering. Best wishes!

Once the day actually gets here I'm sure this will be the last thing from your mind. Besides all eyes are gonna be on you girl. I would try to not sweat the little stuff. I know it can be hard but it's truly not that big of a deal. Head up.

It is stressful to not have someone listen to your request on your day, but I think I would just leave this one be. It may not be the color you want, but she has something nice to wear and I wouldn't even bother.

But if she comes out in white, that's where the problems start. Which I hope that does not happen.
Related articles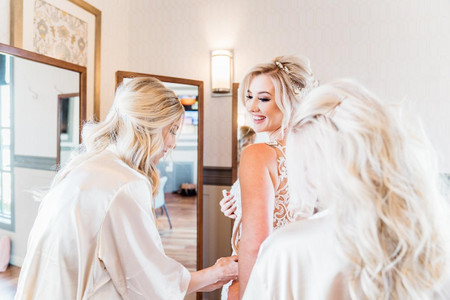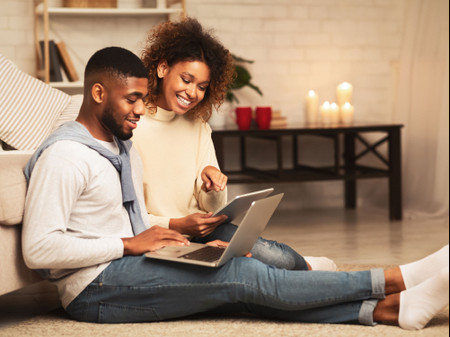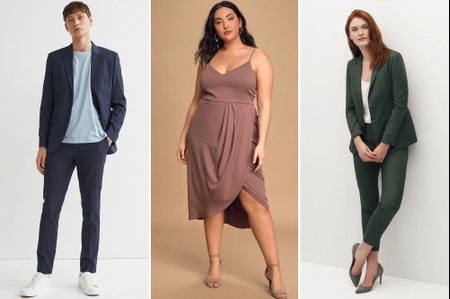 WeddingWire celebrates love
...and so does everyone on our site!
Learn more
Groups
WeddingWire article topics