Post content has been hidden
To unblock this content, please click here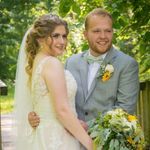 Inviting people to the ceremony but not reception
Kassidy, on May 17, 2021 at 11:55 AM

Posted in Etiquette and Advice 38
Hello! I am the matron of honor for my friend's wedding in September. She originally planned on having a ceremony at a church and her reception at a fire hall with about 80-90 people. She already paid for half of the fire hall and we were just going to do fried chicken and baked ziti, etc. easy
...
Hello! I am the matron of honor for my friend's wedding in September. She originally planned on having a ceremony at a church and her reception at a fire hall with about 80-90 people. She already paid for half of the fire hall and we were just going to do fried chicken and baked ziti, etc. easy stuff for the reception. Well she texted me a couple days ago and said that are going to downsize and just do a small reception for close family and friends due to money. Which would be fine but I already sent out invitations to all the female guests for the bridal shower. It is incredibly rude to invite all these women to the bridal shower but not to the wedding. She just said she could invite them to the ceremony but not the reception. I have tried telling her that is very rude because the reception is supposed to be a thank you to guests for coming to the wedding. I know a lot of the people she would be inviting and a lot of them would be offended to only be invited to the ceremony. What do I do? I know it is not my wedding but I already sent out the invitations for the bridal shower and I just can't help but think how rude it will be to only invite these ladies to the ceremony.
Show all
Hi I think it is perfectly fine in the age of covid to invite people to showers only and invite them to live stream the wedding due to keeping numbers down. I disagree that a reception is to thank people for coming to the wedding. Its an honor to be invited into one of the most sacred days in a couples life you don't need to be compensated for that. People who are going to give a gift will give a gift whether they come to the entire wedding, ceremony only, reception only, shower, or video stream. Those that won't wont and those that will be offended, well that couple probably doesn't need at their wedding any.....

That is totally rude. You can't invite people to the ceremony or bridal shower & not invite them to the reception.

View Quoted Comment

Covid is not an excuse to be rude. Etiquette exists to navigate social situations to avoid being awkward or rude, as long as people continue to interact with each other. A pandemic does not cancel that out because some people find it inconvenient.

View Quoted Comment

Your backyard, you get to cancel. Let the bride know that you respect proper etiquette and if she doesn't plan on hosting the ladies at a reception after the ceremony, they have to find another place for the bridal shower or cancel the shower all together.

View Quoted Comment

The issue isn't that they aren't being invited to a reception, not even cake and punch. Covid isn't an excuse to be rude. Even just a boxed lunch or a cupcake in a box would be nicer than asking for gifts and then not inviting someone to the reception.

Whew, this is a tough one. I knew someone, prior to covid, who want a "big shower, small wedding." Um, that isn't how it works and she finally came around but not without a lot of dramatics. I truly think she didn't know ettiquette, and it sounds like this bride doesn't either. It sounds tough but I think you need to have a heart to heart with the bride about the ettiquette involved and help her understand WHY we don't invite people to extra gift giving events when they aren't invited to the most important event. I couldn't be part of hosting that shower.

I agree that i would not invite to ceremony and not invite to reception. What I am saying is that times have changed and that a shower is a way for people to get to show their love and support to the couple even though they may not be able to go to the wedding but live stream it. Many couples can't invite everyone they know to the wedding and people are hurt because they weren't even thought of to be invited because of expense, a shower let's more distant people get to know the couple values them and wants to share their special time with them. I guess it's perspective. We view the wedding and showers as fellowship and community and if you can't have everyone at the main event it allows it to be spread out. Do you really need all the people coming to the wedding and also the shower, isn't that a Little overkill expecting the same people to show up for multiple events and bring gifts sometimes every time? Versus a shower for those who can't make the ceremony either because of their own schedule or your limited venue size.

View Quoted Comment

I agree with you and a lot of prior posters as well. I'm glad you're standing your ground! Your house, your rules. And you shouldn't be forced to do something that you feel super uncomfortable with (I would feel ridiculously uncomfortable too!). If the bride and other MOH want to continue to plan the shower with the original guest list at a different venue, that's up to them. And you can cross that bridge (about how/if you'll host/participate) when you get to it! Again, I'm glad you're standing up for yourself because you wouldn't want people to think that you're gung-ho about hosting people at a shower when you know (and they likely don't) that they won't be invited to the entire wedding. Please let us know what ends up happening. Good luck!

View Quoted Comment

Thank you!! The bride and I are going to get together sometime this week to talk about everything. We'll see what happens. Maybe she will change her mind and continue with the original plan in keeping the original reception head count. I think she just has a lot going on in her personal life right now. Hopefully I can help her out with etiquette and budgeting. Thank you so much!

Did they already send out save the dates and are now uninviting people?? Since it's in September I would assume they already sent out save the dates at least... I agree with everyone else that it is completely rude and poor etiquette. I would definitely cancel the shower with apologies that the couple is needing to change their plans. Then wait and see who is still invited after they send out their "un-invitations" before re-planning a shower. You can just tell the bride that you'll wait to plan the pre wedding activities once the new wedding plan is in place. It's not your responsibility to inform her guests of the change of plans to the wedding. If she still insists on inviting people not invited to the wedding you should bow out as a hostess. You could still offer to help or support as a friend just not as the hostess. If she is going through with it, I would also suggest including something along the lines of "your presence is present enough, no gifts please" since she knows she won't be hosting everyone at her wedding.

View Quoted Comment

She actually never sent out save the dates, the only thing that has been sent out is the shower invitations. I think that is what I'm going to do. Myself and the bride are going to get together to talk about everything and what she is planning on doing because it's not really okay to put all this on me. She has been really back and forth about wedding planning and what she is doing the past month or so, so I have no idea what is actually going to happen.

View Quoted Comment

Same here.

As MOH you could try to have a conversation with your friend about wedding etiquette and enlighten her. But either way don't let yourself be put in a situation where you are supporting this behavior.

Just wanted to update who those who asked: I spoke with the bride tonight and we are going to cancel the shower. She said she really wasn't thinking, she has a lot of stuff going on in her personal life and she realizes how wrong that would be to leave people out of the reception but have them at the shower and the ceremony. I appreciate all the advice and help from everyone!

View Quoted Comment

That is SUCH good news. What a relief that must be for you!

Is there a way for you to only invite the guests who are invited to both the ceremony and reception? Do you have access to that list? If so I would do that. Because it seems like you are dammed if you do and dammed if you don't. If you don't mind causing riffs between you and the bride then definitely cancel, but if you want to keep the friendship but protect your name, only invite the ones invited to the entire wedding. She has to know the tight spot she is putting you in.

Cancel the bridal shower. Easy fix

View Quoted Comment

Excellent!! I hope things calm down for her a bit, and I'm glad y'all collectively avoided offending a bunch of people. Thank you for updating us!


View Quoted Comment

The only time someone can attend a shower without being invited to the wedding is when coworkers or fellow church members/book club members, etc host a shower. They know they are not invited but they still want to share the bride's happiness. That is a completely different thing than inviting people to a shower that will not be invited to the wedding because the couple wants more gifts.

As long as people interact with each other, etiquette will continue to exist and be valid. And etiquette says that only those invited to the wedding (ceremony and reception are one event, not separate) are invited to the shower. People can say until they are blue in the face :"etiquette is outdated " but that doesn't make it so. It's an excuse to do what you want without regard for anyone else.

If you wish to get together with those not invited to the wedding, you have a separate non wedding related event at another time.
WeddingWire celebrates love
...and so does everyone on our site!
Learn more
Groups
WeddingWire article topics