We decided to do a "once in a lifetime" trip for our honeymoon and settled on Greece (Mykonos & Santorini) I did a lot of research on my own but also went through a travel agent who helped me with "getting to Europe" (keep reading)
Left 6pm on 5/12 (day after wedding) from Indianapolis, going to Paris. Flew back from Paris on May 23rd into Indianapolis. We had 3 total nights in Paris (1 day on the way, 2 on the way back) and then 3 nights in Mykonos & 4 nights in Santorini.
I didn't have any desire to go into Athens as most people do for a day or two before going onto other Greek islands, we just aren't into history. When I was searching flights going straight to Mykonos, they were really expensive and the layovers/stops sucked. I searched for flights out of Dayton, OH, Columbus, Cincinnati & even Indianapolis as those airports are all max 2 hours from us. Once I got the travel agent involved she informed me that there were nonstop flights to Paris from Indianapolis and they were pretty decently priced. So our actual vacation package ended up being IND to CDG (Paris) roundtrip (nonstop both ways) + 3 total nights in Paris, and then the flights in and out of Mykonos and Santorini + the hotels were add-ons that she booked for me through Expedia. We paid just under $9k for flights, hotels, airport & ferry transfers, and trip insurance. We spent an additional $1,500 on food, alcohol & excursions.
Mykonos
After all my research, most people suggested doing Mykonos first because that is more of a party/nightlife island (if you want that sort of thing, you don't have to) so that is what we did. There are a lot of hotels that are centrally located close to the chora (downtown) so are within walking distance to lots of restaurants & shopping. There are also hotels in different areas but I suggest staying near downtown. We stayed at the Myconian Korali & did a panoramic room. It was nice. The hotel is about 10 minute walk to the downtown area. *note there are no sidewalks so you are walking on the side of the road and it gets tight in some spots. We didn't have any problems but a few times it was a little bit scary when the large buses came by* You could also rent a scooter or ATV which is really popular on the island. There is a rental place right at the end of the driveway to the hotel. We rented an ATV for 1 day it cost us around 70 euro. The hotel rate also includes a breakfast buffet. That was just ok. In their defense we are sort of picky eaters so it just wasn't what we were used to. We both still found options. Our first 2 days in Mykonos it was cloudy and cooler (bummer!) so we spent one day exploring the downtown area. The other was when we rented a quad and drove around the island. Our last day was sunny (finally!) so we spent that day at our hotel pool (which is a really nice infinity pool btw) Our last evening we went up to 180 Degrees Sunset Bar, which is an outside venue to watch the sunset. It's 10 euro each to get in and then that goes towards your bill. They have cocktails & apps available, the drinks are really expensive (like 15-22 euro each) There are free places to sit but the prime locations it costs a minimum per person. Where we sat was 50 euro for each us, so less our entry fee we had to spend an additional 80 euro in food & drinks, which wasn't hard. We each had 2 drinks and shared an app. It's more about the experience than anything. We enjoyed it. *it is a "HIKE" to get up there, basically straight up hill. It's do-able but it's a lot of walking. Some places we ate in the downtown area were: D'Angelo's (italian & seafood) it was really good! Souvlaki Story and Jimmy's Gyros. You HAVE to get loukamades (dessert) from Dr. Loukamas...sooooo good!
room @ Myconian Korali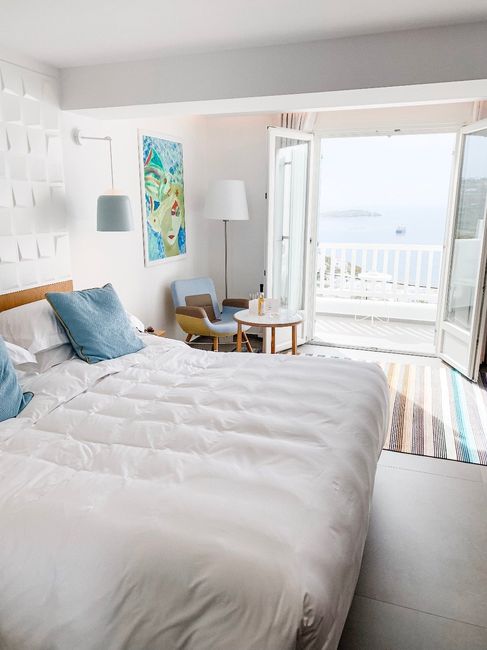 Mykonos town from 180 Degrees Sunset Bar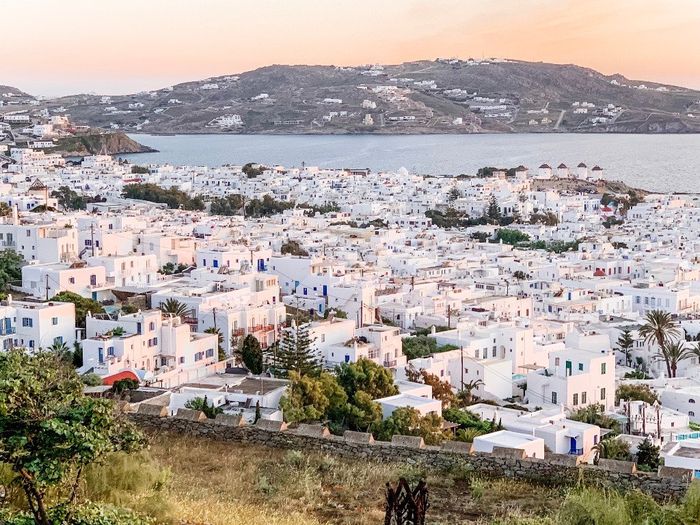 Little Venice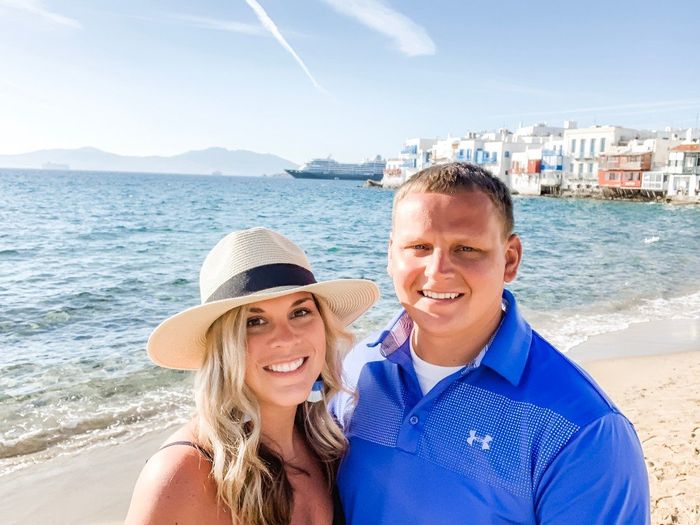 Santorini
We took the high speed ferry from Mykonos to Santorini. It cost like 55 euro each and the trip was around 2ish hours. Our hotel driver met us at the port (we had prearranged transportation) We stayed at the West East Suites (AMAZING!) in Imerovigli which is a little quieter part of Santorini right on the caldera (there are mainly 4 areas to stay on the island so you will just want to research what fits you best: Akotiri, Fira, Imerovigli, Oia) Santorini is where we decided to splurge a little bit on the hotel and I felt The West East Suites was the best deal for what we got + I had read Imerovigli was a good location for the sunsets. Oia is the most popular area, and also the most expensive. It's also where the famous blue domes are and where everyone goes to watch sunset. They gather in the streets (it gets packed!) and all clap and cheer. West East Suites has 16 total suites. We stayed in the Deluxe Loft w/ Outdoor hot tub. I was really glad I opted for a suite with the hot tub vs. a private pool because it was chillier in the evenings at the time we were there (mid May) + the hotel had a really nice infinity pool. Also, our room was on the 2nd floor. The rooms with the pools were at the bottom, and we could see those people if we were on our balcony, so it wasn't very private. Breakfast was included and you could have them bring it to your room or you could have it out by the hotel pool. Every evening you filled out what you wanted and took it down to the front desk. We opted to have it on our room balcony every morning (swoon) The famous Fira to Oia walking path also goes right in front of the hotel. I would say the only downside to staying in Imerovigli was that there isn't very many restaurants around without having to walk 20+ minutes uphill, but Imerovigli is a place for more romance/seclusion so you just have to decide what you want. We did find out on our last day that Yogi's delivers to the hotel. On our first day we got checked in and then turned left out of our hotel & walked the walking path into Fira, which took about an hour/hour and a half (we stopped several times for pictures) We stopped and had a late lunch at Da Vinci's (pizza) Fira is the capital and main area of Santorini (this is also where you would port if on a cruise) We got back about an hour before sunset and decided to enjoy some drinks in our private balcony hot tub & watch the sunset

Day 2 we laid by the pool all morning and then got picked up early afternoon for our sunset catamaran cruise. That was AWESOME! Highly suggest doing that with Santorini Yachting Club. It was a 5 hour cruise and they provided a traditional Greek dinner (chicken or pork, seafood pasta, pita & tzatiki dip, greek salad) & unlimited drinks (beer & wine, water, soda) They take you to several places (Red Beach, White Beach, Black Beach, Hot Springs) & then end with the famous Oia sunset. It was really neat to get to see Santorini from the water. Day 3 we turned right out of our hotel and took the walking path into Oia. It took us almost 2 hours. A lot of it is uphill and in some places it's loose gravel, it's kind of more of a hike. We both agreed we were glad that we split the Fira to Oia hike into 2 days vs walking it all at once. We are pretty in shape people but it was tiring & hot! I cannot imagine doing it when it's any hotter than what is was (high 60's when we started) Doing it all at once I've read takes like 4-6 hours depending on how often you stop for pictures and what your pace is. We explored Oia and got our "instagram pictures" at the famous spots. It was pretty crowded walking through the streets, but I heard that it was nothing compared to sunset time, or even in high season. That evening we took a cab into Fira and had dinner @ Cacio e Pepe (italian & really good!) & watched the sunset. On our last day, Day 4, we rented a razr/side by side and explored the island from one end to the other. That evening we also went into Fira again (we drove this time!) and walked around. Along the walking path I was able to see a lot of the other hotels I was considering and I have to say I am so glad we went with the West East Suites! I liked being a little more secluded + with Santorini literally being on the caldera, a lot of hotels are "on top" of eachother so there isn't as much privacy as one might think. Even walking through the streets of Oia, I could see onto people's "private balconies" + it was so crowded there and we weren't even there in high season! If I were to go back, I would definitely choose our hotel again, or possibly the Cavo Tagoo which is right next door the West East Suites. I would also rent a quad or side by side the whole time too, just to avoid taking cabs or walking to places. (It was 15 euro one way from Imerovigli to Fira in a cab) Also, after watching the Oia sunset from the catamaran cruise, our hotel balcony had just as good, if not better views without all the people crowded into the streets pushing and shoving for the best picture (just google Oia sunset!)
view from our balcony @ West East Suites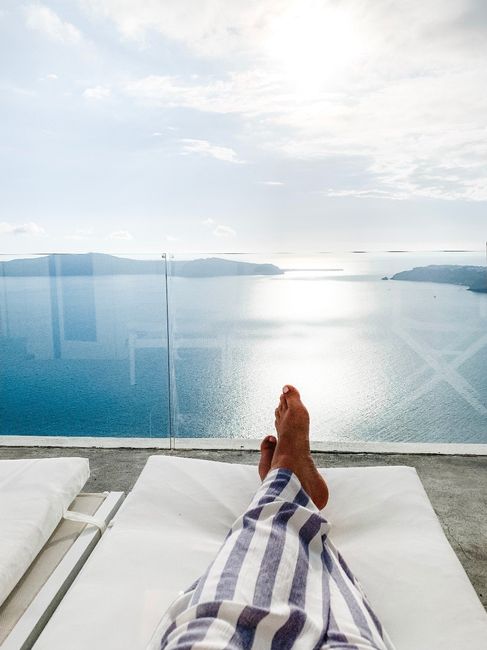 West East Suites hotel pool
Amazing Santorini Views!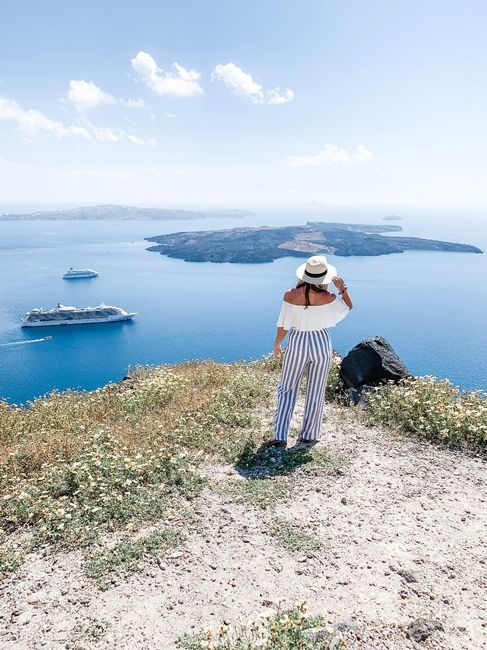 Enjoying sunset from our private balcony hot tub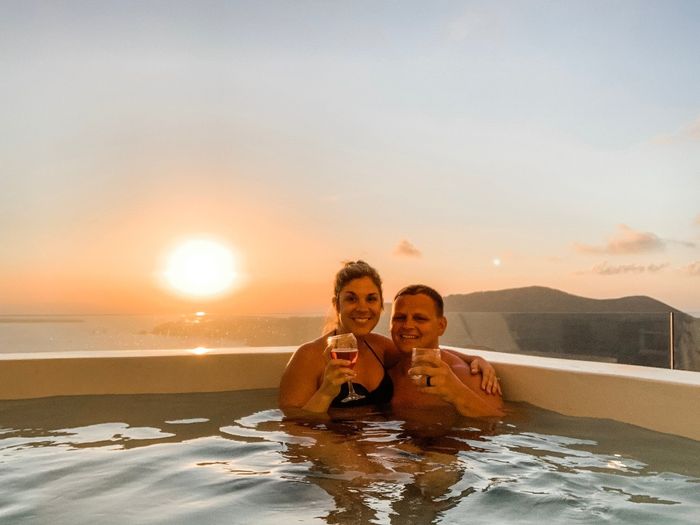 sunset catamaran cruise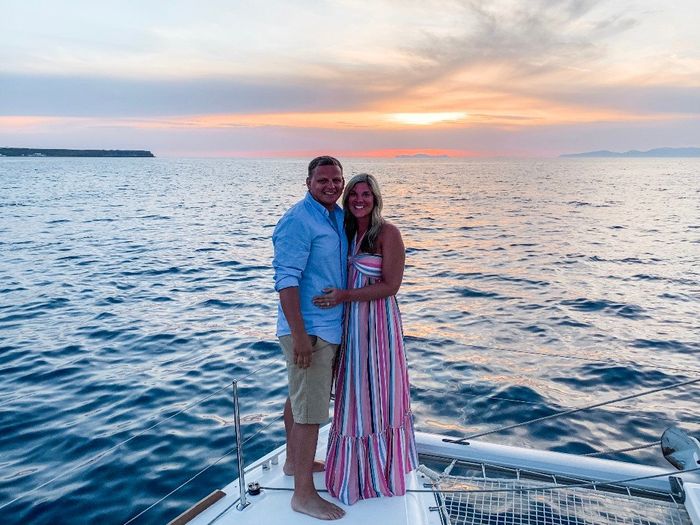 famous blue domes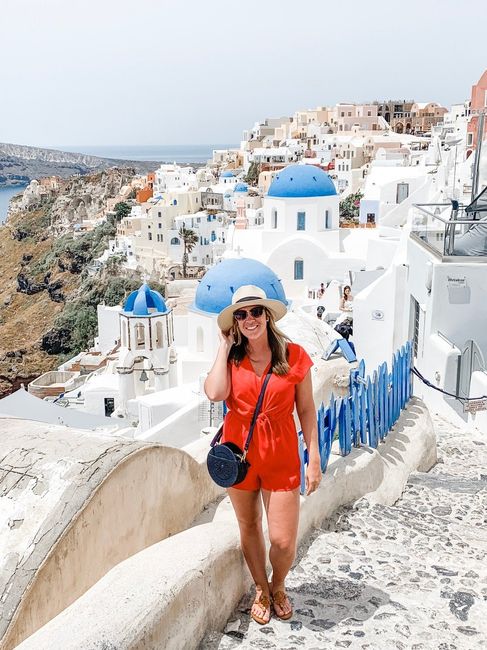 So if I had to do it all over again...I would have gone to our first choice, Bora Bora...lol...hear me out! While we enjoyed Greece and are glad we went & checked it off our bucket list, we decided we are more beach people vs. sightseeing people. This was very much a sightseeing honeymoon. I looked back at my phone and we walked a little over 50 miles the entire trip (including Paris) Knowing now how much cash we got in wedding gifts, I wish I would have splurged a little more and just gone to Bora Bora. We will probably start saving up now and go for a 3 or 5 year anniversary trip. I will say I definitely think 3-4 days/nights in each place is enough to see what you should see at both Mykonos & Santorini. I may have felt a little different if we had a little bit better weather (we were right on the edge of the weather turning to summer)
I hope this gives anyone who might be considering Greece some insight! If you have any questions, feel free to message me!
Paris
We stayed at the Mariott Champs Elysses on our first night, which is down by the Arc de Triomphe. On our way back through, we stayed the Pullman International, which is near the Eiffel Tower. We liked both, it just depends what area you wanted to be in. It was nice splitting it up because we explored the area near where we were staying. On our full day, we did take the train down to Notre Dame & then walk the river walk stopping to see the Louvre, Musee de Orsay (we didn't go into those places) Palais Royal, Pont Alexander III bridge, Trocadero, etc. We had a really nice dinner at Bistrot de Paul Bert which I hightly recommend!
Eiffel tower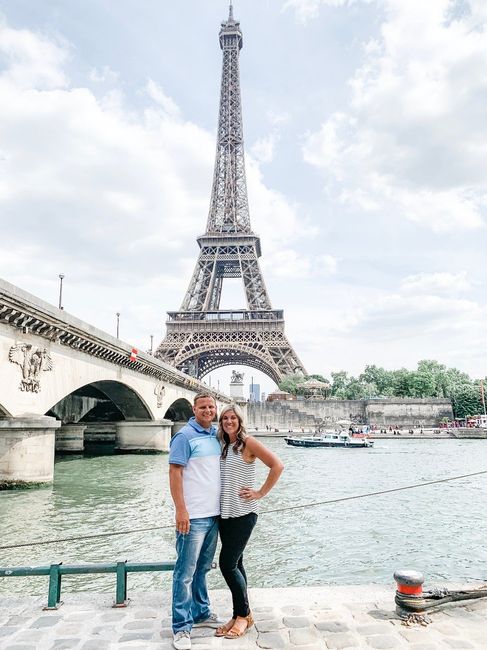 Louvre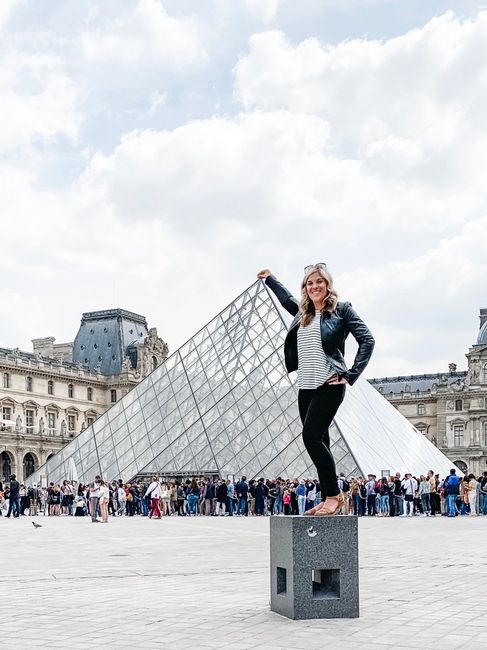 Palais Royal