Post content has been hidden
To unblock this content, please click here
Experience with Amelie Baku?
Hi everyone, just wondering if anyone has experience with buying a bridal gown from Amelie Baku? I approach online bridal shops with trepidation, however, I'm looking for a reception dress that's reasonably priced and I actually really like a few of the dresses on their site. My concern of course is quality and shipping from overseas. Any takers?
Latest activity by Shosha, on January 27, 2023 at 7:08 PM
Never heard of it. You're safer with reputable brands like Azazie, BHLDN, or used sites like StillWhite or PreOwnedWeddingDresses.

View Quoted Comment

Yeah, I figure it's too good to be true I'll find my reception dress elsewhere.

View Quoted Comment

You can also call up bridal shops and ask for sample sales and what their cheapest dresses are (David's Bridal sometimes has sales where a few dresses start at $99). I found my reception dress on the discontinued rack at a bridal shop. It was a beautiful designer dress in perfect condition for less than $200!!! Here's a before/after pic:

before alterations

after alterations (we had a 50's/60s themed local reception)

View Quoted Comment

Oh wow, I love that! I'll have to check it out. Thanks!

View Quoted Comment

You're welcome! I know you'll find it. 💜

Just Said Yes

September 2021

Don't do it!!!! They are dishonest and take no responsibility when items are not made correctly. I was promised photos and videos prior to shipment which did not happen. I also asked to see the material prior to production - that did not happen. I received a dress that did not fit even though my measurements were taken by a professional tailor! The dress was also two weeks late! No one was helpful. I ended up reaching out to the owner directly and even she was terrible. Terrible experience!! Save yourself the money and stress.

Hi there!




Since I wish there was a response on this form when I was looking, allow me to share my recent experience with Amelie Baku.




The short review is: I would not use Amelie Baku again nor recommend it to anyone.




The website seems great, and their iMessages and WhatsApp teams were super responsive to my inquiries about dress customization, production and shipping timeline. It seemed all items are produced upon request. They responded well to information about what shipping companies they use - my wedding was scheduled for 6 weeks later so that info was critical. I paid an extra 99$ for express shipping to be double sure. With the dress in veil, the bill was $2000.




They indeed produced the dress within 10 days, which is the upper limit of their promised timeline. And the courier picked it up within a couple of days of that.

But, and this is a huge but, it has now been 33 days since the pick up and the package has no update beyond (left Baku, Azerbaijan 31 days ago).




It is worth noting that Amelie told me they use DHL and or Aramex, both known and well respected in my country. But when the package was shipped it was shipped with EMS instead.




Ever since the dress was shipped, Amelie pretty much stopped responding to my inquiries. I tried their iMessages, Whastapp, email. Terrible. They only "helped" by following up with the courier in the first week, informed my the courier is having customs issues with the package being in an intermediate country, and that they get back to me soon with a clear processing date. But then I was completely ignored for 4 weeks.




I tried contacting their courier in Azerbaijan myself, it was hard because most of their staff did not speak English and those that did spoke very little. And it seemed like only one person knew what was going on with my package and that that person was never around when I called, so I was always asked to call back later. EMS in AZ confirmed that the package was stuck at an intermediate country due to a customs issue. They promised it will be solved in a week, so I waited and there was still nothing, so I called back and they said sorry we could process it because of "pandemic issues" and "customs issues" and they promised they can get it on an airline in another week. I called back one day before the promised date to make sure all is ok only to be told my dress has to be returned to sender and the courier can't process. Throughout the process I have had the phone hung up on my face a few times. I know courier issues are not necessarily Amelie issues, but they chose to deal with EMS, and both of them make the customer chase after information that they should be making sure we are informed of, we shouldn't be the ones chasing it so hard. And I wish it was even reliable because none of what they promise ha happened.




Eventually Amalie's team gave me someone's number to contact via WhatsApp. At this point the wedding is in 7 days, she asks me to wait for a few days so she can check with the courier, I inform her I have had to buy another dress considering lack of time until the wedding and I ask for a refund due to the huge delay and lack of delivery top of being informed the dress must be returned to sender.

She tried to convince me it will be lovely to have two dresses for my wedding. And that there is no grounds for a refund.




After the promised few days she got back to me saying the dress was in my country and will be handed to the cola courier on the next day - I have called the local courier and until today the package is neither with the local courier or in my country's customs.

And again nobody from Amelie is responding to inquiries.




Just an awful waste of money, time and energy. Totally not recommended.




Ps my country is Saudi Arabia.

BUYER BEWARE!!! I wish I read these reviews before purchasing. They are insanely responsive on instagram and email... UNTIL YOU ORDER AND PAY. They guaranteed I would have my dress in time for my wedding. I was very clear that I was very nervous since it was my wedding dress and paid a lot of money for the express shipping. They went completely dark as soon as I paid and my shipment was not moving. They also claim they ship things DHL or FEDEX. This is all lies. 2 weeks later I am heading to CA for my wedding with no dress. I sent them dozens of messages and they stopped responding. I even spoke to customs who told me it was not even in the US yet and the company needed to call since it hasn't moved for 2 weeks. They are TERRIBLE. I am in the US and I promise you will NOT get your dress. DO NOT ORDER!!!

Dont even think to order anything from them they steel your money and they dont respond to you after your payment and you order something and they make something very very different and very very bad ,, shein quality is better and nicer !!

Baaaaad bad bad
Related articles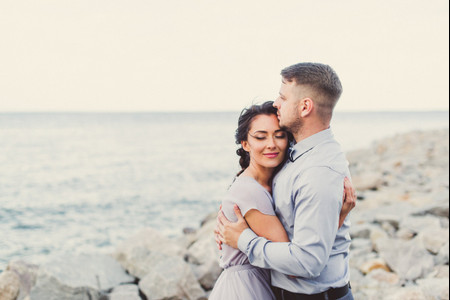 WeddingWire celebrates love
...and so does everyone on our site!
Learn more
Groups
WeddingWire article topics