Flower Girl
Ceremony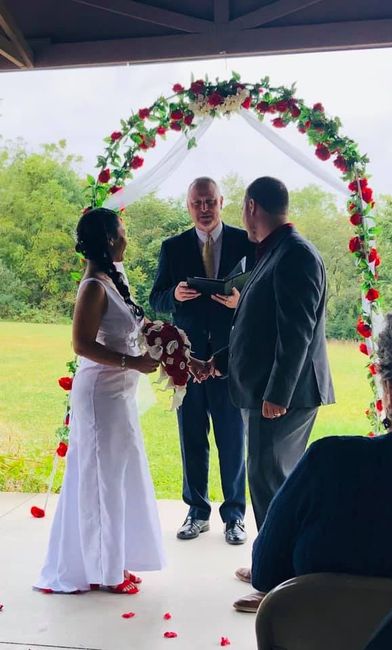 Cake Table
Sweetheart Table
Walking down the aisle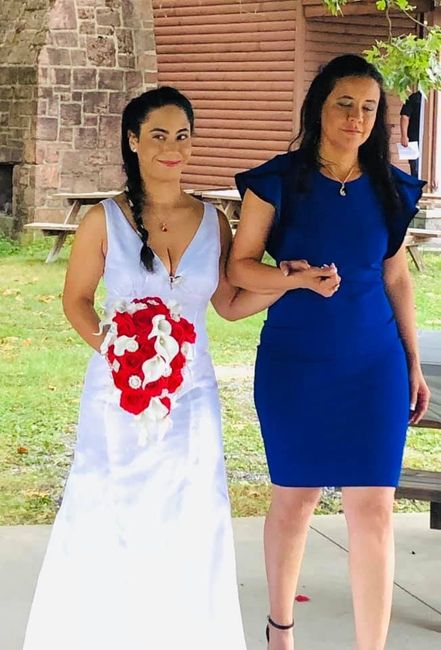 Mr. and Mrs. Shellenhamer
Our wedding cost us about 3100 - We planned and coordinated it ourselves with the help of family and friends. It was so beautiful! We had some hurdles to jump through on the day of, but even the things that weren't supposed to work out still did.
My hairdresser was 10 minutes late, but we still managed to arrive on time to the wedding. My ring bearer was running 9 minutes late, but then I realized I left my bouquet at home anyway, so fiance had to go get them. The ceremony was delayed by 30 minutes.

My flower girl was getting cranky because she wanted to go play, but we got some candid shots of us drying her tears and being very family like.
People decided they were going to try and hijack our family pictures by including shots that I very specifically did not want for various reasons, so I had to adjust so that I still would get the shots I wanted. I'm sure we still missed some of the family shots.
I didn't prepare a speech and I tried to wing it. It was cringe-worthy! Some my decorative lights didn't get turned on and some of the food didn't quite cook the way we expected and some of our chair covers were broken by people's butts. The venue was a bit hot.
No wedding is perfect. However, even with all the downs on our wedding day, it was still beautiful. It was perfect to me because I married my best friend. My mom was able to stand with me on my wedding day. It didn't rain during the ceremony. I got awesome pictures to share with everyone. My bouquet didn't fall apart during the wedding even though it totally did a few days before. The 15 lbs I gained actually worked out in my favor because my bra didn't need to be adjusted and the dress fit tight enough around my breasts that it kept my bra up. My shoes didn't give me blisters. Even though my original hair idea didn't work out, my hair dresser still managed to make it work and it looked beautiful. Even though I wasn't totally in love with my make up during the trial I totally loved it on the wedding day.
Brides, its OK if you feel like stuff is falling apart. It's OK if you encounter some snags the day of, like I did. Things have a way of working themselves out. Our wedding was close family and friends. There was no one to impress. We just wanted to make it pretty, make it comfortable, and be married and I think we achieved that. I'll post some Pro-Pictures once they start coming in.
But for now, good luck to the future brides!!