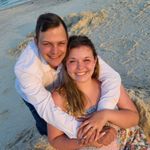 4/30/22 weddings how far are you into your journey??
I am curious how far our wedding twins are in their planning process? We have our venue for ceremony/reception, our photographer, our catering company picked out, and our Dj. We feel like we don't know what to do next. Currently waiting on our save the dates to come in the mail so we can send them out!
Hey wedding day twin! We have our videographer, photographer, DJ, venue, hair and makeup booked, and our save the dates. We need to do our caterer. I want to get ahead of it so I can just enjoy this season of being engaged 🥰

Wedding day triplets! 🤣 so far we have our venue reception/ceremony site under contract review. Caterer booked and photographer in the works. DJ and live music booked, Working on the website and save the dates. Slowly collecting decor

I'm an April 30, 2022 bride! We have venue, photographer, dj, and drink service. Currently working on caterer but in the works. Sounds like we are on a very similar timeline! I suspect the detailed things will be next. We're picking our wedding party right now too!

Hey wedding twins! So far we have our venue for the ceremony/reception booked and I've bought some decorations. We know who we're going to have cater and do the wedding cake and photography, just getting ready to book with them. We're planning to do engagement pics on our vacation here in a few weeks and then I'll send out the save the dates.

We're 4/29/22! Venue (includes catering) is booked, along with photographer and DJ!


Hi Wedding Twin!! I'm in the same place as you. I have the venue, photographer, and dj. The Save the dates are being sent out this week since the wedding is destination. I also still need to get my dress and my bridesmaids dresses. That's my goal next. After that I need find my cake, food vendor, and alcohol distributior

Wedding Date TWINS!


I have my venue for ceremony/reception, wedding cake vendor, engagement session booked, makeup/hair set, wedding photographer booked. Currently working on bridal party gifts. We are doing our wedding shower in September due to family already being in town then. Booked my dress shopping in september as well.

I'm your wedding date twin 😁😁

Hi wedding twins!!! So far we have the venue for ceremony and reception. florist, officiant, open bar service and photographer 👍🏻 We started booking/planning this past February and we felt things were a bit overwhelming 😅 since we still have a lot of time left! Soon we will need the catering service and wedding cake 🎂 but at the moment we're just taking things in and enjoying our time. I admit, I forget that wedding planning should be fun lol! So ladies don't feel rushed as we're on the right path 🤍

We have our venue and catering, photographer, DJ, and officate all taken care off. I currently looking at dresses for myself and the bridesmaids. I am buying/making alot of my own stuff for decorations and bouques ect. It is alot of pressuer and fun at the same time.

Hey there wedding twin!

We're having a destination wedding in Charleston, SC.

Goodness - we've booked venue, caterer, photographer, videographer, DJ, florist, hair and makeup, and the getaway car. Got my dress; just waiting for it to come in. I am also waiting for the Save the Dates to arrive - I think they're being printed this week. Only thing left I have to book is the baker for the wedding cake, our hotel for the wedding week/weekend, and lock in our rental company for things like wedding chairs, tables, tableware, etc.

For our guests, I have blocked off a couple small hotel blocks, but I need to do one more in the downtown area. I was waiting to see where things stood budget wise, but we may book a string quartet or something similar for the ceremony. It's a nice to have, but not necessary.

For the wedding party - I still need to formally ask most of my gals and figure out bridesmaid dresses and also figure out what the guys will be wearing. Luckily my fiancé is in the military, so his outfit is already taken care of!

I think at this point, most of my to-dos are some of the smaller things - the fun details. Whew - sorry for the long message! Happy to chat anytime!

Can't wait for 4/30/2022.

We have venue, wedding planner, caterer, cake, photo/videography, DJ, rehearsal dinner, hotel room block, wedding party housing, wedding insurance, save the dates, and florist taken care of. Going dress shopping this weekend. Still need transportation booked, bridesmaid/groomsman attire arranged, bach parties planned, and wedding favors.

We are having a very small wedding...30 or less people! We have venue picked out, photographer, flowers, officiant, hair and make up! All I have left is catering and cupcakes! No DJ needed as it will be done by a family member.

View Quoted Comment

Same with the decor! It's nice to be able to take time and just collect stuff at great deals!

Hello April wedding ladies! I'm also on the 30th of 2022z We have our church and reception venue booked. We got our engagement photos done recently and we're in the process of finding a DJ. I have two months off of work during the summer because I work at a university so I've been waiting to do a lot of the heavy lifting planning till then!

I'm getting married the Saturday before you I have most of my vendors paid off with the exception of catering and bar since I don't know my final head count,
Most of our guests are traveling so sent out std's
Picked out cake flavorsBought most of the decor because I'm diy most of everything


Wedding date twin!! We have everything booked and save the dates have been sent (we have 75% of people coming from out of state). We are really just working on minor details now. My goal is to do one thing a week, which I've been keeping up with since our one year mark!

We are the week before and we have the venue, ceremony site, and save the dates picked. Hotel room
Block for guest and catering comes from
Our venue. Not sure where to go next!

I'm an April 30, 2022 bride! We have venue (catering and bar services included), hotel block, photographer, videographer, hair/makeup and DJ booked. Feel like I'm behind on planning but seems like I'm on track from reading these replies!

Oh gosh, now I'm feeling behind! We have the venue booked (with onsite caterer/rehearsal dinner/brunch), dress, rings, hotel block, wedding website, guest list, wedding party... then I started slowing down because I thought it was too early to book the photographer/DJ/florist or order save the dates. Time to get back to it, I guess!
WeddingWire celebrates love
...and so does everyone on our site!
Learn more
Groups
WeddingWire article topics