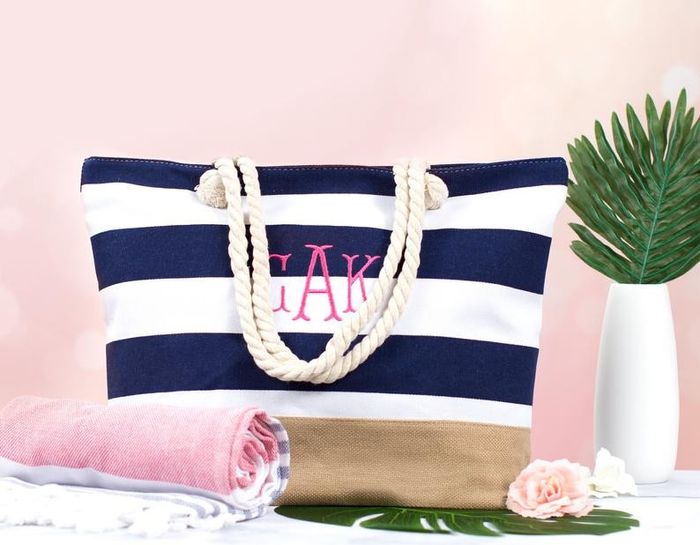 Bridal Bag: Every bride needs a bridal bag to hold all their essential items while they're getting ready. Go for a large tote to ensure all your essentials and then some can fit.
https://www.etsy.com/listing/534425586/sale-monogrammed-beach-tote-bag-bridal?ga_order=most_relevant&ga_search_type=all&ga_view_type=gallery&ga_search_query=bridal+bag&ref=sc_gallery-1-3&plkey=1401058579c7ed4ad6b93966a0feaf9d79992596%3A534425586&pro=1&frs=1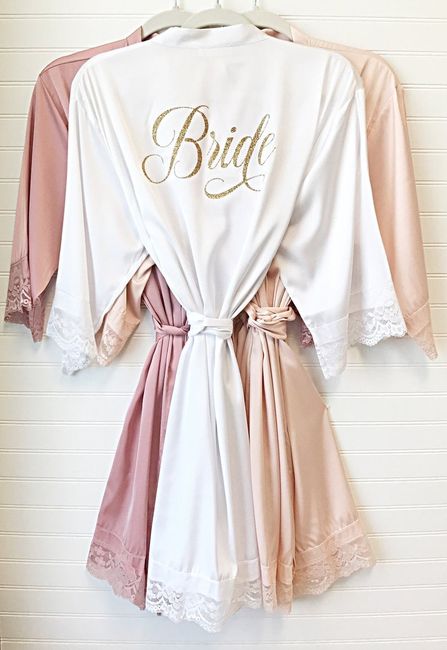 Robe or Pajamas: While you're getting ready, make sure you're in a comfortable robe or pajamas. You don't want to risk wearing a nice shirt and then spilling that mimosa on it. Also be aware of the weather for your special day; some warm socks might be an essential addition.
https://www.etsy.com/listing/623769223/bride-robe-bridesmaid-robes-bridal-robe?ga_order=most_relevant&ga_search_type=all&ga_view_type=gallery&ga_search_query=bride+robe&ref=sr_gallery-1-2&organic_search_click=1&bes=1&col=1
White or Skin-Tone Underwear: This tip seems obvious but it's a lifesaver! Many women don't think about the underwear color they wear day-to-day and this little tip often goes overlooked, but no bride wants neon pink underwear showing through their wedding dress.
Bottled Water: Never underestimate how parched you'll be on your special day. The mixture of excitement, adrenaline, and stress will make your mouth dry so keep that bottled water close by.
Travel Mouthwash/Toothbrush: After your getting-ready snacks and mimosas, you'll want to do a quick mouthwash rinse before you get your make-up done. Your first kiss as newlyweds will taste minty fresh rather than a hint of orange juice and champagne.
https://www.etsy.com/listing/451706286/personalized-travel-toothbrush-slumber?ga_order=most_relevant&ga_search_type=all&ga_view_type=gallery&ga_search_query=travel+toothbrush&ref=sr_gallery-1-11&organic_search_click=1&col=1
Cell Phone Charger: This is an essential for anyone leaving their house for a full day. Phones get used a ton during the getting-ready process because of all the Pinterest photos pulled up for desired make-up and hair styles. Keeping your charger on hand will ensure no photos are missed or calls from guests who couldn't make it either.
Travel-Size Pack of Tissues: This is something for you to have your maid or matron of honor hold on to during the ceremony. Having her hold onto some tissues allows you to focus on the moment so she can hand you one and take it when you're done with it.
Blotting Papers: Make sure your make-up artist leaves you with some blotting papers. With all the adrenaline and dancing, you'll inevitably have some oil build up on your face. Use those little papers to dab away the oil and sweat and keep your make-up looking fresh!
Travel Sewing Kit: God forbid you need to make use of this, but it's better to have it and not need it than to need it and not have it. This will mostly come in handy for when you get word that your soon-to-be husband needs to sew on a button or if the hook and eye clip of your dress needs to be tightened.
https://www.etsy.com/listing/715322118/travel-sewing-kitcollege-giftmothers-day?ga_order=most_relevant&ga_search_type=all&ga_view_type=gallery&ga_search_query=travel+sewing+kit&ref=sr_gallery-1-3&organic_search_click=1&cns=1
Deodorant: This is a given because no one wants to be smelling like BO on their wedding day. We cognizant of what deodorant you choose as many antiperspirants will leave a powder look on your underarms and you definitely don't want that showing up in photos or staining your dress.
Aspirin: You'll want to have aspirin for two reasons. First, adrenaline can cause headaches so having that on hand will be a useful way to help ease your mind. Secondly, crushing up an aspirin, mixing it with a tiny bit of water, and covering a noticeable blemish with help reduce the redness and inflammation. *This should be a last ditch effort to get rid of the pimple because if it gets onto normal ski, it can cause irritation*
https://www.youtube.com/watch?v=HU5XgWXMBCo
Clothing Tape: This one is good to have not just for brides, but for the whole wedding party. If the day comes and you suddenly get nervous that your strapless dress might not hold you in for all the dancing, simply place some clothing tape down and rest easy knowing you now have back-up.