Can't Decide Between 2 Dresses... help!
Bailey
, on February 14, 2021 at 11:44 PM
I've been debating between these 2 dresses for weeks now and cannot for the life of me pick one. I've tried both on multiple times, can picture myself walking down the aisle in both, and both are...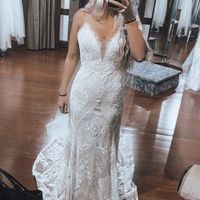 2

March 2021 Brides
Jami
, on February 8, 2021 at 3:35 PM
March brides how are you feeling? do you have everything you need? What are you working on doing now? I am 47 days out and cannot believe it!! March 26