I started a discussion
1273 days ago
1 pt
Shameless ring post
I feel so obnoxious sharing ring pictures on any other platform so here is mine! Me and my husband celebrated our 6 month anniversary yesterday—so i'm feeling all cute and cuddly about this bad boy! Let me see yall's!!
2

I participated in Kellie's discussion
1280 days ago
3 pt
Annoyed with in-laws
Awh this was such a great response! Thanks for the advice, I think
...
View full discussion

I started a discussion
1287 days ago
1 pt
Annoyed with in-laws
So me and my husband graciously moved into the house my husband grew up in —it's paid for and our in-laws live four hours away at the beach. We are so thankful they're letting us live here temporarily while my husband finishes school and we can save...

I earned a badge!
1370 days ago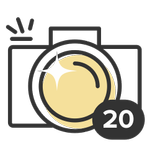 Shutterbug
Photographers take note! Your photos are an inspiration to us all. This badge is granted when you've posted 20 photos.

I started a discussion
1370 days ago
1 pt
5/19/18 Blue Ridge Mountains Pro-bam
I wanted to upload some photos from the wedding, even if it's 3 months later. I also wanted to create a list of any vendors we used as well. If I regret anything, it's that the weather was very less than ideal, I'm talking flash floods people!...

18

I started a discussion
1455 days ago
1 pt
5/19 non pro bam
We got married this past Saturday and it was the craziest, funnest, wettest, day ever! The day does go by fast, but in a way I was ready for it to be over with because I was just ready to be alone with my husband after being around so many people for...


4
View more