43 Reviews
Recommended by 98% of couples
Quality of service

5 out of 5 rating

Average response time

4.9 out of 5 rating

Professionalism

4.9 out of 5 rating

Value

4.9 out of 5 rating

Flexibility

4.8 out of 5 rating
63 User photos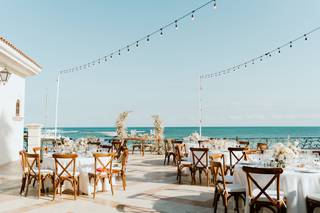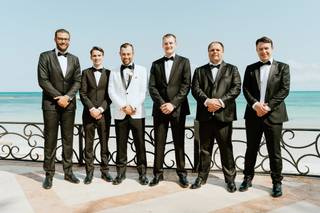 + 59

photos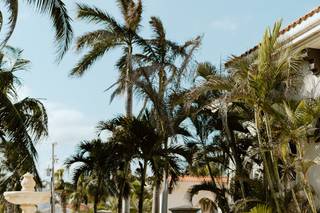 Amirali A.

Married on 04/20/2022

Beautiful Venue!

The venue was exactly what my wife and I had in mind. Everything was great and I would definitely recommend Villa La Joya to anyone who wants to get married in Riviera Maya 😍

Nickie

Married on 03/18/2022

Dream Wedding Venue

Villa la Joya was an absolute dream. We visited Mexico and toured the venue with our wedding planner (Paradise Wedding Events) and fell in love with the venue. The villa was immaculate, the grounds were lush and elegant, and it was the perfect setting for our semi small (40 people) wedding. The staff was so friendly and accommodating and answered all our questions. The day of the wedding was absolutely perfect! Everything was exactly how we envisioned!

+ 2

photos

Jasmin

Married on 12/10/2021

Dreamy setting

Villa La Joya was exactly what my husband and I wanted when searching for our venue. It truly has a magical energy. We wanted a private wedding on the beach but not on the sand, so this was a perfect match. It's elegant, private and allows you to customize your layout and select the vendors that you want. My guest stayed in Playa del Carmen so the drive was only a 15 minute drive from the resort to the villa and back. The Villa La Joya team was super, super sweet and welcoming to us. They treated my guest so well and were there to help throughout the entire night. The owner of the villa is also very kind and the story behind the villa is so special. Brides and grooms, if you're looking for a dreamy venue, Villa La Joya is your place!

Are you interested?

Send a message

A'ngelique T.

Married on 11/08/2021

Unique venue with beautiful backdrop of the caribbean sea!

VENUE: My (now) husband and I went back and forth on venue locations (and actually changed our venue three times), but we ultimately could not resist the unique charm of Villa La Joya and everything it had to offer us as a couple and our guests—a beach, garden, and beautiful villa. There is literally no other place in the area like this venue, especially for brides looking for a beautiful beach backdrop—with or without the sand—and sophisticated feel & decor. The inside of the villa is extremely regal and provided great pictures for our wedding day! We also appreciated the opportunity to get ready in the Villa La Joya condo for our engagement shoot in December 2020 and our wedding in November 2021.

STAFF: I have never worked with a more professional staff than at Villa La Joya! Mike and the staff from Villa la Joya was amazing to work with! For our engagement shoot that took place at another location, VLJ offered us their condo to get ready in and even steamed/ironed our clothes for the shoot! For our wedding, they were always available for any of our questions (via email, WhatsApp, or in person) and extremely accomodating with all of our requests (including providing snacks and champagne in the VLJ condo as we were getting ready).

The only thing we wish we would have done differently was to not second guess our original decision of choosing Villa La Joya as our wedding venue! This would have saved us a lot of money and stress. Highly recommend this place for your wedding!

Jasmine

Married on 10/30/2021

Amazing Villa!

Everything was great. Beautiful venue and my guest enjoyed it as much as we did.

Leila D.

Married on 06/05/2021

Amazing Owner

The owner is amazing, very professional and A+ customer service.

Aline

Married on 05/14/2021

The venue of our dreams!

It's impossible not to fall in love with Villa la Joya when you first see it, even if it's through online images. The venue is impeccable, gorgeous, spacious and very elegant.
When we visited Villa La Joya, prior to the wedding, we couldn't believe how real the beauty of the place really was. It was an emotional but reassuring feeling that Villa la Joya Playa del Carmen was the place we wanted to have the most special day of our lives.
We loved the idea of hiring and deciding who our vendors are without the hassle of additional fees. And we also enjoyed the flexibility that we gave to our guests to decide where they would like to stay in Playa del Carmen.

The team at Villa go the extra mile to make sure couples are 100% happy.
We had the pleasure to meet the owner, Mike. What an amazing person. We cannot recommend this venue enough. We are already planning on being back for an anniversary trip!

Kylie

Married on 03/27/2021

Villa La Joya - Beach, Garden, and Villa.

Villa La Joya is drop. dead. gorgeous. period! When looking for a wedding venue in Riviera Maya, we found Villa La Joya and were so impressed by their flexibility to allow vendors without additional fees. Overall, the venue fees were affordable for a paradise destination with waterfront. You can not compare this to any venue in the USA for the cost. In addition the the views, what we loved about this venue was that it created an atmosphere where you could host a more formal beach-side event without actually being in the sand. It has versatility for your wedding theme as it offers the beach, garden, and villa environments. Plus, the pool adds a resort feel making it even more chic. More importantly than the place itself, the owner was incredibly easy to work with and spent time answering all of our questions. Planning during covid, the owner went above and beyond to make our day special. If you have the opportunity to see inside- it is a must. Thank you Villa La Joya and team! We could not have picked a better wedding venue.

Cristina F.

Married on 11/14/2020

spectacular

Mike and his staff go above and beyond for their guests. This venue is just breathtaking and so well cared for! Mike responded quickly to my inquiry in 2019 and immediately got me connected with paradise weddings & events planner ! When visiting prior to my wedding date we got accommodations at his other villa which is just as gorgeous. Mike always made sure to stay connected and assist us in any needs needed during our stay. My fiancé & I could not have picked a better venue for our magical day! Thank you Mike!

Megan H.

Married on 10/17/2020

The Perfect Venue!

Villa La Joya is simply breathtaking. Everything about this venue is gorgeous and it was the perfect venue for our wedding day. Not only is it a beautiful location, but the staff that works there are amazing as well. They are always there to help out with anything you would need and are the kindest group of people. I couldn't recommend Villa La Joya enough!

Ivy C.

Married on 08/29/2020

The most magical venue for a destination wedding

The most amazing, perfect venue for our dream come true destination wedding. We were speechless when we first toured the villa, and our guests were absolutely wow'd by the mansion's incredible location and grandeur. All of us keep saying we want to re-live our wedding day over and over again. The staff was also beyond welcoming and friendly - especially Charo and Enrique - I just can't rave enough about the magical Villa La Joya!

Laura A.

Married on 07/10/2020

Heaven on Earth-Villa La Joya

Villa la Joya is everyone girls dream come true for a wedding venue. Not only is the location majestic, but the staff makes you feel like the most important people in the world. My guest were in awe on how attentive and friendly the staff were. My wedding is called the "wedding of the century" among my guest and Villa la Joya made that possible. Thank you so much to Anna, Irma, Carmen, Charo and el Sr. Domingo!

Cesaley S.

Married on 06/20/2020

The venue of our dreams

We always knew we wanted to get married in Riviera Maya but we wanted something different than the resort weddings we'd seen. THIS WAS IT. It was the perfect spot for our wedding and our family and friends raved about how beautiful it was. Mike was the best! He answered any questions we had, was flexible when we had to reschedule due to COVID and his team onsite is incredible. If you want to have an off-resort wedding, Villa la Joya is the place to make your wedding dreams a reality.

Allie S.

Married on 01/26/2020

Exceeded all my expectations

I am so so so happy I found Villa la Joya for my wedding. We wanted a destination wedding that was private, without any snooping hotel guests.

Not only did it fit the bill for that, but it truly was the most magical setting and our guests absolutely loved it. Feels much more private and intimate than at a resort, but you're still in paradise.
10/10

They were also super easy to work with.
I would highly recommend their planner, Anna Schriemer through Paradise wedding events.


Saul M.

Married on 01/25/2020

Villa La Joya is stunning! Picture-perfect and has a jaw-dropping view.

We got married in late January 2020 and could write an entire book about our wonderful experience with Mike and the entire team of Villa La Joya. The location is perfect, it is in a private community in Playa Paraiso which means there aren't many, if any, on-lookers on that section of the beach. The front of the villa is big enough that it accommodated 80 people comfortably for our ceremony. The backyard setting was the reason why we chose the villa. The combination of architecture and design of the villa itself with the beach as a backdrop was more than enough. Very spacious, we had just over 100 guests plus vendors and the place did not feel crowded at all. Our guests loved the beautiful backdrop and had a blast taking photos all around the venue. VLJ has plenty photo ops from the front steps to the fountain and of course the backyard overlooking the ocean.
During our visit to Playa Paraiso In October (pre-wedding) we stayed in Mike's condo, which is a 3-minute walk to the venue. Carmen and Charo did a great job with hospitality and made us feel like we were in our own home. The condo is spacious enough to accommodate vendor meetings. We hired Soberanis catering for our wedding and they prepared the tasting for us there at the condo. We ate leftovers through the remainder of our stay, a huge bonus. We recommend you book the condo for the getting ready the day of your wedding, it is very convenient given the location, especially if you are thinking of having photographers for the first look since many hotels charge a vendor fee.
During the pre-wedding visit, Mike was flexible and accommodating, he realized we had concerns about our wedding vision and put us at ease, he said we could do certain things which unfortunately our initial planner said we couldn't. Mike offers a list of qualified and highly recommended planners. We recommend that you select the package where you can take photos in the interior of the villa.
In the weeks leading up to the wedding, we had some weather concerns since there was rain forecasted. Villa La Joya has a vendor who you can rent different size clear tents from. We suggest you research the tents and your preferred wedding day set up and budget accordingly if you plan to wed during the rainy season. Luckily, we did not need them.
If you are looking for someone who is there for you and has your best interest in mind, then you don't need to look any further. Mike, Irma, Carmen, Charo, and Domingo together make the experience truly a one of a kind. Villa la Joya maintains a great relationship with the vendors, is professional and hospitable. From the first day in contact with Mike, we knew we were in good hands, he was responsive, professional, and provided us with plenty of information before even selecting Villa La Joya as our venue. Irma is a vital member of the team, she ensured we had a pleasant stay. This included coordinating pick-up/drop off from and to the airport or into town with Domingo as well as recommending places to eat. They are very communicative and remained in close contact via a group chat on Whatsapp. During our pre-wedding visit, we got to witness the release of turtles back into the ocean after hatching, it was a memorable experience. The turtle sanctuary is an operation run by Irma and Domingo through Villa La Joya. Thank you, Irma, for let us be part of that.
We truly felt like we were part of the family and as if we celebrated our grand day in our very own backyard. They were very understanding when dealing with hiccups that occurred with guests as well. Everyone here is easy to reach, professional and just all-around nice people, which made the planning and wedding experience that much better! You will not be disappointed with Villa La Joya. WE LOVE YOU GUYS!! From Ellie & Saul


Lou A.

Married on 11/30/2019

Villa la Joya is a dream!

We couldn't be happier with the decision to have our wedding at this venue. From the moment we stumbled across Villa la Joya we knew that having our wedding in Mexico was exactly what we wanted and dreamed of. Not only are the villa and grounds beautiful and exceptionally maintained, Mike and team are so welcoming and accommodating. Our wedding guests were completely blown away by the exclusivity and beauty of Villa la Joya, as were we! Stop looking and choose Villa la Joya, you will be happy you did

Andrea M.

Married on 11/26/2019

Breathtaking venue and exceptional staff

Villa la Joya was one of the most breath taking venues! Aside from the venue itself, the staff was the sweetest and most accommodating throughout our visit and even the day after our wedding. I would highly recommend this venue to anyone looking to have their dream wedding with breath taking views and exceptional service.

Anastasia

Married on 11/11/2019

An absolute jewel!

Villa La Joya will always have a piece of my heart. I can't remember how I stumbled across the property but I'm so thankful I did!
Besides being an absolutely gorgeous property, right on a flawless beach, it was so nice to have nearly instant contact with the owner, Mike just shortly after submitting an inquiry. It truly was such a good sign and feeling when we spoke to him, we decided to end our wedding venue search. In the Riviera Maya, you're bound to find one beautiful venue after another, but two of the biggest factors that set VLJ apart from the others is the swift, responsive communication you'll receive and the hospitality the staff provides. Because this is a home, it is cared for and maintained in a way that, well you would expect someone to care for their home. The grounds are pristine and the aura is just how you'd expect paradise to feel. No stone went unturned when Mike built this beautiful home. He is so generous to share a piece of it with the world.
If you are looking for a private, memorable location to host your wedding (or rehearsal dinner--we rented it for both) that gives you the option of having it be the pinnacle of luxurious, or relaxed, fun and youthful--Villa La Joya will absolutely make your wedding vision come true. Our guests raved and raved long after our wedding (11/11/19) about our venue. It truly is unlike most options out there. It is undoubtedly a jewel!

Feel free to contact me via IG @beachkidscoffeekisses with questions.

+ 6

photos

Shantal A.

Married on 11/09/2019

A Magical Venue

This is not just a pretty Villa they use as a venue, this is truly a magical experience. From the moment I spoke to the owner, I knew this place was special and I could not have been more correct. He lends his beautiful home to couples so that they have the freedom to create the wedding of their dreams. The first day we visited Villa La Joya in person, it took our breath away with its elegant architecture, well-kept greenery/terrace and the beautiful oceanfront view (our wedding guests felt the same). Throughout our wedding process, we visited Mexico 3 times and had the chance to interact multiple times with the Villa staff. Every single individual we met was nothing short of warm, friendly, kind and respectful. We were beyond impressed with the service and friendly hospitality we received in every encounter. Their ability to accommodate all your needs before, during and after the wedding were greatly appreciated it. Our wedding turned out better than I could have imagined. It was beautiful and definitely one of the greatest nights of my life with family and friends. Thank you Villa La Joya and staff for giving us one of the most special experiences of our lives!

Rosalinda B.

Married on 11/02/2019

Incredible venue!

Got married here November 2, 2019, everything was perfect and this venue was absolutely beautiful! All my guests were amazed and said it was like something out of a movie! Staff and owner were so friendly and everything went smoothly during the planning process. I'm so happy I found this wedding venue!

Asteka M.

Married on 01/08/2019

The most perfect wedding venue!

The most perfect wedding venue!


On August 2019, we had our wedding at Villa la Joya. Our guests were in total awe of the beautiful scenery and accommodations.


We do not have enough nice things to say about Mike, his staff and Villa la Joya. Every member of staff were wonderful, accommodating and worked hard to make sure we had the most memorable day.

Things went so smoothly from the moment we spoke with Mike. He was like a member of the family, guiding us through the obstacles that accompany any wedding. Thanks to his generosity and kind heart our dream wedding was a reality.


I can't imagine that there is any other venue that could compete with Villa la Joya for your wedding. If you choose to have your special day there, I guarantee it will be amazing!

Ryan

Married on 01/05/2019

Perfect Venue

Villa la Joya was absolutely amazing. It was the perfect venue for our group of 82 people. It felt cozy without being too crowded. The layout in the backyard was perfect for our group of 82 people. The pictures don't do la Joya justice as far as how pretty it is. It's the perfect place for a ceremony.

Yuliya

Married on 11/23/2017

I don't even know where to start...Mike and Irma, mama Nina, and everyone else at Villa La Joya - Thank you! You have no idea what you've done. You made my dreams come true!!! I honestly couldn't wish for a better place to become a wife and to celebrate such an amazing event with our closest friends. It was perfect!
Thank you all again!

Lucy

Married on 10/07/2017

Mike and Irma,

thank you so much to you and your dream team (Domingo, Lola and company) for the attentions this Saturday, we are fully satisfied with your services.

Mike thanks a lot for the trust, it is needless to say you have a breathtaking property and an amazing hard working family!

We want to thank you and Irma for the support since day 1, with the weather craziness we were afraid things would get complicated but what we found was a fully supportive team in you and the other suppliers.

Please give thanks on our behalf to Domingo, who helped us all night long with the Villa logistics and the transportation for the guests, Lola too, she helped us all night with the restrooms logistics and they had always the best attitude.

Without doubt this will be the first of many more weddings and events!

Maria

Married on 06/19/2017

Muchas gracias a Villa La Joya por recibirnos de una forma tan cálida y hospitalaria. Son unas excelentes personas!!!
Are you interested?
Send a message