Reviews
4.9 out of 5 rating
Quality of service

4.9 out of 5 rating

Average response time

4.9 out of 5 rating

Professionalism

5 out of 5 rating

Value

5 out of 5 rating

Flexibility

5 out of 5 rating
99%
Recommended by couples
1 User photo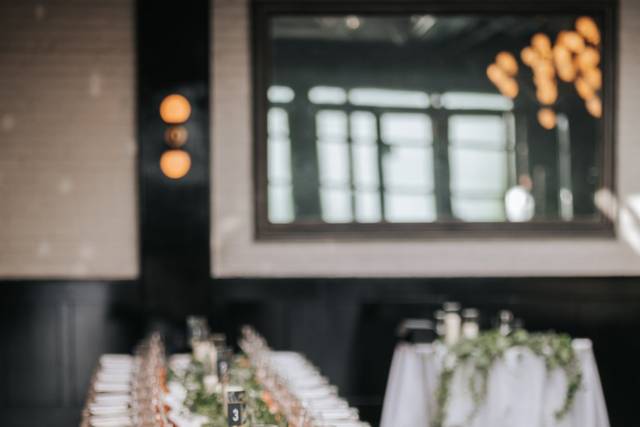 Carolyn L.

Married on 09/09/2023

Love them!

Rebecca and Luis were SUCH a huge help as a day-of-coordinator team for my and my partner's wedding in Brooklyn. They had a good sense of the space, they handled all the little things that I never would have thought of, they kept us on schedule. Highly recommend this amazing team!

Megan F.

Married on 09/02/2023

The gift of peace of mind - Rebecca and Luis are the best!

Luis and Rebecca were truly the best gift for our wedding experience. They pride themselves on giving couples the gift of peace of mind, and they did not disappoint. Throughout the planning process Luis and Rebecca were available and responsive. Even more, they helped out tremendously with our wedding timeline, floorplan (which was especially challenging with the tight layout of our venue), and even stepped up and filmed our ceremony and dances. From set-up to break down they were on point. The Unruffled Bride was a joy to work with and collaborate with throughout the whole process. Having a raw space can be a challenge, even for the most seasoned of couples. However, Luis and Rebecca made vendor management, set-up and tear down a breeze. We are beyond happy with how how our wedding went and would recommend the Unruffled Bride to any couple looking for a seamless wedding experience. Thank you so much!

Jessica S.

Married on 05/27/2023

Fabulous planner

Rebecca and Luis at Unruffled Bride are game changers. After an exhausting search of different wedding planners, we were recommended Rebecca by a local venue. Rebecca saw my vision from the first conversation and executed it to a tee.

For every vendor, she had a trusted list of who to pick and choose from at every price point. She helped us understand, from the beginning, where our money should go and where it didn't need to. For the year before the wedding, she answered every email, text, and call promptly and was happy to provide anything we needed, even if it was just a friendly ear. Rebecca and Luis bring joy to their work, and they clearly love what they do and each other.

In the weeks leading up to the wedding, Rebecca had every "t" and "I" dotted and crossed. They met with and organized all the external vendors with the venue, created the wedding day timeline, and kept me calm. Day-of, they helped set up all of the tables and chairs, our decorations, coordinated with our rental companies, and even went so far as to set our tables for us. Although I was getting ready nat the venue, I never had to raise a finger. During our wedding, they kept everything on a proper timetable and made it possible for my husband and I to participate in and enjoy ourselves to the fullest.

Our wedding went off without a hitch (or at least none that I know of) and I put that solely on Rebecca and Luis' shoulders. They worked hard to make our day truly special, and I've also gained life-long friends. Hire Rebecca and Luis, you won't regret it!!

Are you interested?

Send a message

Kristin

Married on 06/18/2022

Amazing Job for a Difficult Assignment

Rebecca was my day-of coordinator and I am so beyond happy I had her. She did not have an easy task for my wedding as I needed her to be a buffer between me and some others on the guest list. Rebecca and Luis made sure everything went seamlessly. They often times throughout the night had to be the bad guy to family members to make sure my vision was realized and I could focus on having fun and not stressing. They both worked so hard to make sure everything I requested was executed and I am so thankful to the both of them. Highly recommend!!

Aaron A.

Married on 06/10/2022

A great investment for your wedding

Rebecca and Luis were fantastic to work with! They are pros at making sure everything you want to have happen at your wedding go super smoothly. They were super responsive to all of our requests in the weeks leading up to the wedding. On the actual wedding day, we had no hiccups throughout the night, which was truly amazing and we can't thank Rebecca and Luis enough. Highly recommend The Unruffled Bride for any wedding! Thank you!

Katherine F.

Married on 08/06/2021

Day of Coordination with Rebecca and Luis

Rebecca and Luis were our day of wedding coordinators and they were hands down one of the best vendors (and to be less formal, the best people) we worked with. In the months leading up to wedding, Rebecca initiated regular communications with us to garner the necessary details and was so attentative, flexible, thoughtful, organized, and trustworthy. The entire wedding ran so smoothly thanks to her very detailed schedule - we (and all of our other vendors) felt so comfortable and in more than capable hands; it really felt like we were working with friends. We also had a lot of DIY decor to set up and Rebecca and Luis executed it all beautifully utilizing photos we had provided, we were blown away. Last, they helped us with packing up at the end of the night which we greatly appreciated.

Rebecca also helped us deal with moving our wedding back by almost a year in Covid and made that entire process way less stressful for us.

We cannot recommend Rebecca and Luis enough - they will make your day the best one yet!

Tamar S.

Married on 07/24/2021

You won't find better wedding planners

Rebecca and Luis truly went above and beyond expectations. They helped us think through every step of the process, and more importantly, they put us at ease. They even helped us figure out so complicated DIY elements. The two of them are both so kind and their level of confidence and experience makes planning a lot more fun and less stressful. They answered every single question with patience, and on the day of the wedding, we were able to truly enjoy ourselves because we fully trusted them. They even helped handle needy family members haha. We honestly couldn't imagine a better experience and we feel lucky we found them.

Cassie B.

Married on 07/17/2021

Highly Recommend!!

Rebecca and Luis really went above and beyond for us! We could not recommend them highly enough. Rebecca is extremely patient when dealing with brides who have no idea what they're doing! She helped me with a timeline, communicating with vendors, ideas, what's important/what's not when it comes to spending money, and reminded us that this was OUR day. We met with Rebecca and Luis in person a couple of times to go over details of our wedding and it was really nice getting to know them. You could not ask for nicer people to help you plan your big day.

They are also extremely knowledgeable about this industry -- they had worked with a lot of our vendors before and had also worked with our venue, which was extremely helpful in the planning process.

For the month before our wedding, they really took the lead on communication with vendors and making sure everything was in place (with COVID restrictions and venue insurance, etc.) so that we didn't have to do it. And our wedding was absolutely perfect -- the timeline was great but even when it had to be changed (due to rain, etc.) Rebecca was on top of it to make sure we didn't stray too far. I truly do not know what I would have done without them on our wedding day -- but it would not have been as smooth.

In addition, Rebecca and Luis did a lot of extra things for us to make sure our day went how we wanted. For example, we purchased our own alcohol and they picked it up from our apartment and made sure it got to the venue. They also dropped off anything left at the wedding to our hotel room after the event. Luis also transported our arch from our ceremony area and placed it behind our sweetheart table, which was amazing. We also purchased A TON of candles. Not only did Rebecca ensure that my vision was played out and light every single one, but she also made sure no one caught their purses on fire (it was a close call!).

I also want to note how gracious Rebecca and Luis were with postponing our event due to COVID. Not only were they responsive in changing our wedding date, but they offered to help with our other vendors and were truly sorry that we had to postpone at all.

We could not recommend Rebecca and Luis more! They are wonderful people and are truly committed to the couples they take on. They do this for a living, but we did not for one second feel like we were "just another job." They made us feel special and ensured that all of our small details were incorporated into our event! Thank you both so much!

Lauren K.

Married on 06/26/2021

Rebecca and Luis are the best!

Hiring a day-of coordinator is absolutely worth it, and you won't find a better team than Rebecca and Luis! Our wedding would not have been the same without them.

From our first conversation, it was clear how unique Rebecca is in how much she cares about her couples and wants to bring their visions to life. Rebecca has a very positive, can-do attitude and was willing to jump in anywhere she could to help our wedding go smoothly. She took over coordination and communication with all our vendors in the weeks before the wedding, reconfirming every detail and thinking of things we'd forgotten. She paid attention to all the details we shared with her, and she set everything up beautifully in the venue.

When our family and friends abroad weren't able to attend the wedding because of Covid travel restrictions, Luis stepped in to film the ceremony for us so we could stream it for them (and did a fantastic job).

Most notably, Rebecca was such a calming presence in the weeks leading up to the wedding and throughout the rehearsal and wedding day. She was incredibly kind to my mother, and it meant a lot to have someone looking out for us and our families and making sure the day was special and enjoyable for us.

All of these glowing reviews are accurate — Rebecca and Luis are wonderful and you won't be disappointed if you book them!

Pam

Married on 06/05/2021

Best investment - peace of mind is priceless

Rebecca was by far the best investment we made for our wedding! We had a great experience working with her. From booking her all the way to loading the car after the reception, she was a true professional. She knows everyone in the industry and every vendor that we worked with spoke highly of her.

We did all the planning, but she executed on our vision and managed our wedding day seamlessly. She put in so much time in and was always responsive and on top of everything. I must admit, I was a type A bride and a worrier. There were so many moving pieces -- we had more than 10 vendors and deliveries that day. She handled all the day-of details which allowed us to truly enjoy our special day. In retrospect, we could not have pulled the wedding off without her. Rebecca gave us peace of mind and allowed us to fully enjoy our event -- that is priceless.


Katherine L.

Married on 03/08/2020

100% Made our wedding incredible

There's a reason everyone has put 5 stars in their rating of Rebecca and Luis' business. They are the absolute best at what they do. They're professional beyond belief, managed the big and small, didn't let anything slip, and adapted to anything that we threw their way.

Specifically:
- Rebecca and Luis joined us for a pre-wedding meet and greet, met with everyone and made sure they knew all the key players before the day of the event.
- We weren't picky about how the decorations would lay out in the venue. Rebecca and Luis made it GORGEOUS.
- We had an uncommunicative vendor in the week leading to the wedding. I was having terrible luck getting a hold of someone to help. Rebecca got after them to communicate with us immediately, and helped keep an eye on the particular vendor on the day of the event.
- We live in NYC and couldn't keep much of anything from our wedding. We created a "donate" list and asked Rebecca and Luis to pack things up so we could easily take the boxes to Goodwill the next day. They packed everything up and did it themselves, so we didn't even have to make the trip to donate everything the next day. It felt like a million pounds of logistics were lifted off of us when we could just enjoy after-hours drinks with guests and not have to return to the venue to pack up.

Would vouch for them any day or night. Someone else mentioned hiring them was the best investment they made in their wedding - I, my husband, and my mother all agreed. They're the absolute best.

Paige L.

Married on 09/28/2019

A Dream Team

To tell it short and sweet, my now-husband was very against a DOC but after working with Rebecca & Luis, he tells everyone it's an absolute must.

Working with Rebecca was one of my favorite parts of planning a wedding. She was my calm oasis in the hurricane that is wedding planning. Rebecca took over corresponding with all vendors (including my own family!) and answered my emails, texts and calls, every day with patience and grace. She came with ideas and organization and I can't imagine how the day would've gone without her and Luis. They are a dream team that allowed us to enjoy our wedding with zero stress. I would recommend them to anyone who asks.

Deborah

Married on 06/15/2019

Absolute Best day-Of_Event Planner in The Business

Rebecca and Louis were beyond amazing. They took care of the details, and made my life so much easier in the days leading up to the wedding, and on the actual day itself. They were concerned, they were on top of everything (like the cake that was delivered four hours late- Rebecca was on it though- and I didn't even know until after the wedding was almost over), and they made sure that everything went seamlessly.

Highly recommended- you don't need to look any further.

Chantal H.

Married on 04/19/2019

Look no further!

We worked with Rebecca and Luis for our April 2019 wedding and could not have been happier with their day of coordination services! Rebecca was instrumental in making sure that we were very prepared leading up to the wedding day. She and Luis visited the venue with us, made sure our timelines were in tip-top shape, and also made sure that things ran smoothly the day of the wedding. Rebecca made herself super available prior to the wedding via email and phone and we knew that she cared about our day just as much as we did. If you're looking for day-of-coordination services, look no further! We're so glad we got to work with them and couldn't imagine our day without this fantastic duo!

Yslhassel

Married on 03/23/2019

The Best Experience!!

Rebecca is a gem and I can't say enough good things about her and her husband Luis! They are a must have - don't look any further and just book Rebecca!

First off I am super particular (as my husband would say :)) and also very hands on. Once I have an idea in my head it has to happen just so. Rebecca and Luis did not disappoint! I hired Rebecca for day of coordinator for my wedding and it was the BEST thing I did. She's responsive, thorough and a true pro. As soon as I talked to Rebecca on the phone I felt at ease and felt like we had a natural rapport. I thoroughly enjoyed my wedding day and did not stress any of the details.

Rebecca took care of the timelines, made sure the vendors knew when to get in to set up and personally setup alllll of my decor. Everything turned out to be absolutely beautiful. Rebecca has a keen eye for detail and definitely knows what looks good. I hardly say anything is perfect but Rebecca really made my wedding day just that. All our guests told us how beautiful the wedding was!

Rebecca was also responsible for packing up my personal belongings and I had so many things to pack up (100+ candles, picture frames, leftover cake, guestbook etc.). She did an amazing job with that as well and even packed things that I didn't think about such as a picture I left behind after using the photobooth and the unity candles we used during the ceremony. It's really the little things that count and I'm super appreciative of that!

I highly recommend Rebecca and would use her again in a heartbeat! Thanks so much for a wonderful day!

Em Kay

Married on 01/20/2019

Made my wedding stress-free!

Rebecca and Luis did such an amazing job at my wedding in NYC. They helped me come up with a schedule and distributed to all vendors in advance, which was crucial to do. It was so helpful to have someone who actually knew what they were doing handle that.

They really shone during the day of the wedding. There are a million tiny details that I didn't want to think about, and Rebecca and Luis just handled it. A few examples -- I brought a seating chart but didn't think about how to set it up at all. I show up to the cocktail hour and it's nicely displayed in a prominent location. I chose 3 specialty cocktails but made no signs about them so guests would know what they were. I see Rebecca walking by with freshly printed signs that she prominently displayed everywhere. I didn't want to deal with ordering my parents as they found their seats during the ceremony. I still have no idea how they got there, Rebecca just handled it. All my stuff was nicely packed up at the end of the night and Rebecca and Luis did not leave until I did. It was so nice to feel like I (and my parents/friends who often get stuck with this stuff) was simply a well-pampered guest at my own wedding.

I highly recommend working with Unruffled Bride!

Sarah

Married on 09/15/2018

As a very hands-on person, I was initially hesitant to hire a day-of-coordinator; however, I am so so so glad that we booked The Unruffled Bride. It was one of the best decisions!

I am extremely grateful for all the time, work, and effort that Rebecca and Luis provided for my wedding this past Saturday, 09/15/18. Not only are they such a pleasure to work with, they were able to handle all of our questions, concerns and requests for multiple meetings. Although we booked them for their day-of-coordination services, they were in touch with us throughout the planning process, going above and beyond to ensure that our day went smoothly. They were able to coordinate and work well with all our vendors, which was important. The wedding did indeed go smoothly from my perspective, as they took care of any issues behind the scenes and alleviated any of my stress.

It was such a pleasure to work with Rebecca and Luis, and I HIGHLY RECOMMEND them to anyone getting married. Do not hire anyone else!!

Alexandra

Married on 07/29/2017

If you are considering hiring a day-of coordinator for your wedding, I cannot recommend Rebecca & Luis enough! We never would have hired a DOC normally, but our venue required us to. After looking around, I came across The Unruffled Bride and reached out to Rebecca, and got a response VERY quickly. After our initial phone conversation, I knew Rebecca was exactly who I wanted to be with us on our big day. We hit it off as soon as we started speaking. By our wedding, it didn't feel like Rebecca was just our planner, she was like a friend! :)

Rebecca is down to earth, which was most important to me, because we wanted a relaxed, simplistic, minimal-stress wedding. She is extremely organized and I felt absolutely totally comfortable letting her take charge the day of the wedding (which does not come easily for my type A controlling self, so this really speaks to how incredible she is). While we were taking photos during the day before the ceremony, she and Luis set up the reception space BEAUTIFULLY. I brought the decorations and gave everything to them, and they set it up better than I ever could have came up with myself.

The best thing you can do for yourself is hire Rebecca & Luis. Any issues that came up, I didn't have to worry about. I got to enjoy my wedding and spend the day with our friends and family - and that's how it should be! My family kept raving about how wonderful they both were. So many things happened behind the scenes where Rebecca and Luis were helping people out, and I was so happy to hear that everyone else got to see how great they are. Rebecca was amazing with working with our vendors, and I felt like I had nothing to worry about all day, because I knew everything was in great hands.

I'm so happy Rebecca & Luis were part of our wedding day, thank you both again!! We absolutely loved having you!!!

Alexandra&Nick

Kendra

Married on 07/22/2017

I strongly recommend Unruffled Bride and would do it all over again w/ Rebecca and her husband Luis! I didn't have a care in the world on my wedding day and I credit them with keeping me at ease day of and throughout the lead up. They're super professional, super talented, and are the most wonderful people. HIRE THEM. My wedding was July 2017 and I had my first conversation w/ Rebecca earlier that January. I felt an instant connection w/ her and her planning style. She's empathetic, confident, experienced, and I remember that she had so many good questions for me. Our venue was a new one for Rebecca and she was excited to work in a new place and to learn it. We hired Unruffled Bride for "day of coordination" and had 2 very helpful advance planning meetings. Even though I am a bit of a super-planner, I really had no idea about so many "wedding things," and really appreciated their perspectives (on handling certain traditions, or challenges with family or guest list lol). I never once felt like they were trying to superimpose anything that "wasn't me" or "wasn't us." While they have so many good ideas to solve operational/logistics issues, they don't make you feel like there is some boilerplate format that you or they need to follow. Rebecca and Luis collaborate so well and I know my husband appreciated him coming to our meetings and hearing his perspective too. Rebecca also has a fantastic network of people in the industry who just adore working with her and can offer so many great recommendations for vendors. 3 weeks before the wedding, we had one walkthrough together at the venue with core vendors. Day of, everything went super well with setup and breakdown and everything in between; they will shield you from ALL that stress and handle ANY issues. It was amazing! They have "Seen it all" and are such a supportive presence; I can't imagine not having them as part of this important day and I adore them. They handled everything so totally, completely, and beautifully!

Sarah

Married on 03/17/2017

We weren't sure if we really needed a Day of Coordinator at first (we knew where everything went, and how much was there to do on the day, really?), but it turns out that we did, and Rebecca was the perfect choice. Rebecca was supremely easy to work with - she suggested things that we hadn't thought of, she understood us when we told her that we had decided to forgo certain services (we didn't hire transportation or hair and makeup) without pressuring us; we felt like she 'got' where we were coming from and what we wanted.

On the day Rebecca and Luis were truly wedding-savers. She set everything up (including our speakers!), she liaised with the venue, and she helped us pull off our wedding together seamlessly. When, at the end of the night, we realized that we wanted to keep the party going for another hour she managed to get us an extension with no fuss or negotiating on our part. Our families were also very impressed with how Rebecca and Luis managed the event - one of the very first things that one of my family members said to me when I arrived at the venue was not to worry, because "Rebecca has it under control." We don't know what we would have done if they hadn't been there - it would have been a different, very stressful day! We can't recommend them highly enough.

Kaley

Married on 10/01/2016

It's hard to put into words how wonderful it was working with Rebecca and Luis, but I will try! From the moment I started emailing with Rebecca, I knew I would enjoy working together. She is extremely responsive, professional, and organized (she doesn't miss a single detail), but even more importantly she is just an extraordinary person. She put my mind instantly at ease and reassured me that I'd be able to just relax and enjoy my wedding. And that is exactly what happened! Because of Rebecca and Luis, we were able to be in the moment with our family and friends. What a gift! We brought in our own flowers and decorations (votives, menus, escort cards) and they handled both set-up and break-down flawlessly. They kept the timeline running smoothly and just had such a warm, kind energy throughout the entire event. Thank you so much Rebecca and Luis, you really made our wedding so special!

Mari

Married on 09/24/2016

Rebecca and Louis were indispensable. They made my day go so much more smoothly and kept my stress levels low.
Prior to the wedding, Rebecca will email you as much as you need her- she's very responsive. Even if you don't reach out, she will check in on you periodically to see if you need anything. Closer to the wedding day, Rebecca pointed out a few things that I still needed to consider that I had left off my checklist- she brings so much experience with her- she just knows what works and doesn't work.

For the day of the wedding -they decorated my tables with centerpieces (I did not have floral centerpieces that a florist would arrange and would have had to do it myself or had my bridesmaids take care of it), printed menu cards for my donut dessert station, set up my donut dessert station, printed and set aside reserved ceremony seating for family, talked to all my vendors before hand to check in on them, lined up my bridal party with military precision for both the ceremony and reception introductions, helped me deal with the fact that the DJ booth is upstairs and everything is downstairs, packed up everything at the end of the night, and a whole host of other small details that I can't even count.
There will be things that go wrong and you just have to roll with it. I didn't have to roll with it- because Rebecca and Louis rolled with it instead. There was a delay in the dinner service from a kitchen miss-hap at the venue- my husband and I started to notice because we wanted to do the cake cutting no later than a certain time. With our anxiety levels about to rise, Louis and Rebecca swooped in- anticipated our needs and dealt with the caterers directly and kept on top of them until the job was done.
Aside from the amazing service these two provide- they are just two amazing people to begin with- they make you feel that they truly care about their bride and groom- they care about what you care about and you feel like you're in the best hands possible.

I just can't say enough raving things about Rebecca and Luis! We booked her as our day of coordinator. From the start she provided sound, solid advice by email for every step of the way. She was responsive and professional at all times. She took detailed notes when we met about our desires. She took seriously what we felt was most important and she gave honest feedback about things that may not work, and we are so glad we listened to her every step of the way. On the day of she was virtually seamlessly integrating into our big day.

She just did a fantastic job! We had a particularly difficult processional timing-wise and she nailed it! We also had an extremely detailed list of items we wanted back and those we didn't, and she basically got it 100% accurate, which was huge! Finally, no one wants to be anxiec the day of, and rebecca ensured that the only questions she asked (and they were few and far between because she studied our plan!) were extremely relevant and succinct, and the event went smoothly!

Also, on our big day, the heat index was in the 110s, and rebecca and luis pushed right through it and set everything we brought to the outdoor venue perfectly - hard workers!

Again, I cannot say enough about Rebecca. If you have not booked a DOC, book her immediately and you will thank yourself when you did! Of all the things we purchased for our big day, Rebecca easily stands out amongst the top, most useful buys. And she is a complete steal too for her value!

Laura

Married on 05/21/2016

Rebecca and her husband Luis acted as day-of coordinator for our wedding in May and I honestly could not recommend the two of them enough. They did a phenomenal job at our wedding and I don't have anything negative to say; they allowed us to relax and were worth every penny! Rebecca's attention to detail was excellent. I'm a totally Type A bride and *in my head* I knew exactly where I wanted everything to go, and how the venue should look. Rebecca took two brief meetings and an insane Excel spreadsheet, and somehow was able to translate that into my vision. She placed everything according to my instructions, and those things that I left out, she took care of completely. She dealt quickly with a few issues that came up that day -- and if there were others, I haven't learned! I was able to sit back and relax, and I didn't have to think about the flow of the evening or whether our first dance was on time. She and Luis are also so kind and easy to talk to, and their rates are incredibly reasonable for NYC. I highly recommend them and can't thank them enough.

Rachel

Married on 11/07/2015

Rebecca and Luis filled so many roles at our wedding. They were our Day of Coordinators but they did far beyond this and their staff was amazing. They put up all of our decorations exactly to our specs, set up all of our tables, managed the music and the sound system, helped our ceremony run smoothly, got all of our guests seated in time, put out all of our "hors d'oeuvres" and cake/doughnuts, made the coffee (and had a genius way of trouble shooting it when one of our coffee pots broke), filled everybody's water glasses, cleared everybody's plates, helped with announcements and cleaned and boxed everything up at the end of the night for us. Rebecca even ran to a nearby deli and begged them for to-go containers when our caterer forgot to provide them—we had way too much food left over and we didn't want to waste it. They truly were amazing and helped us to just enjoy our wedding and have fun. You can tell they truly love what they do and they definitely worked hard to help us have the wedding we desired. Thank you Rebecca and Luis and your staff!
Are you interested?
Send a message