93 Reviews
Recommended by 97% of couples
Quality of service

4.8 out of 5 rating

Average response time

4.8 out of 5 rating

Professionalism

4.8 out of 5 rating

Value

4.9 out of 5 rating

Flexibility

4.9 out of 5 rating
16 User photos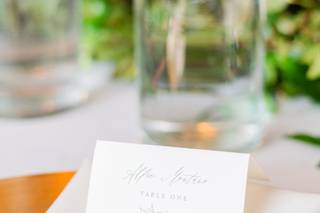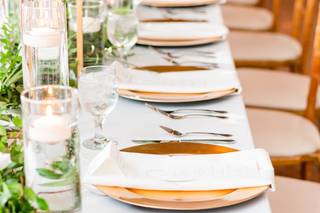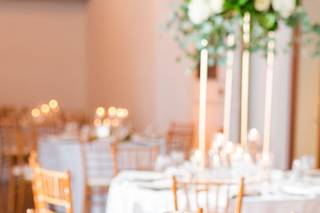 + 12

photos
Allie

Married on 12/18/2021

Absolutely seamless & perfect in every way!

LOOK NO FURTHER!!! Ivy is the absolute BEST!!! I cannot say enough great things about Ivy and her team – they did an absolutely amazing job coordinating our wedding. Ivy was so helpful from the start – she had excellent recommendations and resources to keep us on track every step of the way during the wedding planning process. She was extremely helpful in creating a wedding timeline and ensuring that all of the vendors, family and bridal party were where they needed to be throughout the day so that we didn't even have to think about it. I most appreciated excellent ideas / suggestions and her attention to detail regarding every aspect of our big day! She was an amazing listener and made every single one of my dreams come to life!!! She is EXACTLY who you need to hire to make your wedding day go absolutely seamless. THANK YOU SO MUCH IVY! I simply can't recommend you and your team enough!

+ 5

photos

Michelle K.

Married on 12/11/2021

So glad we got a day of coordinator

Leading up to our wedding day, Ivy really helped us in getting things together with her checklists. When we thought we were done planning, her checklist made us really go into the details, which in the end really made a difference and helped us put together an amazing day. She assigned Lisa as our day of coordinator to run things on the day of our event, and Lisa was AMAZING! I was so impressed. She was on top of everything and helped made our day run seamlessly. We are so thankful we had her there, her being there really allowed us to relax and just enjoy the moment.

Jennifer B.

Married on 06/19/2021

Rockstar to work with!

Ivy is an absolute rockstar. We hired her to be our day of coordinator and she was absolutely terrific to work with. She ensured that our wedding ran very smoothly and on time and coordinated with our other vendors and our venue with very minimal direction needed from us that day. Our ceremony started promptly and flowed exactly as we wanted it to. During our reception, she kept my husband and I on schedule and made sure that we stuck to the timeline that we created. We lost track of time and never went to the photo booth and before they left, she came to us to remind us that they were leaving if we wanted to use it. For those that are on the fence about hiring a coordinator, I strongly urge you to hire one (and to hire Ivy). On the day of your wedding, you do not want to be dealing with putting out fires and making sure everything is running smoothly. I also did not want to trust a family or friend to do it. We are beyond happy that we hired Ivy - she was so professional and just an overall pleasure to work with. Thank you Ivy for making our day perfect!!!

Are you interested?

Send a message

Brianna R.

Married on 05/02/2021

Ivy Means Business

First and foremost - I received just as many compliments on my wedding day about Ivy as I did on how beautiful I looked as a bride. I received compliments from every single vendor and guest about how organized and responsive she was as well as how smoothly the day went. I had people at the Kimpton Tryon Park Hotel telling me this was the most well-planned wedding they had ever seen! When I hired Ivy, I had just started planning, and I called her to find out how her wedding packages worked. I was surprised she answered on the first ring, and jumped right into answering my questions about her services, but also offered me some wedding planning advice - free of charge, no strings attached! I should have known from that moment on that I had picked the perfect wedding coordinator and designer. Honestly, if it wasn't for Ivy and her wonderful assistant, Sharolyn, I don't think I would have gotten through the planning, design and coordination of this day. I got way more than I could have imagined working with Ivy - she was my advocate in negotiations, she was my eyes and ears when meeting with vendors, she was able to guide us through the event planning process using her wealth of knowledge and kind personality. She took my 30 person microwedding just as seriously as she took other clients with three times the guest list. She is a professional. She knows what she's doing. I cannot express this enough - HIRE IVY!

+ 3

photos

Great Experience!

Such a great experience and she made every aspect of our day smooth. We couldn't have asked for a better coordinator and would recommend her to anyone who wants to make sure their day is done right!

Miguel S.

Married on 08/22/2020

The Best Experience Ever!

It was such a pleasure to have Ivy bless us with her expertise at our wedding. Her professionalism, her warmth, her willingness to help others, even as she conducted her own duties was phenomenal. Ivy made our experience so special. She kept us focused and never skipped a beat as our day off coordinator. She made us feel so special and like family. I would highly recommend her to anyone who is looking for order, structure and a peaceful experience during their wedding !!! She is simply superb !!!






Sarah M.

Married on 08/16/2020

Thank you Ivy and Lisa!

I highly recommend Ivy and her colleagues at the Silk Veil! Even in the midst of the COVID pandemic, Ivy and our coordinator, Lisa, did a wonderful job helping us prepare for our special day. Ivy provided our linens and they were reasonably priced and so beautiful. Lisa directed our wedding rehearsal and helped our wedding day run so smoothly. She expertly coordinated the events of the day so that our families could be truly present and enjoy every moment! Thank you so much to Ivy and Lisa- I highly recommend their services!

Brittany

Married on 11/09/2019

Ivy was a blessing

Ivy was so wonderful to work with on our wedding. She made sure our day was perfect!

Lyndsay

Married on 08/17/2019

Ivy will keep your day on point!!

Ivy was one of the first vendors I booked. She was recommended to me by a mutual friend for day of coordination. Leading up to the event Ivy was super responsive with communication and always answered my questions in a timely manner. The day of the wedding she proved to be crucial when we had some transportation issues Uptown with the busy Pride weekend. I am not sure what I would have done without her to smooth out that issue. These are the types of situations where having a DOC is crucial and Ivy was on POINT the entire day/night!

Her assistant, Lisa, was also lovely. I added on an extra assistant since our ceremony was at a church. Lisa took our ceremony items for us after the rehearsal and brought them to the ceremony so we did not have to worry about them. She was professional, organized, and pleasant to work with!!

Ida

Married on 07/20/2019

Best Month of Coordinator Ever!

We used Ivy as our month of coordinator and I am so glad we did! From the very first phone call (we were based in California so our first meetings were over the phone), we could tell that she was highly experienced and knew what she was doing. Furthermore, when we told our vendors that we were using Ivy, they all said how much they loved her (our florist, photographer, videographer, venue and caterer all said amazing things about her when they heard we were working with her). This made us feel even more comfortable with our decision. On the day of, she had everything set up nicely for us and made sure we stayed on time. She made sure we had drinks when we wanted them and quiet time when we wanted that. She was absolutely amazing. I can't imagine any coordinator doing a better job.

Francine

Married on 01/26/2019

5 Star Rating

Ivy did an awesome job! I worked with Ivy throughout the wedding planning process. She suggested vendors, gave me advice, and ran an awesome rehearsal, and KILLED IT the day of the wedding! My father is a very hard man to please and he was totally impressed with Ivy and how she ran things!

Emily

Married on 10/20/2018

Worth Every Penny and Saved My Flowers!

I cannot even express in words how amazing Ivy was for our wedding!!! She provided me with a complete schedule for the day which helped keep everyone else on track so I didn't have to worry about the flow of the wedding. She saved the day when something didn't go right with our flowers, and she kept her cool so that I didn't stress out on my special day. My whole family and friends loved her, and we felt she not only did her job but tried to get to know everyone and be part of our group. Ivy goes above and beyond what her job description entails, and I couldn't have asked for a better person to handle our wedding day! I would HIGHLY recommend her to future brides. Thank you Ivy!!!

Dana

Married on 08/11/2018

What can I say about Ivy!?!?! A take charge and get things done type of person. She was simply amazing and made sure our wedding was "our day". She went over and above and I can't thank her enough!! AMAZING!

Alicia

Married on 05/04/2018

Ivy is hands down AMAZING!! We loved her and her personality. She is very professional and knows when to have fun and when to get things done! She is also very reasonably priced!

Lauren

Married on 03/10/2018

I just contracted with The Silk Veil as my wedding planner for my upcoming March 2018 wedding. I was overwhelmed with the professionalism shown just during my initial call(s) for information. Their followup was immediate and more thorough than expected - which was nice. I can't wait to see how the event itself unfolds with their help!

Tameeka

Married on 03/10/2018

There is so much I can say about Ivy, but AMAZING sums her up. Ivy comes with a wealth of knowledge, professionalism, organization, precise execution, and the small details brides tend to forget. I "thought" I could plan my own wedding, but quickly figured out planning a wedding is a lot more than purchasing the "Wedding Planning" book from Barnes & Nobles. LOL
After much frustration, I upgraded my DOC package to a planning package and the rest was history. Ivy and I met to discuss my vision, and she brought it to LIFE. My wedding day was absolutely perfect. It was EVERYTHING I could have asked for a MORE. Ivy and her team did an absolutely amazing job. My day went off without a hitch. I would recommend her and her team to any bride/groom looking for planning services.

Brianna

Married on 11/11/2017

I cannot even begin to say enough about how OUTSTANDING Ivy was!!!!!!! I booked her around August 2016 and our wedding was November 2017- from start to finish Ivy was wonderful. She was VERY detailed & organized which I absolutely loved, without her I would've forgotten so many details, and all of those little details made our day absolutely perfect thanks to Ivy. So I've talked about how great the planning process was but how she was the day of still has me speechless- she was more AMAZING than I could've imagined for the day of and truly went above & beyond to make our day SO perfect. I brought a TON of DIY decor & she set everything up so I didn't have to worry about at ALL the day of (from a photo booth, cigar bar, tons of mason jars, table cards, bar area, various pictures scattered, etc.). She gave all of my vendors a tour of the venue & guided them where to be & when. Right after the ceremony when we were taking pictures she even made sure the caterers came over to us (bridal party & family) to bring us appetizers & drinks, I was blown away. If anything didn't work out at the wedding or something happened, I didn't even know about it at all- Ivy literally did AMAZING, she kept everything so coordinated from start to finish and I am crazy about organization. Affordable price and worth every penny- If you book anyone other than Ivy, you are missing out & will be disappointed. Ivy was outstanding & I would book her again in a heartbeat!!!!!

Wow! Ivy was amazing to work with! She was very organized and had everything prepared and ready to go before our big day even started. She contacted and sent schedules to every one of our vendors and made sure everything was in order prior to our wedding day. She was also very quick to respond whenever I had questions or if something unexpected came up during planning. Everything was taken care of the day of and I didn't have to worry about any of it. I was able to enjoy my day and knew that she would handle any issues that may arise.
I had originally planned on not hiring a planner to save money but the closer we got, the more stressed I became realizing I would have to do it all myself. Hiring Ivy to be our planner was one of the best decisions I made throughout the entire planning process.
She was right where I needed her the entire night. She even came running to the rescue to help clean me up after my husband decided to shove cake all over my face :)
If you're looking for a planner or are still debating on whether or not you should spend the extra money, please take my advice and go with The Silk Veil. She's reasonably priced and to be honest, she's worth a lot more than what she charges. You will not regret it, I promise!!

Takiylia

Married on 09/04/2016

This review is a little late, but better late than never, right?! I hired The Silk Veil to do month of coordination and I was NOT disappointed! Ivy is top notch when it comes to coordinating your wedding. Not once during my wedding day did I feel overwhelmed because she literally took care of everything!! She is super organized and personable and worked the vendor schedule to a tee. Highly, highly recommended!!!!

Elizabeth

Married on 08/20/2016

My family hired Ivy for month of coordination and we LOVED her. Not only is Ivy a super organized, professional, and knowledgeable wedding planner, but she also has a great sense of humor and genuine attitude that totally put me at ease during that last stressful month. Ivy was also great at giving suggestions and made herself available throughout the planning process. Our day would not have come together like it did without her. We had the best weekend of our lives and were so fortunate that Ivy was there to coordinate it.

Ivy is full of energy and a great person to work with. I was a bride that did most of the planning on my own but needed someone to help with the "day of" coordination and Ivy stepped up to the job. She's great to work with and did a phenomenal job ironing out the details and putting the finishing touches on our special day. If you're looking for a coordinator, Silk Veil Events by Ivy is where you want to be!

Dewana

Married on 07/23/2016

Our wedding was July 23rd, 2016 we used lvy services for the day of and still felt like she gave us full planning services. Ivy is very professional ,she gave us great tips & ideas for our wedding, she made both bride and groom feel comfortable and relaxed...she made sure all vendors and contracts were in proper order. Being a new bride I had lots of questions about the ceremony & and every time I emailed, texted or called, Ivy would respond back quickly, she has a great personality and was fun to work with ,we will miss her. Thank you for everything! D & D

Morgan

Married on 11/01/2015

Ivy was awesome! I wasn't convinced that I needed a day of coordinator but if Ivy wasn't there our wedding would have been a mess. She is professional and organized and assertive enough to control a large drunk wedding party! If it weren't for Ivy we would have no photos from our wedding because our minister didn't want any. But she worked with the minister and photographer to make a compromise. I would recommend Ivy to every friend! We only had her for the day but the planning process would have been so smooth if we would have used her as a planner. Well worth the money!

Being the Type A person that I am, it's really hard to relinquish control to others especially when it comes to something as big as a wedding. However, from the first initial meeting I had with Ivy I knew she was the right person to coordinate our wedding day. Ivy's professionalism and organization is impeccable and she's amazing at making sure every intricate detail is addressed. In the moments I felt like I was losing it, Ivy had a Plan A, B, and C and does a great job at putting your worries to ease. Thank you so much Ivy for your amazing talent and for being a part of our day!

Ebony

Married on 08/08/2015

Where do I begin? Ivy was a god send. She put me with the very best vendors to help my vision become a reality. Very professional from start to finish. She was very honest with me when I asked her opinions about certain things because I had no idea what I was doing. I absolutely love her. She made me feel like a friend instead of a client. Our wedding day was everything we expected and so much more. She was all about business and she played no games. If anything went wrong I didn't know it. She made our day so very special and for that I can't say thank you enough. If you are in need of a planner who will get the job done you will not be disappointed with this lady. Hands down the best of the best!!!
Are you interested?
Send a message