9 Reviews
Recommended by 99% of couples
Quality of service

4.9 out of 5 rating

Average response time

4.9 out of 5 rating

Professionalism

5 out of 5 rating

Value

4.9 out of 5 rating

Flexibility

5 out of 5 rating
1 User photo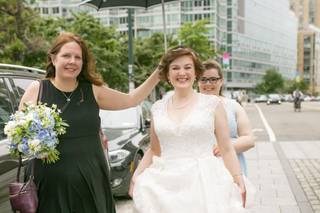 Kasey

Married on 06/10/2018

Tammy is, in one word, amazing. She was our wedding coordinator for our wedding on June 10, 2018 in New York City, and she was absolutely phenomenal. From the moment we spoke on the phone, to meeting in person for the first time, to the day of the wedding, Tammy exuded support, positivity, kindness, and impeccable organization. I remember in the middle of a snow storm, Tammy met with the Catering Executive for a walkthrough of our venue. Throughout the planning process, Tammy had brilliant ideas for the structure of our reception, including a set of music before dinner began to get the crowd on their feet, which all of our guests loved, and it set an amazing tone for the wedding. Tammy was always there when we needed her, was incredibly communicative via email and phone, created an organized schedule for the weekend, coordinated day-of details with all of our vendors, and on the day of the wedding, was a STAR. When I felt sick, she offered to get me orange juice and Tums. When it started to rain, Tammy was there with umbrellas for the bridal party. During the ceremony, she worked tirelessly to make sure the timing was perfect and everything went off without a hitch (except ours, of course :). I absolutely loved working with her. If you have a lot of moving parts, you can trust Tammy to take care of it all. She is a wonderfully talented wedding coordinator, and a lovely and kind human being. Hire her to coordinate your wedding. You will be so grateful you did.

Erica

Married on 12/31/2017

I cannot say enough good things about Tammy! I was completely overwhelmed by wedding planning, and not only did Tammy break it down into manageable tasks, but she made it fun and stress-free! She is so on top of everything that you really dont have to worry or check-in on things at all. I started off just hiring her for month-of coordination and realized I needed her full wedding planning services so that I could enjoy the process and throw the best wedding! We did a new years eve wedding on boston Harbor and it was spectacular. Literally everything I wanted and more. Tammy was constantly checking-in with me about ideas and making sure she was keeping with my vision of the event. She researched and introduced me to all my vendors - all of whom were amazing. Her attention to detail and love of her job makes her competent and a complete joy to work with. She is also thorough, energetic, and enthusiastic which is essential for some of those stressful moments during the planning and event. Everyone at my wedding said it was the most amazing, elegant, and classy party and I owe it all to Tammy. My guests also commented on how relaxed I was and that too was because I knew Tammy was on top of everything so that I did not have to worry about a thing and just had a blast at my wedding! If you want an incredible wedding and have it be stress free - you have to hire Tammy! Hiring her was the most important and best decision I made - and man did it pay off.

Allison

Married on 09/10/2016

We hired Tammy for month-of coordination for our wedding on September 10th, 2016 at the Green Building in Brooklyn. Our venue is a raw space & required careful planning of every detail, so we also hired her for 5 hours throughout the planning process for extra support. In sum: Tammy was a lifesaver and absolutely essential to making our wedding day everything we hoped for! She was very responsive & provided extremely helpful insight while keeping our vision in mind. We appreciated her patience and honesty in answering questions and offering her expertise to expand our thought process. She was very conscious of our budget and recommended affordable vendors without compromising talent - such as our photographer and florist. The most critical moment was when our caterer went out of business in the middle of the planning process. Tammy has worked with a ton of caterers in NYC and has experience with piece-meal weddings like ours, so she was able to offer important advice to steer us back on track. She was also really comforting during a very stressful time!

The month of the wedding, Tammy jumped right in to get our many details aligned and help with last minute tasks. We were a bit burnt out at this point with planning, and she was so valuable in taking stuff off our plate. When our wedding day finally arrived, we were able to let the stress melt away and be truly present from beginning to end knowing we were in good hands with Tammy. She pulled everything together seamlessly - made sure the wedding party had what we needed to get ready, coordinated everything with our vendors and the venue, made sure we got all of our belongings at the end of the night, and so much more. She was attentive and available without being intrusive. If there were any hiccups, we weren't aware of them- exactly as it should be! Our wedding was truly everything we had envisioned and more, and we couldn't have done it without Tammy's support and expertise!

Are you interested?

Send a message

Working with Tammy for our Boston area wedding was one of the best decisions we made in planning for our wedding. If you are looking for an exceptional wedding planner in the Boston area, we strongly recommend Tammy. Her value was obvious throughout the planning. She was our advocate and guide, and always a reliable partner.
In the months before the wedding, Tammy worked with us to figure out our style, and she customized her approach to us. She was flexible and sought to execute on our vision. She also used her experience to help us make decisions when didn't have a vision. Tammy made sure we asked the right questions, kept us to timelines, and supported us with our vendors.
In the days before the wedding, Tammy was the rock in our planning process. With our anxiety building, Tammy met with us to lay out all of the remaining priorities. She helped develop plans to address them and even assembled our programs when we did not have time to do this ourselves. She enabled us to focus on the most important things while providing the comfort that we were covering all of our bases.
During the wedding weekend, Tammy was ever present and all knowing. She made sure shuttles got where they needed to, made seats appear for unexpected guests, and coordinated every last detail. She was always there, ready to step in if needed, but also ready to step into the background to let things run their course.
Tammy does well in all aspects of coordination, but she stands out for her work with our vendors. She was an advocate for us, using her experience to push back when necessary, but keeping them happy and engaged as well. This relieved us of a huge burden and resulted in a better outcome.
Finally, Tammy was the ultimate professional throughout the process. She was always responsive and communicated clearly and consistently. She was a joy to interact with. We are thrilled that we had the chance to work with Tammy, and we cannot recommend her enough!


I booked Tammy as a wedding coordinator (i.e. she provided "day of" coordination plus 18 hours of meetings and other preparation work leading up to the wedding) for my wedding in Brooklyn in May 2013, and she did an absolutely fantastic job. I am a very organized person who went a little (read: completely) overboard in planning all the details of the wedding, and I was a little skeptical of Tammy's ability to absorb the many spreadsheets and lists that I sent her in the weeks before the big day. However, on the day of the wedding, Tammy was completely on top of everything - she was in 50 different places at once, dealing with a last minute change in ceremony location from outside to inside due to weather, helping me get dressed and keep track of all my accessories, and corralling guests and vendors with a smile. Because of Tammy, I was able to relax and enjoy the day without worrying about anything, for which I will forever be grateful. Tammy is truly worth her weight in gold. Her assistants were also a pleasure to work with - one of them (I believe her name is Evelyn) was present on the day of the wedding, and Tammy arranged for me to hire another one of her assistants (who didn't work my wedding) to write out the table cards a few weeks beforehand. I highly recommend Tammy Golson - she is organized, flexible, responsive and always cheerful and positive. She is definitely the person you want behind the scenes on your wedding day.

Luisa

Married on 07/10/2018

Tammy is a true professional and a wonderfully calming presence. She is upbeat, cheerful and put everyone at ease in what could have been an anxiety-filled milieu--a hospital in NYC dedicated to those suffering from cancer. Working with Tammy, especially under these stressful conditions, proved to me that miracles can indeed occur when working with a planner who is at the top of her field. When Tammy contacted me, with just a few hours to write the ceremony, I initially had quite a few misgivings re a positive outcome. But all went well. The Wish Upon a Wedding Couple expressed gratitude and heartfelt thanks for an unforgettable day. I look forward to working with Tammy in the future.

Regan

Married on 09/08/2012

Tammy wins for MVP of our wedding team. The day of the event she was a life saver. "Tornado watch" is not the first thing a bride wants to hear but having Tammy there made all the difference. Umbrellas magically appeared, the not so fleshed out "Plan B" was flawlessly executed and a run on champagne was solved in minutes. Even my parents, who were 100% resistant to having a wedding planner, felt Tammy was a key player with an important role in the big day. Weddings are hard, make it easier on yourself and higher Tammy - it will be the best money you spend at your wedding!

Joe

Married on 07/07/2012

First let me say that I was just married last Saturday so I am writing this review as it is still fresh in my mind.

I planned my wedding a year in advance and thought that because I consider myself to be a very organized and resourceful individual that I would be my own planner. I was so very wrong. After realizing that as a bride you dcannot do everything on your own and that family and friends can only help to a certain point, I decided to look for a professional. I read blogs on line and research many coordinators. I didn't now much about them except from what I saw in movies like, "The Wedding Planner". That being said I found Tammy Golson on line through a great website , Brooklyn Betrothed. I called her and set up an interview. I immediately wanted to hire her. Tammy was my day of coordinator and the best wedding present that I got myself. She is organized, thoughtful, resourceful, and a sweet heart. When all else fails you, when friends and family cannot or will not come through she will. I am telling you now that I could not have had the amazing wedding that we did without her.

I know that being able to have a wedding planner is see as a luxury to some. But I think that it is a necessity. For anyone who is looking to hire a coordinator or day planner please contact Tammy. She is worth every penny and more. I don't tend to say that about most. But if you are a bride to be and reading this you know that this can be a very stressful time. You need all the support that you can get. Tammy was that support to me, my husband and family. Like I said before the best wedding present a bride or groom could receive.

Laura

Married on 04/06/2013

Tammy provided Day of Coordination services and Welcome Dinner coordination for our April 2013 wedding. She was so easy to work with and we got to enjoy our guests and the celebration knowing that she was taking care of everything. We planned most of the wedding ourselves but a month out decided that we wanted some more help and are so glad she was available.

Beforehand, Tammy was super-helpful in identifying details we hadn't though of, making the arrangements for the Welcome dinner, and advising about decisions about room arrangement, decor, etc. It was also nice to have her in charge and dealing with our other vendors and making sure our wishes were carried out.

On the actual weekend, Tammy was unobtrusive yet observant, always seeing what needed to be done and smoothly making it happen. Our parents were amazed that the everything went so smoothly and I think much of that is thanks to Tammy.