Reviews
4.9 out of 5 rating
Quality of service

4.9 out of 5 rating

Average response time

5 out of 5 rating

Professionalism

4.9 out of 5 rating

Value

4.9 out of 5 rating

Flexibility

5 out of 5 rating
99%
Recommended by couples
29 User photos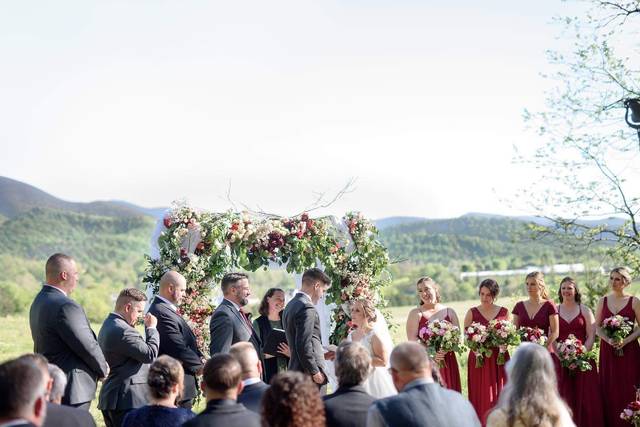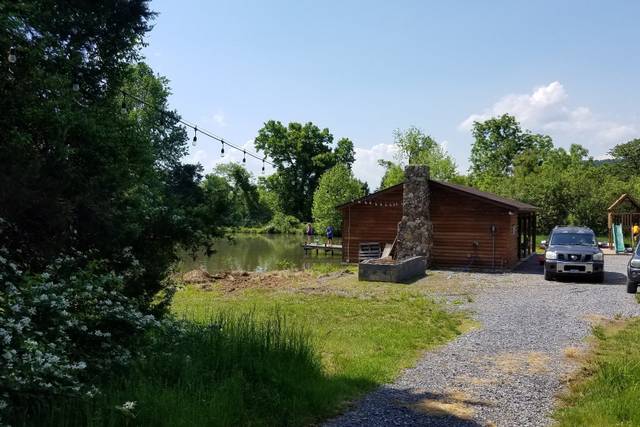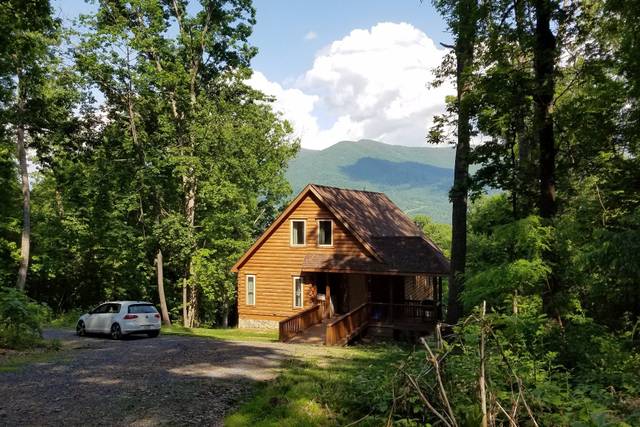 + 25

photos
Susan J.

Married on 09/17/2022

Gorgeous Venue with Great Amenities

We are truly thankful to Jason and the Pavilion for giving us a gorgeous backdrop for our wedding and providing so many nice touches to help make our day special. We have received many compliments on the space itself (beautiful views, rustic feel, romantic lighting) as well as its many amenities (lawn games, onsite cabins, shuttle services). We even received the wood sign for our event as a momento from the Pavilion.
We were also really grateful to have the rental space for the entire weekend (Friday through Sunday) because it meant that we didn't have to rush around for set up and clean up. This really helped to set a relaxed and fun mood for our wedding day.
I would not hesitate to recommend the Pavilion to any couple looking for a fun and relaxed mountain wedding!

Sarah

Married on 05/21/2022

Perfect Venue!

We had our wedding weekend at Shenandoah Woods and could not imagine a more perfect venue. The pavilion is very well equipped and we used it for our welcome dinner, cocktail hour, and wedding reception. The views out onto the mountains are perfect for photos or a quiet moment away from the crowds. The built in sound system and lighting made throwing a party simple. The Chapel in the Woods is what truly sold us when Jason pointed out that the mountain we got engaged on in Shenandoah National Park was visible from where we'd be standing during our ceremony. The luxury cabins onsite and nearby provided plenty of space for our friends and families and let everyone stay longer than they might have otherwise to make it more than just a few hours of celebration. Jason, the owner, was always quick to respond to questions and offer assistance or additional decorations as he could. Everyone could not stop marveling about how perfect the venue was and we would highly recommend it to anyone!

Emily F.

Married on 11/13/2021

Stunning! Perfect mountain wedding

We got married at Shenandoah Woods almost two weeks ago and it was everything we could have hoped for! Jason was easy to communicate with and accommodating. We had to postpone our wedding for a year and Jason was wonderful to work with through that change. Most of our guests stayed in the cabins on site and loved the shuttle service that Jason provided, the stunning views, the hot tubs, and the wedding weekend getaway with so many loved ones. We were lucky to still have some fall colors on the trees and had some stunning backdrops all day. The Pavilion was warm and cozy with the heaters going, vinyl walls down, and fire pit roaring as it got down to the low 40s during our reception! We used the Pavilion for the rehearsal dinner and a Sunday brunch as well. I can't recommend Jason and Shenandoah Woods enough. It was all perfect!

Are you interested?

Send a message

Chris B.

Married on 09/25/2021

Amazing venue, but more importantly, Jason is great!

The venue is beautiful - we loved having cabins onsite and that everything is outdoors and well-equipped.

More importantly, Jason is amazing! He is so easy to work with, highly communicative, and extremely helpful. We had to move our wedding date due to Covid and Jason had no problem with it at all - he made the whole process so stress-free, and made sure he was available and ready to help the entire weekend. He responded to last minute requests for shuttle rides, helped make sure everything worked for the venue and music, and was readily available at all times.

Highly recommend!

Katelyne

Married on 05/01/2021

Amazing. Magical. Beautiful. Gorgeous. Fun. Everything we could have asked for and more. A dream!

Shenandoah Woods is magical. First of all, YES the view is that beautiful. Secondly, with the ease of having the cabins on site, you get to see that view for days before and after if you choose. At of all the reviews about our wedding, this is by far the one that is entirely difficult to write and put into words because this place is that special.
First and foremost, Shenandoah Woods was our first vendor hired and by far the most important for us. I knew the moment I saw the listing on wedding wire, that was the place I as a Bride wanted to get married. Our timeline was based on the availability, and unfortunately getting engaged in October, led us to have to pick a date a year and half away in May the following year (in hindsight lucky for us because COVID :/). Anyway, the wait was absolutely worth it. The weather. We could not have asked for a more perfect mountain day. May led to a cool morning, warm afternoon, and beautiful evening.
The ceremony and Pavilion are gorgeous. The amenities at these places are clean and comfortable. All of our vendors were able to make it there without an issue (including the Fedex man delivering the flowers)
They have on site cabins. Booking was a breeze. The cabins are NOT all walking distance to each other, but that is OKAY because it makes you feel like you are the only one up there when you are in the cabins. I will say the roads are mostly gravel; you do NOT need a 4x4, but some may feel more comfortable in something that is not "low" to the ground, which we told our guests about prior. Some did bring cars which made it up and down the roads just FINE. If even rained/stormed at some point in time during the week we were there and we we all made it just fine. The cabins themselves are amazing. We have traveled to a couple of cabins in our time and these were more than comfortable, accommodating and well stocked. Your guests will be happy and in awe. Many of our guests (including my parents) want to come back and spend time here outside of our wedding! This made going back to work after the wedding tough!
My recommendation to all is to make sure to book extra time; either prior to or after the wedding, you are going to want to relax and enjoy your time there. We went Wed-Wed with wedding on Saturday and was perfect.
As far as the wedding venue, you are fairly on your own--the necessities (and then some) were provided, but after that it's up to you, which is exactly what we were looking for. You can hire all the vendors, or hire a few and do some on your own (which is what we did), or do it all yourself (which is more than doable if you are that kind of person, the view/cabins speak for themselves).
Jason Cave. The man. He is lighting fast with responses. He went ABOVE and beyond what was needed to make it a magical weekend. The shuttle service day of was awesome and much appreciated. We cannot thank him enough for having Shenandoah Woods and for allowing us to get married there. It was magical, and it was better than we could have ever dreamed. Coming from a slightly anxious bride that read a million reviews on everything over and over again, let me just say, this was THE place (and do I have to even mention worth ever penny? cause it is). We will be back again for vacation, and we cannot believe we were given the privilege to get married at this slice of heaven.

Side note: the bridal party/groomsmen got read in the Lost Paddle and Pinnacle Cabins, were were perfect for what we needed. Close together to party together prior to and after, far enough away to not see each other prior. Highly recommend.

Photo Credit: Irish Lane Photography

Darcy F.

Married on 02/06/2021

A perfect wedding weekend!

I can't say enough nice things about Jason Cave. He was wonderful to work with leading up to my June wedding, he would answer my many emails even if I missed the info on the website. He also massively stepped up on the day-of to help pick up more guests than expected because my other hired bus showed up over 40 minutes late. He made my day significantly better by basically removing that mishap.
The venue itself was amazing! I loved Shenandoah woods when I first saw it in the Spring of 2022 and was blown away by the beauty for my wedding weekend in June 2023.
We had a pizza truck for our Friday dinner by Willow pond, which went extremely well. There was a play area for the kids and some kayaks/canoes for guests to enjoy. On Saturday, the wedding ceremony site and Pavilion were wonderful and the layout really worked for cocktail hour, dinner, speeches and dancing. On Sunday, we had brunch in the Pavilion with food/coffee from a local coffee shop where the majority of our guests were able to enjoy some food before heading home.
I highly recommend Shenandoah Woods for your wedding or event! The cabins also made it extra special so we could have our friends and family close by and make it more of a weekend than just a day celebration.

Rachel

Married on 10/12/2019

Incredible Wedding Venue!

Shenandoah Woods was the perfect venue for our wedding. We had such an amazing weekend that we were able to share with our family and friends. Jason was so easy to work with and incredibly helpful. Everything went off without a hitch. I can't imagine anyone not having the best time celebrating their wedding here. All of our friends and family who stayed in cabins loved them (as did we!). The Pavilion itself is stunning with gorgeous views. The fire pits in the fall were everything. We will definitely visit again!

Paige S.

Married on 09/14/2019

The dream wedding beyond my wildest dreams...

Just this past weekend, my husband and I were married at Shenandoah Woods and it nothing short of an absolutely perfect experience! The venue itself provides the most breathtaking views and the coziest accommodations that made every moment of the event feel like a fairy tale. Every one of our guests is still raving about the experience and, if booking this venue, you can expect that each of your guest's FaceBook profile picture will quickly be changed to one with your wedding as it's backdrop! Beyond simply the beauty of the location, the owner, Jason Cave, was more than wonderful to work with. A wedding is no small feat to plan with it's many, many considerations that need to be made, but Jason made it so much easier by always being available to answer any questions/concerns quickly and succinctly, even providing new and creative solutions to needs that may not have been part of the offerings they usually include. Being a family owned business with many years of experience, he is basically an expert on the topic. Not only was he available to my husband and I, he was just as willing to accommodate and assist our guests staying on the resort with any of their needs. With his help, we have ALL made memories that will last a lifetime and we are already making plans to return to stay in the cabins! You will not regret having your wedding at Shenandoah Woods.

Meg A.

Married on 06/08/2019

Fantastic.

We got married here in June 2019 and rented a bunch of cabins. My husband and I personally stayed in Lost Paddle cabin and it was *so* well-appointed, clean, comfortable, and beautiful. The views were gorgeous and everyone had a great time. Jason, the owner, took great care of us in terms of email responses and helping us with special arrangements ahead of time. Everything went perfectly, and we were so grateful!! Especially love that they have on-site recycling, and the kitchen was really well stocked. We loved the cabins, the location, the lovely picnic shelter, etc. Highly recommended!

Peggy

Married on 10/13/2018

Location, Location, Location!

Shenandoah Woods was the PERFECT venue for my daughters October wedding! The couple wanted a view, and boy, did they get it! Everything was beautiful - from the ceremony site to the rustic/chic pavilion with the most amazing view of the Blue Ridge Mountains! And, the lake pavilion down the road was a wonderful spot for the rehearsal dinner.
Jason Cave was amazing! He always answered our questions in a timely manner and was quick to offer solutions to whatever problem occurred. His calm assurances made everything easier.
We loved the shuttle service! The bride wanted everyone to be able to enjoy the reception and the shuttle fulfilled that wish, picking up guest at the cabins and even going into town to get guests staying at local motels!
The cabins were fantastic! Everyone was very impressed with the luxury accommodations. We loved the hot tubs and fire pits! It made for a wonderful mini-vacation/family reunion!
Thanks to Jason and his staff for helping to make this special day, perfect!

Annie

Married on 10/06/2018

Shenandoah Woods is the dream wedding location!

We can't say enough wonderful things about Shenandoah Woods and Jason Cave – both the venue and Jason exceeded our expectations. Book Shenandoah Woods for your wedding or other event! The venue and ceremony site are beautiful and offer spectacular views of the surrounding Blue Ridge Mountains. The luxury cabins are unreal – huge private log cabins with gorgeous views. They have modern kitchens, bathrooms, and bedrooms, and most include special features such as hot tubs and/or gas fireplaces.

Throughout the process, Jason was highly responsive, flexible, supportive, thoughtful and calm. He has been supporting weddings for a few years and has seen it all. His experience and enthusiasm were greatly appreciated, and he offered some great suggestions that improved the wedding. A few days before the wedding, we were working with Jason on the logistics of picking up guests from the cabins and dropping them off at the ceremony site, and realized we had more guests that required transportation than anticipated. Jason was able to rapidly provide a solution – an extra van and driver for a very low cost to ensure our guests would be comfortable. He worked well with our wedding coordinator and our vendors, ensuring the day would be seamless.


Hailey

Married on 09/22/2018

Jason and his venue are amazing! We wanted a full weekend event in the beautiful mountains and that was exactly what we were able to get with Jason and Shenandoah Woods! The entire wedding party and almost all the guests were able to stay on the mountain/property in Jason's cabins. He shuttled everyone around throughout the wedding day and was available via email, text, and phone any time we needed him or had a question. He worked with us to create the wedding weekend of our dreams and we would 100% percent recommend him and this venue to anyone!

Elga

Married on 08/18/2018

There will not be enough characters allowed here for me to fully express just how insanely happy we are with Shenandoah Woods as our wedding venue!!!!!!! First of all, yeah, they're pricier than some of the nearby venues and we went way over budget by picking them. BUT... WORTH! EVERY! DAMN! PENNY! There's a reason they're booked every weekend a full year out.
Everything about Shenandoah Woods was perfect, and the main reason for that was the owner Jason. Our wedding planner told us ShenWoods is her favorite venue to work at, because everything is so well thought out. Basically if any couple ever says "we could use X", he'll add it to the package. So not only do you have this amazing beautiful venue with a perfect view, but you have a full kitchen, and sliding barn doors that you can hide food trucks behind, and a super fancy but easy-to-use sound system, and (newly-added!) easy-drop plastic walls for bad weather, and great lawn games, and a beautiful ceremony location mere steps away (so folks don't need to travel between venues OR stand around awkwardly while a venue gets moved around), and a full catering kitchen, and a venue so beautiful and beautifully lit you don't need to bring any of your own decorations or lights, and a shuttle bus and golf cart, and a stocked fir pit, and a classic truck for photos, and an entirely separate second venue by a pond for things like brunches and rehearsal dinners, etc.
The absolute best thing, though, is the awesome set-up of having vacation rental cabins on hold for guests! I can't stress enough just how much we and our friend and family LOVED this! We wound up hosting an Adult Summer Camp for our guests for several days afterwards, and it was a big hit.
BEST. VENUE. EVER.

Krystal

Married on 06/23/2018

STOP! Look no further for the perfect venue...I can't even begin to express how amazing this place is. First, Jason, the owner, is super responsive, and will answer any questions you may have no matter how small. He is extremely Accommodating and laid back. Every time I checked my email there was somthing new coming to the venue, weather it be a new cabin he's building, or upgrading equipment. They provide almost everything you need!! Tables, chairs, coolers, freezer, keg coolers, wine barrels corn hole boards ect...They also custom make you a beautiful wooden sign with you and your partners name and wedding date. It was the sweetest gesture and somthing we will have for a lifetime. We had the pleasure of staying at our cabin 2 days before the wedding, which truly allowed us to of some much needed R&R before our big day. We took full advantage of hot tub. Our rehersal was held at Somerset cabin, and unfortunately it rained that evening, however the kitchen and covered front porch more than accommodated our 60+ dinner guests. Our big day couldn't have gone more perfect, even with the slight threat of a rainstorm, it moved right around the venue only to sprinkle for 5 seconds, just enough for luck. Jason called it, he told a guest, "it won't rain, I've seen this kind of storm many times and that's going to go right around." And he couldn't have been more spot on. The ceremony space offers the most beautiful Mountain View's, making it the perfect place to be married. And The Pavillion is magical!! It comfortably accommodated my 170 guests. Which my guests couldn't stop talking about how beautiful the views were!! So many pictures were taken! The mountains, clouds, sunset! It is simply breathtaking. The set up and sound system for the DJ was perfect, my guests danced ALL NIGHT! Jason has put a lot of thought into this place and it really truly shows. We had a fabulous wedding with tons of memories. We've already made plans to vist again! So what are you waiting for?!

Diane

Married on 06/09/2018

Jason was very helpful throughout the wedding weekend. The roads are rough, however, and difficult to drive on unless you have a four wheel drive. The kitchen could use some updating but the cabins are very well equipped and comfortable. It was all in all a great experience.

Sean

Married on 06/02/2018

Jason and his venue truly made our wedding weekend everything we wanted and more. He is literally the most responsive person ever. Gets back to you in lightening speed to emails, texts and phone calls making you feel like you are his only client (which clearly isn't true given he is booked out so far!). He is constantly making improvements to his properties and the venue. Most of our family, wedding party and guests stayed on site in the cabins and everyone was so impressed by the quality and condition of them all. Not to mention the GORGEOUS views. We ended up having our rehearsal dinner at the Keaton Ridge Cabin and was just perfect. The view were great and there was TONS of space on the bottom floor to host approximately 60 people. With the weather in flux that weekend, Jason was right there to make a last second ceremony change from the outdoor ceremony site in the woods to the reception pavilion and made it so it was not even noticeable that it was supposed to be different. He shuttled the wedding party around for pictures and guests home at the end of the night along with countless other tasks I probably aren't aware went on "behind the scenes". Overall we can not say enough good things about Jason and Shenandoah Woods. The BEST! We look forward to going back again to rent cabins in the wedding off season. If you are considering Shenandoah Woods, DO IT! It will be the best wedding decision you've made!

Alison

Married on 05/05/2018

We cannot say enough good things about Jason and Shenandoah Woods. On the way home from our wedding, as we excitedly chatted about the weekend, we agreed that we would give Shenandoah Woods an 11 out of 5 if we could. Jason is extremely responsive, kind, and an absolute wedding pro -- he felt as essential as our own planner in helping us pull things together, ready to respond to anything that might pop up. It truly felt that he was as invested in making sure that our wedding was a success as we were. We couldn't have asked for more. It is hard to put into words what a unique venue Shenandoah Woods. It will always be a special place for us, and is now the home of many happy memories.

Ona

Married on 10/14/2017

Consistent with the other reviews, SW was above our price range but we fell in love with it and decided to splurge. It is a totally gorgeous venue and we loved that so many of our guests could stay in the on-site cabins. Jason was amazingly responsive to all our emails and questions, and went out of his way to make sure everything went smoothly. We had our welcome dinner and Sunday brunch at Somerset cabin, which was the perfect location and Jason offered to bring up extra tables and chairs from the pavilion. Our guests all commented on our gorgeous the ceremony site, Pavilion, and their cabins were. We couldn't have been happier with the venue!

+ 4

photos

Wendy

Married on 09/16/2017

Shenandoah Woods was the perfect venue for our wedding. Jason was very quick to respond to our emails and answer our questions. We had a pre-wedding BBQ at Somerset and it was great that we were able to use to the chairs and tables from the pavilion for that event. For the wedding itself, everyone loved that we had beer and wine available at the ceremony site. =) We had a Sunday brunch at the pond and it was lovely. All of our guests who stayed in cabins had nothing but good things to say about the venue. We highly recommend Shenandoah Woods!

Samantha

Married on 09/02/2017

Jason and his family were amazing, and everyone felt comfortable and relaxed, which meant we had a great party! Among the many wonderful perks of booking Shenandoah Woods were: a golf cart to bring grandparents to the ceremony site, flexibility working with my vendors on a last-minute rain/no-rain plan, heater setup on Labor Day weekend!, extreme flexibility with scheduling the shuttle, and accommodation of special requests. I can't wait until our anniversary when we can visit again!

Michael

Married on 04/29/2017

Shenandoah Woods was the perfect place to get married. My wife and I hail from two entirely different areas, one being Baltimore, MD and the other being Princeton, WV. Getting married in the middle in Shenandoah (where we got engaged), seemed to be a perfect compromise - so both sides of the family could complain equally about the 3 hour drive.

Jason and his crew were amazing. During the day of we had access to Jason anytime we needed him, access to an electric cart, and he even stayed late to drive us back to the cabin from the wedding site. We ended up having to move the venue inside under the cabin because of potential poor weather, but the photos were amazing and my wife and I couldn't be happier for how things ended up turning out. The scenery is par none, and the cabin rentals were awesome for the bridal party to hang out in.

Jason even hand engraved a wooden plaque with our wedding date that we have on the wall in our house!

Jason even has a hidden list of vendors that they frequently use as well as their contact information. Moreover, they're all local and he knows how to work with them all.

The overlook from the wedding venue was amazing, if you combine this wedding site with a good photographer you'll have photos to last a lifetime.

Thanks again Jason, I'd recommend you to anyone.

Ann

Married on 11/05/2016

I would not believe there is a better venue anywhere! We were the last wedding of the season and it could not have been better. Cabins are well equipped in the kitchen and bathrooms. I cannot say enough good thinks about the space and the staff - ALL TOP NOTCH!!


Jennifer

Married on 06/29/2016

Shenandoah Woods was an amazing venue for our wedding 6-29-16! Jason was so easy to work with and the venue is absolutely top notch! My guests were blown away by the beauty that these spaces offer and how perfect it was for a wedding. Somerset cabin for the welcome dinner, the chapel in the woods for the ceremony, the Pavilion for the reception, the picnic area by the pond for a breakfast send off, and the additional cabins available for guests truly offered the perfect experience for our wedding! I was blown away with everything that was included in the wedding package and how much and for how long we had access to it all. I had so many people tell me that the venue could not have been more amazing. The view from the Pavilion doesn't even look real it is so beautiful! There are so many special details like the old truck, the beverage canoe, the fire pit, the brick paver aisle, the pews in the woods, the corn hole boards, etc. that help make the scene without the extra expense, planning, or rentals. It was picture perfect and even though it was insanely perfect weather on our day-it was really nice knowing that if it had rained the Pavilion still offers an outdoor experience that would have been covered. It was insane to think that my rain plan was many people's first choice as ceremony site. That's how awesome and picturesque this place is and how many ceremony site options there are! It really was amazing and we are so thankful to have found it!

Kristen

Married on 06/02/2016

When we got engaged in December 2015, our criteria for picking a wedding venue were: rustic but still capable of being elegant and memorable, within 2 hours of Washington DC, and had availability for a 2016 wedding. Shenandoah Woods was one of the first places we looked at because it seemed perfect – except for the availability. The calendar was completely booked for 2016. We looked at numerous alternatives but in the end we decided that – just like future spouses – the right venue is worth waiting for. We booked our wedding for May 2017, and could not have possibly been happier with our decision.
First of all – the venue was ideal for us. The outdoor ceremony site was rustic, and perfect for vows and photos, and yet was still accessible for elderly relatives. Then it was a short walk to the Pavilion for cocktails and reception. We knew that we loved it from the first time we visited, but our guests were also impressed, describing it as "storybook," "straight out of a movie wedding," and "one of the nicest places I have seen for a wedding," with the last comment being from an older member of the large Irish extended family and therefore a veteran of many many weddings. Also, the large field below the Pavilion was a perfect staging area for our surprise fireworks show!
Second – you could not possibly ask for a better partner in planning (other than perhaps your future spouse) – than Jason Cave. He was unbelievable in facilitating the perfect day – helping with vendors, fireworks, and many other details. And in addition to being great with the laid-back bride and groom – he also impressed the bride's less-than-laid-back Long-Island it-has-to-be-perfect mother.
There are a few other unique things about Shenandoah Woods that made it the perfect place. The on-site lodging options, assistance in making wedding night childcare arrangements, and being able to use the Pavilion for multiple events on multiple nights all made our day memorable for all guests.

Colin

Married on 05/28/2016

For anyone considering Jason and Shenandoah Woods, please, be smart, and book it. We were just married over Memorial Day weekend, and everything--from first emails, to the first visit (we live in Chicago) to the final day, went perfectly. Jason is just as responsive when you're considering him as he is the weekend-of to you and any guests of yours that may be staying in his cabins. He responds so fast, so often, it's hard to not take it for granted and find yourself stressing just because it's been an hour or so and you haven't heard back. But he always responds, always quite fast, and usually with good news. He's so accommodating and has such experience, that even just asking him a question about the best way to accomplish something comes with a constructive answer.

As for the venue, it's beautiful and so easy to make into whatever you want. We loved that there are no mandatory vendors, we loved all the things that came with it (the fire pit, the canoe, the ceremony site, the shuttle service) and most of all, we loved getting the chance to spend the whole weekend with friends and family. We had a welcome dinner at Somerset as people arrived, the reception at the pavilion, and since it was a long weekend, had one more night of the venue to host some pub trivia with everybody before they all said goodbye on Monday morning. The cabins were all gorgeous, our friends and family all said how much they enjoyed getting to spend time with each other even when they couldn't be with us. Let's be clear--there was a lot of planning involved, and you can make it as much a DIY affair as you want. It's not a wedding out of a box. But if you're the type of couple who thinks their friends and family would love the chance to get together regardless of the reason, and are comfortable sharing houses with each other, then you couldn't pick a better spot.
Are you interested?
Send a message