Reviews
4.8 out of 5 rating
Quality of service

4.8 out of 5 rating

Average response time

4.7 out of 5 rating

Professionalism

4.8 out of 5 rating

Value

4.8 out of 5 rating

Flexibility

4.8 out of 5 rating
96%
Recommended by couples
6 User photos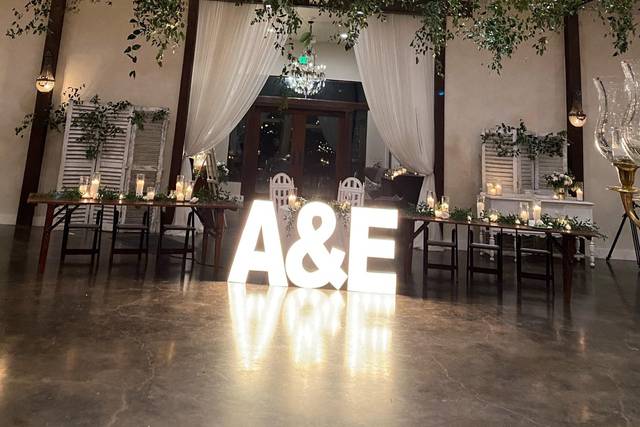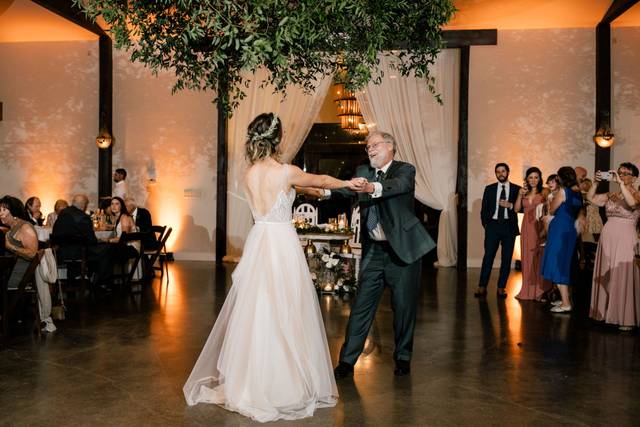 + 2

photos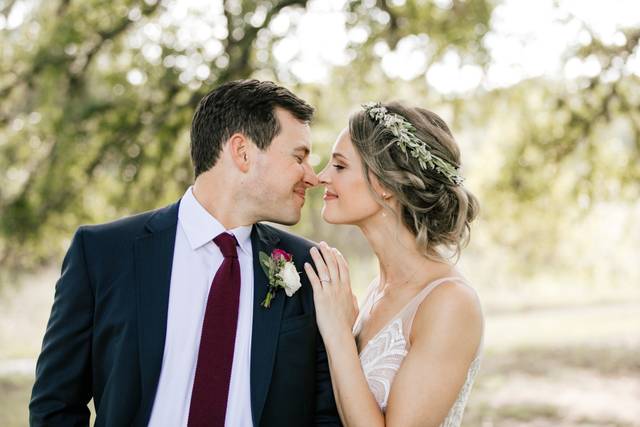 Matt M.

Married on 02/17/2023

The best combo of laid back but highly competent!

I have been photographing weddings for over 15 years in Austin and I have been consistently working with Lindsay for over 10 of those years. She is by far one of my favorite coordinators in the industry! She has the winning combination of being on top of the wedding and the couple's needs but being laid back at the same time. Something some people in the industry majorly lack. She is always smiling and chill, even when it is late August and the temps are high and mom is yelling about the DJ has the music too loud. haha! She rocks!

Karen N.

Married on 11/05/2022

Wonderful Experience Working With Lindsay from "In Her Shoes"

Lindsay was wonderful to work with and helped to keep everyone on point with grace and cheerfulness for my daughter's wedding last November. She was very responsive leading up to the wedding in answering our questions, as well as month of. Her strong skills in communication and planning helped to set expectations for everyone in a very relaxed vide. I would highly recommend her services to anyone.

Erin V.

Married on 04/02/2022

The best!

We are so happy that we hired Lindsay to help with our wedding! We could not have done it without her! She was organized, friendly, and so easy to work with. I would highly recommend Lindsay and In Her Shoes!!!

Are you interested?

Send a message

Kendall W.

Married on 12/12/2021

In Her Shoes will bring your wedding dreams to life!

In Her Shoes Coordination went above and beyond to make our wedding day a huge success! From coordinating with vendors, running the day of timeline, and even helping to decorate our venue to give it the extra touches it needed, Lindsay did everything in her power to ensure all of our needs and wants were met. One of my favorite memories from the wedding was my walk down the aisle, and Lindsay ensured that the doors opened perfectly in-time with the song I selected to ensure the dramatic entrance I had envisioned. Such a special moment, and we were SO lucky to have her! Unparalleled day-of services - highly recommend for any brides wanting a stellar wedding planner to bring their dreams to life!

Thomas B.

Married on 10/30/2021

So helpful!

Thanks so much Lindsay!

What can I say. Getting hitched went off without a hitch. And Lindsay put up with jokes like that one.

In particular, we were especially pleased with Lindsay's masterful execution on the day of our wedding. Her calm demeanor and iron fist in a velvet glove made sure that everything just worked. All we had to do was be in the moment and she made sure that everything happened according to the plan. Speeches were made, photos were taken, and we even got to eat a little bit.

She was also super helpful in planning. Lindsay was able to help us decide what mattered and what didn't and then get exactly the right vendors accordingly. I cannot say enough about the little touches like our custom cocktail bar signs that stole the show.

Plus, she helped me get my wife the best surprise ever, so she will always have my gratitude.

Thanks again Lindsay!

Maia V.

Married on 09/09/2020

Stress Free Wedding Planners

People always told us that wedding planning would be stressful - but Lindsay truly made the whole process stress free. She was always available by email to run ideas by, and she connected us to some amazing vendors (some of whom even gave us discounts for working with her!). Where she really shone was the month leading up to the wedding where she coordinated with every single vendor so that we didn't have to, allowing us to sit back and enjoy every single moment of our wedding - and each other. I would give her 10 stars if I could! Seriously, if you are looking for a wedding planner, look no further than Lindsay to make your wedding absolutely perfect. (Attached Photos Courtesy of Amanda Pomilla Photography - who should be your next vendor stop!)

Nicki R.

Married on 07/11/2020

Book with Lindsay NOW - You won't regret it!

Lindsay was amazing, we enjoyed working with her, our vendors appreciated working with her and our parents loved her! Our wedding was thrown slightly off rails due to the COVID-19 pandemic, however, Lindsay kept her cool and was very calm and reassuring throughout the entire process. As can be expected, we had to make substantial changes to accomodate our wedding in July 2020. Lindsay was extremely helpful in coordinating all of the (extremely last minute) changes with each of the vendors. Our day was perfect and my husband and I enjoyed every moment, especially knowing that we had Lindsay taking care of all of the little details in the background! An added bonus of working with Lindsay is that you get to use an amazing website called Aisle Planner - This was a GREAT tool that we CONSTANTLY used to track vendor details, guest RSVPS, and more. We would highly recommend In Her Shoes Coordination to any bride to be!

Payal

Married on 12/14/2019

Life savers!

Vendor shoutout.

Our day was perfect and I want to share some love below these wonderful ladies.

Lindsay and Ally are good friends of ours which is why it was a no-brainer to go with them. Our day was flawless even though the weeks leading up to our day was panic mode. Lindsay took care of mostly every crazy thing that came our way during the weeks leading up and I COULD NOT have made it through if it weren't for her. We lost our caterer, supplier of dinnerware, and entire staff 3 weeks before a wedding for 300 people because the company we had chosen ended up changing their contract on us last second on what they would or would not provide. Lindsay helped take the stress off of all this. It's so important to have a coordinator so they can handle disasters, big or small - they know what they are doing. Best part of my day was that if anything went wrong....I did not find out 📷:)


Cheri

Married on 11/02/2019

Fantastic!

Lindsay was an absolute life saver! I was planning my daughter's wedding in Austin from Indiana. Lindsay made everything stress free, and she had a quick answer for ANYTHING I asked her. I interviewed a few different planners, and Lindsay was by far the one that had a professional handle on everything. Her contacts for vendors were fantastic, and I just could not have done it without her. If you want someone that will take your wedding experience from good to great, do not hesitate to hire Lindsay. I just cannot thank her enough!

Adrianne M.

Married on 09/28/2019

Lindsay is the BEST!

Hiring Lindsay was one of the best decisions I made throughout the wedding planning process! From our first phone call to the end of the night on my wedding day, she made me feel calm and completely stress-free. Not only was she incredibly sweet, she was responsive, organized, and professional. After speaking with her the first time, I just knew I wanted to work with her. She radiated joy and positive energy and it was important to me to work with vendors that I liked personally. The best part of working with her was my wedding day. I am a typical type-A control freak but I did not have a single care in the world the day of because I had full confidence that she was going to handle every detail. And she did flawlessly with a smile on her face. I am so grateful Lindsay was part of my big day -- I don't think I would have fully enjoyed it as much as I did otherwise. I highly recommend her!

Photohouse F.

Married on 08/26/2019

We Love In Her Shoes!

Lindsay and the entire In Her Shoes team are just amazing. We have worked with them more times than I can count and they are always so sweet and professional! Lindsay and her team seriously know their stuff! I can't even think of one time we've had anything but a truly amazing and positive experience with them. They are a top notch coordinating company and they always make sure their clients (and everyone else) are taken care of. We value their friendship in and out of the wedding industry! If you choose the In Her Shoes team for your wedding day, you're sure to have a stress-free, fun, and awesome day that you'll never forget!!

Edith M.

Married on 08/11/2019

Lindsay was the perfect wedding coordinator

Mahalo Nui Loa … many thanks to Lindsay Blackwell of In Her Shoes Coordination. She was the perfect wedding coordinator for my son's destination wedding in Austin, TX. Family and friends came from across the country to celebrate their special day this summer. Lindsay made sure we were all organized, informed, on track and on time. She answered every single question along the way, none of which was ever too small or silly. She was a valuable resource to us all. The day of the wedding was incredibly beautiful, happy and so much fun for everyone! It couldn't have been more perfect! It was exactly what the bride and groom had dreamed of. We truly enjoyed working with Lindsay, on this most special occasion, and are thrilled to have a new friend in Texas, y'all.

Amy M.

Married on 07/12/2019

Lindsay and Ally Were Lifesavers!

I thought I could handle planning my wedding by myself, but I quickly realized I needed some guidance! Lindsay and Ally absolutely made the process of planning my wedding SO MUCH EASIER! On the day of my wedding I did not have any nerves because I knew Lindsay and Ally had everything under control, and my wedding went so smoothly and perfect!

Yasmine B.

Married on 07/07/2019

Best wedding planner around

Ally with in her shoes coordination made all of my dreams come to reality in my July 2019 wedding. From the moment my husband and I met Ally, we knew she would be the one out of many that we met who would really make our wedding day incredible. My husband and I are both busy medical students who currently live all the way in Michigan which made planning an Austin wedding especially challenging. In addition, we come from two different cultures and two different religions which we wanted to showcase throughout our wedding. She eased my worries every step of the way and was always available to answer my questions and offer advice. She was respectful of our budget and was an incredibly mediator between us and vendors. The day of the wedding she was basically superwoman, tending to all the vendors, me, our bridal party of 22, and our parents. She was excellent in every way and I would recommend her to any bride looking for an efficient wedding planner who knows many vendors in town and is also able to value who you and your partner are, and create a beautiful and memorable event from it. Thank you so much to In Her Shoes coordination, we are endlessly grateful for your efforts.

Gentry O.

Married on 06/29/2019

Wedding/Event planning

There are not enough recommendations I can give for both Lindsay and Ally! These two truly know what it takes to make any event totally stress free and perfect. They think of not only the big picture and vision, but also have down all the small details you may not think of. I have had the pleasure of using both Lindsay and Ally not only for my own wedding, but also various events I have planned. Whether you have wedding needs, event planning needs, or travel needs you cannot go wrong with using In Her Shoes Coordination. Highly recommend using Lindsay and Ally for all your planning needs!

Rachel C.

Married on 03/08/2019

They created perfection!

I can't say enough good things about In Her Shoes Coordination. The friendliness and professionalism is amazing! Our wedding was PERFECT and that is because of the talent and hard work they put into it.

Amanda Z.

Married on 02/11/2019

Book them now!

Lindsay Blackwell is a saint! We interviewed a lot of coordinators for our wedding day, but we knew right away we loved Lindsay, and she did. not. disappoint. Throughout the months leading up to the big day, she was responsive, attentive and SO, SO helpful in answering our many questions. My mom lives out of state, and she relied on Lindsay a lot for help via email, texts and phone calls. Lindsay was so patient, professional and kind throughout our entire planning process. And on the day of our wedding, she was a freaking rock star. Her calm demeanor settles any nerves or jitters on the big day, and her professionalism, as well as her years of experience, made our day run absolutely flawlessly. Seriously, there was not one flaw on our wedding day, and I attribute a lot of that to Lindsay. I wish I could give her 1,000 stars!

Micah

Married on 12/08/2018

Highly recommend!

Ally was fantastic! She was incredibly organized, supportive, and efficient. She handled everything perfectly on the day of the wedding and was a huge support in the weeks and months leading up to it. She was an absolute asset. Highly recommend!

Emilie

Married on 11/03/2018

Lindsay is a wonderful coordinator

Lindsay was our day of coordinator for our wedding at Pecan Springs Ranch. She was really easy to work with throughout the year. She was helpful with our planning and extremely organized on the day of. She did a beautiful job decorating with all of our décor and kept the party going all night. She told us exactly where to be and when, brought us food and drinks, kept the schedule on time and shifted when necessary. We really had nothing to worry about the whole day and night except enjoying ourselves since she ran everything and told us everything we needed to know. I would definitely recommend Lindsay to be your planner.

Carolyn M.

Married on 11/03/2018

The Coordinator of all Coordinators

I researched and "interviewed" 7 coordinators/coordinating companies in the Austin area. From the get-go, Ally confidently assured me that my family and I would have nothing to worry about in the weeks leading up to the wedding and on the day-of. Although In Her Shoes was in the higher price range, I came to find out that I absolutely got what I paid for. Ally was my advisor and advocate from beginning to end. Many companies will charge extra beyond the contractual number of hours they spend meeting with you, at rehearsal, or at the venue. In Her Shoes' packages come with as many emails and hours as it takes to get the job done right! Simply put, I can't think of a single area where Ally has room for improvement. She answered any questions I had, was always 1 step ahead of me in contacting/organizing vendors, her diagrams and timelines were detailed, and her EQ is something else. My husband and I have families that speak English as a second language, and Ally's positive, clear answers had everyone calm and on the same page. My family, bridesmaids and I still think back to our wedding a month ago on 11/3/2018 and wonder how Ally worked her magic. Planning a wedding isn't my "thing", and on the day-of, I came out of hair/makeup/getting ready to an evening that felt as though Ally read my mind. It was important that my parents enjoyed every moment and didn't remember my wedding day as a stressful/tiring affair. I have Ally to thank for making my hopes a reality!! Oh and she did all of this while 8 months pregnant :)

Carly

Married on 08/11/2018

Lindsay was a fantastic choice for our month-of-coordinator! She helped coordinate all the vendors, prep our timeline, keep things running smoothly, set up all day-of decor, and answered all of our questions throughout the planning process! She truly knows her stuff, and makes the month-of & day-of so much more enjoyable for the bride and groom and their families. We also used Lindsay as our travel agent for our honeymoon, and she helped us plan the most amazing week in Hawaii! Definitely would recommend Lindsay to anyone getting married in the Austin area.

Sharon

Married on 01/28/2018

I can't say enough about Lindsay with In Her Shoes Coordination. This girl is amazing!
Her kindness and professionalism was absolutley incredible. Even our other vendors commented on how well she executed the wedding plans and how easy she was to work with. Our florist stated than in 35 years of doing weddings she had never seen a wedding coordinator, that handled her business so well and was so kind about it. I would highly recommend Lindsay! I'm wanting to plan another gathering just so I can hire her again! She's a jewel!


Kunal

Married on 06/04/2017

I worked with Lindsay for planning my Indian wedding. She was MAGNIFICENT!

Throughout the wedding planning process, she kept everything moving forward, kept great records, and was an absolute wizard during wedding weekend. She's responsive and answered all our questions in a timely fashion. She also knows all the ins and outs of different vendors to work with.

Not only is she professional and great at her job, she's a pleasure to work with. She's nice to deal with and a pleasure to interact with.

Highly recommend her for any wedding planning needs!

Carson

Married on 06/03/2017

Ally Hardage was my fairy godmother on my wedding day. The day was perfect. Nothing went wrong. She took care of everything on the day of my wedding and it was awesome because no one was stressed. She created a timeline for the day and we stayed on time throughout the day; everyone knew what was happening and when. Ally is very organized and efficient but most of all she is such a sweet person and a joy to work with.

Judith

Married on 05/26/2017

As the mother of the bride I found IN HER SHOES to be Amazing! Lindsay was so professional. She immediately "clicked" with my daughter and I and knew just how to guide us towards the right people to make the weekend memorable. The stylist, florist, photographer, transportation, linens, entertainment and places to shop for dresses were "on target". She respected our budget and made it all work. I was thrilled to be able to "stay calm" and enjoy the entire experience. Guests are still telling me how much they enjoyed everything and frankly....we owe much of the compliments to Lindsay!
Are you interested?
Send a message