81 Reviews
Recommended by 99% of couples
Quality of service

5 out of 5 rating

Average response time

5 out of 5 rating

Professionalism

5 out of 5 rating

Value

5 out of 5 rating

Flexibility

5 out of 5 rating
60 User photos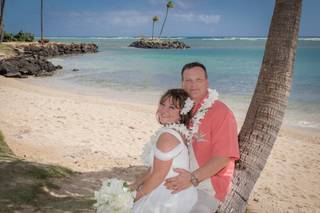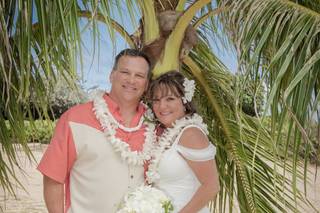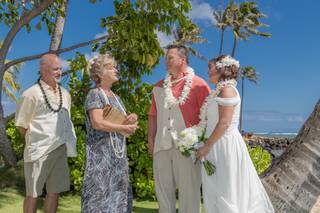 + 56

photos
Chenge T.

Married on 08/14/2022

Beautiful Beach Wedding 💜

From day one Leah was so responsive and so friendly. As a covid bride who has planned two weddings that both fell through, I just needed someone to get it right and she got it right! I'm so grateful!!! When I met her, she gave me the biggest and warmest hug and I immediately knew I was in safe hands! She doubled as our wedding officiant and as a photographer! Her husband is great too! They both captured our vow renewal beautifully and I couldn't have asked for a better day. I wanted something simple yet beautiful. Do yourself a favor and book them!!! You won't regret it!

Cyndy B.

Married on 09/02/2021

Our Perfect Day

From the very start Leah made the process of eloping so easy. I didn't have to worry about anything! All I had to do was answer some very simple questions and the rest was done for us. We arrived a day before the ceremony and had easy to follow instructions from Leah as to how we would acquire our license in Honolulu. We arrived to our venue in time for a brief walk thru. Our desired spot was occupied by some beach loving folks and Leah quickly jumped into action by asking if they would mind relocating so that we could have the setting we had dreamed of. Our ceremony included very sincere words as to finding our perfect match despite having only spent a brief amount of time talking about how we met etc. Both my husband and I were thrilled and just kept saying to each other that everything was perfect and just what we wanted. I know that we will recommend HawaiianEyeWeddings for our daughters when it is their time to get married.

Natalie M.

Married on 05/01/2021

Perfect, Unforgettable, Dream come true

We did our Vow Renewal Ceremony through Leah and Mike from Hawaiian Eye, and it was perfect, They were amazing, very professional and just the most wonderful couple, who made our dream come true.

Are you interested?

Send a message

Diana P.

Married on 12/31/2020

Fairy tail came true.

Leah and Mike made my wedding a fairy tail. From the beginning of our planning process, Leah was incredible! She made us feel heard, gave great suggestions and was always just an email or call away when we had any last minute questions. She also arrived to our hotel in person just to go over every detail. She recommended me a great make up professional, who made me look gorgeous in 30 minutes on my most important day. On the day of our wedding, Leah and Mike did a phenomenal of job making the venue look absolutely beautiful and captured the exact theme and feel that we were going for. I highly recommend to purchase "photos" option, since they be turned out absolutely amazing. Our friends thought that they were even fake, so pretty. I truly could not have a better wedding ! Thank you so much !

Mandy

Married on 09/18/2020

Great service hands down , the makeup and hair artist is top notch, the location was gorgeous which made for amazing photography our pics turned out amazing. The ukelele player and Hawaiian officiant were as good as it gets we loved Leah too overall experiance was Great I give them A+

Chris/Lynnette A.

Married on 02/11/2020

The Very Best!!

Leah is an awesome wedding coordinator, person, and officiant! Dependable, prompt with meeting all of our needs. The available locations are awesome; we married on Waialea Beach. Fantastic! She made our simple wedding a memorable event!

Stefani

Married on 02/07/2020

Amazing and dedicated one stop shop coordinating

Aloha Leah!
We wanted to reach out to thank you for your tremendous service towards making our special day perfect! You made everything so simple and it feels weird not emailing each other anymore! You really added that personal touch and made the day one to always remember. I can't stop looking at my pictures and it's been almost a month! The pictures and video were absolutely stunning. You are such a vibrant soul, you and mike are extremely talented! You both keep being amazing and we miss y'all tons!! Mahalo!!

+ 6

photos

Andrea

Married on 01/28/2020

Outstanding experience!

Leah & Mikey we're both amazing to work with! They helped to make an outstanding wedding experience in a beautiful setting and took excellent pictures to remember everything by.

Steve

Married on 11/27/2019

The Wedding we wanted.

The wedding we wanted. We did a lot of research prior to our trip to Hawaii and we are happy to recommend Leah and Mikey. Leah handled all of the preparation for us including wedding licence, permits, the photography (Mikey, Leah's better half) and a stunning location. We had our family with us and a beautiful Hawaiian beach location, we couldn't have asked for more. Leah and Mikey are both earthly characters and made the day that much easier to enjoy taking away any stress that may have been. There were celebrants that were cheaper and of cause you can spend way more but Leah and Mike were just right for us. Aloha and a big Mahalo from us.

Kathy M.

Married on 08/08/2019

Awesome so glad I went with this vendor

Leah was a very caring minister she gave a very beautiful ceremony she gave us a lei ceremony sand ceremony and the Christian ceremony so beautiful the words so beautiful I would recommend them to anyone and when the airline broke our jar and a call to tell her about it she replaced jar and sent it to me for free

Nadine V.

Married on 07/14/2019

A Superb Vow Renewal Ceremony

Our vow renewal ceremony was simply perfect : the ceremony itself was very moving and beyond beautiful and the setting was absolutely stunning. Leah and Mike are both very competent professionals with an eye for detail, their ceremonies are highly personalised (you can read out your own texts), their photos and videos are simply superb. We are so pleased that - by sheer chance- we came across Hawaiian Eye Weddings. Thank you Leah, Mike and Beverly (the stylist) for making our 30th wedding anniversary so special and memorable. We highly recommend you to others. Nadine and Stephen Morpeth 14th of July 2019

Patty M.

Married on 07/11/2019

I'm so happy I chose Hawaiian Eye Weddings!!!

I chose Hawaiian Eye Weddings for our wedding and I'm so glad I did! When I first did my search, looking for someone to work with in Oahu for our "second wedding", I found several companies and sent inquiry emails. I heard back from Leah Noble at Hawaiian Eye immediately. She said my date was available so I checked out their website for details. I was amazed at how reasonable the pricing was, especially for us since we planned a very small wedding (just my hubby and 2 teenagers). I chose the White Roses package which included almost everything we needed, then I added a few "a la carte" items. We were able to do our wedding with all the bells and whistles for right around $2,000, including rehearsal, flowers, limo, hair/makeup, music, photos, video, cake... Amazing! What's more surprising is the quality of all the services we received.

First, working with Leah was fun and easy. She was very responsive to all my emails as we set up the contract, and prior to our arrival in Hawaii. She came to meet us at our hotel to "rehearse" and prepare for the big day. On the wedding day, Beverly came to our hotel room and did an amazing job on our hair and makeup (myself and teenage daughter), very glamorous but still natural (we still looked like us, just better LOL). And it all held up well, even in the humidity and breeze. The location was gorgeous. We chose Waialae Beach in Kahala, in the afternoon for best lighting per Leah's recommendation, which made for perfect color in the sky and water. The limo made it easy and comfy for us getting to the beach. The ceremony was romantic and meaningful, thanks to Leah for her positive words and caring tone. We did a sand pouring ceremony, each of the 4 of us had a different color and we were able to take home a beautiful glass jar engraved with our names and wedding date, all arranged by Leah. During the ceremony, Leah's husband Mike does the video, and Leah and Mike both do photos before/after. They took time to get gorgeous photos of us as a couple and as a family. We opted for the live ukulele/singer and he was phenomenal, he even took the time to learn and play 2 of our favorite songs! I can't say enough about how beautiful the flowers were (bouquet, lei, and headpiece/hoka). Vibrant and so fresh, lasted for days after the wedding. We had a lovely champagne toast at the limo just before leaving, and took home engraved champagne flutes, again arranged by Leah. Finally, the literal icing on the cake, we LOVED the gorgeous cake Leah delivered to the restaurant for dinner. Note, Leah even helped us select a romantic restaurant for dinner. The cake was a show stopper, with the white chocolate shells and starfish… We ate half for desert, and the rest for breakfast the next morning. Loved it!

One of the most important things to me was photos and video, since family and friends were not there with us. We received a link to our photos and video just a couple of days after the wedding, with just under 150 photos and a beautifully edited video, complete with scenes from Oahu to add to the memories of our magical trip and wedding day. The photos captured the special moments, and the beauty of the place, even the personalities of my kids. WOW!!!!! I couldn't be more happy with the photos and video.

I appreciate everything Leah and Mike did to make our day special, unique/customized for the 4 of us, and most of all memorable. Thanks again to Leah for her sincerity, professionalism, and for being so easy to work with. I highly recommend Hawaiian Eye Weddings to anyone looking to do a wedding or vow renewal in Oahu. You will be delighted as Leah, Mike, and the entire "A Team" will exceed your expectations as they did mine.


+ 12

photos

Mary

Married on 12/30/2018

We Love Leah and Mike!

Leah is amazing! She's very responsive, flexible, and she genuinely cares to give us the wedding of our dreams! Our wedding was initially scheduled on the 28th of Dec but unfortunately there was a storm that day but Leah refused to have the weather ruin our big day so she suggested to move our wedding day to a much nicer day and it turned out perfect! Mikey did a good job with our video and Leah did good with our photos. John and I are truly blessed we found them! Thank you Leah and Mike for making our wedding day as wonderful and memorable as it can be! We love you guys!

Love,
John, Mary, Lorenz and Savien

Regina T.

Married on 12/26/2018

Professional and Friendly

Leah and Noble performed a wonderful Hawaiian ceremony on Waikiki beach. My bouquet was beautiful and the photos and video are gorgeous! They are kind, friendly professionals who kept in contact with me and my husband from our arrival in Honolulu until the video and photos were reviewed. Everything exceeded my expectations. If you are looking for a beautiful, intimate elopement, I recommend Hawaiian Eye wedding.


Beth Z.

Married on 09/16/2018

Perfection

Leah and Mike created the most beautiful, perfect day for my parents' 40th anniversary vow renewal. I contacted them about a month out and Leah was incredibly responsive (one of the top reasons I went with them) and answered every question I had courteously and in great detail. She really helped to tailor the ceremony so that it was unique and special just to my parents and family, rather than just picking a standard wedding / vow renewal package. Pricing was reasonable and they were very flexible with dates.

The ceremony and the day itself were so much more than I ever could have expected. Leah and Mike filled the day with so much genuine love and happiness. The pictures they took captured every moment of the day so beautifully and perfectly. The ceremony was not only professional, but truly full of love and tradition and the Hawaiian spirit of Aloha.

What makes Hawaiian Eye Weddings top notch and so special are Leah and Mike and the personal touch they add. They take the time to work closely with you and to get to you know you to create your perfect day. They offer such genuine love, kindness, support and happiness that you feel like they are a part of your own family. They truly love what they do and the couples and families who come to them. They created the most perfect day for my parents and my family and I could not be more grateful to them. It was a day we will never forget.


Becca

Married on 07/17/2018

Leah and Mike are the absolute best! I am so happy we decided to use them for our wedding. I had a million questions and they answered all of them and made sure our wedding was everything we dreamed of and more! Leah was so attentive and had every last detail planned for me. My flowers were absolutely gorgeous, the ukulele player David was amazing, my hair and make up came out stunning. I did a lot of research trying to find the best price and value and compared tons of companies! I definitely chose the correct one. If you want a unique, fun, and gorgeous wedding this is the choice for you!

Belinda

Married on 03/09/2018

Everything went absolutely perfect!! To the hair and makeup, limos, ceremony, cake, photography everything ran smoothly everyone was on time and our special day was perfect! Leah organised everything for us it was so easy and painless and responded to emails very fast!! We are so happy with our beautiful photos and video that was received like 5 days after the ceremony ( so fast!!!) we couldn't have asked for a better couple to run our day!! You will not regret choosing Hawaiian eye weddings. We are from Australia and organised everything with Leah via email and every attention to detail was delivered. We can't thank you both enough for organising and planning the best day of our lives!!!! Love you guys xx

+ 7

photos

Ashley

Married on 01/22/2018

We were married in January 2018. My husband and I were looking for a fun relaxing wedding experience and found it in Hawaiian Eye Weddings! Leah and Mike were excellent! They responded quickly to all of my emails and answered all of my questions. Leah guided me to the perfect beach location and restaurant following the ceremony. The ceremony was unique and amazing. Leah and Mike worked together to capture the most beautiful pictures. The entire experience was more than I could ask for. Thank you both. You are the best!

Kim

Married on 08/08/2017

We were married in August this year. Our day was magical in the most spectacular location.
I cannot thank Leah&Mike enough for organising absolutely everything & producing such beautiful photo's & Video. Leah is the most beautiful soul i have ever met & we feel so honoured to have shared our intimate moment with her & the extremely talented Mike. Our day was perfect in every way & other than going to the health department prior to the day , we seriously did not have to organise a thing !! We struck Gold finding you guys on the net , all the way from Melbourne Australia.
Thank you from the bottom of our hearts ❤️ Always & Forever
Jim & Kim McAdam


Doris

Married on 05/30/2017

Hi Leah,
Just wanted to say a HUGE thank you to you and Mikey for our wedding day. Everything went more perfectly than we could ever have imagined because of you both and the whole process was stress free which is incredible!
Our family loved the ceremony and still rave about how amazing the day was.
Thank you again, you gave us the best wedding possible- we will never forget it!!
Love Donald and Doris

Betty

Married on 12/01/2016

This was beyond our expectations. Great wedding location. Hair/makeup stylist was spectacular and I got a lot of compliments on my hair. Highly recommend Hawaiian Eye Weddings!!!

Crystal

Married on 11/11/2016

I decided to plan a destination wedding, not realizing my type A personality would make this quite the challenge, well after meeting Leah my mind was put as ease, She was amazing, she has this calmness that envelopes you when you meet her, she responded quickly to emails, offered suggestions and made my wedding day beautiful and perfect. Her husband is awesome also, they are in the right business... I can't recommend them highly enough. Oh and the hairstylist/makeup woman she arranged was wonderful. Mahalo...



Chris

Married on 11/04/2016

Leah was fantastic!! I arranged a surprise vow renewal for my wife and I. Leah was full of advice and made the whole process extremely easy for me as I was arranging it from Australia. On arrival I was never forgotten and Leah was in touch. The day could not have been better, Leah and Mike are wonderfully relaxed and instantly made us feel at ease and we enjoyed it so much. My wife even said she liked it better than our first time, because it was so relaxing. Also the photos...OMG fantastic!!!

Zara

Married on 10/22/2016

Leah was fantastic right from the word go. We renewed our wedding vows and everything was superb from the rehearsal, limo, flowers, hair, location and photography. I would certainly recommend Hawaiian Eye Weddings.

Sondra

Married on 10/21/2016

They are wonderful, very caring and sweet, nice people. You will feel at ease and have a wonderful time and great memories!!!!!
Are you interested?
Send a message