Reviews
5.0 out of 5 rating
Quality of service

5 out of 5 rating

Average response time

5 out of 5 rating

Professionalism

5 out of 5 rating

Value

5 out of 5 rating

Flexibility

5 out of 5 rating
100%
Recommended by couples
Awards
6 User photos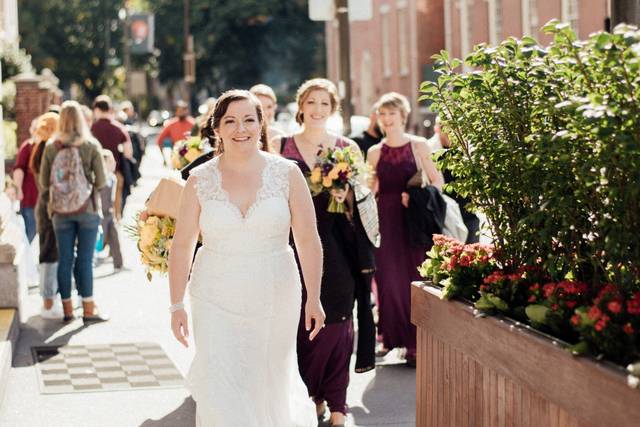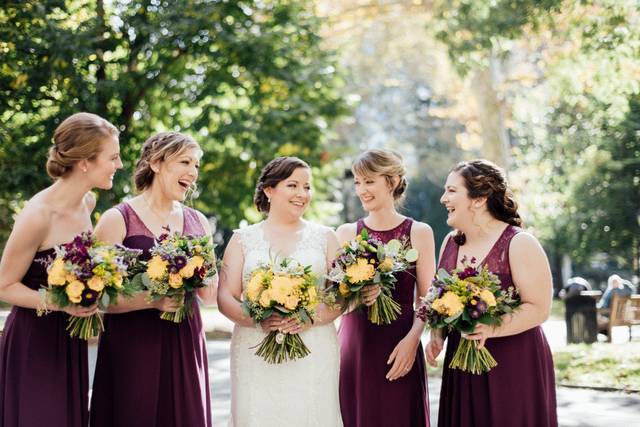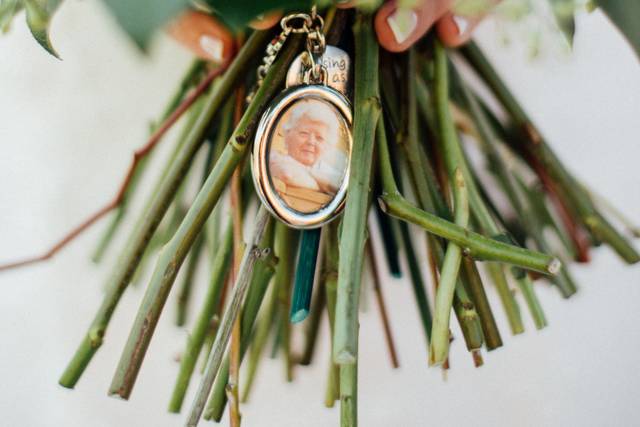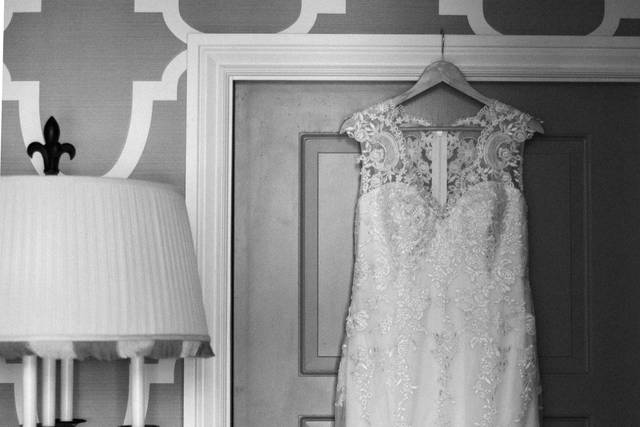 + 2

photos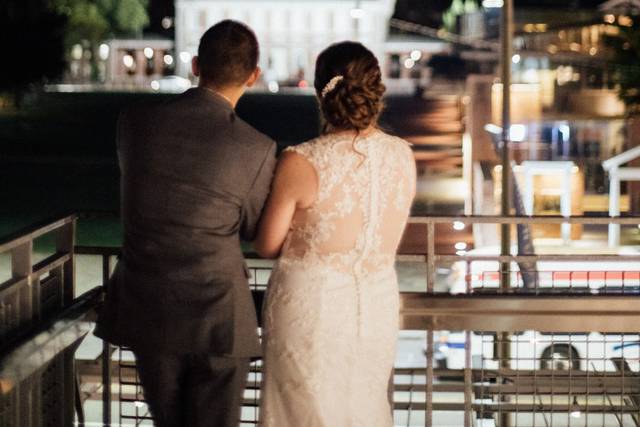 Rachel

Married on 12/03/2022

"Day Of" Coordinator Perfection

Hiring Gina as a day of coordinator was one of our best wedding planning decisions! She was beyond organized, quietly handled every little detail, and made the day go off without a hitch. I can truly say that I wish Gina was around to get me through every day of my life. Some examples of Gina being exceptional include: someone got pasta sauce on their shirt, Gina cleaned him right up. The flower girl's dress was wrinkly, Gina tamed the tulle. My dad got in a fender bender on the wedding day (he's totally fine), Gina made sure transportation was good to go. I didn't even know about these little wedding day hiccups because Gina handled literally all of them (and more) and I only found out after the wedding. Gina was even available before the wedding to give itinerary guidance, know how, and her expertise! Best decision ever. I could not recommend Gina enough!

Amy G.

Married on 07/16/2022

An angel! The best decision, hiring Gina

Gina was UNREAL and SO amazing for our wedding day. I am so organized and somewhat OCD, & fought hard on needing a day of planner, but I couldnt have been more wrong. Lunch didnt come on time, and when I talked to the caterer on the phone, they would not help at all. My stress was rising, but Gina came in at the perfect time, and somehow cleared it up within no more than 3 minutes. Lunch was brought in, and everything was so calm and happy. Words cannot express how much I needed and appreciated her. She felt like she became family in such a short time. From helping with the vendor tips, holding my flowers in between pictures (who knew they'd be so heavy!), bring an umbrella when it began to drizzle out of no where, help with my veil & bustling my dress, and SO much more. She was so positive and calm and truly was born to be a planner. Such a professional and was able to give some advice when I needed and made sure everything was taken care of.

Debbie R.

Married on 06/17/2021

Highly Recommend

Gina was amazing- she made our wedding exactly what we wanted. I wanted a personalized experience and she absolutely delivered. She understood that I didn't want to get bogged down in the details and she worked around that- creating the perfect wedding for us with very little help from me. She worked with the vendors and made the planning process as stress-free as possible- even with a year long COVID delay. She also ran the entire wedding like a machine so we didn't have to worry about anything...we just got to enjoy the night with our friends and family. HIGHLY HIGHLY recommend!

Are you interested?

Send a message

Carly F.

Married on 04/04/2020

Gina is the best!

We hired Gina as our day of coordinator for our wedding and it was hands down the best decision we made! We had to postpone our wedding twice due to COVID and Gina helped us through both postponements. Once our day finally arrived we had very little stress as Meg and Gina were there to help us every step of the way! We felt so relieved knowing that Gina was handling all of the details while also helping to set up the wedding! Everything went off without a hitch. My husband and I talk about how Gina is basically part of our family now! She is seriously the best and you will not regret hiring her for your wedding day!

Danielle S.

Married on 10/19/2019

Best Vendor Decision

I knew I wanted a day-of coordinator for my wedding, but I got that and so much more with Gina Sole! When my husband and I reflected back on our day, we both said Gina was the best vendor decision we made. She was always there when I needed her. I would think something, turn my head, and she would be by my side. Within seconds, whatever I needed was being taken care of - lights being dimmed, making sure my mother got her corsage, fixing my bustle when someone stepped on my dress, helping carry things during photos, and the list goes on and on. Gina took so much stress out of the lead up to the day and the day itself. She coordinated all the vendors the week before. She directed the transportation to the 6 different locations we had for pictures pre-ceremony. She made sure the locket with my grandmother's photo made it on to my bouquet, helped the photographer figure out where to position my dress for detail photos, and my vows made it to the officiant. She was the person who took care of all the details that were so important, but could have easily been forgotten without her. And she did it all with ease and a smile, which kept my nerves together all day. Seriously, best vendor decision!

+ 3

photos

Geena M.

Married on 09/28/2019

Incredible

My wedding day was absolute perfection. Reason being, I had the pleasure of having Gina as my Day Of Wedding Planner. The day I met Gina, I just knew everything was going to be nothing short of amazing. Her talent and expertise is beyond words. She knew exactly how to handle every situation. More importantly, she was there every step of the way for whatever I needed, whenever I needed it. She felt like family, and everyone loved her. It's hard not to! She made the day so smooth and fun. At times, I needed that extra calming force - Gina was right by side, assuring me that everything will work out. Turns out she was right :) I can honestly say my wedding day would have not been the same without Gina by my side. Both my husband and I are extremely grateful we were able to spend our special day with Gina. I will never ever forget how amazing she was and how much she contributed to making that day a dream come true.

Catherine

Married on 08/17/2019

Do yourself the biggest favor, hire Gina and Meg

Gina and Meg are wedding day angels. I decided to research "day of" coordinators because I wanted my family to be able to relax and enjoy the wedding day (my siblings didn't hire planners and they were my inspiration for looking). I didn't want someone who would be pointing at a schedule and ordering people around all day, I just wanted someone who was more like a friend, who could always be one step ahead of us on our wedding day to make sure everything was right. Enter Gina. From our first conversation on the phone, I was sold. Gina is warm, sweet, organized, prepared, and willing to fill whatever role you need on your wedding day.
The week before our wedding, our timeline for the day changed and Gina recommended having Meg help out as well. I hadn't met Meg before the wedding but by the end of the day, after spending hours walking around in 90 degree heat holding my flower and train between pictures, I felt like Meg and I were best friends.
I will forever be grateful to both Gina and Meg. They are the reason my husband and I, and my entire family, were able to truly relax enjoy the entire day. They are sweet, organized, fun, professional, and by the end of the day they become family.

Claire

Married on 01/12/2019

Best. Decision. Ever.

Gina was HANDS DOWN the best decision I made during my wedding planning process. To be honest, I was a bit hesitant to hire a day-of coordinator at first because the wedding organizers at our venue (The Logan Hotel) are fantastic. I didn't realize how essential she would be until the day of the wedding. There were so many moments throughout the day where I turned to my mom or to my (now) husband and said "Thank goodness for Gina. What would we have done without her?!" Some examples: 1) During the ketubah signing we realized that we didn't have the special pen with the archival ink and Gina promptly went out to find the correct pen. 2) My wedding shoes were KILLING me after a few hours and Gina found me a more comfortable pair of shoes to change into. 3) One of the toilets in our bathroom wasn't flushing and Gina got it fixed in no time. 4) I got muddy water on my train during my first look and Gina got it out right away. 5) When I started to get a little stressed, Gina was like, "I'm getting you a drink, what do you want?" Gina handled every issue with grace and ease. On any other day I wouldn't think twice about calling maintenance myself, running up to my hotel room to get more comfortable shoes, or getting a stain out... but on my wedding day there was so much going on and otherwise "little" issues became much bigger ones in my head. Do yourself a favor and hire Gina. She is so sweet and personable and she is SO GOOD at what she does. BEST. DECISION. EVER.

Dana S.

Married on 11/03/2018

Dana Saidler

Words cannot begin to describe how absolutely incredible both Gina & Meg are! I do not think I would have survived my wedding without having them make everything flawless! I don't know how anyone would ever begin to get married without Gina & Meg. They were always available by phone and e-mail to answer all my crazy questions! My wedding had a very unique timeline and Gina made sure everything went smoothly so we had extra time to relax before the ceremony. There was a lot of wind during pictures and Gina made sure I looked my best by always fixing my hair, dress, veil and helping me walk when my feet were killing me! Gina & Meg even had a foot spray that helped calm my sore feet from taking pictures around Philadelphia all day! Meg was able to help fix my hair and makeup before walking down the aisle and was beside me the entire time! Hiring Gina and Meg was the best decision I ever made in regards to wedding planning! You will not be disappointed!

Alec

Married on 06/30/2018

My husband and I live in Sydney, Australia but since I'm from Philly, we wanted to get married in my hometown and needed help planning everything from across the world. Gina was amazing and after we provided the high level, broad strokes of what we were looking for she arranged everything we needed. She even had contingencies for things we hadn't thought about. All of her hard work remained behind the scenes thereby making the process as painless as we could ever hope for. She was super responsive, and even taking into considering the 14-16 hours time difference, we always got in depth responses quickly, even on the weekends. When we arrived a week before our wedding, there was nothing we could improve.

On our wedding day, we were totally relaxed and had the time of our lives with our guests.

Andrea

Married on 05/19/2018

I literally do not know how anyone gets married without Gina!! We hired Gina for our day- of wedding coordination and it was the best decision we made in the wedding planning! Not only did Gina help with coordinating our vendors and helping with the timeline, she made sure that the whole family and wedding party had everything they needed throughout the whole day and night! Because of Gina, my mom and I were truly able to enjoy the day and relax without worrying about any little details. A few examples of all of the wonderful things Gina did for us: The strap of my dress ripped during the hora- Gina hopped in without missing a beat, pinned me up so I could finish the dance, and then was waiting for me right after to sew me back in! I don't know what I would have done without her - her work was so beautiful and quick you would have never known there was a problem! She also sewed several of our groomsman buttons when they popped off, found a lighter that we remembered we needed last minute for the ceremony, kept track of sentimental items that we used during the ceremony and made sure to bring them back up to our hotel room, and beautifully bustled my complicated dress- I could go on and on! Hire Gina - she is like having a very talented best friend by your side all day :).

Kathryn

Married on 10/14/2017

OH MY GOSH! Words cannot even describe how absolutely incredible Gina and Meg are!!!! They think of absolutely EVERYTHING! As a bride, I tried very hard not to become a bride-zilla... but even with that mindset, I still thought wedding vendors thought I was crazy. Gina is exactly the opposite. She made me feel like all of my requests were reasonable, and went above any beyond to make legitimately everything happen. Some vendors were concerned with city parking, she took care of it seamlessly. On the day of the wedding when we were ready to leave for the church, the bus broke down. Gina didn't hesitate to jump in; she drove my entire bridal party to the church in a flash. Her assistant Meg is just as incredible as she is. Meg kept up with me all day, and was by my side in an instant to hold my flowers, help with my veil, hand me my lip gloss, etc. These women are absolutely destined to be wedding planners and are exceptional at it. You will not regret hiring this team on your wedding day!

Stephanie

Married on 04/29/2017

I can't explain how amazing Gina and Meg were. I hired them for month-of planning. Gina helped me plan all of the last minute timing details perfectly (we were planning around a few other big events in Philly). Gina promptly answered all of my frantic emails and also let me pop in for an extra meeting about scheduling (I am very type-A and she helped tremendously). When I found out the week before my wedding that the venue was starting a massive construction project, Gina was there for me every step of the way to make sure everything worked out. The wedding day went off without a hitch thanks to Gina and Meg for being there every second I needed something. 100% worth the money!!!

Anne

Married on 10/29/2016

I thought the concept of being a guest at your own wedding was a myth. Yet, this was the best wedding I've ever been to, and it was my own wedding. Gina knocked this out of the park. Exceeded all my expectations.

I hired Gina for day-of coordination and 10 hours of wedding planning. It was perfect for me because I'm an intense planner, but I knew there were some aspects of the wedding I didn't care to do the heavy researching on myself. It was a huge time saver, and removed stress being able to reach out to Gina and say, "do you know a florist in my price range" or "where can we get our make up done in Philly that we can trust," especially planning from NYC.

Gina is really warm, friendly, really has it together, and she is a BOSS. My wedding had a lot of moving parts and a very unique timeline. Gina kept everything flowing smoothly through the day, and our ceremony started on time! One of my bridesmaids told me right before the ceremony started that she has never been to a wedding that has started on time.

She also took great care of my guests and my family, and solved several little hiccups that popped up without anyone noticing anything was wrong.

WeddingWire has a character limit, so I'm going to summarize the rest though I want to write more. Overall, my groom and I, and even my wedding party had a stress-free, joyful day. Everyone had the best time, and several guests told us after the wedding its the best wedding they have ever been to.

Andrea

Married on 10/08/2016

I am not quite sure where to start with Gina. Our wedding definitely would not have been what it was if it weren't for her. She was there to help reassure me with all of my decisions from start to finish. To navigate the challenges with divorced parents and help to create a day that was special and meaningful for everyone involved.
She was always available via email to me and my fiance should we have any questions. I called her frequently to iron out various details leading up to our big day, and she was always helping me to execute all of the things that I wanted. She was able to keep me calm throughout all of the stresses of the process and I cannot thank her enough for that.
I heard that you should hire a wedding planner that is someone you would be friends with, and that is truly the relationship that we built. It was easy and effortless and made it very easy for me to trust her and explain to her all of the things I was trying to create for the wedding. She goes above and beyond to make sure that everything runs smoothly and is there for all of the last minute hiccups. I cannot thank her enough and HIGHLY recommend her.

Helen

Married on 09/04/2016

Oh sure! You can plan your wedding yourself, or can you?
Just think about it, venue, florist, photographer, videographer, band or Dj, etc., etc. Of course you can do it, starting with countless research on Internet, read the reviews and go through the process of interviewing these vendors. However it is a lot more to do and you should be able to cross it off the endless list by putting it in a capable hands of a professional planner.
Trust us, you need a planner, experienced, reputable and the one you can fully trust and rely on. And please, do yourself a huge favor, look no further, Gina Sole, instyleplanners.com (they really mean it, in style! Does not matter what your style and a vision for your perfect wedding). Every time when a anxiety builds up and you feel like you are getting overwhelmed, a short email with immediate returned mail from Gina put back a calmness and assurance that everything is under control and will be just fine.
We, parents of the bride, do not even know where to begin or thank you!
Thank you for understanding our concerns and make our vision a reality!
Thank you for accepting us the way we are and never judge our ideas or culture!
Thank you for making our kids wedding perfect! Yes, perfect!
Thank you for making the entire process fun? We will always talk about it with a smile on our faces!
And of course Thank you for your PATIENCE!
We really feel that you become part of our family and we wish that we will continue our relationship.


Kate

Married on 09/04/2016

I got engaged November of 2015. Right away my parents and I decided that we needed to find a wedding planner. My mom had started a new job so she was working long hours and my dad travels a lot. I couldn't do this on my own so we started to do our research. We found Gina on this website and saw all the great reviews. I called right away to schedule a meeting and get more information on what she offers. From that very first phone call I felt so comfortable with Gina and as if I had known her for a long time. After meeting her, I was even more excited to start working with Gina and felt great about our decision to hire her! I just got married on Sunday, September 4th. From the day we met to my wedding day, she has been on call for me and answered every single one of my emails (there were a lot!), and she was always available to see me if needed. Gina came with us to all of my appointments and already had a florist, hair and makeup girls reserved for me which were all just perfect! She was there to help every step of the way and I couldn't be more happy with her service and all the help and support she showed us! She is just a gem! Her assistant Meg was also amazing! I only met her on my wedding day but she was there from beginning to end with anything I needed and helped carry my wedding dress during hours of photos :). Now that the wedding is over I can say that I miss talking to Gina every day and even my mom misses her and says "I miss Gina, I feel like I lost a friend"! I am so lucky to have found her and if you are looking for a wedding planner, do yourself a favor and look no further. Gina is the best!

Caitlin

Married on 08/06/2016

Gina was the best and easily exceeded all my expectations. I am not going to lie, I am one of those people that plan everything. So when my parents told me they were hiring a wedding planner I wanted to die as we had 10 bridesmaids and 10 groomsmen. I went with my parents to meet Gina and the moment I met her, I fell in love with her. I actually told my parents I wanted her to be my best friend! Throughout the wedding planning, she reassured my parents, gave them advice when needed, and called all my venders the week before the wedding. On the big day, Gina helped in every way possible. While getting ready, she brought a tool to button up my wedding dress and then made sure the photographer got a photo of my Mom "buttoning up my dress." She was always right there whenever I needed something and/or had a question. She even remembered the little details. My husband gave me a bracelet that I have worn every day since he gave it to me. I did not want to wear it for my ceremony but wanted to put on for my reception. Without Gina, I would not have remembered to put it back on and I would have been so upset! Thank goodness for Gina! She also went around the city with my husband and I to take photos. The next morning, I woke up going through my phone and as I did not have my phone one me the entire night, I did not have any pictures of my husband and I from our wedding day. After looking in my email, I was so happy that Gina had taken a few photos of us and sent them to me! What a great thing to wake up to! Thank you Gina for being the best of the best!!!

Basia

Married on 06/11/2016

We hired Meg to be our day of wedding planner to help us throughout the day after a friend's recommendation . I don't know how i would have survived my wedding day without Meg (works with Gina Sole). Meg was invaluable to us on our wedding day. From the moment she stepped into my room while I was getting ready until she left she didn't stop moving or helping us with every little thing we needed. You need scissors? She's got them! Need band-aids, she's got those too! Meg helped me every step of the way and made sure to get me for all the special moments i asked her to throughout the wedding. Meg and Gina are the best investment you can make for your wedding. I met both of them when we went over all the details for my wedding and both Meg and Gina and very sweet, they listen and they really care- to conclude, you are in great hands with either Meg or Gina!

Christi

Married on 06/11/2016

I hired Gina to be my full service planner about a year and half from the wedding date. From the first meeting, Gina made my now husband and I very comfortable. She was able to provide us with many different choices for every aspect of our wedding from venue, florists, caterers, etc. If it were not for her we would have not had most of our vendors (of which we loved all of them). She was always responsive, professional and around when I needed her. I never worried about anything getting done on time or in the way I would do it myself during the whole process. When it came to the day of, everyone involved in the wedding party was able to sit back and enjoy every aspect of the day. If anything went wrong that day, we never knew it. The only part of the process that was bad, is that now it is over. If you are questioning hiring a planner, DON'T! It is worth every penny! And if you want to have a worry free process and easy day of, Gina should be your choice!

Lisa

Married on 05/29/2016

Gina, to quote my now mother-in-law, is a "true gem!" We hired Gina as our day-of coordinator for our May, 2016 wedding. She is an absolute professional with years of wedding experience around the trip-state area--one of the reasons we were drawn to Gina was that she had previously worked with both our reception venue and our slightly quirky ceremony space. From beginning to end, interactions with her were effortless. She was super responsive and was so accommodating of our schedules. Gina knew just what questions to ask as we discussed the details of our wedding day and was always willing to answer any questions I had outside of our meetings. She was indispensible during the flurry of overwhelming last minute conversation that went on the week before the wedding.

On the big day, Gina always seemed to be right there when I had a question or needed a hand. She kept us on schedule, pinned on boutonnières, held up my train, had an endless supply of bobby pins for my long veil on a windy day, and somehow managed to find a corkscrew to open our kosher wine right before our ceremony. When we returned to the hotel after our ceremony and photos, Gina took us into our reception space for a peek at the set up. I loved having this private view of the ballroom and my husband and I even ran through a few steps of our first dance. Without Gina, we would have just rushed off to cocktail hour and never would have experienced this special moment. Gina also effortlessly bustled my dress, erasing another potential worry.

And that was just what I noticed! Being a detailed-oriented, planning-obsessed person myself, I believed I had thought of everything, and we almost didn't hire a coordinator. But heeding the advice of brides before me, we did, and I am so grateful. No matter how well you plan, something unexpected will come up. Gina quickly eased any potentially stressful situations for us and the day was a wonderfully joyful blur. Thank you Gina!!


Fran

Married on 07/18/2015

We were blessed to find Gina just a couple of months before our son's wedding! With the bride in Thailand and the groom in California, planning the wedding in Philadelphia
was challenging. When we met Gina for the first time we felt like we had known her forever. She is a very special person, with such warmth and sincerity . Gina's attention to detail is impressive and she managed all of the vendors with such ease. On the day of the wedding she completely organized the day . Everyone, including the bride and groom, were able to relax and enjoy every moment knowing Gina was there. We truly could not imagine anyone more perfect!

Theresa

Married on 05/29/2015

My husband, a business in the Yacht Industry, coupled with my background in the Hospitality Industry.....we appreciate detail and reliability. Gina nailed it. She too went above and beyond with her attenion to things that are so easily missed during such a magical time. I would do it again, with Gina on board. The same groom as well. ??

Caitlin

Married on 11/21/2014

Gina & Meg made our wedding day so smooth and enjoyable

Allison

Married on 11/15/2014

My mom hired Gina as for her day-of coordinating services, since she truly wanted to enjoy my wedding day instead of being the point person for our vendors. I thought this was a great package, as we got much more than just day-of services. Included in our package were two meetings with Gina: on the first, we discussed vendors and timelines for my dress and my bridesmaids' dresses; on the second, we firmed up the timeline for the trolley and the reception, which was enormously helpful. As another part of the package, Gina called all of the vendors the week before the wedding. WOW! At that point, such a task would have overwhelmed me. On the day of our wedding, Gina floated back and forth between the church and my parents' house. She put body tape on me, coordinated our entrances, and generally made sure that everything went off without a hitch. She largely made herself invisible the day of, but she was always easy to find if I needed her. It was very reassuring having her there.

Are you interested?
Send a message