Reviews
5.0 out of 5 rating
Quality of service

5 out of 5 rating

Average response time

5 out of 5 rating

Professionalism

5 out of 5 rating

Value

5 out of 5 rating

Flexibility

5 out of 5 rating
100%
Recommended by couples
2 User photos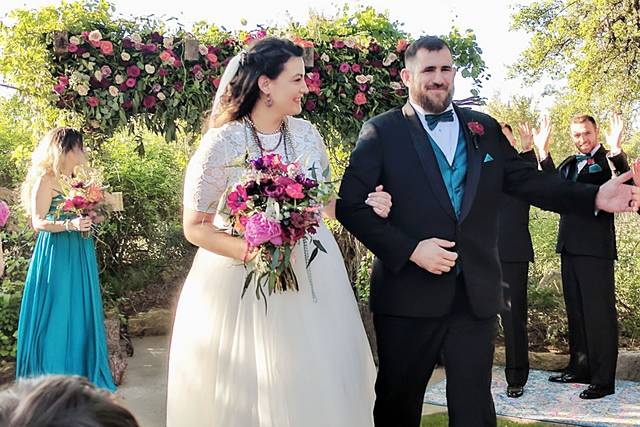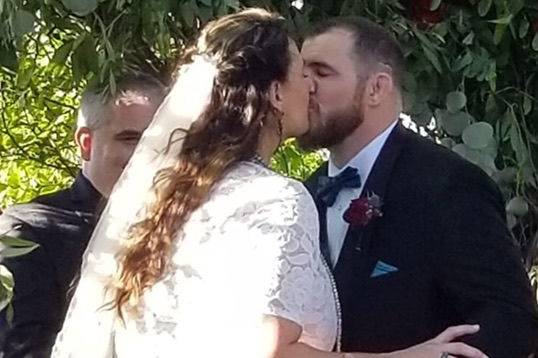 Hillary B.

Married on 02/24/2023

10/10 - Would highly Recomend

I used Abby as my day of coordinator - or I should say - sanity saver. From the first time we spoke, I knew she was exactly what I was looking for. Abby has such a calm, cool and collected attitude no matter what is thrown at her which was so appreciated on my wedding day. In leading up to the wedding, she asked all the questions I did not think to ask and truly had my back when it came to hard conversations with venues as well as reminded me about things I kept forgetting. The day of the wedding, she drove all around doing last minute things including picking up the alcohol that, god bless his heart, my husband left in his car and not at the venue so it wasn't chilled. At the venue, I had not a worry in the world, Abby just handled everything. She had our getaway car packed, handed tips out to vendors, kept us on schedule, the works. I have no idea how people do it without a coordinator, especially one this good, so I would highly encourage you to give Abby a call and book you for your wedding, you will not regret it.

Megan C.

Married on 06/29/2019

Absolutely Amazing!

I honestly cannot say enough about Coordinate This, and specifically our day of coordinator, Lori. Lori was absolutely incredible. She really knows her stuff and we felt completely comfortable in her capable hands. Lori kept everything that day running smoothly, and if anything went wrong, I can tell you that I had no clue! She made everyone feel comfortable while also wrangling our crazy families and bridal party. If you're looking for a coordinator, definitely call them!

Neil B.

Married on 03/23/2019

Brittany is Awesome!

Brittany was our day of coordinator and she was just awesome. We can't thank her enough. She took all the stress out of the day and was able to handle any of the issues that came up. She kept the wedding moving along and was super friendly and professional the entire time. Thank you Brittany!

Are you interested?

Send a message

Rebecca

Married on 11/04/2018

Life Savers!

Let me tell you, Shelby Click from Coordinate This is absolutely amazing. I decided to go with Vista West's included day of coordination package through Coordinate This. I planned everything for the wedding and made sure everything was in order. One month before the wedding, Shelby reached out to me to introduce herself and let me know that she would be helping me and taking care of everything on the day of the wedding. We talked more and she also was there to coordinate the wedding rehearsal. My family is so crazy and she handled them. She had everything under control the whole day of the wedding. If she wasn't there, my husband and I wouldn't have been able to enjoy our day. My parents and the whole wedding party IS STILL talking about Shelby and how flawless she was. We cannot thank Shelby enough for making our day so special and for literally making everything perfect. THANK YOU SO MUCH SHELBY!

Amy

Married on 06/23/2018

Lori is an amazing coordinator! We had a horrible experience with a coordinator for my first daughter's wedding so I was apprehensive. Lori is smooth, professional and I would use her again

Kevin

Married on 05/19/2018

Jordan Page with Coordinate This coordinated our daughter's wedding at Vista West Ranch in Dripping Springs last month and we could not more highly recommend using her for your event! In the high-stress environment like that of a wedding, her calm but outgoing demeanor makes her perfectly suited for managing all of the moving parts of a wedding! Jordan knocked it out of the park and our special night went off without a single glitch! Thanks so much, Jordan!

Adam

Married on 05/12/2018

We can't recommend Vista West Ranch nearly enough. Joe and Stacey are incredible people, and the vendors they work with are just as amazing. The venue alone will sell itself, but the people are what made our day absolutely perfect. They are helpful, professional, creative, and fun! We visited Vista, and knew that we loved it, but after we met Joe and Stacey, we knew there was no better place we could possibly imagine. It truly was a dream come true.

Emily

Married on 04/08/2018

Brieann was someone we couldn't have done without! The thought terrifies me- can't go there! She was calm, professional, kind and I guess had cloned herself as she seemed to be everywhere!! Thanks Coordinate This! Our wedding was pretty complicated I'd think compared to most- a Deaf wedding with lots of accommodations made for communication accessibility— Brieann just went with the flow and helped us do the same. It was an amazingly beautiful night!

Pearl

Married on 02/24/2018

Jamie from Coordinate This was calm, collected, in control, and overall AMAZING!!! She helped make our day so wonderful and us. We started working with her through the Vista West Ranch and she made sure everything was perfect and what we wanted, right around the same time she was having a grandkid! She was great about making sure everyone was where they needed to be when, from the bridal party to the vendors she had it all under control and was so calm. She made sure we got to eat, brought us drinks, kept us on schedule and made sure we got to enjoy it and actually have time together. At one point, we realized the wrong cakes had been brought to the venue and ours weren't there, she fixed EVERYTHING and we were so SO thankful to have her there. Thank you Jamie for helping to make our day unforgettable!!

Rebecca

Married on 10/21/2017

Lori was such a great Coordinator!! Her energy was so great for the vibe we were going for - laid back yet organized. She really added to the feeling that we were having an 'event' while not overpowering any moments. She communicated very clearly that she needed us for a few min here and there, and then went off on her way. I have been to other weddings where the Coordinators have taken over in a way, or been too overbearing. I loved Lori's style and was so happy to have her around for any and all parts of our big day. I so appreciated her and she made the day go SO much more smoothly than it otherwise would have. I can honestly say that there was not a single hiccup and I think this was in large part thanks to having such a well-organized and professional Coordinator.

Michele

Married on 10/13/2017

Jordan was amazing! She ensured the wedding went off without a hitch and stayed until the very end. She was easy going, and helped keep everyone in line and everything on time. I can't thank her enough for all she did for us in that one day.

Natasha

Married on 09/16/2017

My husband and I got matched with Lori from Coordinate This via the Creekhaus in Dripping Springs. I could not speak more highly of her. A day of coordinator was not on the top of my priority list, but let me tell you, I'm thrilled Lori was there on our wedding day. Not only did she help all the events go amazingly well, she also did a large part of the cocktail hour and reception setup. I think I may have lost my marbles without her. If you are on the fence and a DIY bride like me, do not hesitate to enlist in reinforcements from the team at Coordinate This. You will not be disappointed! Thank you so much, for everything! Our wedding exceeded all expectations, largely due to all your hard work and attention to detail!

Katie

Married on 09/15/2017

Jordan was awesome! Her peaceful personality really brought peace to me through the whole process and even on the wedding day. She was wonderful and very open to answering questions and bouncing ideas off of. We were blessed with Coordinate This through our vendor Vista West Ranch. I would HIGHLY recommend Coordinate This, specifically Jordan, for a minimum of 'day of' coordination but even more for the whole process. Delegate your tasks GIRLS! Thank you, Jordan, for all you did for Eric and I.

Lauren

Married on 05/26/2017

If you don't book Jaime as your coordinator, you're making a mistake. I'm sure there a are a lot of good or even great coordinators, but she has a natural gift of kindness and personality, combined with knowledge and organization, that makes her the best in the business. We used Jaime's full planning services in addition to the day of coordination that was included in our package from Vista West Ranch. From the moment we met her, the search was over. She isn't just doing this to make a buck, she genuinely cares for the people she's working with, takes the time to get to know them, and works relentlessly to make your day perfect (and ours sure was). She felt like family to us. It's not just her kindness and attentiveness, but it's the fact that she's a local who knows this market, these people, and who to call. We worried about absolutely zero through the planning process because we knew that Jaime would be able to solve any issue that was to come up. She lets you make all of your own decisions, and only guides you when you're unsure. There is no one with the experience and knowledge she has, and no one who cares like she does; and you, and everyone at your wedding will see and feel this. She has definitely become a friend, and we're going to miss the wedding planning because it means we aren't going to get to see her as much. How many people say they're going to miss their wedding PLANNING? Do yourself a favor, and book Jaime.

Helen

Married on 12/10/2016

Our December wedding at the Vista West Ranch Creek Haus was absolutely amazing and Lori was the number one reason everything went so smoothly. A day of coordinator was included in our package and I really didn't know what to expect. A month out we began discussed my vision, my style, theme, table arrangements, etc. I had prepared many décor items including signs, table numbers, late night snacks, glow sticks, seat assignment display, blankets, and more - she took care of organizing and placing everything. It was perfect!! It was so nice the morning of not to have to run around setting up or stressing; Lori had everything just as I had wanted. She also kept us all on schedule letting us know where to be, when to line up, when to cut cake, when to toast, etc. We were able to just relax and enjoy our magical day. There was questionable weather for our outdoor ceremony which I really did not want to move inside but Lori calmly discussed plan B with me and made me feel comfortable with our options. We honestly wouldn't have changed a thing and Lori was such a special blessing. At one point she captured a tender moment with my sisters and I on her phone and later sent me the pictures. I didn't even know she was taking photos and am so glad to have them to remember such a sweet moment. Coordinate This will make your wedding day the best day ever and you will be so glad you chose them.

Christina

Married on 11/18/2016

I couldn't have hoped for things to go any better the day of my wedding. My wedding was a dream come true. Brieann was absolutely amazing! She took care of everything and I was able to focus on getting married to my best friend. I couldn't have done it without Brieann's help. I would highly recommend her to anyone.

Nastassia

Married on 10/13/2016

I can't say enough good things about Brieann! She worked on my 10/13/2016 wedding at Vista West Ranch, and I would have been lost without her! Like a lot of brides, I didn't really know what a day of coordinator did before I met with Brieann. If you're on the fence about getting a coordinator, GET ONE! Brieann handled all the day of logistics from assisting with vendors to getting the dads to follow directions. She was a huge help, and I can't thank her enough!

Carla

Married on 09/18/2016

Brie is beyond amazing. I started working with her the minute I signed the contract for my venue. I could not be more happy with all of her help and guidance along the way. She was incredibly helpful and just so thoughtful about all of the big things all the way down to the little details. I seriously dont know what I wouldve done without her. She was an absolute life saver and just the best person to have by my side. Thank you, Brie!!

Paige

Married on 06/10/2016

BRIE! She was the greatest. She was so kind and calm, which definitely helps on your wedding day. She made sure that we had everything we needed. Our wedding wouldn't have been what it was without her. She made everything happen with complete ease. We loved her!!!

Coordinate This's reply:

Thank you so much, Paige! You were a dream to work with! I hope you and Matt are enjoying married life!:) -Brie

Michelle

Married on 11/08/2015

We had the pleasure of working with Kimberley at Coordinate This as our day of coordinator for our wedding at Vista West Ranch in Dripping Springs, TX. We live in CA so planning an out of state wedding could have been super stressful but Kimberley was there for us every step of the way to lighten the load in every way possible. She was a lifesaver in so many ways and was there whenever we needed her. Kimberley is the day of wedding coordinator every very bride wants. She is sweet, calming, patient, reassuring, and most importantly she is ON IT and has everything organized and under control! Kimberley was a joy to work with and helped make our wedding the most magical day of our lives. Everyone including ourselves are still raving about our wedding day and we couldn't have done it without Kimberley by our sides.

Carly

Married on 09/26/2015

Jordan was incredible – she was so patient, and listened to every question I had and gave thoughtful and honest opinions. She was with me every step of the way for the last 30 days leading up to our wedding; she was super communicative and made sure that things flowed as smoothly as possible the day of. It rained on our wedding day and she flawlessly maneuvered everything into our Plan B; and although not everything went as planned, she made sure that it felt like it did! I had no worries whatsoever the day of and during our wedding because I knew that we were in excellent hands. She was cool, calm and collected the entire time which gave me the chance to actually enjoy our time instead of worrying and stressing over the details.

Tiffany

Married on 08/22/2015

We worked with Kim as our wedding coordinator and she was amazing! Everything went so smoothly and was absolutely perfect on the day of our wedding.

I wasn't able to meet with in person Kim prior to our rehearsal day, as I live in NYC and we got married in Dripping Springs, but she was extremely helpful and responsive to all communication via email. She was patient during our rehearsal and helped guide everyone through the events of the day. On the day of the wedding, she went above and beyond to make sure everything was perfect. Kim was also so great to work with because she is so kind and has this amazing calming presence about her. She made sure there wasn't a single thing that I (or anyone) had to worry about.

Looking back, I can't imagine my wedding day without her! She made it the perfect night and I am so happy I had the chance to work with her.

Lauren

Married on 05/17/2015

Kimberly, was our saving grace and such an Angel for our Big Day. We got to meet her about a month before our wedding to go over all of the details of our big day and I just remember feeling so at rest when I left, knowing that she had it all under control.

Come the day of the wedding, She had everything and everyone under her belt at all times and was the most AMAZING woman to work with. The morning of our wedding, it was storming outside, she made the effort to call my mother to calm us down and feel better about the day, which turned out to be bright and sunny by 1pm. I also was an unfortunate Bride who got sick from moving around so much and all of the excitement, and Kimberly found me upstairs and greeted me with a cool towel, Tums and Listerine. Those are only a couple of the big things that she helped out with that I will mention. Any time I turned around, she was right there making sure everyone was on point, on time and always ready to rock and roll. This comfort was not only for me, but both of our Mothers. Kimberly made sure that they were not worrying or dealing with anything that they shouldn't have had to on that day. It was such a blessing to see them both having a great time and watching the day go by as planned because of Kimberly, and for that I am most thankful! Wonderful, wonderful Job!!!!!!

Jaime D. was amazing! She was provided as my day-of coordinator through Vista West Ranch. I didn't use her for any additional services. As my coordinator, she helped me create the timeline for the evening, lay-out of the venue based on the number of our guests, and responded to my multiple questions and concerns via email and phone (in addition to all of her actual day-of responsibilities)!
All of my friends and family said that my wedding ran seamlessly, and it was all because of Jaime! In addition to creating a detailed timeline of the evening (including components and details about the event I NEVER would have thought of), she held us accountable to it! She made sure everything was on-time and we never got behind schedule. I certainly didn't have the mind to remember cake cutting was at 8:45, but 8:45 came, and she was right beside me reminding me it was time to do so.
She's friendly and personable, has an incredible amount of expertise and knowledge, and was great to work with!

Coordinate This was fantastic in helping me plan my wedding day. My husband and I were living in the NYC during the time we were planning our wedding and we had only seen the venue one time before our wedding weekend. Jamie (our coordinator) provided us with a timeline which we used for everything from letting the vendors know their arrival time to planning our photography timeline of the day. We were able to ask a lot of questions and go over every detail of the wedding before the big day so we made sure to have all our ducks in a row. She was also a very calm and professional presence the day of the wedding when everything seemed to go by so fast. She maintained a pleasant attitude even when we had more than a few contingencies come up. We were very grateful to have her and would totally recommend her to anyone planning a wedding. I'm not sure if we could have done it with out her help!
Are you interested?
Send a message