41 Reviews
Recommended by 100% of couples
Quality of service

5 out of 5 rating

Average response time

5 out of 5 rating

Professionalism

5 out of 5 rating

Value

5 out of 5 rating

Flexibility

5 out of 5 rating
36 User photos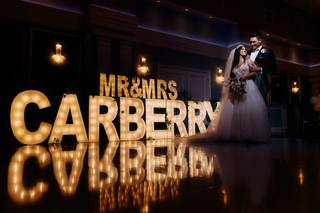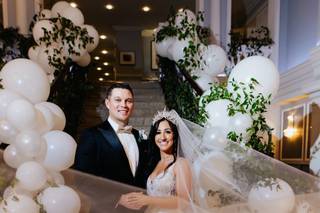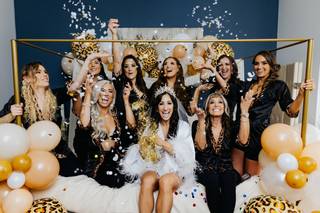 + 32

photos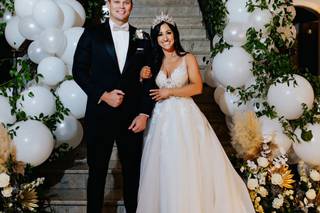 Featured

Jordan P.

Married on 05/09/2020

Truly COULD NOT have done it without her!

Yes, we're still in the midst of a pandemic. And, for someone who was still so absolutely ready to throw a wedding, we knew we were going to be performing a bit of a balancing act. In fact, this was our one-year-postponed wedding. Lauren and her team have been with us through it all - the very low (i.e. contacting ALL of our vendors to let them know the new plan and set things up) and then, even more importantly, when it was time for replanning our wedding from scratch.
Lauren helped me navigate the ever-changing restrictions, kept in CONSTANT contact with the entire vendor team, and reminded me regularly to HAVE FUN with it all. But then, on the day of, that's when she REALLY shined.
From the moment the morning started, Lauren and her assistant Grace were there for every question I had - they kept us on schedule, they grabbed everything I needed to move to the venue, they held onto my phone [AND took some BTS pictures!], they brought my overnight bag to the hotel because we didn't have time to check in due to having no gap between getting ready and game time... I can't get over how they made the day so flawless.

Everyone we spoke with [including all of our vendors] said that Lauren and Grace EXECUTED THE HECK out of what was arguably one of the more complicated weddings I've ever attended. But, best of all, they made it look effortless. I could not have done it without them. I might like to think I could've but I would've been miserable, I would've been hungry, AND I would've been the least happy bride.
Lauren and Grace kept us fed and handed us drinks [booze and water], they kept us informed, AND they surprised us with a fully decorated hotel room with some snacks the night of. If you are on the fence for hiring a planner GET OFF OF IT, Hire Lauren and her squad, and you'll be a totally blissed out bride (and/or groom) the day of your wedding, and the weeks/months [or in our case, YEARS] before!

Susan S.

Married on 05/20/2023

Invaluable service

We were thrilled with the attention to detail that we received with Lauren. Could not have done it without her. She let us be "guests" at our daughter's wedding and we were able to enjoy the evening without worrying about the details. Highly recommend her services.

Anna H.

Married on 06/11/2022

Book Lauren!!

When I decided to get a month of coordinator I reached out to a ton- and instantly connected with Lauren. She is so responsive, knows what she is doing, and takes care of everything!! She made our wedding day as smooth as possible. I cannot recommend her enough!! I had the most stress free planning process because of Lauren. She had the best ideas and made sure we addressed things I never thought of. If you want to enjoy your day and ensure it goes flawless book Lauren!!

Are you interested?

Send a message

Alyse S.

Married on 11/26/2021

Even a Planner Needs a Wedding Planner!

Even as someone who's very organized and experienced in planning large group events, I'm so grateful to have has Lauren as our wedding planner! I can't stress enough how helpful (and even necessary) it was to have a full time wedding planner as part of our experience leading up and especially on our wedding day. There are so many details you don't think of that these professionals are able to remind you about/organize/coordinate. Additionally, there are a ton of things that will inevitably happen on your big day and having someone there made the happiest day of our lives that much more enjoyable. Can't say enough good things about our experience with Classic Events by Lauren and I'd highly recommend!

+ 4

photos

Shannon

Married on 11/06/2021

Remarkable!

Lauren was such a treasure! I literally called her for everything! She even hid my dress for me since I couldn't bring it home. She handled everything from vendor management to even pulling some strings at our church for some lavender throwing pics, and post wedding party festivities! She was such an asset to our day…would 3000% recommend her. She also kept us (mainly me) on schedule all day and night long!

Carly P.

Married on 09/18/2021

Pandemic Wedding Saved by Lauren!

Lauren truly saved our wedding. We met with her as a day-of coordinator for the initial venue we'd chosen, and we were excited to work with her.
Then the pandemic struck, we had to move our date, and of all our vendors, Lauren was the most responsive and in touch.

We're not based in Philadelphia, so when our initial venue made a bunch of changes that went against our contract and didn't inform us, it was Lauren who stepped up to the plate and let us know what was going on. We broke things off with that venue three months before our scheduled date, which left my now-husband and me feeling exhausted and pondering elopement instead. In addition to giving us many great pep talks, Lauren managed to find three gorgeous spaces that were a) able to host 100 people and b) available on our date. All three of them were incredible!

Even when another variant swept through and forced us to change our plans *again*, that didn't stop Lauren. She found us the perfect place to have an intimate ceremony with our immediate family and an amazing brunch spot down the street, all of which was walkable from our hotel. Our wedding day was so beautiful and full of love, and all of it was possible because of the incredible work Lauren put into it. We are so grateful for her and would recommend her to anyone looking for a wedding/event planner in the Philadelphia area!

+ 2

photos

Jackie A.

Married on 09/18/2021

Angela was a champ!!

Angela, our coordinator kept us sane and kept things moving. After the first 5 minutes of a Zoom meeting with Angela, my mom and I looked at each other and were like - OH! SHE IS WORTH THE MONEY! I think we said that about 100000s times throughout the wedding process. We hired, Classic Event by Lauren, (particularly Angela) about 90 days out from the big day.

At this point we had postponed a 2020 event and had planned a micro-wedding, so we had a lot of the logistics and details worked out. She began working the day we signed the contract and she helped out wherever we needed her. I appreciated this style rather than some of the a-la-carte planners/coordinators that I had compared. Classic Events by Lauren was comprehensive, reasonably priced, and we felt taken care of. Angela was efficient and very easy to work with. She made sure we had a set schedule, worked with the vendors to organize timing, COIs, and helped with SO SO SO MANY other small details that I cannot even begin to thank her.

Angela made the process less stressful. To the point that we ENJOYED the weeks and days leading up to the wedding rather than running around buying picture frames, editing signage, making escort cards and assembling and delivering hotel bags. SHE DID ALL OF THIS plus more and with so much poise, positivity, and efficiency. Angela was responsive, resourceful and reasonable.

GOLD STAR MOMENT: she even showed up to a walk through with the venue the morning after her car was flooded and totaled. If this isn't professionalism and dedication, I am not sure what is.

I would highly recommend Angela and Classic Events by Lauren for planning/ coordination for your event.

Sonya

Married on 09/04/2021

Quick problem solved

Lauren is on top of every detail and quick to solve time-critical problems. We had multiple issues with vendors backing out due to Covid related conflicts, and Lauren found quality replacements immediately. She relieved us of a lot of stress!

Lexa S.

Married on 08/06/2021

A perfect day thanks to Classic events by Lauren!

Thanks to Lauren & Classic events my husband and I were truly able to enjoy our wedding day stress free. I would not of been able to get through planning a wedding and then RE-planning a wedding if it wasn't for Lauren. She was there from everything from help with vendors to just letting a crazy bride vent! No task was too small or too big and she insured myself and the bridal party was taken care of at all times. I am so thankful we had her/and her team. I would definitely recommend you run and hire her!!

Kathleen M.

Married on 07/31/2021

Lauren is the best!

Lauren is amazing. She is extremely professional, organized and assertive on the day of the wedding. She is great and very experienced at her job. We really enjoyed spending our day with her and all of our guests who interacted with her had positive things to say about her. She is on the ball and knows her stuff. She's also very personable and fun to have around. She even stayed late when our reception was delayed by a fire alarm. In short, Lauren is the best and I'd highly recommend her for week of and day of services!

Alexandra C.

Married on 07/17/2021

Phenomenal Planning

Lauren is absolutely fantastic. Our wedding had a ton of moving parts and we had to make a lot of changes throughout the process, and Lauren was so incredibly helpful and wonderful to work with. I called her in a panic MORE than once, and, despite her very busy schedule, she was always there to lend an ear and share helpful advice. The day of our wedding Lauren busted her a** the ENTIRE time making sure everything went perfectly - including sewing my dress strap back onto my dress after it snapped, helping me change my shoes from heels to sneakers to rainboots, getting the walls of the tent down as a strong thunderstorm rolled through, and much much more. She is truly a rockstar in the industry. Her staff was professional, hardworking, and so fun to have at the event, too! Lauren made our wedding day better than we could have dreamt it, and we're forever grateful.

Amanda N.

Married on 05/22/2021

Must choose Classic Events by Lauren

Lauren and her team are absolutely amazing, went above and beyond, they made our wedding day the fairytale I dreamt of, managed damn control with us knowing anything, supportive, always available, we just can't say enough about Lauren and her team! We are so thankful! Your wedding can't be done without her

Angelina R.

Married on 05/14/2021

The best in the industry! Look no further!

What can I say, Lauren is absolutely incredible. Lauren stumbled upon my horrific Pen Ryn story on Facebook (WORST VENUE EVER NEVER WORK WITH THEM!!) and offered to help me with my wedding planning out of the kindness of her heart. I had everything planned with the wedding only being 6 weeks away but I agreed to work with Lauren. This was the best decision I ever made. Lauren was always an ear to listen any day at any time. She became someone I could call a friend. Lauren isn't just a wedding planner, she is an amazing person with a huge heart. Leading up to my wedding postponement Lauren helped with as much or as little as I wanted. I never felt like she took control of my wedding planning and that I was always included. But if you're looking for someone to take control she'll do that too, trust me! On the day of the wedding I had a few mishaps. Lauren came to my rescue even though she had another wedding 2 hours away. I was so thankful for all of our chats and the endless amount of help she provided me with. Grace and Dana were there the day of my wedding. They were both very helpful and left me with no worries all day. They were both very organized and I felt the day went extremely smooth thanks to them. Choosing Lauren and her team is completely and totally worth it. You will not be disappointed!!!

Sammy S.

Married on 05/14/2021

Beach wedding

We had a beach wedding and Lauren did an amazing job and fixing all of the things behind the scenes in order for my husband and me to enjoy our special day! Would highly recommend!

Melanie N.

Married on 06/20/2020

Covid crazy but perfect

Lauren, Angela, and team were incredible. We originally hired them to coordinate a venue that was already decorated and they just had to coordinate day of. Because of COVID, our plans were cancelled. Angela not only helped us negotiate with the venue to get our money back, she helped us plan a whole new wedding in less than a month!!!! She was there for me every step of the way while I had meltdowns about the whole fiasco. Not only did she not ask for more money, she helped me to organize, she took it upon herself to come early to set up for our special day, and kept me calm throughout the process. She felt more like a friend than a planner! We are so thankful we had Angela on our special day. It was absolutely perfect and we couldn't have asked for more. 100% recommend them for whatever you need! They are the best.

+ 7

photos

Leanne B.

Married on 06/05/2020

Angela and team are the best!

Hiring Angela and team was without a doubt one of the best decisions we made in our wedding planning. We hired Angela before the start of the pandemic as a day-of coordinator for our June 5, 2020, wedding. We were faced with the task of rescheduling our date not once but twice, and Angela stepped in to assist with contacting each of our vendors to see if the new dates worked and getting updated versions of our contracts completed. She made the entire process completely seamless and stress-free, all while supporting us through the tough decisions we had to make along the way.

Once we had our new and final date scheduled, Angela continued to go above and beyond and assist in any way she could. She attended venue meetings, scheduled and attended vendor meetings, gave us a checklist to ensure we weren't missing anything, helped pick up and drop off decorations and alcohol to the venue the week of the wedding, and ran the entire rehearsal flawlessly. On the day of, she and her assistant were everywhere we needed them to be. They set up the entire space exactly as I had imagined, and kept my husband, our bridal party and me on schedule so that everything was timed perfectly. If we needed anything, Angela was there to help.

I cannot speak highly enough of everything that she did and would make the decision to work with her ten times over. Angela was incredibly professional, kind and an absolute pleasure to work with. We truly couldn't have done it without her!

Leanne and Steve O'Hagan

Brooke S.

Married on 01/11/2020

Lauren is a boss and you must hire her!

Hiring Lauren for our wedding was one of the best decisions we made! We did most of the planning ourselves so used Lauren for day-of coordination but she made herself available for questions and check-ins while we were planning which was so helpful! On our wedding, Lauren made sure everything ran smoothly and on time. I don't know how she did it but it felt like she was next to us the entire night and also running things at the venue simultaneously, and knew what we needed before we even asked! She's also so organized, sweet, and easy. Definitely hire Lauren! It's money well spent and having Lauren's help makes everything a lot less stressful.

Brandon G.

Married on 12/10/2019

Shes an All Star

Lauren made the day absolutely perfect and we could not have done any of it without her.

Erica N.

Married on 10/12/2019

Day of Wedding Coordinator

We hired Lauren as a day of planner/ coordinator for our wedding in October at Bok. She was so much more than just a day of coordinator for us. From day one she was ready and willing to help us with everything that we needed. Even though I had planned a lot myself, and didn't want anything to slip through the cracks, about a month or so before the wedding, she urged me to step back and let her take if from there. Although reluctant, I trusted her and let her run the show. I'm so happy I let Lauren handle all the vendor details on day of and leading up to the wedding. Bok has a lot of things they require you to do in order to put on an event, and Lauren did everything and more with myself and all the vendors to ensure a seamless day. She enabled me to enjoy my wedding day, and put me and my now husband first. When we ran out of booze at the end of the night because we had a party crowd, she made sure to replenish. She made sure that timing wise everything we wanted got accomplished, and that my husband and I were where we needed to be. She has a sense of calmness she brings to everything and is extremely professional. She's also so personable you feel at home with her too. I honestly didn't have to worry about thing, because I knew Lauren had it under control. She even made sure to look after my purse and my husbands sun glasses that he always loses. Honestly, I can't say enough amazing things about Lauren. If you're looking for a planner, call her and more importantly book her! It's worth it and you won't be disappointed!

Anh

Married on 09/19/2019

Amazing beyond words!

We got married 2 days ago on July 20, 2019. Lauren is EVERYTHING that you need for your wedding in terms of event coordinating. She gets the job done beyond our expectations. She's always available, super professional and easy to work with. If you're still looking, look no further she is YOUR GIRL!

Grace P.

Married on 09/07/2019

Lauren Was a Pleasure to Work With!

Lauren was a pleasure to work with and worth every dollar spent by someone who thought they could do it all themselves. She was worth every dollar spent and went above and beyond for us!

Melissa

Married on 07/12/2019

You definitely NEED Lauren!!!

I found Lauren on Instagram and contacted her with only 2 weeks before my wedding!!! I was starting to get very stressed about the wedding and knew I needed help! She answered all my calls, organized a timeline, helped keep everyone in my bridal party focused! She took care of gathering all my decorations/personal items day of and took them back to the hotel room after the reception! She even helped me find my shoes at the end of the wedding!!! She is a get it done girl!!! She dealt with all my vendors questions (and trust me leading up to the BIG day the vendors have TONS of questions - so stressful as a bride) with Lauren I didn't even have to talk to them!!! There was sooo much Lauren did for me that I had NO idea I needed. Let's just say you definitely NEED her! My wedding was absolutely perfect! I can't thank her enough!

Khalil M.

Married on 06/22/2019

The Perfect Day

From the planning phases, to the last minute tasks, to the flawless wedding day, Lauren was essential to it all. I felt like I always had a resource if any questions suddenly came up. While our special day didn't have any particular challenges, Lauren was always close by to help us if needed. I'm truly thankful for all of her help.

Amanda

Married on 02/16/2019

Amazing wedding planner!

Loved Lauren! She's an insta-bff that is totally level headed when you may not be !
You need her, don't waste anymore time thinking about it.

Michelle A.

Married on 09/29/2018

Best Wedding Planner in Philly

Lauren and her team were the best! We couldn't have had my sister's wedding without them. The event was flawless and she fixed so many things behind the scenes with the limo, timeline, and ensuring my sister and brother-in-law got to taste every dessert which they picked out. As the maid of honor, it was a relief to have them there when the dress was hard bustle and handing me champagne for my toast. There were many little things she and the team were able to guide us through so we could enjoy!
Are you interested?
Send a message