191 Reviews
Recommended by 100% of couples
Quality of service

5 out of 5 rating

Average response time

5 out of 5 rating

Professionalism

5 out of 5 rating

Value

5 out of 5 rating

Flexibility

5 out of 5 rating
43 User photos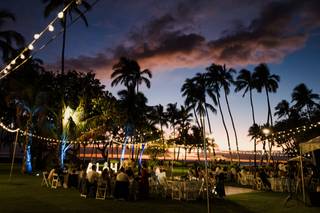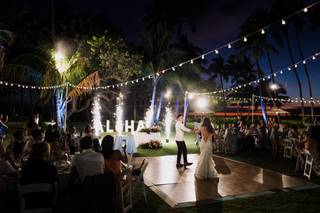 + 39

photos
Lisa G.

Married on 10/08/2022

Fairytale wedding at Paradise Cove

This is going to be quite lengthy, but please continue reading. To set the stage, I am the mother of the groom, Type A and a former Analyst/Project Manager. We started our long-distance planning about 18 months prior to the wedding. Even though I have the skills to plan a wedding, I did not have the contacts, relationships with vendors, or local knowledge. After finding our venue, Paradise Cove – Ocean Gardens, I asked them for planner referrals. Hands down they suggested Mina at Cherish in HI (CIH). After being on the phone with Mina for 5 minutes, I was hooked and wanted to send her full payment to book Cherish.
Mina, Jayvee, Allison, Pam, Elena, and the rest of the Cherish in Hawaii team are true professionals with an eye for style and detail to make your wedding a "magical day", "fairytale wedding" as our guests have deemed our event. They recommended the best vendors – caterer, florist, shave ice, DJ, photographer, and equipment vendor.
We had three ZOOM calls (and many emails) along the process and each time, they we could see our special day come closer to fruition. They took our pictures and ideas and helped us design the venue (which was a total blank canvas – an empty lawn overlooking the ocean), flowers and décor. They managed our vendors, so we didn't have to worry about anything.
If you don't use their full services, please use someone for the day of. Jayvee, Allison, and Elena were truly incredible the day of the wedding. They were there the entire time during set up overseeing the equipment and catering people. Literally at the end of the evening, we walked out without a worry while they stayed and supervised clean up and packed our personal items to return to us. They even tied 225 tiny little bows to complete the table thank you notes. Every detail was covered. Many of our guests have had their own kids' weddings and all commented how our coordinators were sensational. All three of them moved around our venue swiftly and communicating with each other via earphones in full coordination. It was a little like the secret service moving the bride and groom around to their different places.
In summary, CIH is the best in the industry and aside from their attentions to detail and efficiency, the thing I appreciated the most was their kindness and calmness during the whole process, especially the day of. Each time I would go to them with a change or anxiously with a problem, they would say, "we will take care of it", with a genuine smile on their faces. I will be forever grateful to the CIH team!


Robert H.

Married on 05/22/2022

Wedding planners who embody Hawaiians - amazing people

Working with the wedding planners at Cherished in Hawaii Weddings was the best decision we made. They were all wonderful people to work with. They were organized and followed through on their tasks. Their planning tool helps keep our tasks organized as well. They also made great suggestions on ideas that we weren't even thinking about. For the day of, they were there to make sure everything ran smoothly and on time. Overall, we had a wonderful wedding in Hawaii and we can't thank them enough for helping us plan and organize our wedding. We had a blast. Big shoutout to Jayvee, Alison and Mina and everyone else who made our day special.

Richard

Married on 04/22/2022

So Grateful for CIHW!!

We had fantastic experience working with Mina, Jayvee, Allison, and the rest of the CIHW team! We really appreciated their attention to detail, how easy it was to work with them, and their expertise in the industry.

We started working with CIHW 6 months before our wedding. Throughout the planning process, we felt that they really took the time to understand our wishes and ideas, while offering valuable suggestions when appropriate.

Up until the day of the wedding, the CIHW team was in constant contact with us to make sure all of our bases were covered. When Jayvee showed up in her combat boots on the day of our event, we knew that business would be taken care of! Our wedding couldn't have gone any smoother and thanks to the CIHW team, we were truly able to enjoy the day with our family and friends! We also received lots of compliments about how organized and coordinated everything was.

If we were to do it all over again, we would choose this incredible team, without hesitation! A huge MAHALO to the CIHW team for creating a forever memorable event for us!!!

Are you interested?

Send a message

Sonya P.

Married on 02/12/2022

Wonderful, professional and highly experienced planner

We worked with Cherished in Hawaii to plan a destination wedding in Hawaii. Living in NYC, frequent planning trips to Hawaii was out of question, so it was very important for us to work with a trustworthy planner. Specifically, we were looking for someone who understood our style/vision during the initial consultation (done remotely), had a great local network & knowledge about different venues, and could recommend us the best vendors (even the ones that were less advertised). We are so pleased that CIHW checked all those boxes.

The team is extremely competent and experienced; it became obvious to us pretty quickly that they have done this hundreds of times over and that things will be done with little to no margins of error. Once we got to the final couple months till the wedding, we began to see the months of planning come together in a beautiful idea board. Even though we didn't have a chance to visit our wedding venue (Lanikuhonua) until one month before the wedding, the CIHW team (especially Jayvee who led the layout planning, decor and the day-of coordination) already seemed to have an idea about how our visions and ideas could be implemented, based on their experience of having worked with the venue and the vendor line up multiple times. They knew exactly what they were doing, had a clear playbook/checklist, impressive pattern recognition, all the while helping us create a unique wedding we had in mind.

All of the vendors they recommended were excellent, though at times I was a little skeptical of some of them as they didn't have the fanciest website or social media presence. I now know better to just trust them!! :) We had a super last minute, unexpected change to our rental order and Jayvee handled it impeccably. Pam was super responsive with our last minute changes to the limo bookings. Both of them were fully plugged in responding to our messages at all times despite the time difference between NY and HI. We received so many compliments on our decor, caterer and the cake/dessert vendor, and our wedding party absolutely LOVED working with the make-up artist and the photographer too.

Without a doubt I would 100% recommend CIHW to anyone planning a wedding in Hawaii/Oahu. They have been such a joy to work with and we are so thankful to the team for working so hard to make our wedding day an absolute dream!

James C.

Married on 09/04/2021

Cherished in Hawaii did an amazing job!!!

Mina and her team helped us design our wedding vision from the inception to the wedding day. They created a beautiful green, gold and white color scheme, they know all the best wedding photographers and the food their vendor catered was delicious. They put together a clean timeline for us follow on the day of the wedding so that we could enjoy our day without worrying about anything wedding related aside from looking our best.

+ 4

photos

Vanna G.

Married on 08/28/2021

Cherished was one of the best decision we could make for our wedding.

I don't even know where to start...When my fiancé and I begun this destination wedding planning process I knew a planner was a must. And I will always be grateful for the Cherished team. My now husband and I started meeting with planners before we even knew what a pandemic was. Contacted cherished and this was one of the best decisions we made. We worked with Pam, Mina and Jayvee. Jayvee seemed to be our main contact as well as Mina and both were great the entire almost two years of planning. During the whole process, Covid was happening and everyone knows how stressful it could be. Especially from thousands of miles away. The week of our wedding, we assumed we got lucky and Envisioned having the wedding of our dreams. Then boom we were hit with unforeseen unfortunate events the day before we flew out. However, Mina contacted us immediately with a plan and Jayvee made us feel well taken care of. Although we had two days to figure out how to make our wedding happen, after restriction were put in place (again) they assured us their main goal was to Get us Married. They made a beautiful wedding happen for us. You can feel the dedication they put into their clients and work. This team will def make your dreams come true. Even if you don't know what they are to begin with. The team work-not just within each other, but with other vendors is great. You'll feel all the hard work come into effect on your special day and everything will be worth it. Forever grateful they were part of our special day. No need to research other planners. They are more than amazing at what they do. Hats off to the Cherished team. Thank you Pam, Jayvee and Mina 🤍

Lacey D.

Married on 08/24/2021

amazing experience - LOOK NO FURTHER!!!

We are SO grateful we went with Cherished in Hawaii weddings for our wedding this year! The team made this wedding seamless. All we had to do was answers the questions via email and set up a few calls and we had the wedding of our dreams. We were traveling from new york so you can imagine it was a FAR destination wedding. Not to mention, 48 hours before our wedding the hawaii government mandated no more than 25 people at outdoor weddings effective on our wedding day. Our wedding planners were able to make the wedding happen 1 day earlier than scheduled. contacted all the vendors and everything. with no extra fee's on our part. They were there all night making sure everything went as planned. They went above and beyond for us. We would search no further and we would recommend every person use Cherished in Hawaii Weddings for their wedding!!! THANK YOU ALL SO MUCH!!

Cyrenne D.

Married on 08/08/2021

Cherished in Hawaii Weddings is one of the best wedding planners out there!

Let me start by saying that Cherished in Hawaii Weddings is one of the best wedding planners out there in Oahu, Hawaii. I'm so glad I found them! Their wonderful team brought our dream wedding to life and our dream wedding would not have been possible without their awesome team work. So if anyone out there is planning to get married in Hawaii, I highly recommend Cherish in Hawaii Weddings.
Mina is the main contact person and she's very easy to work with. Also, her team is so awesome and helpful. I got engaged New Year's eve of December 2019 and didn't really start looking for a wedding planner until a couple months after I got engaged. And then we all had to quarantine because of COVID. My husband and I weren't really planning on getting married in 2020 anyways, but we're so blessed that we didn't have to postpone our wedding date that we initially picked out. We were planning our wedding for over a year and we were planning it as if COVID did not exist because my husband and I were very optimistic about all of it that we will have our dream wedding come true and we'll still get married no matter what happens. A couple months before our wedding date, COVID restrictions got lifted and we were so happy about that but of course, anything could still happen. CIHW was also giving us some good advice of what we need to do just in case we had to postpone our wedding.
So we recently got married on 08/08/21 at Ocean Garden Paradise Cove, and it was the best day of my life! The weather was perfect, Jayvee coordinated our wedding timeline very well, our EMCEE was so awesome, and everything else was just beyond perfect. We're so blessed!
Overall, CIHW is very hands-on when it comes to working with their clients, so I highly recommend CIHW if you're looking for a wedding planner who could help you plan your dream wedding.


Michele M.

Married on 08/07/2021

Most supportive wedding coordination

Jayvee, Mina, and Pam worked so cohesively as a team to help us plan our wedding from out of state- even two years in advance. They were all very timely in their communication regarding various parameters of our wedding (finances, vendor coordination, etc.) and we felt extremely supported by them and their expertise with wedding planning. Mina did a great job with organizing contracts, communicating with wedding rehearsal/day of vendors, and finding us various options for vendors, etc. Jayvee was an absolute life saver when in came down to about 4/5 months before the wedding when we began to coordinate our timeline. She walked us through every detail and truly made our special day run so smoothly. Thanks for taking the stress out of the planning for us Jayvee! CIHW is an extremely professional team and we will definitely be recommending them to our friends in the future.

Cristine S.

Married on 03/20/2021

Excellent. So happy we hired them.

The Cherished in Hawaii Weddings team was so amazing and it was such a pleasure to work with them. Mina, Jayvee, Leah, & Pam all helped to make our wedding day perfect. Not everyone can say that they got married during a pandemic, but they truly still made our wedding day so special for us. We can't thank them enough for all they did. They definitely made the whole planning process less stressful! We love the CIHW crew!!

Sarah G.

Married on 09/29/2019

Wedding at Ocean Garden, Paradise Cove

Mina, Leah and Jayvee were so patient with us. We talked over everything, they gave us ideas whenever we ran out of any more. They kept us on time and within our budget (a little under budget actually) :)
We did not have to worry about forgetting anything and they guided us through the event. We did not have to think about the next steps nor the timeline. That way we were able to fully enjoy our wedding. Our day was so perfect! Thanks to the team! We recommend them to everyone who would like to celebrate a special event in Hawaii.
Mahalo
Sarah & Kevin

+ 2

photos

Lea M.

Married on 09/19/2019

Cherished in Hawaii wedding of our dreams !

I can't thank you enough to these amazing wedding planners for giving us the wedding of our dreams. Jermaine & I are from California, so I knew that planning our wedding wouldn't be easy if I did it on my own. Shout out to Mina, Leah & Jayvee for keeping me sane through the whole process! We opted for the full coordination service since we didn't live in Hawaii. From the very beginning, I spoke & emailed Mina regarding budget, venues, vendors and ideas. We had a little over a year to plan the wedding and Mina was great w/ responding & gave us many options. Jayvee handled the wedding decor & our wedding vision board, I'm so thankful because she was very patient w/ me and helped us save money where we could. Because we had ample time to plan the wedding, I really didn't worry or stress too much up until 2 months before the wedding and that's when I was introduced me to Leah. Leah is the timeline coordinator, she goes over EVERY detail of the wedding. With a little over month before the wedding, we spoke to Leah on the phone for almost 4 hours.. she went through EVERYTHING. Day of the wedding, everything went so smooth! It honestly didn't hit me until my MOH pulled the car up to the venue where Leah met up with us and offered to get me a drink to calm my nerves. My husband also coordinated with Leah for a surprise number during the reception. These women are a godsend and if I could relive this day over again I would because it really was the best day of our lives. My only regret is that we didn't get a picture with them on the day of. CIHW thank you so much for everything, we couldn't have done it without you guys! I'm so impressed & feel so loved by this team, you all have exceeded my every expectation for our best day ever. Aloha & Mahalo nui loa Cherished in Hawaii Weddings!

Krys G.

Married on 06/28/2019

I highly recommend

The Cherished in Hawaii Weddings team was amazing! I planned our wedding from out of state which (as a bit of a control freak was tough ;) ). With a hectic work schedule and not a lot of time to plan these ladies really helped guide me through the entire process. They broke down each part -- sending me emails with links to the best vendors and allowing me to choose. It was SO helpful. On the day of the wedding, everything was absolutely beautiful. Also, the team is the sweetest and very professional. I really enjoyed getting to know them and I would highly recommend. Thank you for everything. Cheers!


Rhena

Married on 05/28/2019

Best Coordinators

Excellent service from Mina, Jayvee, & Leah! My husband and I had an amazing experience with them and they helped us make our dream come true. Every time I get to speak to them on the phone, they answered all questions & concerns that I had, they always make me feel at ease with all the stressful planning =) I wanted everything to look perfect. I was also on a tight budget and they gave me a lot of options to choose from.
Cherished in Hawaii Weddings, I cannot thank you all enough for doing such a great job. You all went above and beyond from planning to wedding day.
If I were to get married again, I'd choose you all over and over again! Miss you all.
Love,
Rhena & Jayson I.

Theresa R.

Married on 03/26/2019

Very professional and organized planners!

I am a Torontonian who was looking for an affordable wedding planner in Hawaii, that would make the process of planning a wedding 4600mi away go smoothly. Other planners I looked at required a minimum spend; one was $50,000 USD which was more than my initial budget. Fortunately, Cherished in Hawaii Weddings has no minimum spend. They were very respectful of my budget, even though I personally decided to go over afterwards because eventually I just said "YOLO!"

I'm so happy I found this whole team of lovely ladies from Cherished in Hawaii Weddings! Mina, Leah, Jayvee, and their assistant Taylor carried out my vision on my wedding day. I was going for a modern, tropical vibe which was exactly what I got! Although they all have different roles (Mina communicated with my vendors, Jayvee handled the rentals and was also my wedding day coordinator along with Taylor, and Leah was in charge of the timeline), they all worked in unison to ensure that everyone was on the same page with the wedding.

I was the kind of bride who was very involved (a.k.a. annoying and OCD lol), so I am very thankful for the ladies' patience with all my emails and questions, and especially the constant changes I was making. I know that must happen with many brides, but the team always remained professional and understanding.

Communication is extremely important especially with destination weddings, and the ladies always responded to my emails promptly with detailed answers. They also offered their personal numbers in case I needed to text or call them for more pressing issues, especially as my wedding date approached. They could tell that I am a very detail-oriented person and a perfectionist, so they ensured that all of my requests were addressed and executed what I wanted. Some brides do not know what they want, which is totally fine. That is why the ladies are there to help! The team still gave me a lot of great suggestions for the things I was unsure of, which was really helpful. They were also very honest with their opinions, which was beneficial in choosing vendors. They were able to share their past experiences with vendors so that I could make informed decisions. Through our communication, I gained full trust in them to ensure that my wedding would go as perfectly as it could. They also went above and beyond for me when it came to an issue that involved the wedding alcohol, so I can't thank them enough for that. It was a mistake that I had made, but they found a solution. They were definitely able to relieve the stress of wedding planning.

In addition to executing my vision, my wedding day was very organized. No one wants chaos on their wedding day. Jayvee, who was my day-of coordinator, made sure I stayed as on-track as I could along with all the other vendors and set-ups. My wedding day was indescribably more beautiful that I had expected, so I thank them immensely for helping to plan the best day ever! Even my guests said that it was the best wedding they had ever attended. My husband and I feel the same way, and we're not even being biased. I am so sad that my wedding planning journey has come to an end. I am glad that I was able to meet the lovely team and thank them in person. They are all so warm-hearted and passionate with their work. Any bride looking for an affordable wedding planner, or any planner for that matter in Hawaii should definitely book Cherished in Hawaii Weddings for an organized and perfect wedding day!

Sean K.

Married on 02/22/2019

Thank You for the Perfect Day!

Mina, Leah, and Jayvee literally blew it out of the park for our wedding. We knew it would be a challenge planning a wedding a couple thousand miles away (from California) especially at venue like Lanikuhonua Cultural Institute but their experience and patience really made us feel at ease. They were able to refer us to an amazing array of vendors and pull off the look we were striving for on our big day. Most of our communication was done through email or phone since we are located in California, but that never gave us any hesitancy due to their professionalism and timeliness.

Mina - handled all of our communication with vendors and made sure any additional day of needs were taken care of.

Leah - on site coordinator that handled everything with ease and created a perfect wedding day timeline so our wedding party knew what to expect at what time.

Jayvee - handled all of the rentals/decor and pulling off the exact vibe and look we wanted.

There aren't enough words to describe how perfect of a team they are. The compliments for our wedding have been endless and we can't thank the Cherished team enough for all that they did before, during, and after our wedding. We honestly feel kind of sad that we won't be communicating with them anymore now that our wedding has passed haha but we'll forever feel indebted for all that they did for us.

Thank you CIHW team for making our wedding day dreams come true!

Girlie D.

Married on 02/08/2019

Pleasant to work with and very professional.

Mina and the her crew where very responsive to our needs. The were very clear on what to expect on cost and services, they are on top of the schedule from the very beginning to the final stage of the event.


Angie

Married on 11/16/2018

Dream Wedding

The ladies at Cherished in Hawaii Weddings did a phenomenal job planning our wedding. I truly had my dream wedding thanks to Leah, Jayvee and Mina.

I live in California and I knew I needed help planning this destination wedding. I hired CIHW a year in advance and throughout the whole process, I never felt stressed out or apprehensive. They responded so fast to any questions or concerns I had. They also gave me great recommendations on every aspect of our wedding. The wedding day played out so perfectly and any hiccup was smoothed over so effortlessly by these ladies. For some reason I totally forgot to get a garter for the garter toss and these ladies were so creative and made one for me from ribbon I had from my send off streamers. I remember I was so nervous before the ceremony but with their help, I relaxed and had so much fun! The planners at CIHW are so organized, experienced, professional and kind. After seeing them in action at my wedding, I knew I made the right decision. The wedding was a huge success and came out better than I had expected. My husband and I will be forever grateful for their services and I believe they went above and beyond for us. If you are looking for wedding planners, you will make the right choice hiring these ladies at Cherished in Hawaii Weddings.

Ashley T.

Married on 10/18/2018

Exceptional Wedding Planners

From start to finish Cherished in Hawaii were so easy to work with and kept on top of everything! I never felt stressed in the entire year we worked with them leading up to our big day as I felt very confident in CIH and that they knew what they were doing! They had loads of templates and sent you things to do throughout the planning process but never bombarded you with to much at once. They seriously are just amazing at what they do I cannot fault them for anything. In fact I had no idea how it would all look or all come together but it completely exceeded my expectations. Our day was absolutely perfect. Mina, Jayvee, and Leah handled different aspects of the wedding planning process. They were all exceptional at the part they played. Mina handled all the details, Jayvee did the design, and Leah did the timeline and ran the show on the day. It was awesome to see them in action on the day itself! My guests were amazed and kept saying what great planners we had. Leah was unbelievable and I know she does this all the time but she made me feel like a queen that day. I dont think I had to worry about anything, they literally had everything under control the whole day and night!

Also I spilled some balsamic on my dress, Jayvee saw and ran over, unzipped her little pouch and pulled out a tide wipe and cleaned it right up!! Was so great.. what a lifesaver! That would have been terrible if I had to walk around with a stain on my dress all night!!

I should also mention that we changed our whole layout the day before the wedding as the weather looked to be sunny and we decided to have dinner outside out from under the tent, and then make the tent for the dance floor and bar. They did this with a complete smile and who knows if this was difficult or not for them cause they made it happen seamlessly! Or at least that is the impression they gave us. So just complete professionals. Loved that flexibility. It was all about us and what would make our day perfect, not what might be easiest for them.

My guests also raved about the food!! They used the words "to die for" many many times! I would highly recommend the caterer they use. We were thrilled with all our vendors through Cherished in Hawaii and used all of theirs apart from we chose our own photographer/videographer. But we were happy with literally everything they recommended.

I will miss working with these ladies. They were so great. So all in all Cherished in Hawaii are an 11 out of 10. They were absolutely fabulous and you would be crazy not to hire them for your wedding.


Jeremy O.

Married on 10/18/2018

Amazing - best decision we made

The team made the day go so smoothly. A bunch and intelligent and helpful people. Weddings are apparently meant to be stressful, we never felt stressed. Highly recommend these guys.

Leah

Married on 09/28/2018

I am soooo glad that I booked Cherished in Hawaii Weddings in helping us plan and organize our wedding. My main point of contact was Leah and she was very helpful, knowledgable, and organized. She helped to plan the timeline, organized my vendors, planned my rehearsal, and made sure that everything ran smoothly on our wedding day. I am so thankful to have had her on my wedding day!!! Definitely would recommend to book with Cherished in Hawaii Weddings on your special day!

Alina

Married on 08/18/2018

From the beginning, I knew that I wanted to hire a wedding planner. After doing some research and even meeting with a few planners, we decided to go with Cherished In Hawaii and we are so happy that we did! We worked with Mina in the beginning and she is such a joy to work with! She's so sweet and patient and made things so much easier and less stressful for us :) Mina was very responsive and answered all my questions and offered great suggestions during the entire planning process!

As the wedding got closer, we met Leah who is just as amazing! Leah was our on-site coordinator for the day of the wedding and she handled everything so well! She was so patient and always seemed so cool, calm, and collected. Even if things didn't go exactly as planned, we never noticed because Leah has a way of making you feel like everything is totally fine (and it always was because she handles things so well!!!) My husband and I were able to just relax and enjoy our wedding day to the fullest!!!

Overall, the entire team at Cherished In Hawaii is amazing! They truly helped bring our vision to life! Everything turned out perfect on the day of our wedding and we are so pleased with their services! If you are looking to book a wedding planner, then look no further! Mina and her team are definitely who you should go with!!! Thank you so very much ladies!!!

Nikki

Married on 08/08/2018

Where to begin.... Mina, Leah and Jayvee with Cherished in Hawaii Weddings were absolutely incredible. As my husband and I are from Canada, we felt it made the most sense to hire a wedding planner... BEST.DECISION.EVER hiring CIHW. These three ladies made our planning so easy and stress free, and we could not put a price on that. Mina was incredible by working with us for nearly a year and a half booking all of our vendors, all of whom were phenomenal. Jayvee, she was so easy to work with when it came down to ordering our rentals and really did an excellent job in understanding what our wedding vision was and created the perfect inspiration board for us to envision what our layout would look like. And then Leah... our executioner! Leah had such an incredibly calming and warm personality during the day of our wedding and really ensured that any hiccups were taken care of, and that my husband and I were having the best day. We really do not have enough words to express our gratitude to these ladies for making our biggest day so incredible. CIHW offers incredible services at, what we felt, was an affordable price. These ladies work hard for their couples and we are forever grateful <3
Love, Nikki and Josh

Lisa

Married on 07/22/2018

Thank you CIHW team!

We chose to go with CIHW to plan for our destination wedding. The team worked with us every step of the way from the day they took us on until our wedding day. We have them to thank for everything going so smoothly. What we enjoyed the most about CIHW is that they were quick with communication and made it very easy to plan a wedding in Hawaii all the way from Arizona. Thank you CIHW for helping us make our wedding dreams come true! It truly was the best day of our lives.

Lisa

Married on 06/28/2018

If you are thinking about getting married in Hawaii, I highly recommend working with Cherished in Hawaii. Mina, Jayvee, & Leah are the absolute best! My husband and I are from San Francisco and it was great working with them even though we were thousands of miles away. They have great relationships with all the vendors that we chose and together they truly created a dream team! Our wedding was exactly how we envisioned and all our friends have been telling us --- "Best wedding we've ever been to". All I can say is Thank You, Thank You, Thank You to the Cherished crew!
Are you interested?
Send a message