69 Reviews
Recommended by 100% of couples
Quality of service

5 out of 5 rating

Average response time

5 out of 5 rating

Professionalism

5 out of 5 rating

Value

5 out of 5 rating

Flexibility

5 out of 5 rating
Awards
26 User photos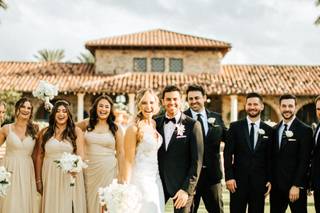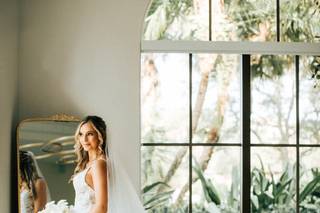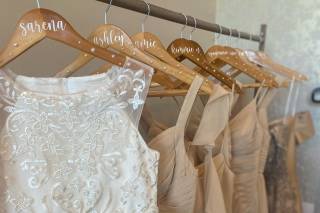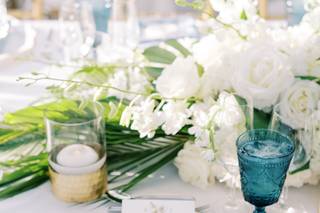 + 22

photos
Hillary

Getting married on 05/27/2023

Bettina is spectacular!

Hi future bride and groom, I JUST got married this past Saturday and needed to show my appreciation for Bettina and her Busy Bee crew Destiny and Amanda. Wow, just wow.

I started working officially with Bettina 6 weeks before my event, and the minute she started, I felt at ease. She swooped in, explained the logistics of the day and I knew she would be able to handle anything on my special day.

We experienced a random storm, my now husband's suspenders breaking, the wind breaking my wedding sign, my table seating chart coming broken, and when I tell you, Bettina didn't break her smile, Bettina, Destiny and Amanda were incredibly calm and handled everything so I could just enjoy my party!!!

We ended up with the most beautiful sunset, she fixed my hubby's suspenders, she covered the sign with flowers, found a way to fix the table seating chart, she went above and beyond and I truly don't know how she does it!!!! I wouldn't change a thing!!! Forever will be appreciative of working with Busy Bee's

Carolyn E.

Married on 03/02/2023

Best Decision We Made!

Our best and smartest decision was hiring Busy Bee's Events for our wedding! At first we thought we could do it ourselves. We were so entirely wrong and that would have been a disaster. Bri at Busy Bee Events was nothing short of a dream! She was our guardian angel throughout the whole process. Our wedding was absolutely flawless and it was because of her exceptional planning qualities. Every detail was hit. And I mean every single detail. You can tell she loves what she does. The flow of the entire wedding day, in addition to the rehearsal and day of getting ready with 11 girls, was not stressful at all resulting in everyone enjoying themselves. We had 19 people in our wedding party. I can't say enough good things about Bri. She is extremely talented and you would be so lucky to have her by your side every step of the way. She really cared about our vision and did everything to make it come alive. She made sure I was happy and confident with every decision. I texted and called her all the time and she truly made us a priority. She communicated with our vendors so we didn't have to. You don't realize the extent of planning delivery, pick up and everything in between. She was our go to girl. I didn't have to do anything! Bri is professional, smart, organized and an absolute pleasure. I didn't even lose sleep because I trusted her with our wedding and she really blew our minds and all 109 of our guests! (She may have lost sleep but it definitely didn't show!) Ok, well, I could just go on and on because if there is 1 thing you should do for your wedding, it's hire Busy Bees without a doubt. They turned our wedding into a magical fairytale. We have received the most heartfelt positive feedback and I truly owe it to Bri and her team. Samantha was my bridal concierge and followed me around all day like my guardian angel. Not a single detail was missed and it was just so wonderful having them. We will always remember their hard work and happy smiles! I already miss them. Thank you Busy Bee's for making our wedding a phenomenal success. It's all because of you! All our love, Carolyn and Kyle Scavone.

Busy Bee's Events's reply:

Oh my goodness that was the sweetest review ever thank you so much.It was such a pleasure planning by your side and bringing the magic to life. Such a memorable night, we're so glad every single person enjoyed seeing your vision brought to life it was really a dream come true. We miss you! Thank you so much for the kind review.

Alyssa W.

Married on 12/04/2022

Team Busy Bee's For The Win!

Ever since my first call with Adriana I knew I was in great hands! Adriana was very friendly and helpful and she introduced me to my AMAZING coordinator Becky. Becky is a rock-star! She always reassured me that everything will work out and she made me feel comfortable from the beginning as if I've known her for years. Becky helped me with my timeline, coordinated with all of my vendors, and much much more. Stephanie was my bridal concierge and she was the sweetest ever. On the day of my wedding, she helped me with so many things and made everything run smoothly. The whole day was perfect and I couldn't have asked for a better team by my side! Love you guys!

Are you interested?

Send a message

Stephanie L.

Married on 11/12/2022

Bettina and her team are the best!!!

Bettina and her team are the best of the best!!! I had a 2 year engagement and really thought I had everything figured out, but hiring Bettina for the 6 weeks up to my wedding was the best decision. Bettina is so organized, so experienced, and has so many relationships with other vendors, that she quickly relieved me of so many last minute planning duties, and took over. Our vendors were scheduled, managed, knew where they were supposed to be and when, all because of Bettina and her team.
Stephanie was with me all day in the bridal suite, handling things I didn't even know needed to be handled. She was beside me every step of the day, and I would have lost my bouquet and been passed out from dehydration if it wasn't for her! Venue coordinator and wedding planners are not the same thing! Bettina catered to me and my husband first despite what vendors pushed. Also, dealing with our very loud Italian & jewish family is not easy, and Bettina had us all in line and on time throughout the day! She sewed and pinned my broken bustle, and comforted me and took control when my outdoor ceremony turned indoor 4 hours before starting time. If you are doubting a wedding planner/coordinator, trust me when I say you need one to fully sit back and enjoy the best day of your life, and you can put all your trust into Bettina and her team!!

Dyann L.

Married on 11/04/2022

Busy Bee's is incredible!!!

Busy Bee's is WONDERFUL. I had a small wedding (45 people) and thought my day-of coordinator would have pretty limited work to do... I couldn't be more wrong or more grateful that she was there. I worked directly with Bettina and Becky (who was on-site for me that day) and she was spectacular. Not only did we speak multiple times before the big day, she told me exactly how to get organized and we had the perfect game plan once the day came around. Of course, weather, unexpected delays, and small obstacles popped up and Becky fixed the bumps in the road without adding any stress to my day. She kept me relaxed and made sure my day was enjoyable. Becky went totally above and beyond, my guests had an incredible time, and not even rain could keep us from having the most wonderful night. I am BEYOND grateful for this team and would recommend them to anyone planning a wedding. Thank you ladies so much!

Ashley B.

Married on 10/29/2022

Hire them!

There are not enough words to describe how appreciative I am of Bettina and her team. From start to finish, Bettina and her team took care of everything... I mean EVERYTHING! They made the wedding planning process seamless down to every last little detail. Friends and family would tell me all the time that I was the calmest bride they've ever seen and it is all thanks to Busy Bee's. My wedding day was the best day of my life.

Diem

Married on 05/20/2022

Most immaculate team ever!

It's been a little over a month since our wedding and I can not stop thinking about how perfect it was! That was all because of the Busy Bee's team. The whole experience relieved so much pressure and stress from me. Their work ethics, dedication to details, and genuine compassion was nothing short of exceptional.
The Busy Bee's team were so sweet and humble!
On our first meet up, Bettina graciously offered her expertise advice even before finalizing our contract with them.
We had the pleasure of working with Samantha(head planner), Stephanie and Jasmin. Samantha was AMAZING! She was prompt and organized. When I felt overwhelmed, she was understanding, gave me time to process and put me right back on track. I really appreciated that.
On the day of, I was restless and there was heavy rain. I was feeling so anxious. Samantha and Stephanie's professionalism brought my stress level down to zero. Their calm demeanor and diligent efforts made my wedding day tranquil. I truly felt regal! The only thing I regret is not getting a photo with the team. Other then that, my wedding day was perfect. Thank you so much Busy Bee's!

Ali M.

Married on 05/14/2022

The best team EVER!

There are no words to express my awe and gratitude for this team! Samantha and Becky were absolutely amazing and I cannot say enough good things about not only their work ethic, but their kindness! Sam is a rockstar and held my hand through the entire planning process - and I'm almost positive she is a mind reader. :) If Sam was the head of the operations, than Becky was the neck and I cannot thank them both enough. I've said it once and I'll say it a million times - hiring Busy Bee's for your big day is not a suggestion, it is a requirement!

Kassie D.

Married on 05/14/2022

Wedding Planner of my Dreams

I truly cannot imagine having my wedding without Bettina and her team. On my first call with Bettina, she put my anxious bride fears all to rest. I was planning a destination wedding and had no idea where to begin! After our first call, I had 100% confidence in Bettina and her team to help me create the wedding of my dreams. Bettina was there every step and helped keep us on track and on budget. I appreciated that I never heard "no," but a "let me look into that" or "let's see how we can make that happen." Bettina and her team were so supportive leading up to the wedding but blew me away on the day. I can't imagine the day without the support of Marissa and Sam! Marissa would have a bottle of water ready to go before I even knew I needed it - truly amazing! I am sad that my wedding day is over, but even sadder I will not be working with Bettina! Bettina is professional, honest, creative, and an amazing person to work with. I cannot recommend her and her team enough!

+ 2

photos

Laura

Married on 04/08/2022

We had the best wedding!

Bettina was fantastic. I thought I was going to be a very chill bride and it turns out that was false :). I changed my mind a bunch and was always second guessing my decisions. Bettina navigated all of my requests (and changes!!) and kept everything on track and on budget. She helped us focus on what was important. My husband and I had the most incredible time at our wedding as did all of our guests.

Madelyn P.

Married on 04/02/2022

The professionalism and positivity from the Busy Bee's team is OUTSTANDING!

It was an absolute pleasure working with Busy Bee's! From my first call with Bettina, which was extremely helpful and informative to when we officially began working with our planner, Brianne. She was the BEST! I'm pretty organized but was beginning to get a little overwhelmed and once she began guiding us through the process it just brought so much clarity and made the experience less stressful!

No matter what question I had, she never made me feel silly for asking and always took the additional time to explain it in a way that made sense. I don't have much experience with weddings as I'm the first in my friends and family to get married and Bri explained how the flow of events went and why/how things were usually done based from her experience. I truly feel that every time we spoke, emailed, and exchanged text messages I was learning something new and felt more at ease each time as the wedding date approached. Even the day of the wedding and during reception, Bri ensured that things went smoothly and important parts of the night took place without me having to think about it. I really don't know what I would've done without her!

Our bridal concierge was Becky and I couldn't have asked for a better person to have by my side. I am easily overwhelmed, especially when presented with too many options/decisions and on the day of the wedding, her attentiveness and calming presence made me feel extremely relaxed throughout the day.
Brianne and Becky are honestly just cool people and made us feel comfortable!

The professionalism and positivity from the Busy Bee's team is OUTSTANDING! Our wedding day was amazing and a huge part of it is thanks to them!

Melody D.

Married on 02/26/2022

Best Vendor Ever

It's hard to put into words how absolutely incredible working with BusyBees was. As a VERY type-A bride I thought I had thought of everything before my (now) husband I started work with Bri. I am happy to admit that I did NOT think of everything (I mean, seriously, who thinks to plan napkin folds!!!) but that's okay because Bri absolutely knew what to ask (and what to recommend). She was a joy to work with, to get to know, and to make us feel like everything was completely under control for the big day. THEN- I though our experience with BusyBees couldn't get any better until I met my bridal concierge, Becky, who honestly felt like a best friend, ready to make sure my every want and need was met (plus more) on the big day! Looking back on planning (and experiencing) our wedding, I think about how perfect every moment was because of the incredible care and attention BusyBees provided. 10/10 recommend!!

Brielle C.

Married on 01/15/2022

Bri and Busy Bee's Events are the BOMB !!!

I literally could go on and on forever about Busy Bee's Events. My mom and I were debating on whether or not it was necessary to hire a wedding planner - and I'm so thankful we did! I don't know what I would've done without Bri as my head wedding planner. For the 6 weeks before my wedding, Bri was my lifeline. We would talk about everything I did or didn't know I needed for my wedding day. Bri was attentive to detail, thoughtful, organized, fabulous, and most importantly, she is there to make all your wedding dreams come true. The event for sure would not have gone as smoothly if it wasn't for Bri having everything under control. I tend to stress out easily, but having Bri there every step of the way made my wedding planning experience essentially stress free. She took care of EVERYTHING! On the day of, I did not have a care in the world. I can truly says that because of Bri taking care everything, my wedding day was the absolute most magical and breathtaking day of my life. Oh and also, Becky was the best bridal concierge I could've asked for. She never left my side all day on my wedding day and she took care of every little detail for me. I highly recommend Busy Bee's Events team. Busy Bee's Events has great relationships with vendors and they are highly respected in the wedding industry.

Nishant P.

Married on 12/18/2021

Best of the Best!

Bettina and Samantha designed and executed my wife's surprise 40th birthday party! It was epic! Gatsby themed, with details I could have never imagined (dance floor wrap with gatsby colors and with my wife's name on it, custom constructed and themed bar, balloons, center pieces, flappers, photo booth, and much more). First class and wouldn't change a single detail. Recommend without any reservation!

Alexa J.

Married on 12/04/2021

Best decision ever

I truly can't imagine what my wedding would have been like without Busy Bees. Bettina and Bri were absolutely amazing! From multiple calls ironing out small details to taking the pressure off of me by coordinating with my vendors to make sure everything would be perfect - I can't thank Busy Bees enough. They think of absolutely everything, are incredibly detail oriented, and are some of the hardest working ladies I've ever met! Their knowledge and experience is unparalleled and the impact they made on our wedding day was invaluable. Through our the entire day Becky and Rachel made sure we had everything we needed, kept us on schedule, and went above and beyond (including throwing my veil in the air on the beach multiple times at the photographers request and trekking through the sand with cocktails and appetizers for us). Meanwhile, Bri and Bettina made sure the room flip was perfect, cocktail hour was going well, and a million other logistics, many of which I'm sure I don't even know about! Bri did an AMAZING job! Bottom line - hiring Busy Bees was hands down the best decision we made.

Tara K.

Married on 11/26/2021

Do yourselves a favor and hire Busy Bee's to coordinate your wedding!

Do yourselves a favor and hire Busy Bee's to coordinate your wedding! I used their month of coordination service and had the pleasure of working with Samantha and Becky. Samantha helped me put every little detail in place before the wedding (including a lot of things I had NOT thought of until she prompted me!) and made sure everything was in place that day. Becky was by my side all day taking care of things from getting the bridal party where we needed to be on time to offering me snacks and water throughout the day. The whole bridal party commented on how helpful she was! I am SO grateful they were there worrying about all the small details so that I didn't have to.

James M.

Married on 10/30/2021

Amazing!!!

Wow! We were blown away with the level of service provide by our day of team. Adriana, Destiny, and Stephanie far exceeded our expectations. They were extremely organized, attentive, and polite. At one point I feel like I gave Destiny everything I brought in my suitcase and she had it all available for me when needed even while carrying my tux jacket for an extended time. They helped us coordinate last minute changes and were very accommodating with our special requests. We had a few hiccups with our other vendors but they handled it extremely well and made us feel at ease. Adriana was very responsive before, during, and after our event and helped us make decisions on things we had not expected. We can't say enough good things about them and we are extremely grateful they made our special day a success. Thank you!!!

Busy Bee's Events's reply:

Yay! We're so glad to hear we could help make your beautiful day come to life! We had such a great time planning by your side and we loved how everything came out! Thank you for trusting us and for the sweet review!

Shanelle R.

Married on 07/23/2021

Incredible Experience

When starting my wedding planning process I first thought I could totally do it by myself. Yeah, that was pretty hard. I reached out to Busy Bee's and it was the best decision I made. They handled EVERYTHING from planning the tastings, walk throughs, making sure all of the vendors were on the same page, and most importantly, I was able to ENJOY my wedding day, I literally felt no stress the entire time. I had the most amazing bridal concierge who took care of everything during the day. All I had to do was show up! I could not recommend them enough. They are always available, and they respond so quickly. We had to postpone our wedding from December of 2020 to this July and I thought it was going to be a huge stressful process. Nope. Bettina and her team took care of it all and just kept me in the loop. It is because of her and her team that I was able to relax and enjoy every part of the wedding. Thank you guys so much for making my wedding absolutely incredible. Wish I could have m wedding all over again just to hire you guys!!

Busy Bee's Events's reply:

You are the sweetest! It was such a pleasure planning your beautiful day, thank you so much! We're so glad to hear how relaxing the whole process and big day was for you, thats one of our biggest goals!

Wendys F.

Married on 06/12/2021

The Best Wedding Planner!!

When my fiancé Marty and I began our wedding planning process we had no clue where to start, but we did know that we wanted to hire a planner to help us throughout this journey. We searched around and we were blessed to have met Bettina, Adriana, and the entire Busy Bee's team! When we tell you that there is no one else in the industry as hard-working and as caring as the gals from Busy Bee's, we are not kidding! It has by far been the best decision we could've done. From the very beginning, they sat down and got to know us as we discussed our visions and how we could fit that within our budget. From that moment on, Busy Bee's handled everything. From Venue search, walk-throughs, finding and negotiating with vendors, tastings, logistics, and more, to finally make our special day a dream come true! We truly enjoyed how we had open communication and always responded promptly to any questions or concerns we had. The attention to detail and organization was always top-notch and we always felt like we were treated as family. When it came down to the week of our wedding, they handled everything smoothly and perfectly. From changes to our rehearsal dinner location to getting our wedding party on the same page, Bettina and Adriana made sure to operate making it memorable and enjoyable. The wedding day was a dream come true!! We felt relaxed knowing that we were in the best of hands. The only thing that was making me nervous was the weather which was looking like it was going to rain for our outdoor ceremony, but Bettina always kept an open communication with my husband and me and made us feel like no matter what happened, they had it under control. As we continued to get ready, Adriana was my amazing bridal concierge and she was in my room with my bridesmaids helping us get ready, and made sure to keep us on track. Even for our first-look, my husband got a stain on his white tuxedo and Adriana made sure to quickly take our her handy-dandy stain remover right before our pictures! Whew! And on the other hand, Bettina was also making sure that the groom, groomsmen and the rest of the family were doing okay staying on schedule, all on top of coordinating everything else with vendors behind the scenes. Luckily, the rain pushed back and did not ruin our outdoor ceremony, and right before I walked down the aisle with my father, I had a truly special moment as this planning journey came to an end. I had my father to my left and Adriana to my right, standing next to me, helping me stay relaxed while enjoying the moment. As I walked down the stairs, Bettina was waiting for me with a smile on her face and she and Adriana quickly got behind my dress and opened the train so beautifully and it became the perfect moment of pure stillness and all the hard work that they had put in to achieve this, as I was just about to walk down the aisle. Once we got to our reception, oh my goodness! It was like a true fairytale dream. Our vision of what we wanted became a reality and so much more! From the placements to the decor, the flowers, the timeline, everything was absolute perfection and we just truly couldn't have done it without Bettina, Adriana, and the entire Busy Bee's team. We are so lucky and will be forever grateful to these gals for making our dreams come true. We not only had wedding planners but we also gained friendships that have started through this and we couldn't have asked for more. THANK YOU BETTINA, THANK YOU ADRIANA, AND THANK YOU BUSY BEE'S FOR EVERYTHING!!
So for anyone looking for a wedding planner, please look no further than Busy Bee's! You will not regret it and will be one of the best decisions you could ever make in your wedding planning journey.

Busy Bee's Events's reply:

Wow :') Thank you for sharing that beautiful moment, its always one of our favorites! Your wedding was truly one for the books not only for how gorgeous the day of was but for how beautiful and fun it was to plan by your side. Thank you for trusting us with your big day and thank you so much for the sweetest review!

Melissa P.

Married on 04/10/2021

Amazing! Highly recommend

If you have any doubts about hiring Bettina for your wedding day, throw them away and hire her! I can't even begin to tell you how helpful it was to have her and Adriana there on the day of the wedding. We hired Busy Bees for a DOC, but looking back, I wish we had hired them for the entire wedding planning process. There were so many little details and issues throughout the day that weren't issues at all because of them both! Things I'd forgotten last minute, a stain on my dress, rain ruining my hair, etc. were all non issues because of Bettina and Adriana. They kept all of our other vendors on a tight timeline as well. 100% would recommend them to any bride and groom!

Busy Bee's Events's reply:

Our time together was too short! We had so much fun working with you and making your special day stress free. Thank you for your sweet review!

Megan

Married on 04/10/2021

Best Wedding Planners Ever!!!!

There are not enough words to properly describe how AMAZING Adriana and the rest of the Busy Bees team is! We hired her about a year before our original date with only a venue and photographer selected. Not only did she effortlessly guide us through every step of the wedding planning process, but she connected us with other AWESOME vendors who helped make our day extra special!

Then - when we were forced to postpone a month before our original date - Adriana, once again, handled the changes with nothing but top-notch professionalism, open communication, and just overall support for us. The next year was filled with guest list changes, relocating dinner to an outside space, timeline adjustments and multiple contract renegotiations, but Adriana handled it ALL! Our venue also placed some rigid guidelines on the event as well, but Adriana had our back and fought for us the whole time. When our wedding day finally came, Adriana (+ Stephanie too!) made the entire day perfect!! They problem-solved every hiccup that came their way (without me knowing at the time!) and made sure the day flowed flawlessly. Our wedding would not have been possible without her!!!!!

So, if you want a stress-free planning process and the perfect wedding day - HIRE THIS TEAM!!! They are amazing planners and even better people! Forever thankful we found them

+ 2

photos

Busy Bee's Events's reply:

Forever thankful for this review! Oh my goodness the sweetness is overwhelming, we're so elated to hear we could help so much and provide such a stress free perfect day for you. Thank you so much! :')

Blair D.

Married on 04/10/2021

10/10 would recommend!!!

Bettina and her team are the best!! We hired Bettina at the beginning of the pandemic, after our original wedding plan had fallen through. We decided to have our wedding in my parents backyard and we knew we needed a wedding planner to help execute our vision. I chose Bettina because I saw on instagram she had recently planned a residential wedding that looked beautiful. Bettina and her team did NOT disappoint. They were able to turn our backyard into a a BEAUTIFUL garden and stay within our budget. Bettina also put us in touch with unbelievable vendors; the Florist, Photographer, DJ and Caterer all were INCREDIBLE!!! We could not have done this without her and will have the memories forever!

Busy Bee's Events's reply:

Aww :') we're so glad to hear we could create such a magical night for you! The backyard transformation was breathtaking and it was a pleasure bringing your vision to life. Thank you so much for your kind words!

Stephanie C.

Married on 04/03/2021

Best decision ever

I could not recommend booking with Busy Bees enough. Adriana, Bettina and their team went above and beyond for our wedding and I have two great examples, among many, where they significantly exceeded my expectations -

First, our initial florist went out of business due to COVID a few months before the wedding. I had already paid a few thousand dollar deposit and got a call from Adriana telling me about the florist closing with information already prepared on how to dispute the charge (I was fully refunded) and a list of alternate florists that we're willing to do the same design for the same price. I didn't even have time to worry about it before they had a solution for us.

Second, about a month before our wedding my mom got COVID and ended up in the ICU on a ventilator. I was extremely overwhelmed and emotional about handling her medical care and we made the difficult decision to postpone our wedding. Adriana had talked to all our vendors, outlined alternate dates and had a game plan for us within a few days. We found a new date, Adriana and Bettina were so compassionate as we navigated this situation and a few months later my mom was recovered and dancing at our wedding. Wedding planning can be really time consuming and stressful and it meant everything to me that they completely handled this last minute reschedule so that I could focus on my mom's health and ultimately have her with me at our wedding.

Hiring Busy Bees was the single best decision we made for our wedding. Bettina, Adriana and their teams are extremely knowledgable, organized and proactive and we couldn't have done it without them! Thank you!!

Busy Bee's Events's reply:

Oh my goodness, thank you so much for the kind words! We loved being apart of your special day and we're so happy we got to see your mom dance the night away at your GORGEOUS wedding! These past two years with the pandemic have been a whirlwind but Im so glad we were finally able to bring your dream day to life!

Jen

Married on 02/13/2021

I would've been lost without them!! AMAZING!

I can't express enough how amazing Adriana and her team was!! I hired Adriana as a day of coordinator a few months before my wedding and she started working with me 6 weeks before the big day. From minor planning details, to timelines, to assistance with finding a new vendor last minute- Adriana was so organized and helpful! As a procrastinator & usually unorganized person, she made the upcoming weeks a breeze. Fast forward to the day of- that's the day you want as little stress as possible. My venue handles a lot of things on their own (I didn't need to hire many vendors outside the venue). With that being said- originally I hired Adriana thinking I would only need her half the day to help me with making sure getting ready the morning of would go smoothly. I changed my mind and hired her for the full day and it was the best decision. She unbuttoned and rebuttoned my dress countless times when I needed to breath or use the restroom, she was my advocate with any decisions I had to make last minute, and she made sure any "fires" were put out so I didn't need to stress! Thank you Adriana and team for making my dream day go as smoothly as possible!

Busy Bee's Events's reply:

Yay! You're so amazing! We're so happy we got to spend your big ! day with you and that it went so smoothly! Thank you for such a sweet review!

Jannina R.

Married on 11/20/2020

Wedding Angels!!

We hired Adriana with Busy Bee's as our Day of Coordinator and boy was that one of the best decisions we made!! The 6wks leading up to the big day were a breeze. Adriana went above and beyond for us not to feel an ounce of stress or to ease our worries due to Covid throwing a wrench our way. (Thankfully no postponement was needed).

Adriana and Stephanie were hands on on the morning of from getting last minute pastries, to searching for dress socks we forgot for the kids 🤦🏻‍♀️ Down to Bettina having to sew me a new fish hook in the back of my dress just moments before walking down the aisle. Absolutely grateful for this team. I highly recommend them. These girls know what they're doing 👍🏼 👍🏼

Busy Bee's Events's reply:

A wedding to remember! lol it was such a beautiful day and we're so glad we were able to help so much and make it so stress free and smooth as it should be! Thank you for the sweet review!

Are you interested?
Send a message