Reviews
4.9 out of 5 rating
Quality of service

5 out of 5 rating

Average response time

4.9 out of 5 rating

Professionalism

5 out of 5 rating

Value

4.9 out of 5 rating

Flexibility

5 out of 5 rating
99%
Recommended by couples
63 User photos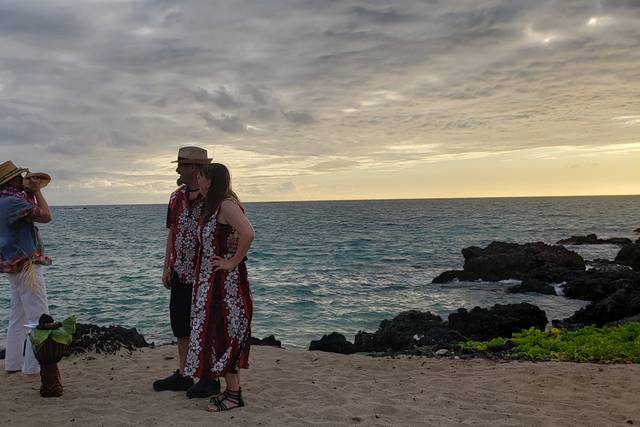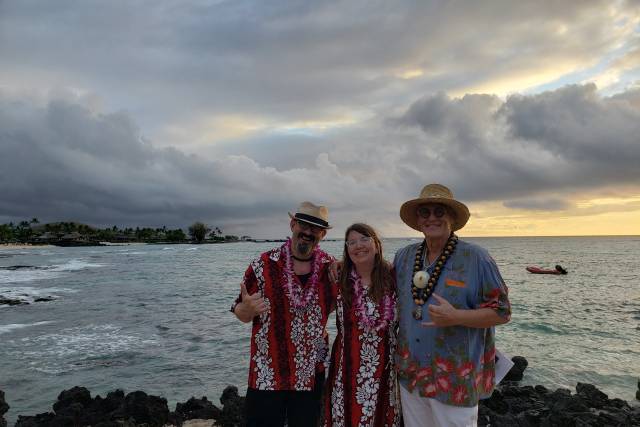 + 59

photos
Maurizio B.

Married on 07/18/2023

MAUI Vow Renewal from Italy

Great experience for us.
we can only speak well of it,
maximum rating for the cost of the service we paid.

For us it was simple and easy, Rev Stefan was very helpful and helped us for the ceremony.
The pictures taken are extraordinary for us

Our dream Hawaiian wedding was fulfilled !!

We suggest at all people easy and real like us.



Melissa T.

Married on 07/11/2023

Absolutely wonderful!

We had an absolutely wonderful wedding experience with Aloha Fun Weddings! Our minister, Kahu, and our photographer, Sara, were awesome! They were professional and had a genuine passion for what they do. Our flowers and leis made by Tatyana were so beautiful! Stefan, the owner, was who handled all the coordinating via email. He was very pleasant and responsive, and even helped us with a last minute beach change. Our wedding far exceeded our expectations and we are so thrilled to have chosen them for our wedding. I very highly recommend them to anyone wanting to get married on Maui. Thank you Aloha Fun Weddings!

Shh

Married on 06/27/2023

A lovely ceremony we will never forget!

My wife (to be) was quite ill the day before our wedding as well as the day of. We were not even sure we could make to Po'olenalena Beach where the ceremony was planned...but my beautiful bride was determined to carry on. We arrived a bit late...Rev. Stefan and photographer Brian were waiting. I told them what was happening...they were so kind and understanding...helping us through a lovely ceremony. Very thankful we chose Aloha Fun Weddings and Rev. Stephan as our officiant. Highly recommend!

Are you interested?

Send a message

Tasha M.

Married on 04/29/2023

Amazing Vow Renewel

My husband and I renewed ours vows for our 10 year wedding anniversary. Rev. Richard was amazing. It was a beautiful ceremony with heartfelt vows. They helped suggest the most beautiful beach, there were other weddings going on but Rev. Richard secured us an amazing spot. I would highly recommend using Aloha fun weddings. They made everything easy and so memorable! 5 stars ⭐⭐⭐⭐⭐


Nancy O.

Married on 03/20/2023

Beautiful Service!!!

Rev Stefan was so pleasant and did a wonderful service for us. He knew several great places to have the service. We were very comfortable and relaxed. His wife was also very pleasant and very helpful with taking some great photos for us. We highly recommend him to make your day special!!

Cindy K.

Married on 02/14/2023

Wonderful experience Aloha Fun Wedding LLC made it simple, fun and special

Stefan and his beautiful wife Tatyana made our special day a relaxed wonderful experience. Stefan gave us many great choices for a beach wedding. His ceremony was filled with words and love from his heart. His wife made us feel very comfortable when she she photographed us. They made our day perfect Mahalo

+ 6

photos

Terry A.

Married on 11/30/2022

Perfect Vow Renewal

Rev Stephan arranged and performed a perfect 15 year vow renewal ceremony and photo session. He did it all. Beautiful flowers, perfect location, great photographer and even suggested a hair and makeup stylist. We were very pleased with his service and recommended Aloha Fun Weddings.

Anyika K.

Married on 10/11/2022

The Absolute Best

Rev Stefan and his wife did an awesome job on our vow renewal. This was the very best service ever. Everything was perfect. They have a passion for what they do and it shows. The price is very affordable. The traditional Hawaiian ceremony was a great experience. You will not regret booking Aloha Fun Weddings.

Jimmy

Married on 09/20/2022

Wonderful Experience!

Reverend Stefan helped me plan and execute a flawless surprise vow renewal at Makena Cove. Highly recommend Aloha Fun Weddings LLC!

Kerry M.

Married on 09/06/2022

Best experience

Rev. Stefan and his wife Tatyana provided us and our friends the best vow renewal experience for both of our 25th wedding anniversaries. They were beautiful and very stress-free. Aloha Fun, made them all they were - FUN! We added the semi-pro package which we are so glad we did as we took some fun photos. The lei for us wives and the guys were lovely - hand-made by Tatyana!
Mahalo Aloha Fun Weddings!

Gary D.

Married on 08/23/2022

Excellent/Stress Free Experience!!

We had the most beautiful, stress-free experience renewing our vows on Maui. Aloha Fun, mad it just that! FUN! We added the semi-pro package which we are so glad we did as the pictures are lovely. I also highly recommend adding the ukelele player as if it gave the perfect ambiance on the beach!
Mahalo Aloha Fun Weddings!

Chloe P.

Married on 08/19/2022

Excellent company - flawless ceremony

I cannot recommend this company enough. Rev Stefan and his team helped me to organise my vow renewal in Hawaii (whilst I was in England). The company answered all my queries quickly and made a number of suggestions for the location of the vow renewal ceremony. The ceremony itself was beautiful and everything ran so smoothly! The photographer used was really approachable and the pictures fantastic!


Christina B.

Married on 08/09/2022

A Dream Come True

My husband surprised me with a wedding on a beach in Maui, complete with photography, videography, and live stream to our families at home. The Reverend was so amazingly kind. Along with Ryan the photographer. Thank you for capturing 12 amazing years of our love. We highly recommend the whole package! You will not be disappointed!!

Jeff

Married on 08/09/2022

Exceeded all expectations

I surprised my wife with this vow renewal. Rev. Stephan, his wife and Brian truly went above and beyond. They made this day more magical than I could've imagined! I would highly recommend them to everyone!

J F

Married on 08/02/2022

Wonderful Experience!

Our vow renewal was such a special experience, not just for us as a couple but for our whole family! We loved Rev Stephan! He made the ceremony so uniquely special for us and for our 2 adult children. This was a surprise for my husband and was a perfect way for us to celebrate our 25/26th anniversary (belated due to covid) and to celebrate together as a family. We loved Rev Stephan's words of wisdom and his sense of humor. He graciously took many pictures of us getting the perfect family and couple photos right at sunset. Rev Stephan was so helpful in the planning and communicated throughout the process. We also loved that his wife made our leis for the ceremony which made it that much more meaningful for us. We highly recommend Rev Stephan and Aloha Fun Weddings!!! Would love to return to Maui and do it again for our 50th!!!

Holly O.

Married on 06/06/2022

Highly recommend this company! Great price..great service...great ceremony

We had the best ceremony!
20 year vow renewal
Great company
Highly recommend!
We will renew again in a few years
Thanks Rich

Lisa C.

Married on 06/02/2022

Saved my vow renewal!!

I had hired Aloha Fun Weddings to plan our vow renewal months in advance. Everything was going great...until the day before our 25th anniversary and ceremony date. I came down with COVID and was forced to cancel our event. I was absolutely heartbroken. I contacted Rev. Stefan to let him know. Because my quarantine ended in time for us to salvage our 2nd week, planned for the Big Island, Rev. Stefan suggested we could reschedule the ceremony for that week. He made all of the changes, and we were able to have the beautiful ceremony I had envisioned. Rev. Margarita was great and Karen the photographer did a wonderful job.

I cannot praise Aloha Fun Weddings enough for accommodating us in a very distressing situation. They were fantastic!

Karen B.

Married on 05/04/2022

Feeling Special

The ceremony for vow renewal with Rev. Stefan was perfect. He made it very special and a lot of fun for us. High tide kept us from using the original beach, so he took us to another location which turned out to be gorgeous. Not only did we have the beach area, but a wall of rocks and a grassy area with a big tree. AND the sunset was beautiful. The portfolio of pictures that his wife took for us are just outstanding and so many to choose from. We would highly recommend Aloha Fun Weddings for your ceremony or vow renewal. You won't regret it.

Blanca V.

Married on 04/02/2022

Paradise Wedding

I wanted to get married on the Beach in Maui and looked up diffrent wedding sites but i am glad i went with Aloha Fun Wedding! The Rev. always answered his emails and when we met he was very sweet and kind. I bought Hakus and a bouquet and it was hand made by his wife. so beautiful and the flowers were so vibrant. The beach we chose wa also beautiful like out of a magazine. It was Beautiful and affordable and Rev. Stephan is very professional and fun!!!

Cathy P.

Married on 03/18/2022

We were very pleased with our Maui sunset vow renewal.

When we decided to celebrate our 30th anniversary with a vow renewal on the beach where we'd originally married on Maui, I did a lot of research looking for the best value. We were very pleased and completely satisfied with the services provided by Rev. Stefan who performed the ceremony, as well as his wife, Tatyana, who took LOTS of great photos. I was a little concerned that the non-religious/spiritual service that we selected might be a little weird for our liking, but it was perfect. We have no reservations highly recommending Rev. Stefan with Aloha Fun Weddings.

Chanda

Married on 02/08/2022

Beautiful experience!!!

We had our ceremony performed by Rev Stefan and our photographs done by his beautiful wife. The ceremony and location were beautiful and the photographs were absolutely stunning. They made the whole process super stress free and they were extremely responsive throughout the entire process. I definitely recommend!!

Nichole R.

Married on 09/15/2021

Beautiful ceremony, beyond expectation!

Vow renewal ceremony for first trip to Maui. We had immediate response to our inquiry, flexible options, and great value. Hand-made lei's were fresh and perfect. Rev. Stefan's service was heartfelt and tied in elements of Hawaiian customs and reminders to focus on love. Perfect location and weather for the day. We planned our ceremony within two weeks of our arrival on the island, and the event surpassed our expectations, even overshadowing our original church wedding. You can't go wrong working with Aloha Fun Weddings!

Aleesa T.

Married on 07/20/2021

Great communication, service and value

From start to finish every question was answered and the process was painless. It was exactly what we wanted for our vow renewal!

Christine C.

Married on 07/07/2021

Our 25th Anniversary Vow Renewal

Rev. Stefan made our 25th anniversary vow renewal auch a memorable day! I am such a last minute planner, all I asked if he was available and he took care of the rest. I selected the package with photos since we had no family there. His wife Tatyana did an excellent job with our pictures! I also love how they are both familiar with Hawaiian culture, customs and significance. Most of all respect for the Islands! Thank you so much Rev. Stefan and Tatyana! We will definitely do it again in 10 years! Mahalo Nui Loa!

+ 5

photos

Mercedi S.

Married on 06/24/2021

Excellent!!

We were SO pleased with our wedding package. Every single thing was 100% perfect -- all communication leading up to our wedding, the ceremony, my bouquet, and especially Reverend Margarita and our photographer, Malle Zablan. I had always envisioned having a female officiant and Margarita's sweet and friendly spirit captured my vision flawlessly. The ceremony speech she presented was so touching and spoke to me in ways she could not have known, even if we had met beforehand to discuss. Lastly, Malle is one of the most professional artists we have ever had the pleasure of working with. She had a clear plan, gave clear direction and worked tirelessly to get us the very best pictures possible. Aloha Fun Weddings took all the stress out of the biggest day of my life and made it absolutely perfect!
Are you interested?
Send a message