Discussions I've participated in
752

NWR: Presidential debate
I am so excited to be watching the debate! Thought I would get your views and see how diverse WW is. Say where you are in your thoughts (leaning towards one/undecided/decided) and also where you are...

NWR - Baby Daddy Post
Heather
, on April 23, 2012 at 5:03 PM
Megan gets knocked up by her BF Charlie. Megan wants to keep the baby, Charlie doesnt. Megan decides to have and keep the baby. Should Charlie be responsible for child support??

Activity

I uploaded a photo in AB's discussion
2032 days ago
3 pt
Flower girls, ring bearers, ushers, and greeters....what are you getting them?
My wedding is right around the corner and I have no idea what to get the support people and younger folks in the wedding party. If you have any suggestions or pictures I would love to see them. Thanks in advance

I uploaded a photo in LadyHopkins's discussion
2032 days ago
3 pt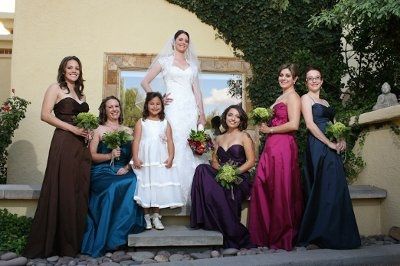 Does anyone have mismatched bridesmaids?
Does anyone else have bms in different dresses or different colors. I decided to let my bridesmaids pick their own dresses as long as they're red and I have the final say so. But Im kinda nervous about the final result. If anyone has pics, I would...

I uploaded a photo in Angie's discussion
2032 days ago
3 pt
a backyard wedding!!
At first FH suggested it as a joke, but I started thinking about it.....and now I wanna have our wedding in our backyard. Right now the guest list is at about 100 people, and I think our backyard is big enough (I still have to measure) but assuming...
WeddingWire celebrates love
...and so does everyone on our site!
Learn more
Groups
WeddingWire article topics