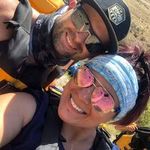 Joyce
YOLO! Living life to the fullest!
Happily married 🎉
September 4, 2021


Honeymoon . . . Thailand or Puerto Rico?
From what I am understanding, since our wedding is in the beginning of September 2021, we would have to put our honeymoon off until January or February of 2022 due to weather. However, Puerto Rico is...

Arbor or No Arbor for beach front wedding?
I want to keep my ceremony simple and pretty and the resort has an arbor that they provide, but I just don't like the style of it. Should I just go without or do something different? My creative...