Wedding details
So Friday night David wanted to go to dinner. I wasn't feeling up to it because I had been at the ER all afternoon with Charlotte (she broke 2 bones in her wrist at school). He talked me into it and she wanted to go. So we went to this Italian restaurant (don't remember the name! Caras, maybe?) which I thought was a little fancy but whatever. So we walk in and practically everyone I know is there. Ok not everyone but like 25 people! Including David's sister who lives in Reno! So I thought it was some kind of surprise party and I am hugging everyone and I order a drink and start to think that something is up. Then David stands up and starts talking about how this has been the happiest year and a half of his life (and at this point I knew) and then he gets down on one knee and pulls out the ring! And it's beautiful! Of course I said yes!! So then he walks around he other side of the table and hands Charlotte a box and it has a little silver ring in it! And he asked her if he can be her dad. (and she just lit up, she was over the moon to be included). Of course at this point I'm holding stupid tears back and everyone claps and David nearly collapses. Apparently the stress of the night had been killing him! He had had the date picked for months and flew his sister in and wasn't even sure I'd say yes. So I didnt even eat dinner, I was too excited, which is probably why I don't remember the name of the place. Oh and when I called my dad to tell him the news he said he already knew - David called him in June to ask for permission to propose to me. Of course, my dad LOVES him. And Charlotte is still over the MOON about it!
Discussions I've participated in
541


Sit Down or Buffet?
Andre'ya
, on October 16, 2013 at 11:31 AM
Come on ladies! I need opinions and advice! Which one (buffet or sit down) has the greater and cost effective advantages? Which one is more memorable? Etc! I need honest opinions and advice,...
Sandzilla,

Oct 17, 2013
67
Activity

I uploaded a photo in melissafl48's discussion
1782 days ago
3 pt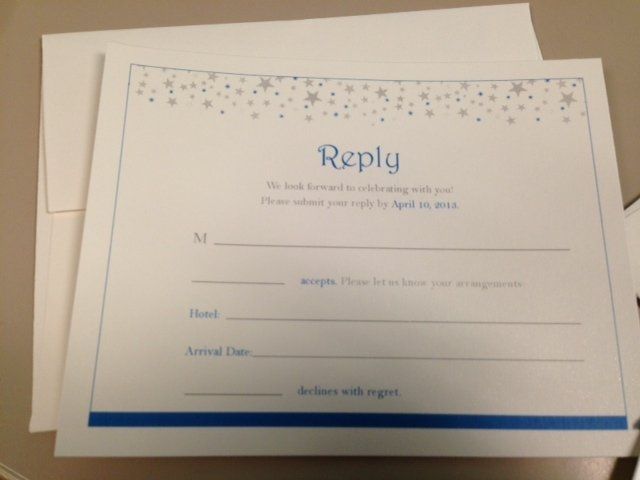 Not counting an RSVP until we see a hotel reservation.
FH and I are having a destination wedding in savannah. Anyone attending will have to book a hotel. is there any polite way to ask our guests to let us know when they have booked their rooms and that we will not count them until we have absolute...

I uploaded a photo in Bad Wolf ..'s discussion
1782 days ago
3 pt
Back from my Vegas wedding! (and honeymoon) **ADDED photos pg 4 and 5!
It was FANTASTIC! This is a mix of pro pics and phone pics. We had so much fun!!
WeddingWire celebrates love
...and so does everyone on our site!
Learn more
Groups
WeddingWire article topics