A Seattle honeymoon provides newlyweds with a city destination that's filled with adventure and must-see landmarks. The beautiful metropolis lies on the isthmus coastline, between Puget Sound and Lake Washington, and is rich with green forests, breathtaking mountain views and majestic coastlines. Along with its gorgeous landscape, Seattle also is home to a large tech industry and the iconic Space Needle. So, if you're looking for a trip that consists of outdoor activities, beautiful scenery and modern entertainment, a Seattle honeymoon is the perfect choice.
Keep reading so you can learn how to plan the ultimate Seattle honeymoon.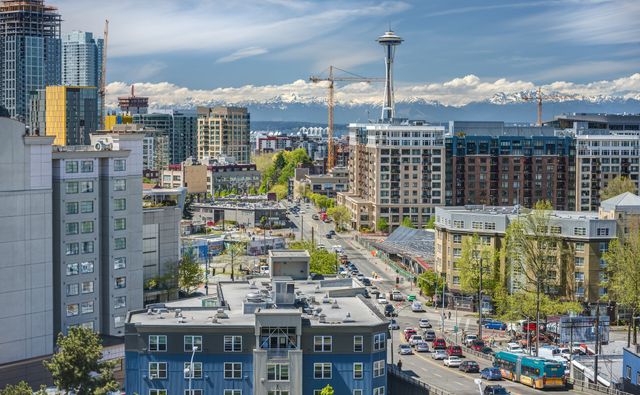 When to Go
The best time to take your Seattle honeymoon depends entirely on what type of getaway you're envisioning. The summer months are very warm and generally dry. There are plenty of festivals, outdoor activities, hiking trails and lush foliage to enjoy. The winters are generally mild making it a great place to enjoy winter sports like skiing, snowboarding or snowshoeing. Whale watching is also a favorite attraction and will give you plenty of wow-worthy photos. Humpbacks and gray whales are seen from October through to April while Orcas can be seen from May to September—so we definitely suggest packing a camera for your trip. Airfare prices are consistent throughout the year but weekday travel is cheaper than weekend rates. Some travel places will even offer deal package sales throughout the year, which Seattle honeymooners can use to stay on budget.
Top Sights and Activities
Seattle Space Needle: Enjoy breathtaking views of the city and surrounding landscape from the top of this iconic tower.
Chihuly Garden and Glass: Walk through this enchanting glass garden of beautiful colorful flowers and unique blown glass sculptures
Snoqualmie Falls and Seattle Winery Tour: Indulge in the best wines in Seattle while taking in breathtaking views at the Chateau Ste Michelle.
Boeing Factory Tour: Go behind the scenes to see how planes are made on this fascinating tour.
Pike Place Market: Shop and dine at some of the most unique boutiques and cafes in Seattle.
Mt Rainier Day Tour from Seattle: Spend the day surrounded by the natural beauty at one of the most majestic mountains in the area.
Whale Watching Tours: Sail along the channels while enjoying watching these magnificent mammals in their natural habitat.
Klondike Gold Rush National Historical Park: Go back in time when settlers were storming to the Yukon from Seattle in search for gold
Canopy Tree Climbing on Bainbridge Island: Feel the exhilaration and freedom by climbing to the top of the tallest trees in the world.
Alki Beach: Spend the day relaxing under the sun while enjoying the coastal scenery of this beautiful area.