A Denali honeymoon is an outdoors enthusiast's dream: diverse wildlife, snow capped mountain peaks and rustic living. That being said, couples who don't enjoy camping can stay in a nice hotel nearby and still experience the wonder of Denali. The Denali National Park & Preserve is located in the Alaskan interior, not too far north of Anchorage and is a perfect honeymoon destination for all types of couples. Denali honeymooners can trek into subarctic flora and be completely immersed in nature with a panorama that few ever get to witness. From rubbing shoulders with locals over beers at a pub to spending the day hiking or rafting, a Denali honeymoon is an one-of-a-kind trip.
A Denali honeymoon is a great choice if you want to kick back and reconnect with nature during your romantic getaway..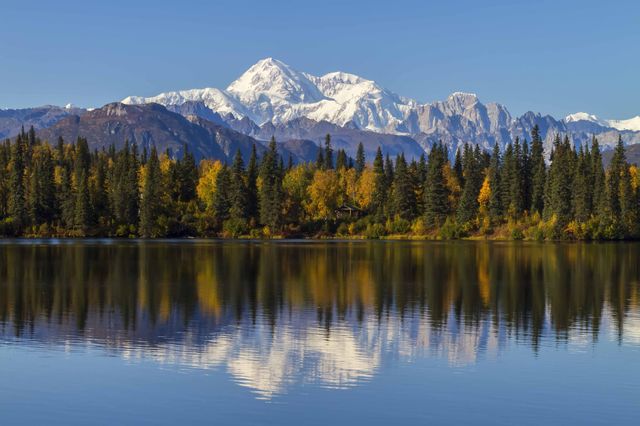 When to Go
The best time for a Denali honeymoon is early September as the summer crowds and bugs thin out considerably. Late June to late August is the high season and campgrounds are packed. Winters are very cold in Denali, which means you definitely should pack heavier clothing. Also, keep in mind that the park buses and other authorized tours stop operating mid-September.
Top Sights and Activities
Sled Dog Demonstration: Try traditional dog sledding's summer version – on wheeled karts.
Fly Fishing: Book a guided trip on a private lake outside the park—it's truly an unique Denali honeymoon experience.
Flight-seeing Tour: This tour gives couples unparalleled views of the rugged mountain range and majestic Mount McKinley.
Rafting: The Nenana River runs along the park border and commercial guided trips are available.
ATV Rentals: Experience the backcountry like a local.
Park Bus Tour: A school bus type vehicle that operates all day along the park road.
Wildlife Photography: It's likely to spot grizzly bears, moose and wolves from the bus.
Mountain Biking: Experience the park road at your own, self-propelled pace.
Camping: If you're looking for where to stay in Denali, rent a campsite in the park and spend a romantic night under the stars.
Cabin Nite Dinner Theater: Alaskan gold rush inspired performance and dinner at Denali Park Village.
Denali Natural History Tour: Interpretive tour of Denali's cultural and natural history.
Anchorage: Spend the day and sample fresh wild salmon or shop for local native crafts—a must visit during your Denali honeymoon.