Though this western North Carolina gem was a sleepy town for many decades, it has recently grown as one of the highest rated places to live in not only the state—but the country. Considered a gem tucked away in the Blue Ridge Mountain, this friendly city is inclusive, vibrant and diverse, offering a large range of activities and experiences local to the region and ideal for an Asheville honeymoon. For mountain-loving honeymooners who have a taste for artisan beer and a quest to see works of wonder from Mother Nature herself, Asheville makes for both an awe-inspiring and relaxing getaway. Newlyweds can admire artwork, roam through a colorful downtown, hike their way to the top of peaks and even spend an afternoon floating down a natural lazy river.
Whatever brings you to this gorgeous Southern destination, chances are high once you visit for your Asheville honeymoon, you'll come back for another anniversary to come.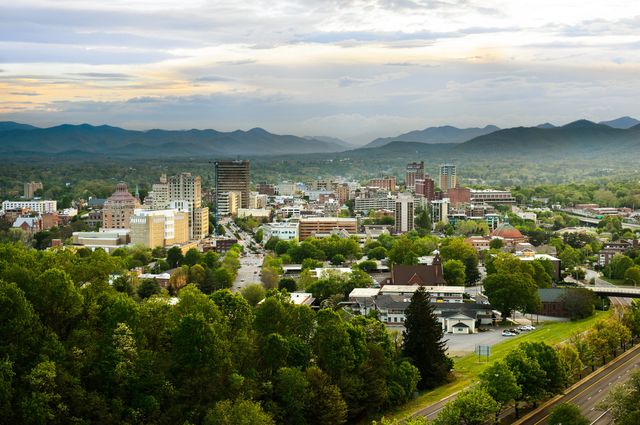 When to Travel to Asheville
Though this part of North Carolina does get snow, it is often mild, making Asheville a year-round celebration. If you've ever experienced summers below that Mason Dixon line, you know they can get steamy and sticky, so the most idealistic times to set the dates of your first trip as a married duo are in the spring and the fall. And if you can't get enough of the smoldering shades of leaves in Autumn? Asheville has some of the most gorgeous colors in the country.
What to Do in Asheville
Eating? Drinking? Hiking? Touring? Driving? You can do all of this—and more!—when you visit Asheville for your honeymoon. Here, a few ideas to get your planning kick-started.
Tour the grounds and have stay at the Biltmore Inn: The Biltmore House is often considered a major pull for tourists, considering it is the largest privately owned home in America. Over the years, with the uptick it travelers trekking to Asheville, they've also opened a winery and an inn to offer a 360-degree experience. It's worth the investment to stay at The Biltmore Inn, have dinner at the winery and take your time exploring the unbelievable mansion and the surrounding grounds. Might we suggest a spa treatment too? It is your honeymoon, after all!
Wander around downtown: If you've been to New York City, you'll recognize many similar street names in downtown Asheville. This is because the family who built The Biltmore House—the Vanderbilts—are from Manhattan, and mimicked many of the city center after the Big Apple. But unlike the big city, Asheville is quieter, cleaner and has more of a hippie feel. Spend an afternoon holding hands, admiring the local art, eating at restaurants you won't find anywhere else and taking your time, as the southerners do.
Go to the Asheville Pinball Museum: As one of the only ones in the country, game-loving couples can sip on beers and try their hands at dozens of pinball machines, dating decades ago. Locally-owned and operated, it's a nice break to blow steam from that wedding planning, and to interact around natives, too. We suggest making it a friendly competition to build up romance for later—wink, wink.
Go on a hike in the Blue Ridge Mountains: Experienced hiking duos will enjoy the endless amounts of long, multi-day trails that lead them deep into the beauty of the Blue Ridge Mountains. If that's not your speed, the region also offers plenty of day-long or hour-long adventures that still take you to the top, and give you the chance to sneak a kiss with a view.
Admire the arboretum: The Asheville Arboretum is ideal for flowers fans who want to learn more about the area's biodiversity and plant life, and who visit in the spring, where blooms are in full swing. Check the calendar for events and shows, and don't forget to snap a few photos along the way.
Grab a rooftop drink at AC Hotel Downtown: Even as little as a decade ago, the Asheville skyline was scarce. But many hotels have flocked to the area, all offering a new way to experience this mountain village. With the same level of luxury you'd expect at any AC hotel, the rooftop at Asheville's location can't be missed. Visitors and travelers alike salivate over their cocktail menu, and honeymooners will appreciate the warmth of the outdoor fireplaces in the winter—or the sunsets in the summer.
Stay a night or two at The Foundry: For a honeymoon experience that won't break the bank but still offer romance and intrigue, book your post-wedding celebration at The Foundry. The hotel used to be a foundry, and has since been transformed into a dazzling hotel located on a historic cornerstone in Asheville references as 'The Block.' You can walk to everything from this location, but the hidden courtyard gives you privacy from the hustle and bustle of the city.
Splurge on dinner at The Omni Grove Park Inn: ...and if you visit in the winter, don't miss the National Gingerbread House Competition! Folks from states away make the journey to the Grove Park Inn to see the works of art from adults, teens and kids nationwide in this annual anticipated event. Though the Grove Park is definitely on the pricier side, for a romantic dinner for two, Vue or The Sunset Terrace will have you both falling in love all over again. Psst: book for sunset to see the cascade of pinks, oranges and reds topple over the mountain range.
Brew hop around town: If you like artisan brews—you're never going to want to leave Asheville! With so many breweries we've lost count, it's a fun adventure to bike (or Uber) around town, grabbing a taste here and there. From hops to ales and everything in between, beer fans will get their fill.
See a show at The Orange Peel: Attracting big names in the entertainment industry, The Orange Peel is Asheville's hometown concert venue, and features zen-vibes, aeclectic taste and plenty of beer to go 'round. As you plan your honeymoon, check to see if any of your fave artists are passing through town.
Article by Lindsay Tigar