Tokyo Honeymoons
An energetic city with glorious ancient and modern culture, Tokyo colors your honeymoon to cherish forever.
Upon your arrival, the top-notch Japanese hospitality service already makes your honeymoon an outstanding experience. Immerse into the culture by wearing the gorgeous Kimono and participating in a tea ceremony. Next, peek into Tokyo's spiritual culture by visiting immaculately designed temples and shrines. Stroll in one of the delightful parks that are extra mesmerizing during the Sakura season. When tired of walking, sit on a rickshaw at Asakusa, and the "shafu" will show you around one of the oldest towns in Tokyo.
Move into modernity by visiting the iconic Tokyo Tower for a bird's eye view of the megacity. Then, go shopping at Ginza, filled with upscale shops, or at Harajuku, an eccentric fashion center. From the wide range of dining options, you must savor on the fresh seafood and premium Kobe beef. Finally, seal your honeymoon with sweet memories by staying at a ryokan with your own private onsen.
If you're looking for a fast-paced honeymoon with lots of delicious food and amazing cultural experiences, Toyko is just the place.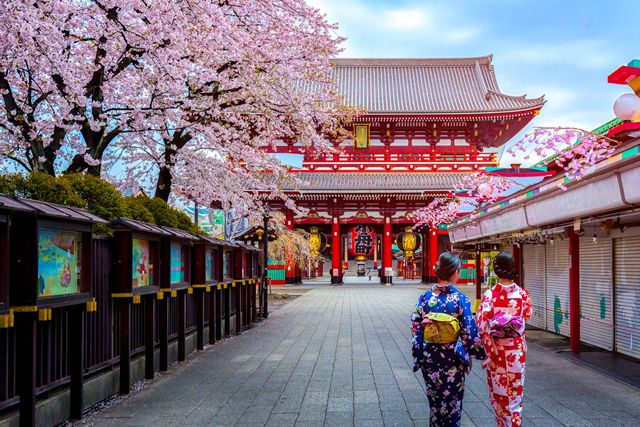 When to Go
The best time to visit is in autumn with lesser crowds and cooler temperature. Winter is cold and could be freezing at night. Spring brings flowers but also big crowds. Summer is equally crowded but with high humidity and heat or rainy at times.
Top Sights and Activities
Shinjuku: Tokyo's most famous shopping district that is densely packed with colorful neon-lighted skyscrapers.
Tokyo Tower: An iconic landmark influenced by the Eiffel Tower, it is a communication and observation tower.
Shibuya: A popular district housing a variety of entertainment and recreation places.
Harajuku: A significant shopping district where you can find eccentric fashion.
Traditional Tea Ceremony: Experience traditional tea ceremony at cultural houses, museums or gardens.
Ueno Park: A beautiful park with vast space that contains a zoo and temple.
Tokyo Disneyland & Disney Sea: The first Disney theme park outside of the United States.
Asakusa: A thriving historical district where Sensoji is located and the traditional rickshaw.
Sensoji: Also known as Asakusa Kannon Temple, it is a charming and intriguing cultural spot.
Tsukiji Fish Market: Watch the famous Tuna Auction at the biggest wholesale seafood market in the world.
Imperial Palace & East Garden: The East Garden is free to visit and an exquisite park within the Imperial Palace East Gardens.
Meiji Shrine: A 19th-century Shinto shrine dedicated to Emperor Meiji and Empress Shoken.
Ryogoku Kokugikan: A large sport arena for sumo tournaments.
Gyoen National Garden: A tranquil garden designed with separate themes like French, English and traditional Japanese.
Samurai Museum: Look into the life of courageous warriors through a wide collection of costumes and swords
Flight 3
- Remove Flight
+ Add Flight
Flight 4
- Remove Flight
+ Add Flight
Get access to travel deals when you book your honeymoon through WeddingWire