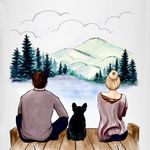 What's Your Wedding Style?
Reading about everybody's weddings on here, there are sooooo many different styles/vibes/visions! I thought it would be fun for everyone to share their unique vision for their wedding! Let's see those inspiration pictures! Color scheme, flowers, table decor, bridesmaids dresses… share as much as you want!
I hope these pictures don't get all messed up because of the size!

We're getting married in May with a color scheme of light blue, green, and white/ivory.

Men will be wearing navy suits with my FH in dusty blue. Ladies have various shades of blue and green.

Flowers aren't finalized yet but we're thinking hydrangeas, delphinium, white roses or lilies.

We're also making a lot of decorations in different origami patterns. I come from an arts & crafty family. Some will be DIY and some from Etsy.

After having to postpone twice, FH and I have decided to scrap our original celestial theme with tons of elaborate decor, and instead just do a small destination wedding with dark a minimalist vibe.

Here are some of the inspo pics I have so far

View Quoted Comment

That looks really cool, are you going to have a black gown? 😀

View Quoted Comment

So pretty! I love how light and airy it feels!

View Quoted Comment

I have always planned to have a black gown! I searched and searched, and found one I really liked. I almost bought it, but then unexpectedly ended up finding THE ONE! It is the complete opposite of what I was looking for, but it's everything I never knew I wanted/needed! My bridesmaids will be in black though 🖤

Ours is a mix between modern and rustic I think? Maybe some boho thrown in? I don't really know if it fits perfectly into any style. We picked a newer barn venue that isn't super rustic looking and don't plan on using the typical mason jar/burlap type decor. We're just not super fancy people and couldn't find another venue type that fit us well.

Our colors are navy and orange with white/ivory as an accent color (I think white but I have to double check what my dress is considered when it comes in). Most of our decor will be pumpkins and any flowers we have will be all white with greenery. Honestly, I have no clue if it'll all look good together but I'm hoping it will lol.

View Quoted Comment

I am such a sucker for Fall, and loooooove weddings that incorporate it!! 🧡🍁 Everything you described sounds like it will work perfectly together!

View Quoted Comment

I was never really the girl growing up who knew what her wedding would look like, but I've always known it would be in October with those colors. I definitely wanted a fall theme since it's my favorite time of year!

View Quoted Comment

It's mine too! 🖤🍁🎃 I'm exactly the same- I didn't grow up dreaming about or planning my wedding. Tbh, I wasn't sure if I even wanted to ever get married! But I knew if I ever did, it would for sure be in Autumn!

I'm kind of a sparkly girl so ours will be outside at night with millions of twinkly lights hung everywhere. Gold accented dinnerwear, gold glitter dusted cake. No wedding party or anything so no "colors" but everything will be glittery that I can possibly bedazzle haha.

View Quoted Comment

I LOVE this!! Outdoor lights are my forever favorite ambiance! We will be getting married after dark as well! I hope you share pictures of your big day (night)!

We are going for a city chic / moody / glam with lots of candles sorta vibe in downtown Philadelphia. It will be in the winter and am going to stick with ivory and champagne colors. Some touches of funny stuff will be thrown in, as well.

Aisle decor, probably some rose petals, as well:

Bouquet:

Cake - we have two wolf dogs, so they will appear here lol

Simple, but chic table decor

Last, but not least, the silly stuff:

Our wedding is set for Sept. 17, 2022 in Gettysburg, PA! My parents are historians, so I've always been a sucker for all things history. We vacationed every year since I was little to Gettysburg, which is steeped in history, and the property we stay at is the perfect setting! There's a little clearing surrounded by trees in the backyard, and it's just so beautiful! Our theme/aesthetic is classic, romantic and vintage (think mid-1800s), with our colors being blush, "greenery" (ie - foliage and florals), and antique gold accents. I'm going heavy on the flowers for a decidedly garden feel, with decor elements like lace and antique knickknacks for the reception. I'm really over the moon and so happy!






View Quoted Comment

This will be beautiful and timeless! Love the humorous little touches

View Quoted Comment

This looks like a gorgeous Spring garden wedding! And I love that you chose a place that holds special meaning

Aww, all of these look so beautiful and so different! I wish I was invited to them all to see how they come together!

We wanted to have a kind of... light, airy, pastel look, and the overall feeling to be that of a long, hazy summer lunch in a Mediterranean orange grove where people have dragged wooden farmhouse tables outside and everyone drinks and laughs, and it smells like orange blossom and it's hot.


My favourite colour is a soft, peachy pink, and that is the common thread for most of the elements of our wedding for the girls (clothes, florals, etc) but I didn't want the whole place to look like it had been hosed down with pepto bismol, so inside we're going with something much more herby and masculine, and less fluffy and girly.

It's being held at a vineyard, so I wouldn't say it's too fancy, definitely soft, Mediterranean farm house crossed with classic, English country wedding, maybe?

I'd say our colours are soft ivories, peaches, ballet pink, plus fresh spring green and a much darker, hunter green.

Here's our inspiration pics!




View Quoted Comment

I love your description for the vibe of your wedding! It was like reading a great book that transports you there! I have never been a "girly girl", and typically do not especially enjoy the color pink… but you have definitely done pink beautifully! I love how you balanced out the super feminine colors with grounding masculine touches. You have absolutely nailed the vibe you were going for! Your wedding will be beautiful!

View Quoted Comment

Aww thank you so much! I really didn't want Barbie pink! We just want people to feel like they just got off a plane to somewhere exciting, have been met by their favourite person offering a big hug and a long, lazy lunch, lol! Because that's how pink feels to me!

View Quoted Comment

Thank you so much!! Also, your wedding style is absolutely STUNNING! I legit cannot wait to see photos from the big day, everything is going to look so incredibly chic and gorgeous!

This is the photo I found that spoke to me most. We're getting married on the beach on Cape Cod, but we are not doing nautical or seashells or anything. I feel like the setting says "Cape Cod" enough, so I'm decorating it pretty much how I decorated our house- airy vibe, lots of white with gold accents, candles, and I love greenery like eucalyptus, so I'm going to lean in there. There will be a lot of white hydrangeas because I have them in our garden and always have them in the kitchen, and one of our favorite things to do on the Cape is drive around and look at all the hydrangeas.
WeddingWire celebrates love
...and so does everyone on our site!
Learn more
Groups
WeddingWire article topics