Hi everyone! I've mentioned before that my mom passed away when I was 11 from breast cancer. I associate anything pink with her and I'm wondering what y'all think of my ideas to incorporate her?
Also let me know if you have any other ideas!! If you have any tips or have had personal experiences with this situation on how to make wedding planning easier too, that would be so incredibly helpful. I am just kind of waiting for it to get hard.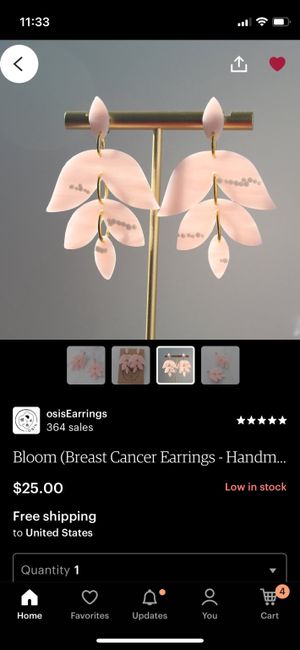 There is a Etsy jewelry shop that has earrings that represent and are inspired by a disease. They also donate a portion to a foundation that corresponds to that specific disease. I thought that wearing these earrings would be a really special way for her to be near me?
I also love this idea and it would absolutely have to be a pink rose, of course. I have thought about putting my bouquet on her chair but I am not sure yet.
I also want to light a candle for all of our loved ones that are deceased.
My videographer has already said that no matter the venue I choose (and for no extra charge) we can run down to her grave and I could tell her how excited I am to be married and everything I would be talking to her about if she was still alive. I have also thought about doing a first look with my dad in her wedding dress even if I don't choose to wear hers for the ceremony.
My mother was a singer. We have recordings of her singing and I felt that it would be nice to surprise my dad with her singing... it is really the only thing that my siblings and I remember clearly about her. I have also thought about playing my parents' song.
Anyways, that's all that I can remember of the top of my head. Thank you 💞